Miami Outfit Inspiration
A weekend in South Beach is a special treat and the charmingly confusing question of what to pursue takes a backseat when the more pressing inquiry is 'what to pack'? The Miami wardrobe can be tricky. Packing for this iconic destination must involve denim cutoffs, aviator sunglasses, and beach hats.
No matter if you decide to hang out on Miami's white sand beaches all day or explore Ocean Drive's art deco or foodie scene of Wynwood – your Miami outfit planning should start with 4 key pieces:
swimsuit
coverup
beach sandals
hat
Here's some Miami outfit inspiration based on my own beach style and lifestyle!
Miami Beach Outfits
When you travel to Miami (especially and hopefully Miami Beach), you will be surrounded by all shades of blue and green. Whites and neutrals are going to look especially great in tropical surroundings. No wonder they call the all-white outfit "Miami uniform."

A white one-piece swimsuit is a super versatile piece. You can wear it to the beach, combining it with a flowy coverup for your morning outfit, and mix it with shorts or a skirt for a lunch or dinner outfit.
Beach or pool outfit cover-up
When it comes to a beach outfit – a kaftan is a must-have. Not only it's a vacation-ready piece, but it also keeps you covered, comfortable and chic.I firmly believe that a good kaftan is a wardrobe staple – summer or not.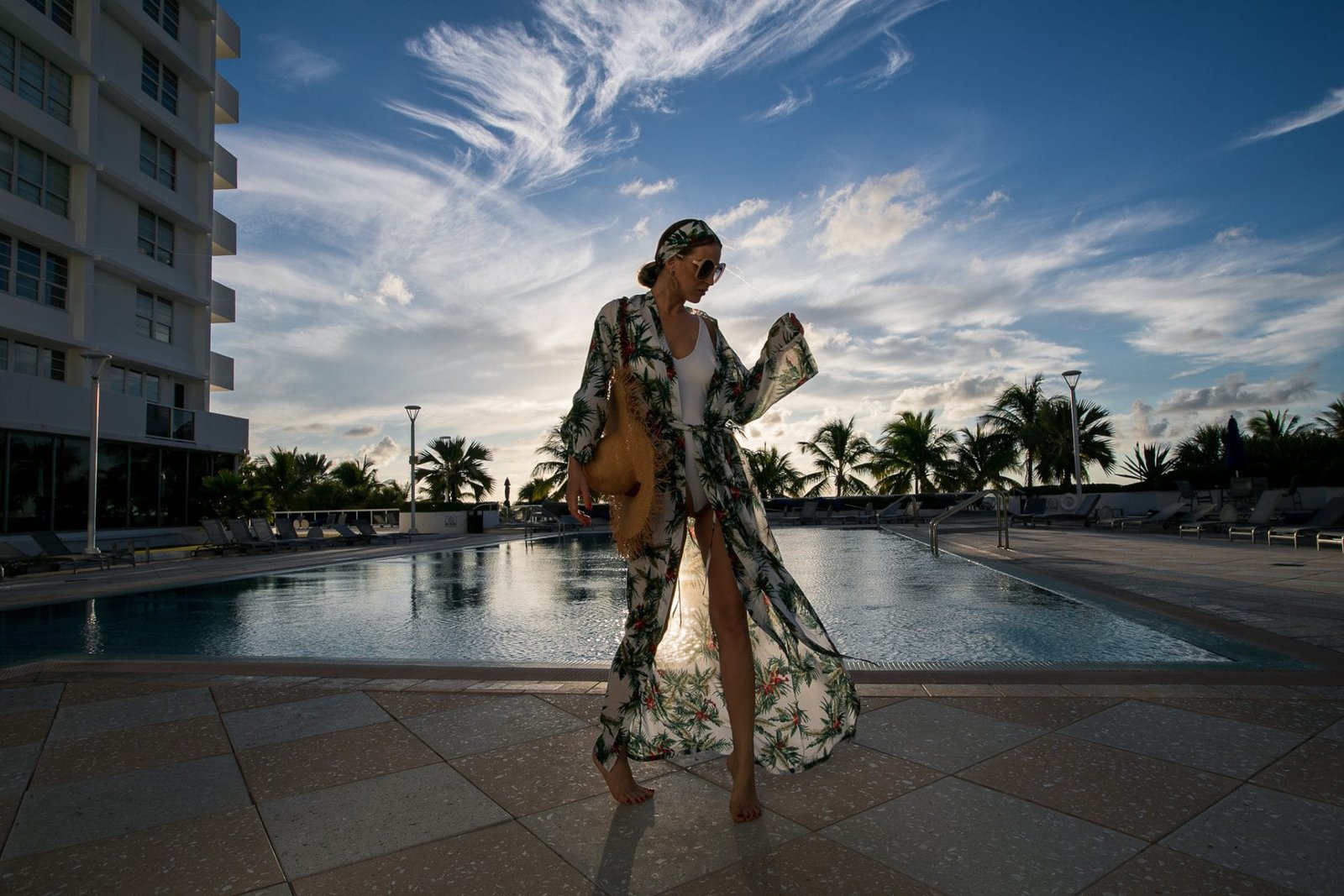 I kind of live by the rule "there is no such thing as too many kaftans."
Add a headband or headscarf for a glamorous finish.
While you should always put sunscreen on – beach or not- a stylish beach hat will protect your face and add chic to your Miami outfit.
Beach Hats
A good summer hat is the core of your Miami outfit. Not only do they make you look instantly put together, but they also help protect your skin from harmful UV rays. There are so many different hat trends to choose from, so finding the perfect one for your style should be a breeze. From straw fedoras and Panama hats to wide-brimmed sunhats and beachy visors, the options are truly endless. And the best part is that they can easily be dressed up or down to suit any occasion.
You can go for a classic straw hat, a visor, or even a wide-brimmed floppy hat. And if you're feeling really bold, you can even experiment with color and pattern.
No matter what style you choose, make sure it's one that you'll feel comfortable wearing. A hat is a great way to add a little personality to your Miami outfit. Once you find the perfect hat, don't be afraid to experiment with different ways to wear it. Try pairing it with a sundress or shorts and a tank top. And trust me when I say it will become your go-to summer accessory—not to mention it will save you from countless bad hair days. So if you're looking for a Miami outfit accessory that actually serves a purpose, look no further than these stylish sun hats.
White-on-white
If you're like me and always find yourself scrambling to put together a decent travel outfit, do yourself a favor and invest in a pair of white linen trousers and a white linen shirt. Trust me, they'll change your vacation planning game for the better.
Linen is lightweight and breathes well, making it ideal for warmer destinations; it's also wrinkles-resistant, meaning you can pack it without having to worry about ironing .
And white goes with everything, making it easy to mix and match with tops and shoes you've already packed. Whether you dress them up with a silk camisole and heels for a Miami night out outfit, or keep things casual with a tank top and sandals during the day, white linen pants are an effortlessly chic option for your Miami outfit. Best of all, they transition seamlessly from day to night — no need to pack a separate bag for your going-out clothes.
So if you're looking for a vacation-friendly piece that will take your style up a notch without any extra effort on your part, white linen trousers are definitely the way to go. Trust me: once you've tried them on vacation, you'll never leave home without them again.
Looking for a detailed Miami packing list? Check out this blog
I hope these tips and photo inspiration will ensure your outfits won't be lacking as you get ready to experience all that South Beach has to offer – letting you look great while living your best life.