Best Things To Do In Marco Island
Marco Island is a fascinating place. It's the largest of the 10,000 mangrove-covered islands off the southwestern coast of Florida, extending down through the Keys. Marco Island is a truly unique place – well worth a visit!
Where is Marco Island?
Marco Island is a little slice of paradise situated in southwest Florida. Just south of Naples, Marco Island is the largest of the Ten Thousand Islands.
Even so, there are lots to do on Marco Island – from boating and paddling the 100-plus miles of waterways to combing the six miles of gorgeous sun-drenched beaches. Marco Island is also home to some of the most well-preserved natural areas in Florida, making it a nature lover's paradise. So whether you're looking for a relaxing beach vacation or an adventurous outdoor adventure, Marco Island is the perfect place for you.
Let's take a look at the best things to do in Marco island
Ten Thousand islands
Ten Thousand Islands is a beautiful place many people don't know about. It is a 35,000-acre National Wildlife Refuge that is full of wildlife. The Ten Thousand Islands are immediately south of Marco Island. They are a maze of mangrove trees that are home to come endangered species like:
Florida manatee
Atlantic loggerhead turtle
peregrine falcon
But there's more wildlife there!
Florida panthers
Florida black bears
bottlenose dolphin
river otters
The Ten Thousand Islands area includes Everglades National Park, John Pennekamp Coral Reef State Park, and Big Cypress National Preserve. Ten Thousand Islands is great for wildlife watching, fishing, kayaking, canoeing, and picnicking.
Wildlife
Marco Island is home to a wide variety of wildlife, and there's no better place to see it than at Tigertail Beach. The beach is connected to the Big Marco Pass Critical Wildlife Area by a tidal lagoon, making it the perfect spot for migrating shorebirds like the piping plover. We've explored the area by kayak and have seen firsthand how different the experience is compared to exploring on foot. There are so many nooks and crannies among the mangroves that are only accessible by kayak, and it's been loads of fun to venture into them. Who knows what we'll see next? Marco Island is truly a nature lover's paradise.
Beach
Most people come to Marco Island for the beach, and it's easy to see why. The crystal blue waters of the Gulf of Mexico make for a magical setting. It's no wonder that Marco Island is such a popular destination for sunbathers and relaxation seekers. And of course, let's not forget about all the local wildlife. Marco Island is truly a unique place you must see to believe.
The island's only public beach, Tigertail Beach, juts out into the Gulf at the island's westernmost point, looking like a tiger's tail.
Tigertail Beach is one of a handful of public beaches in the area and it's a 32-acre park teeming with wildlife.
The park also offers six boardwalks and a butterfly garden. You can rent kayaks, paddle boats and beach cabanas. Tigertail Beach is the perfect place to spend a lovely day at the beach.
This patch of coastline has been left in a more natural state than the more manicured resort strands. Marco Island is a great place to enjoy the sun, the water, and the shells.
Shelling in Marco Island
When is the best time to go shelling?
Low tide is the best time to go shelling. This is when more of the shells are exposed. The richest days for hunting are one to two days after a storm, especially when the winds were directed shoreward. On Florida's west coast, for example, winds from the west dump thousands of shells on its westward-facing beaches. Shelling is a great way to find unique souvenirs and can even be turned into a hobby. So, next time there is a storm, be sure to head to the beach for some fun shell hunting.

Look at where seaweed stomps on the sand. This is where you can find the best shells. Remember to follow local law: you can't collect or injure live shells.
If you accidentally pick up an alive shell, return it to the water immediately.
What to bring for shelling in Marco Island:
Mesh bag
Ditch the plastic. Today you can get cute mesh bags MADE for shelling. These mesh shelling bags come in all colors and sizes and you can get them on Amazon.
Shoes
But before you start filling your mesh bags with shells, there are a few things you should know. First, Marco Island is home to many types of shells, including quite sharp ones. Wear some protection(shoes) to keep yourself from getting cut. Second, remember not to take any shells with live creatures in them or starfish or sand dollars that are still alive. It's against the law!
How to clean shells
Tips for cleaning shells:
Make a mix of bleach and water and soak them in for 30 minutes, then rinse with fresh water. Pronto! This will kill any bacteria or organisms living in the shells. Then, use shells to decorate your home, and craft activities.
Fishing in Marco Island
Looking to get your fishing fix? Marco Island is the perfect place to do it! This little slice of paradise is home to some of the best fishing around.
Whether you're hoping to tangle with a redfish or battle a tarpon, you're sure to find what you're looking for here. The waters around Marco Island are just brimming with fish. So grab your fishing gear and head on out – you're in for a treat! Anglers count on getting tarpon, snook, sea trout, and redfish at different times of the year. You can also go offshore in the Gulf of Mexico and target grouper, snapper, cobia, tuna, and king mackerel.
Marco Island has something to offer no matter what type of fishing you're into.
And with 300 days of sunshine per year, you can fish almost any day of the year. So come to Marco Island and see what all the hype is about. You won't be disappointed.
Take an eco-tour – become a scientist for a few hours.
Marco Island is home to many unique creatures in the water and on land. However, there are few animals more awe-inspiring than dolphins. These intelligent and social creatures are so much fun to watch. Marco Island is one of the best places in the world to see dolphins in their natural habitat.
One company that offers Marco Island eco cruises is Dolphin Explorer. The Dolphin Project studies the numbers and behavior of bottlenose dolphins in the waters of southwest Florida. As part of the Ten Thousand Islands Dolphin Project, you can participate in sighting and counting dolphins. Become a scientist for a few hours on one of their eco-tours. – This is an eco-tour like never before!
Visit the mysterious Dome House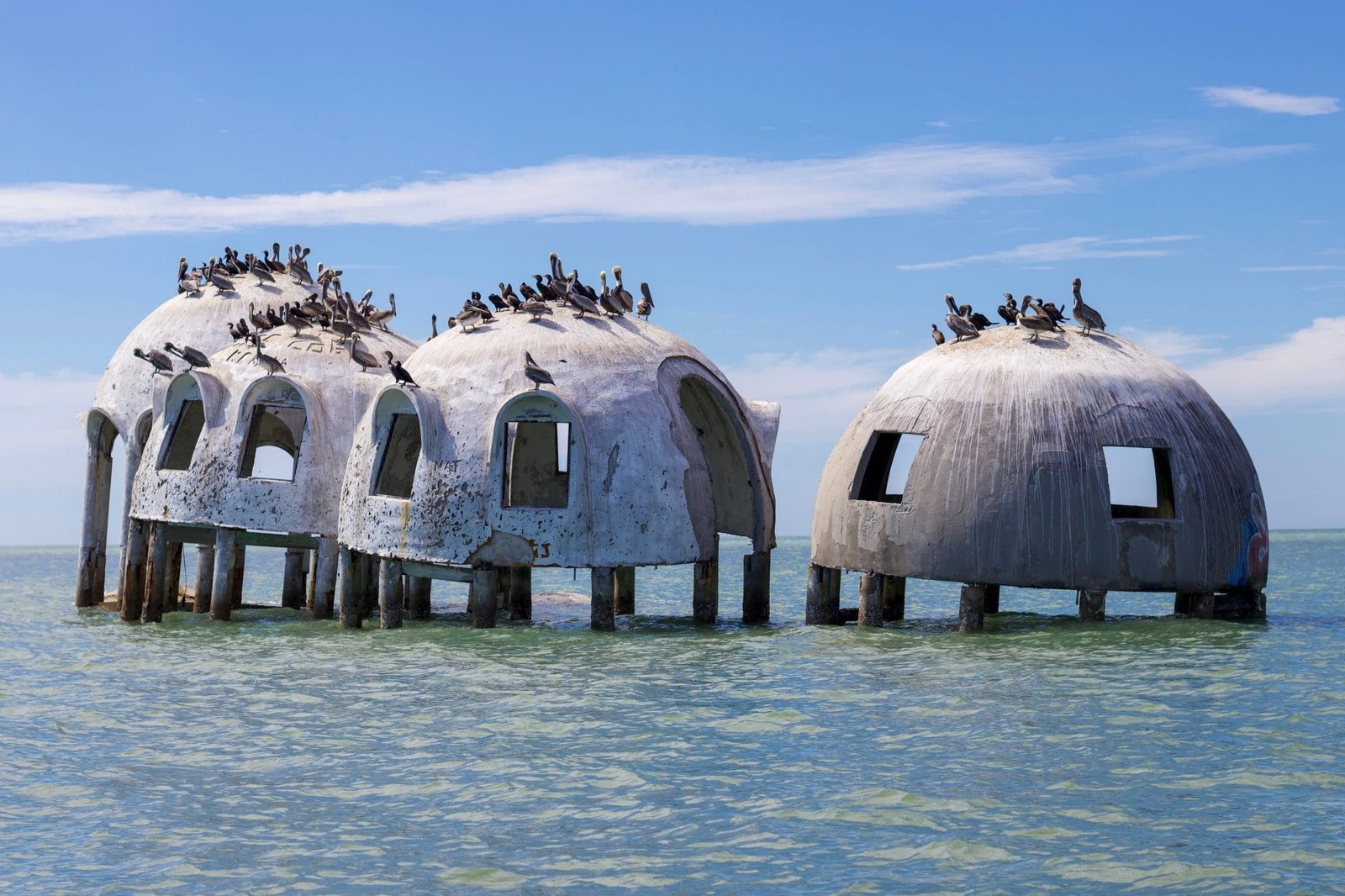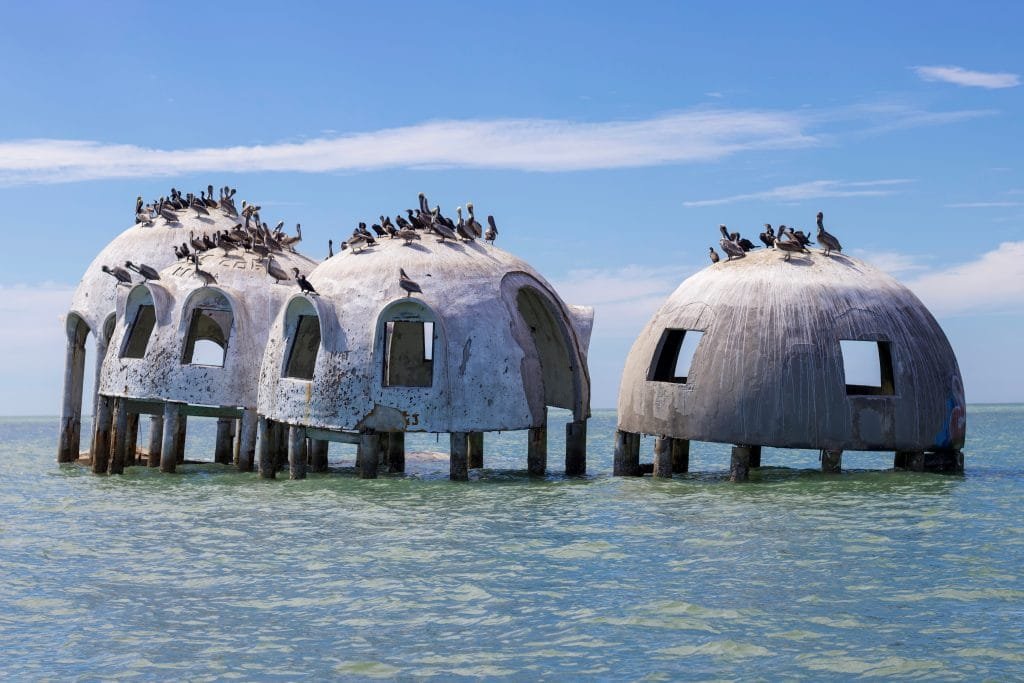 The Dome House is a unique tourist attraction in Florida. Built in 1981 on Ten Thousand Island, the Dome House is a complex of stilted concrete igloos slowly reclaimed by the sea. The Dome House is accessible only via water, and it is gradually being reclaimed by the sea. The Dome House is a unique tourist attraction because of its setting and legends. The Dome House is an ideal setting for wildlife and wild legends.
Everglades
The Everglades is one of the most unique ecosystems on the planet. And Marco Island is the perfect gateway to this natural wonder. Although it may seem remote, many ways exist to explore and experience the Everglades. Hiking along well-groomed trails and boardwalks is a great way to get deeper into the swamp. But paddling is also a popular (and serene) way to explore the Everglades. So whether you're looking for an adventure or just want to relax in nature, Marco Island is the perfect place to start your Everglades experience.
The Key Marco Cat statue
The Key Marco Cat- is a 6-inch wooden carving of a kneeling man-cat/cat-man, likely carved by the native Calusa people. The Cat now sits in the courtyard of the Marco Island Historical Museum for all to see.
When you see the Key Marco Cat, you'll be mystified by its enigmatic features–and intrigued by its connection to the long-gone civilization that created it.
When is the best time to visit Marco Island?
Most people think of Florida as a hot, humid place where it's summer all year round. And while it's true that the Sunshine State does enjoy warm weather year-round, there are actually distinct seasons in Florida. Marco Island is a great place to visit any time of year, but some months are better than others, depending on what you're looking for. September, October, and November offer the perfect blend of warm days and cool nights. Temperatures hover around the 80s, making it comfortable to spend days outdoors without feeling overheated. January is the coldest month on Marco Island, with temperatures dipping into the 60s. However, even in the winter, Marco Island is relatively mild compared to other parts of the country. So whether you're looking for a summer escape or a winter getaway, Marco Island is the perfect place to enjoy some sunny weather.
Why you should visit Marco island
Marco Island is world-renowned for its gorgeous beaches; a big part of the Marco Island experience is collecting shells. Shelling is an excellent activity for all ages, and it's one of the best ways to find unique Marco Island souvenirs. It's a great day trip from Miami.