Fun Things to Do in Utila Besides Diving
Utila is a tropical Honduran island that is a paradise of blue water, tropical views, and mountains that rise from the water. Utila is known for its beaches and scuba diving experiences. You can get scuba certified on the island and the rates on Utila are cheaper than anywhere nearby, which makes it popular. Utila is an acquired taste to some, since it's not fancy by any means.
Fun things to do in Utila besides diving
Utila îs a diving hot spot.
But there are many other things to do in Utila besides diving and stay entertained.
Utila Island is a unique travel destination where backpackers will feel right at home.
Because of its small size, cars are almost nonexistent. Instead, most people walk or get around on scooters, bikes, and golf carts. And even if you're just visiting, you can always rent one of these vehicles and experience Utila Island just like a native.
And while Utila Island is one of the safest places in Honduras, visitors should use the same caution as anywhere else. So, enjoy the bars and other local establishments but be careful not to venture out alone at night – especially if you're carrying valuables.
The vibe of Utila is rough, rugged, partying, and relaxing, but also mixed with incredible natural beauty and cultural flavor.
Here is a list of things to do in Utila besides diving
Visit an Inhabited island
Water Cay istwo and a half acres of white sand beaches and lush greenery – including Australian Pine and Coconut Palms – nestled in the heart of the Honduran Bay Islands. This tropical paradise is located just one third of a mile off the island of Utila. You have to hire a captain (water taxi) in advance to get there . It's costs $50 for the round trip . The island is uninhabited, so you can see what life is like where there are no people. There is a reef surrounding the cay and water plunges to over 100 feet deep at the outer edges of the reef. It's known for its incredible snorkling views and the unique species of coral that you can see exploring the colorful coral reefs teeming with dozens of species of aquatic life.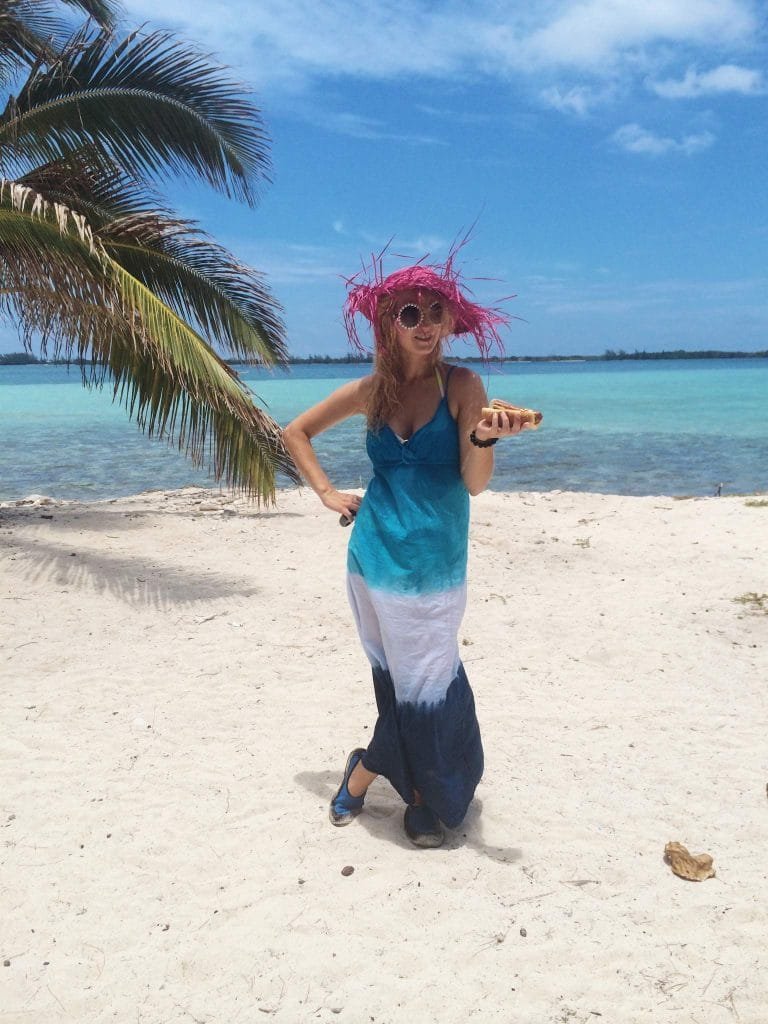 The cay also features coconut trees and beautiful forest like habitats. The reefs extend 400 to 500 feet off the edge of the cay, which offers protection from ocean swells and surges. If you're looking to scuba dive or visit an uninhabited piece of paradise, you should undoubtedly check out Water Cay. It's not large, only 364 feet by 330 feet, so it won't take you long, but it's worth a quick trip to check it out.
And since it's uninhabited, you won't have to worry about fighting any crowds.
Kayak : Mangrove Channel Kayak to the North Side of Utila
One of the main attractions of Utila are the incredible kayaking trips that you can take through the red mangrove forest. Paddling through man made canals, immersing yourself in the animals and plants that inhabit these natural wonders, and stopping to enjoy white sand beaches and lunches in the tropical paradise makes these trips unforgettable. The trips take you through three differing types of mangroves as the sun peeks through the tops of the mangrove tunnel surrounding you. You'll see animals such as herons, crabs, and iguanas along the way.
Take a relaxing ride into the Mangrove Channel, enjoying the unique, local flora and fauna.
As you make your way through the lower lagoon, catch glimpses of fish nurseries and flocks of exotic birds while you learn about this intricate ecosystem. This two to three hour-long ecotour will take you to the bay of Rock Harbor on the north side of Utila Island and back again. And though you can make the trip on your own, by using a guide, you'll get the opportunity to learn about the history of the mangroves and coral reefs. In addition, a guide will ensure that your ride is as safe as possible and offers a unique, insider's perspective on this beautiful paradise.
Most of the trips only take 40 minutes to an hour and end in the incredible white sand beaches that Utila is known for. Coming out of the tunnel of mangroves into the bright expanse of white sand and clear blue water is a breathtaking experience. Most of these beaches are undeveloped as well, meaning there will be little to no other people on this private beach paradise, where you can celebrate the end of your journey by taking a dip in the gorgeous water.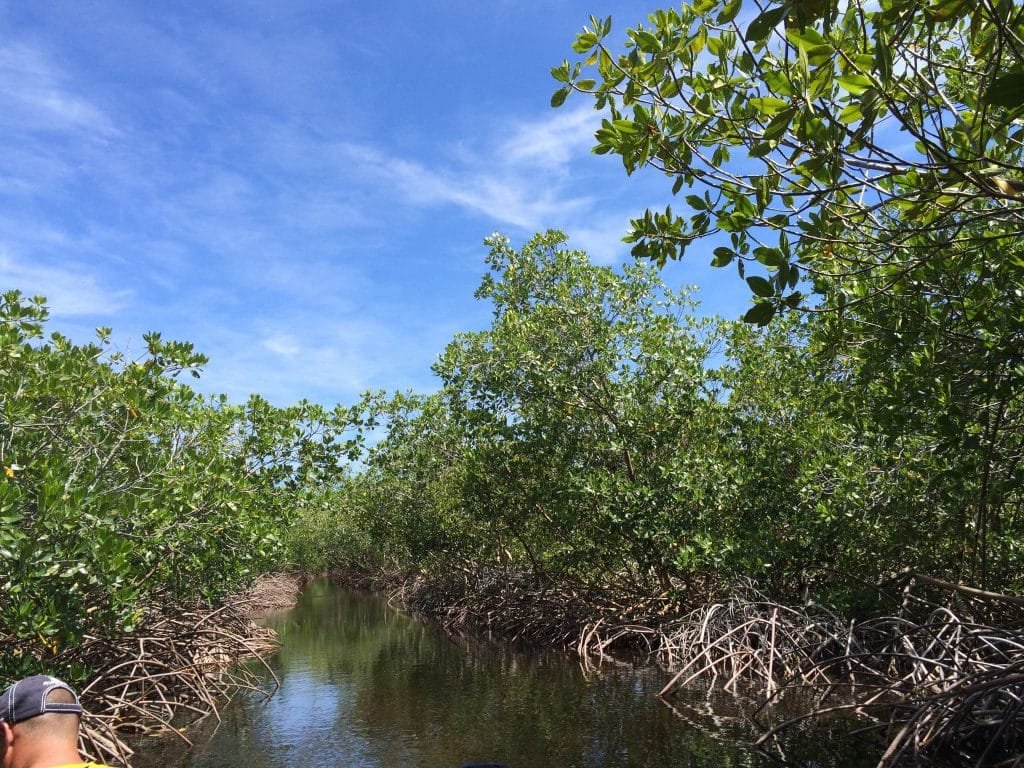 Utila features many rare breeds of iguanas that you won't be able to see anywhere else in the world, and for that reason, it's home to an iguana research and breeding station. You can learn about how these iguanas live, breed, and how poachers are threatening their existence. They'll talk to you about the endangered "Swampy" and how they're working to save the species. This will be a short but worthwhile trip where you can get a lot of information on these rare iguanas and conservation efforts in only about 30 to 45 minutes.
Tour Utila Dive Bars
It's also a popular drinking destination, since there are many bars to be experienced, just beware that you will see cocaine usage in many of these bars. Utila is known as a backpacker's paradise as well, since it's natural and rugged and cheap. Many backpackers will lodge in a dive shop, where you can receive free accommodations if you purchase a dive certification package.
Utila isn't for everyone, but for those who love to scuba and enjoy the rugged island life, it's paradise. Even if you're not into that lifestyle, the views and water of Utila is an incredible sight to see. It's a Honduran hidden gem no matter how you look at it. A Caribbean paradise.
Take a Boat Trip to Neptunes Bar and Coral Beach Village
Coral Beach Village – South Shore of Utila between Utopia and Laguna Beach.
Utila's most popular dining spot .
Imagine eating dinner on white sand beaches, staring out across a crystal clear sea and seeing the mountains of Pico Bonito rising up in the distance. The sun drops lazily behind those jagged cliffs, sending oranges, purples, and reds into the sky and painting a sunset like none you've ever seen.
The views are not just something to imagine. It's something to experience – every single day.
The Neptune's Beach Bar and Restaurant sits right on Coral Beach, in front of a nearly 200-foot pier that stretches out over coral reefs and offers the perfect place for visiting boats to dock. And after you enjoy delicious food and drinks, you can swim, snorkel, sunbathe, or enjoy any number of other activities along the sandy cove that surrounds the bar.
Snorkel
Go fishing !
The Utila Ferry
You can get to Utila via the Utila Princess, a $7 ferry from mainland Honduras, known as the "Vomit Comet" due to it's rocking, sickness-inducing nature.
Or, you can spend some additional money and take the Utila Dream ferry, which is more accommodating and comfortable than the Princess for $25 each way. The Dream takes about 35 minutes to reach Utila, whereas the Princess takes about an hour. If needed, Utila has a community clinic that is used to dealing with scuba related injuries among other ailments.