One Perfect Day at Islamorada: Best Things to Do
Every time I visit a new place, I'm like a kid in a candy store trying to decide which iconic restaurant to check out first. And I don't think I've been to the Keys without trying The Green Turtle Inn in Islamorada, who's been serving up smiles and fish dinners since 1947! This ain't your grandma's diner though!
The Green Turtle has recreated itself into a modern destination without losing its old school charm – you can still hear stories from the islands that have been passed down for generations, sip on tropical cocktails, and nosh on seafood classics from way back when. If you're looking for an adventure and some grub to fuel your journey through the islands, make sure you get yourself over to The Green Turtle Inn ASAP!
Betsy the Lobster in Islamorada
With no exaggeration in sight, the town of Islamorada boasts something that you will have to travel across the world to find– a giant lobster!
Truly, nothing is too terrifying when it comes to creating oversized novelty statues — so pay Betsy a visit and take part in this very unique world record attempt!
With her intimidating size reaching 40 feet long and nearly 30 feet tall, Betsy is no joke; a giant, spiny nightmare that guards the entrance to an artist's village at Islamorada in Florida. She is not just the stuff of your deepest seafood-fearing dreams, but she could quite possibly be the world's biggest lobster- in spite of some tough competition from a fiberglass tail in Canada.
The story
Betsy the Lobster is no ordinary crustacean — this one has garnered the attention of people far and wide. Rumor has it Betsy was once located in front of a shopping center in the south Florida Keys, where she became an impressive photo opportunity and popular tourist destination. Unsurprisingly, when Betsy's original home was set to become a Montessori school, locals knew it was time to find her a new and improved home. So, Betsy made her way to Rain Barrel Artisans' Village in Islamorada, where she has continued to show off her unique charm and wonder tourists from every corner of the world!
spineless lobster
These tail-wrigglers are well-known residents of the Florida Keys and beloved by seafood lovers everywhere for their tasty tails. But don't expect to find giant claws – spiny lobsters make up their missing limbs with sturdy antennae instead.
The story of how Betsy the Lobster came to be is nothing short of astounding. She was sculpted by an artist in 1980 in Marathon, Florida for a restaurant that unfortunately did not last. Since then she has seen a wild journey – from being taken from the defunct restaurant to being put on display at a local village only later to be retired and put into storage. Finally in 2009, this 12-legged goddess made it out of the darkness and onto civilization once more when she was moved to Rain Barrel Artesian Village (MM 86.7) right on the Overseas Highway. As if her journey wasn't dramatic enough, Betsy truly is world-famous now and second only to Key West's Southernmost Point when it comes to being photographed!
Morada Way Arts and Cultural District
Ah, things to do in Islamorada! What could be more delightful than taking a stroll down the Morada Way Arts and Cultural District. It's been around since 1935 and is home to the ever-recognizable Green Turtle Inn and iconic old Hurricane Monument. That's right – back when things were simpler; this was the only road, and the railroad ran down the middle of what's now called Overseas Highway.
And since it's just a half-mile stretch, you can take your time savoring all its splendor – that is, if you don't keep getting distracted by things like an inviting beach or great views!
Florida Keys Brewing Co
Exploring the Florida Keys often means searching for that perfect place to cool off.
The Florida Keys Brewing Company opened its first craft brewery back in 2015 and has since moved to a new taproom with a beer garden right off the Overseas Highway.
Packed full of eye-popping decor, this colorful spot features mosaics made from thousands of bottle caps from breweries worldwide. But don't let that distract you from the main attraction – their unique beers carefully crafted just for you.
Islamorada Beer Company
At the second brewery, the Islamorada Beer Company, you'll have 10 tasty draft beers to choose from, including some nautically themed names such as Sandbar Sunday, No Wake Zone. if you get thirsty later in your stay, swing by their rum distillery too!
The Florida Keys History & Discovery Center
.The Florida Keys History & Discovery Center showcases two full floors of amazing things to learn and explore – it's an elevated experience compared to hearing stories on a bar stool over happy hour. The first floor reveals permanent exhibits on interesting topics like sunken treasure fleets and the original native Americans in Florida.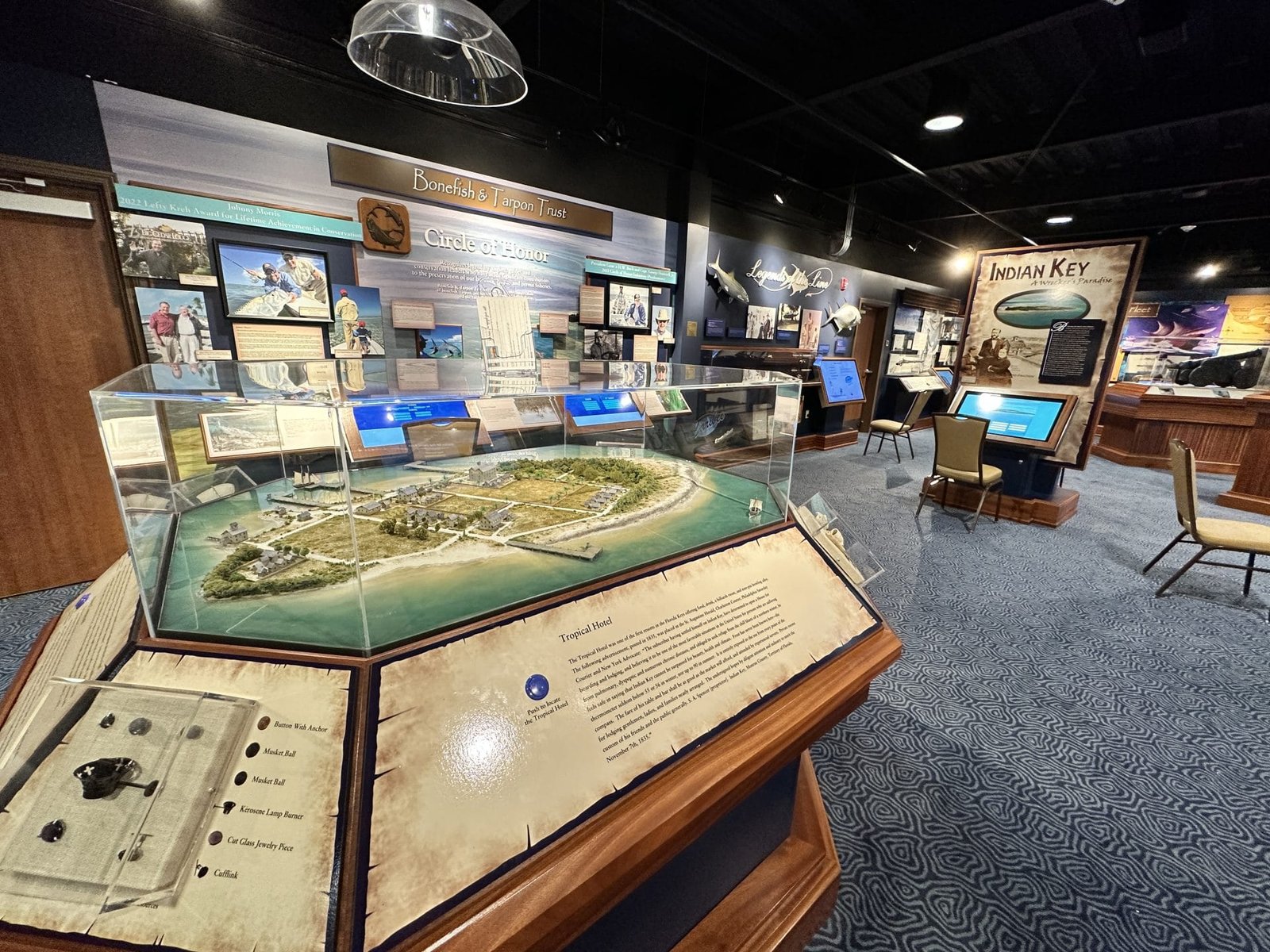 Upstairs, things get even more exciting – with ever-changing exhibitions providing hours of nonstop entertainment. Not only that, but you can also settle into the 35-seat surround-sound theater for a truly immersive experience.
It's l ight years away from your typical history museum experience. This is an oceanfront museum that features two whole stories at 7,500 square feet of sea-fresh air with a state-of-the-art theater and exhibitions made by the same people who worked on the Salvador Dali Museum!
So if you're someone who loves history with a side of theater, this is definitely one of the most exciting things to do in Islamorada!
Key lime pie in Islamorada
.Those with a sweet tooth who find themselves in the Florida Keys should make sure to stop at Blond Giraffe. This Tavernier pie shop is home to some of the very best key lime pie in which South Florida has to offer.Take solace knowing that Blond Giraffe's key lime pies will knock your socks off with every bite, never compromising on buttery crusts and heavenly meringue peaks balanced with the perfect combination of sweetness and tanginess from the creamy filling.
Key lime pie junkies know the real deal lies at Blond Giraffe – a Tavernier pie shop poised to fulfill all your key lime dreams. After stuffing yourself with as much of the stuff as possible, you'll be convinced this is pretty much the best dessert to ever grace South Florida.
Picture the perfect balance between sweetness and tang encased in a buttery crust and crowned off with heavenly meringue peaks – perhaps even more delightful than you imagined when dreaming about a key lime experience. Make sure you stop by Blond Giraffe for an epic slice of Key Lime heaven!
Blond Giraffe has perfected the art of creating the most succulent key lime flavored masterpiece to ever grace your taste buds. Have no fear, for every bite is a balance of sweet and tart that is jam packed into one delectable creation
Story:
Roberto Madeira and Tania Beguinati knew they had a winning recipe when their key lime pie beat out 17 other varieties in the Key West contest. Little did they know this sweet treat would later become an overnight celebrity sensation! Recognized by Food Network, Southern Living, and National Geographic Traveler, Blond Giraffe's key lime pie factory brings fame and flavor to the far-reaching coasts of Key West
When in the Florida Keys, it's pretty much a given that you've gotta get your hands on some Key Lime Pie. After all, you're not in Kansas anymore! If you want to get your fill and don't know where to start, look no further than the Blonde Giraffe. It's located on an inviting little neon green island cottage serving up some of the best Key Lime Pie (and other treats) from around the country. Do you have a sweet tooth? The Blonde Giraffe has got you covered with key lime cookies and candies. Plus, for those who need something to perk themselves up after all that pie eating, there's a full espresso bar!
Visiting Robbie's Marina in Islamorada
Visiting Robbie's Marina in Islamorada is an experience you don't want to miss. For just a few dollars, you can feed dozens of enormous tarpon that gather around the dock. It'll be the highlight of your trip! Just watch out for the pelicans that try to steal your bait fish, and beware of all the macho guys who are so eager to hand-feed the tarpon––you may end up with a few bites (not really worth it!).
If you're looking for things to do, don't miss out on the chance to feed the tarpon at Robbie's Marina – it might just be the most entertaining two dollars and 25 cents you'll ever spend! You can spot 50 to 100 massive tarpon swimming around in the clear, shallow water, while pelicans try to steal the bait fish, and some especially daring fellas try their luck at hand-feeding them.
Robbie's marina in Islamorada is the place to be for a unique experience in the Florida Keys! With fish feedings, snorkeling excursions, and kayaking activities, you're sure to have an adventure you won't soon forget. And if souvenir shopping is what you're looking for, Robbie's has got that covered too. But don't miss out on the nearby Lignumvitae Key Botanical State Park, where you can witness some of the oldest and densest trees around—the kind that survived an actual earthquake in San Fransisco!If you're looking for things to do, don't miss out on the chance to feed the tarpon at Robbie's Marina – it might just be the most entertaining two dollars and 25 cents you'll ever spend!
Islamorada Museums
Windley Key Fossil Reef Geological State Park
Windley Key Fossil Reef Geological State Park! Get ready to learn about ancient coral that is millions of years old! Now, you don't have to be a scientist for this excursion. There's an awesome self-guided trail lined with Florida Keys trees and bushes pointing out the things you should know – but let's not forget the 8 foot tall quarry walls that display the beautiful cross sections of the coral. It's like something out of National Geographic! Don't miss your chance to explore one of a kind geological history and add it to your things to do in Islamorada list.
This unique park lets you walk along 8 foot-high quarry walls so you can see cross-sections of fossilized coral. Plus, this experience isn't just about old rocks – visitors on the self-guided trail will get to learn about native vegetation and all the things it can be used for! If things are looking quiet in Islamorada, make sure you visit Windley Key Fossil Reef Geological State Park and educate yourself on the Keys' exciting geological history.
The History of Diving Museum
The Florida Keys are known as a must-see destination for diving enthusiasts, but even if you're not an expert in aquatics there's plenty of things to do. One of the top attractions is the History of Diving Museum located in Islamorada.Yes, you heard right – there's a museum devoted entirely to diving! And the best part? It's run by physicians – Joe and Sally Bauer, who are fantastic hosts as they proudly show off their collection of diving helmets, hand-operated pumps, suits and lights that they've been collecting over 15 years. Even non-divers will find it captivating – so don't miss out!
Anne's Beach
Looking for things to do in Islamorada that won't break the bank? Look no further! Start your day with a picnic and some beach time at Anne's Beach. Here, you can watch the fishermen wade around, feeling envious of their daily catch.
Once you've had your fill of sun, head over to the World Wide Sportsman, affectionately known as 'The Temple of Fishing' .
It's an impressive complex full of fishing gear, clothing, and all things necessary for your next outdoor adventure – not to mention they even have Ernest Hemingway's own wooden fishing boat. And if the ocean still hasn't called you yet, the Islamorada Fish Company is right next door – perfect spot for a fish dinner afterwards!
Florida Keys Farmer's Market
At the Florida Keys Farmer's Market you can find all of your staples, plus some unique delights. Have a hankering for artisan cheeses? They've got it covered! In the mood for select meats? Look no further! And if you need a quick snack, there are freshly baked goods too. Don't forget to stock up on natural and organic produce, plus the array of local artworks available. Oh, and there is even a stand for orchids .
But most importantly – and this is no exaggeration – you'll find yourself surrounded by fresh seafood options that would make Poseidon himself jealous. From delectably prepared hogfish to irresistible yellowtail snapper and hearty mahi mahi dishes – mouthwatering finds await!When it comes to the Florida Keys, you can expect some of the freshest seafood around.
Here you'll find all sorts of delights – artisan cheeses, select meats, delicious baked goods, farm stand fresh juices, natural and organic produce and local art. Don't forget the orchids too!
Looking for something fun to do in the Florida Keys? Look no further and head to the Florida Keys Farmer's Market, open every single Sunday, rain or shine! Be it winter or summer, you can spend your Sunday exploring the vibrant outdoor oasis of colorful artworks and murals, listening to sweet live music in the air, and browsing a wide selection of items from local vendors.