Miami Packing list: What to Wear on Miami Vacation
What to pack when visiting Miami in winter or summer?
The climate:
Prepare for high humidity and hot temperatures when you visit Miami from April to October. Average high temperatures for Miami in the summer can range from the mid-80 to the 90s F (34 C), with very high humidity making the days feel MUCH hotter.
Winter months are mild and slightly chilly.In January, the coldest month, the average low temperature is 63 degrees Fahrenheit (17.2 degrees Celsius).
Maimi's rainy season is May through September, with 3 summer months being the wettest.
A trip to Miami is always a delight because there are many things to see and do. What will you be wearing when you walk Ocean Drive?
Go to a swamp tour? Or absorb modern art in Wynwood or attend a pool party?
Whether you are traveling to Miami in summer or winter, breathable fabrics and loose-fitting pieces are essential when choosing what to wear for a Miami vacation.
Miami packing List: Dress up or dress down?
You might feel a bit of pressure to dress up when vacationing in Miami. Sure, it is the party capital, with insta models, celebrities, a booming nightlife and plenty of Insta-worthy locations.
But remember, the humidity is high all year round, and you will be walking most of the time throughout your trip…
Miami heat can leave you looking more sweaty than stylish.
When you aren't walking, you'll be chilling at the pool or on the beach. Or sipping a drink at a pool party. People don't come to Miami to stay inside their hotel rooms.
And if you are drinking- and if you travel to Miami, most likely you are,- your feet will swell, giving you more headache than a hangover.
You'll get much more out of your trip to Miami if you feel comfortable rather than looking like a supermodel.
How to dress comfy and look casually chic on your Miami vacation:
simply add a statement accessory to your casual outfit
a fabulous pair of sunglasses
designer bag or a statement bag
trendy sneakers
jewelry
Don't forget about the grooming:
A swipe of bright lipstick goes a long way
Fabulous and fresh manicure is likely to be the only thing Miami humidity won't destroy within hours or minutes
Healthy and freshly washed hair with natural beach waves is a beach Chic
You really don't need to try too hard with your wardrobe to feel polished and gorgeous.
Whether you will be visiting some of the raging parties in the Miami Ocean Drive or having a shot of tequila at one of the bars down at Washington Avenue, I've got your back. Here is your shortcut to standout photos and comfortable travel in Miami.
What to wear to the beach or pool in Miami
Assuming you would be building your outfits around your swimsuit here are some great options:
A maxi dress that transforms into a swim cover-up
A white bottom down is beach chic. Convert your work bottom down into the beach-chic stable and use it as a cover over your swimsuit
A wide straw hat or a Panama hat not only looks fantastic, it saves your skin and hair from intense sun rays. You can never have too much sun protection!
Overalls are never my first choice for the beach or not, but they look surprisingly fantastic over a swimsuit.
Winters in Miami can be chilly, and when the sun goes down, a lightweight jacket is vital.
Opt for natural fabrics like cotton or linen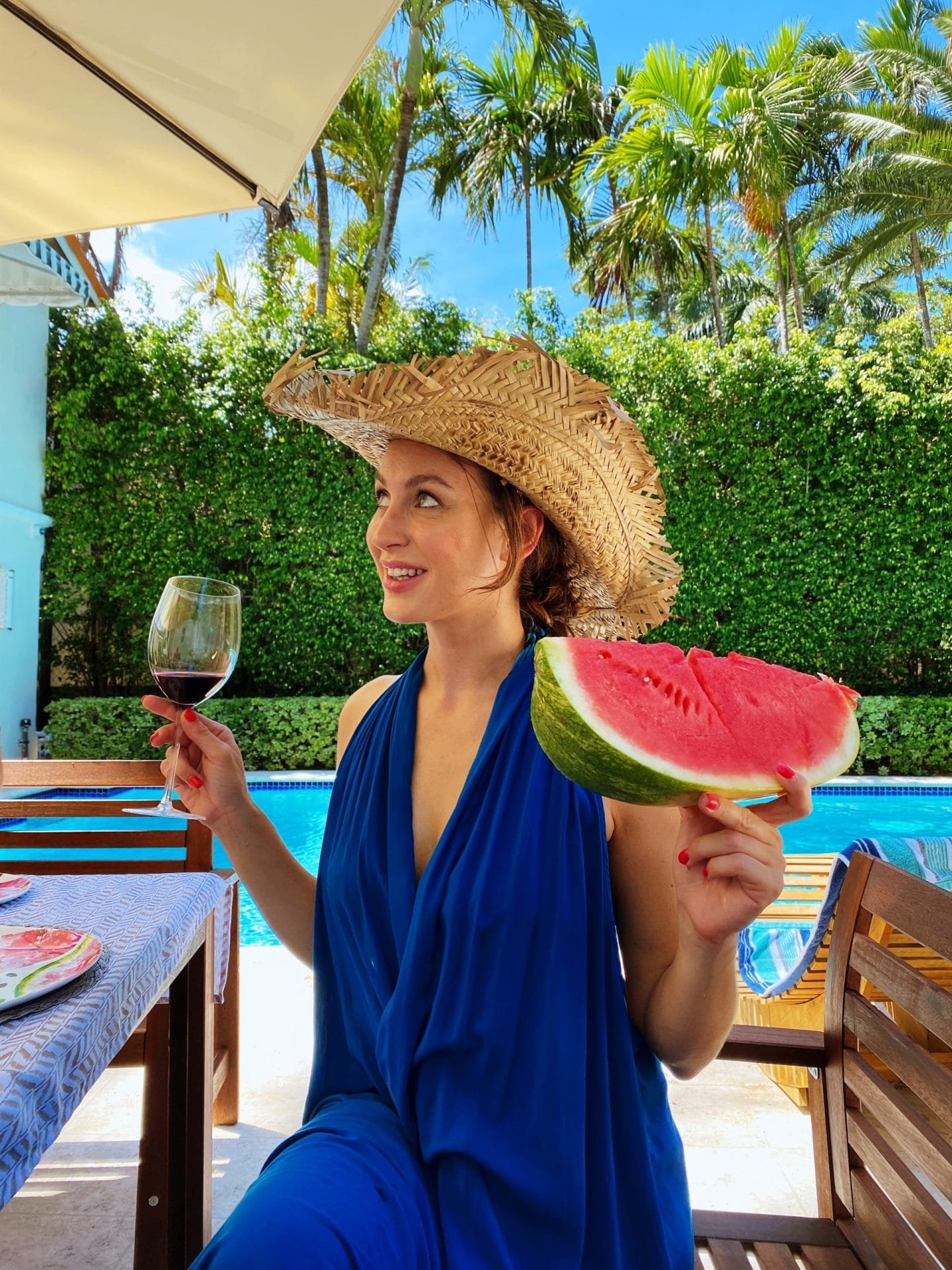 What to wear for the most instagrammable shots on the beach or pool
The lush greens and floral pinks will "eat" your darker clothes. But wearing a neon color scheme or anything bright will be a perfect contrast. As if you were an exotic flower among the greenery.
The best colors for poolside photos
sunset orange
bright red
coral
hot pink
total white
The best colors for beach photos
These color schemes will help you stand out against the blues of water and pool time and will be a nice contrast against the greens too.
For the beach or any other the background with the warmer, sandy tones the best colors are
whites
deep or electric blues
all jewel tones
What to Wear to Miami Ocean Drive Day and Night(life)
Comfortable Shoes or comfortable flip flops are your #1 priority
It is tempting to enter the hot Miami nightlife with 7-inch heels. Still, I recommend bringing trendy flip flops, espadrilles or flats.
This famous block in Miami is full of large bars, clubs, and restaurants. In fact, one of the most popular places in Ocean drive is Clevelander, a hotel and a bar! But, of course, that's not all! There are dozens of pools and pool parties in this block in Miami, so you should definitely be prepared for that!
The color scheme of Ocean Drive is a typical tropical deco palette :
soft pastels with a backdrop of lush greens
The best looking and comfortable ideas for Ocean drive
Total white – loose pants of the maxi dress will look phenomenal and anything with a tropical print or neon details.
Neon is one of Art Deco's signature colors.
Check out any local souvenir store for the coolest Miami-inspired prints for a dad-on-vacation look.
Denim shorts and a statement top
Matching sets are so chic and scream summer
Caftan and some glow to look and feel like a summer babe
Easy, breezy dresses in show-stopping patterns
Remember, when your outfits are simple, clean, and comfortable, you can add a small accessory and instantly be ready for dinner or nightlife. Wherever Miami nightlife takes you.
Why not throw a statement necklace or earrings in your bag so you can be ready for aperitif or dinner instantly.
A touch of bright lipstick and your outfit is transformed from the beach chill to beach chic!
Wynwood Graffiti
Are you going to the Wynwood Graffiti park? Fun! Whether you are an artist or now, Wynwood is an inspiring experience . And for your Instagram feed…every wall of Wynwood is a piece of art and the most Insta worthy background.
Each shot a gem – whether you are shooting static photos, selfies, or videos and reels .
Street-style outfits and street style chic will look most natural here:
The crisp white jeans and sailor stripes is the universal choice to look comfy, fashionable, and relaxed.
tan safari shorts, a super oversized shirt, strappy sandals and a woven bag
vintage denim shorts, a band tee
bold neons and chunky sandals
boho dress and white sneakers
You can always wear a basic all-white Miami uniform with a trendy purse and look fabulous.
What to wear to Little Havana Miami
Little Havana is a casual quarter in Miami full of bars, diners, and casual restaurants – which means that you can wear pretty much whatever you'd like!
Your packing list for a trip to Miami and to Little Havana should have a nice pair of sandals, some shorts, a few t-shirts, tropical print apparel, and maxi dresses!
Bring the color out of yourself when you go to Little Havana. It's so much fun to be as bright as the Cuban culture around you.
Wear Panama hat with a plain crisp tee and vintage denim or with linen shirts over denim shorts for a timeless chic
Bright dresses
Add at least one statement piece that screams "Havana" off-shoulder necklines, ruffles, tiered layers, even fringes
What to wear in Miami for a night out
Restaurants in Miami are fancy and luxurious, and that's why your outfits should be too. When going to a prestigious restaurant in the evening, make sure to bring elegance to the table. You can always wear a tropical maxi dress or go for the elegant one-colored ones.
In the tropical city, sometimes all you need is a fabulous flowing dress and a touch of bright lipstick. Finish the look with the statement sandals.
long slip dresses with some leather flip flop
Crisp white T-shirts tucked into mom shorts or loose linen pants.
The essentials
synthetic fabrics + warm weather are NOT a good mix
The perfect summer garment, the white maxi dress instantly conjures up images of sun-soaked vacations.
A true summertime staple, the tank top is a modern and simple piece you need in pretty much every color—but primarily white. Pair it with denim shorts or statement skirts – it will only look too fabulous!
A hat: there is nothing more important than your skin, bucket hat, Panama hat, or an oversized hat – just wear it.
Leather flip flops or a pair of trendy but comfy sandals
Packing for a winter vacation in Miami
When many places in the United States are blanketed in snow, with residents shivering from the cold and having to put layers of clothing on, Miami welcomes visitors with a pleasant warmth, perfect for a relaxing "winter" vacation in the sun. From colorful festivals to exciting activities, Miami offers every traveler or tourist plenty of reasons to make it one of the most visited places in winter.
Weather in winter in Miami
Miami has year-round warm weather, with temperatures usually around 20 °C -30 °C / 68 °F – 86 °F. The busiest time to visit Miami is between January and April. There are crowds on the beaches, and you can hardly find a hotel. Between June and November, there is a risk of hurricanes and tropical storms.
Fans of winter vacations can use this season in Miami for a change of scenery and a few weeks in the Florida sunshine. The January thermometer usually reads around +22 °C / 71 °F degrees in the shade, and the wind this time of year blows with warmth. The water temperature on Miami's beaches equals the air temperature in winter, which creates an opportunity for a pleasant and comfortable stay for travelers with children.
What to pack for a winter vacation in Miami
If you are going to Miami for the first time, consider the month of the year you choose to visit the city. Between November and April, the days tend to be warm, so you can wear a dress just as you would in summer.
Temperatures can cool down quite quickly in the evening, so pack a light jacket for this reason. Night-time temperatures bring options for long trousers and long-sleeved shirts.
Of course, since we're not talking low temperatures, three layers won't be the case, but it's good to have a jacket.
Don't forget your sunglasses, a hat or cap, your swimsuit, and, regarding the footwear, since you'll most likely be walking a lot, pack light and comfortable shoes, along with the inevitable beach slippers.
Instagram-worthy pics in Miami
If you pack everything we have suggested, your vacay pictures from Miami will take all of the spotlights on Instagram! You will surely feel like one of those influencers taking pics in your perfect Instagram outfits!
We hope that our "What to wear in Miami" guide will prepare you for all the pleasures Miami has to give.
I hope you enjoyed this packing list of clothing you should wear when visiting these significant places in Miami!
Whether you are spending your entire vacation in Miami or just spending a long weekend in Miami, these packing tips should make your trip a breeze.