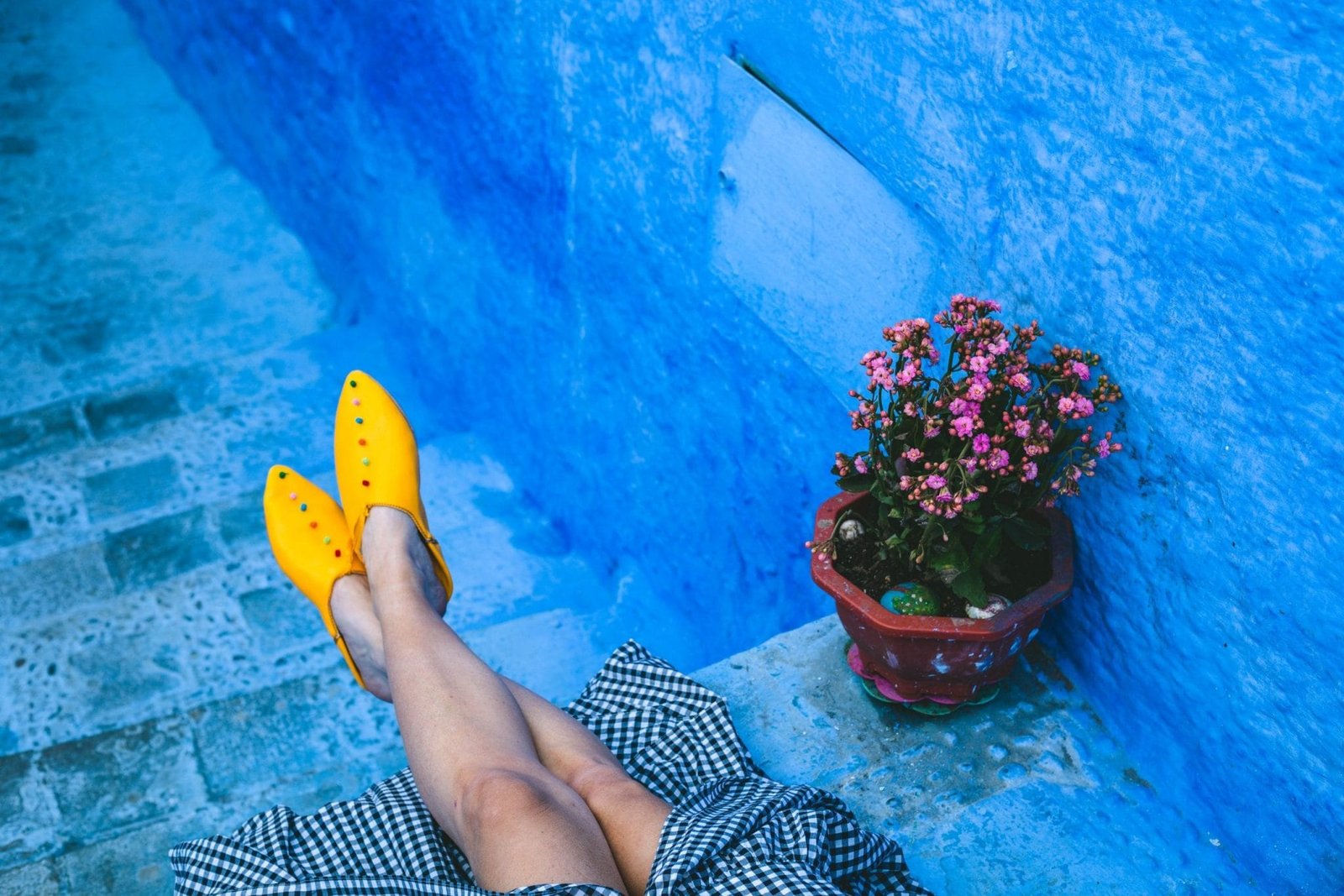 5 Reasons to Visit Chefchaouen :Morocco's Blue City
Chefchaouen is tucked away in a crevice of the Rif Mountains of northern Morocco; this town stands as one of the most charming places in all of this magnificently unlawfully picturesque country.
How to visit Chefchaouen – Morocco's Blue City
Chefchaouen(pronounced shef-SHA-wen) the city got its name from the Berber word "ishauen", meaning "watching the horns". It is just one of the tales that surround Chefcheouen. But given that the two mountain peaks, at the foot of which the blue city of Morocco is located, really resemble horns, this is entirely possible.
1 -Visiting Chefchaouen is like being in a van Gogh Painting
Every house inside Chefchaouen medina is painted in every imaginable shade of sky-blue.
The real sky blues are juxtaposed with terra-cotta rooftops and the painted walls of the ancient city.
The labyrinth of (blue) narrow streets leads you to Casbah. And the view of green hills and mountains.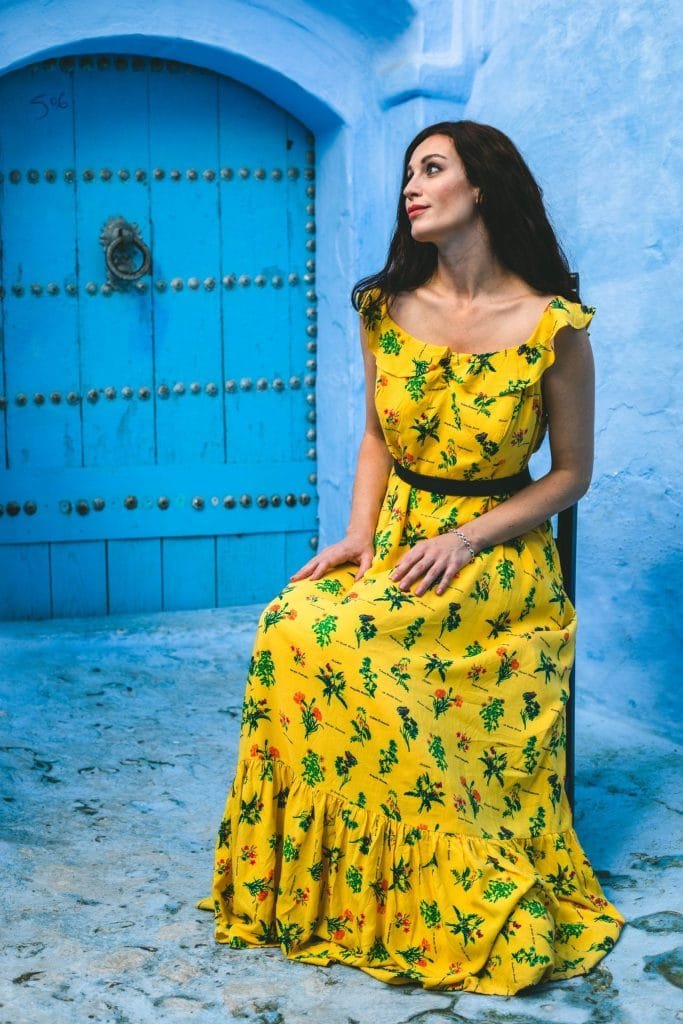 It's like you made it all the way up in the sky and the only thing that reminds you that you are still on earth are Moroccan arched architecture, jigsawing streets of the blue medina.
Oh, and of course, the trade.
The exotic Moroccan textiles and Berber rugs that you have seen in Marrakesh of Fez look more attractive and exotic, hanging against the blue walls. The blue brings out much more vivid colors out of Spices , which are one of the most photogenic subjects of the medina.
Morocco is one big bazaar – it's grown in its culture, and even the sky blue divine city is no exception.
Why is Chefchaouen so blue?
Morocco's blue city has been home to Moorish and Jewish populations since the 15th century. As the story foes, well, one of them, the Jews, were the creators of the blue city idea.
Not for tourism or Instagram.It was part of the Spanish Moroccan enclave from 1920 to 1956.
If you've traveled around Morocco, you know that you don't have to speak Arabic to navigate the city or bargain on the market. French – the country's primary commercial language will do.

Now in Chefchaouen the Spanish language is used most frequently.
By the way – just a few years ago, Morocco finally passed a law according to which the Berber language has officially been recognized as one of Morocco's languages, along with French and Arabic.
What kind of blue paint is used in Chechaouen, Morocco ?
The original, sacred blue color – "thelet", obtained from rare kinds of mollusks has been lost.
Either the mollusks got almost extinct or/and too expensive to use for the entire city's walls.The ancient formula for obtaining the color might have also been lost .Today the city walls are touched up with regular,artificial blue paint.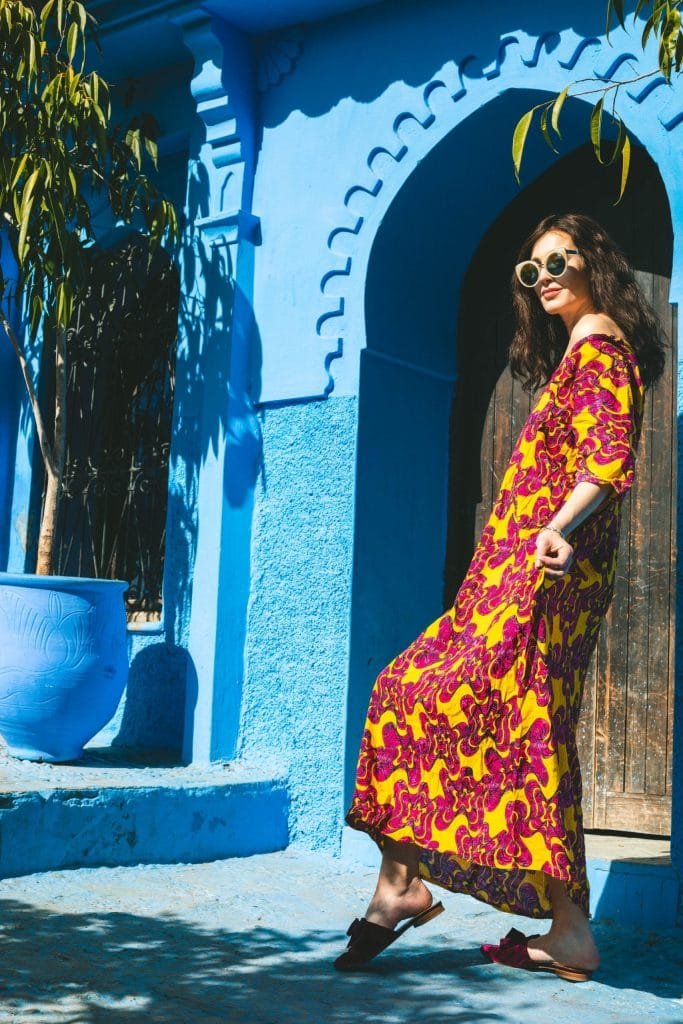 How ofter is Chefchaouen painted ?
Refreshed twice a year, the color is the main attraction of Chefchaouen, and locals try to preserve it as much as possible.
Before the Instagram era, the blue city of Morocco was its best-kept secret.
Today, tourists flock to take the award/like winning photos of spices against the blue walls, strategically placed cats that run the city, and selfies with the background unmatched.
The coolest thing about Chefchaouen is its unlawfully picturesque look. You don't have to be a photographer, and even if you don't clean your phone lense frequently, the photos you will take in Chefchaouen will be outrageously gorgeous.
Where is Chefchaouen located ?
Chefchaouen has a perfect location. Hidden enough to not be crowded like Marrakesh with some 100 flights coming in and out daily, but still available. It's only 3 hours away from Tangier. A perfect retreat for Tangier locals for the surrounding waterfalls, lush green hikes and rock climbing.
It is also about a 4-hour bumpy drive from Fez – the soul of Morocco.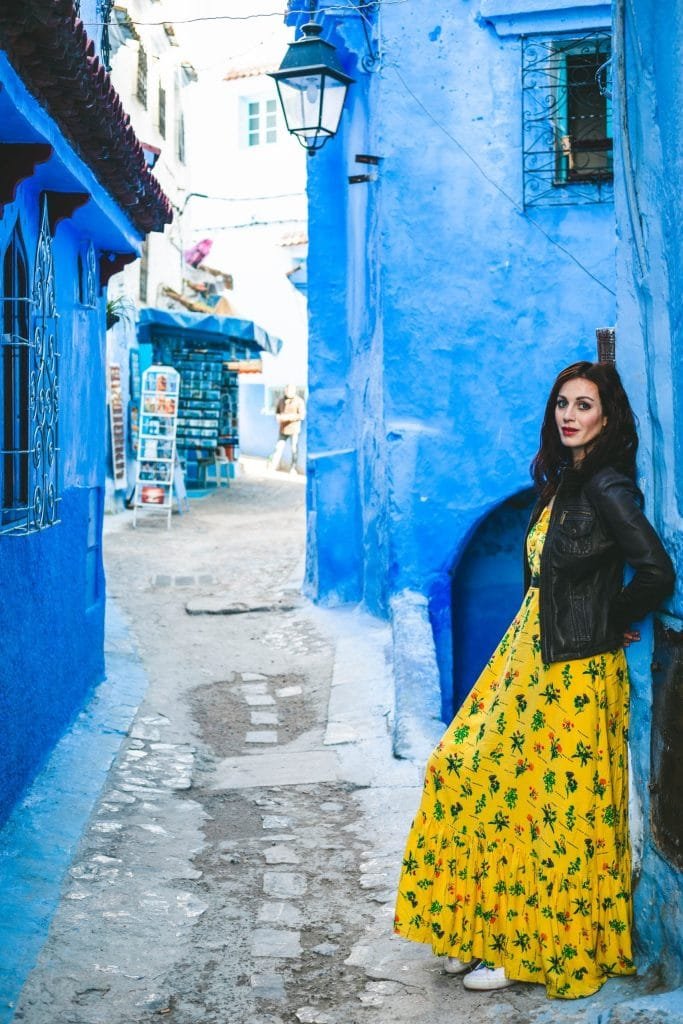 There are many legends about the origins of the divine blue color.
Some say that blue is a natural mosquito repellant.
Some trace it back to Jews painting it blue after escaping the Spanish Inquisition in the 15th century.
Or maybe it is to keep the houses cool during the African summer heat.
Around every corner is a vista that's Instagramable:
Spices of all colors placed against the sky blue walls look more vibrant than ever.
Handwoven textiles and Berber rugs get a much more marketable look in this dramatic blue setting too.
A vendor is squeezing fresh orange juice, with bright peels curling around his stand.
Ropes are everywhere. In the narrow labyrinths of Chefchaouen Medina, a roped man looks like the character from Bergman's Seventh Seal.
2 -The most chilled shopping experience in Morocco
Chefchaouen doesn't have Marrakesh or Fez Medina's grandeur, but it is indeed an excellent place for chilled shopping with no fuss. Store owners in Chefchaouen are much more relaxed as well and reduce prices easier than in Marrakesh.
The blue city is very famous for its wool – after all, in winter you can't live here without warm clothing, so goats are a must for every Chefchaouen household. If you get a chance, try local goat cheese – it's delicious!
3 – Chefchaouen is an artist's paradise
Powder blue, cyan, robin's-egg, indigo, cobalt, azure, periwinkle— Chefchaouen is a feast for an artist's eye .
You will see more shades of blue than in the Pantone palette.

My favorite was the rusted, old walls that haven't been touched up by fresh paint in a while. It was like one big painting. So perfectly imperfect, and inspiring I took a hundred pictures of that wall and put it on my color inspiration board I created for work.
Best place to capture 500 shades of blue?
The usual. Golden hour. Sunset.
4 -Cat lovers must visit Chefchechouen
Are you a cat person?
I'm not. However, one of the highlights of my Chefchaouen trip was :
photographing strategically placed cats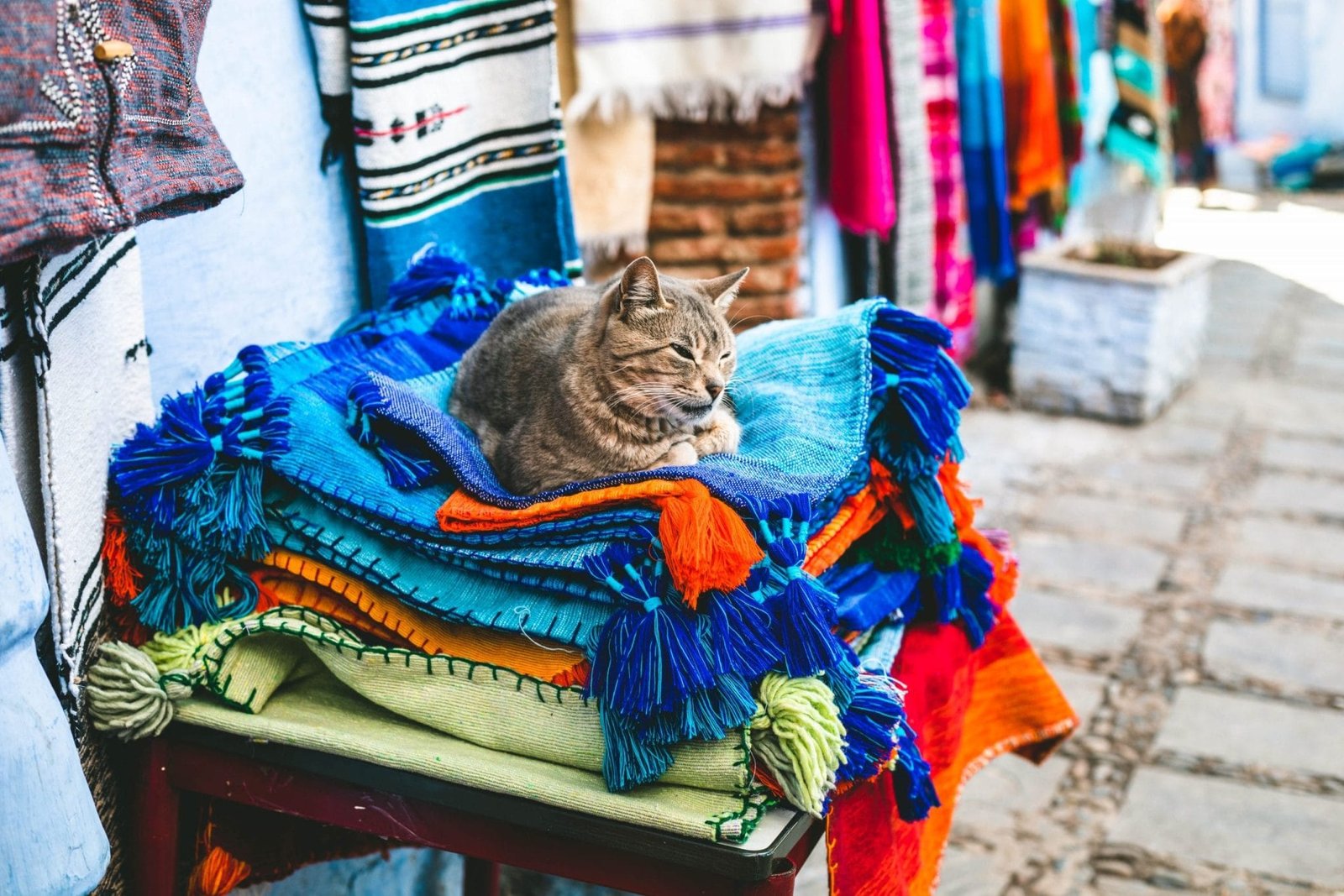 If you are a cat lover, you must visit Chefchechouen . Cats are everywhere. Terraces, bushes, spice bags (!) cafes. For a moment, you might think that they run this town.
All beauties are well fed, with shiny coats and majestic aura.
5 -It's still fresh
The last reason to visit Chefchechouen is its "freshness". Until not too long ago, tourists or any people of not Muslim faith haven't stepped afoot to the Blue City. Only three Christians visited it until the 20th century! Chefchechouen was able to retain the medieval look and feel. The streets have not changed their design since antique times.
Even today, Marrakesh hosts the majority of the crowds. Not too many make it to Fez, unfortunately. And the Blue city, having a steady stream of the desperate instagrammers and photographers, is still not nearly as buzzed about as other parts of Morocco. Possibly because it is not the easy to get there.