9 Fabulous Things to Do in Fez,Morocco
Best things to do in Fez, Morocco
1- History class

One of the oldest universities in the world?
No, not Oxford.
Not Bolognaor famous Cairo.
It's The Karaouine, one of the jewels on the Medina crown. This is where bough revolutionized mathematics. Where astrology was born and reached Europe later with the Moorish rule in Spain. Rumor has it that Plateau and Aristotle's works reached Europe from here too.
Pay tribute to history. One of the best things about this ancient college? A woman founded it.
In the ninths century.
In Islamic country.
Qarawiyin Mosque still has its original minaret. The oldest in Morocco,14 gates, 275 pillars, 3 fountains, can hold 20,000 worshipers. It was the most prestigious university in the Arab world, attracting such scholars as Avicenna and Averroes within its walls.
Can you go inside?
Karaouine is barred to non-Muslims, so you can only marvel at its complexity and magnificence through the finely decorated arches.
The first fighter for women's and children's rights was Tunisian and founded The Karaouin
2- Visit Fez Tanneries
After a few hours in Fez, you will be used to seeing fresh leather being casually transported around the city. Remember that donkeys are the prime transport in the largest car-free urban area in the world?
The soft, buttery leather is on its way to becoming colorful babouches (Moroccan shoes with pointy toes and, sometimes, ornaments) and beautiful purses.
Fez is the capital of tanneries. You see on postcards and maybe the first thing that comes to your mind when you think of Fez or Morocco.
How to find leather tanneries in Fez?
Use your nose. At least that's the locals' advice. Works like a charm.
You can sniff them out from far, far away.
The oldest open-air tanneries and by oldest I mean, in business since Medieval Centuries, are the Chouara and Sidi Moussa tanneries.
The name or the methods they use to color leather hardly changed since then either.
The workers toil over open vats holding animal urine and feces, dipping skins in to treat them before hand-dyeing them in deep yellow, snow-white or vivid red, spreading them under the hot sun applied the pigment.
Tourists and visitors are typically not allowed anywhere close to the pits but the "watch it from the terrace" business is happening. You will be offered to have a "closer peek" for a few dirhams. You can also buy a fresh bunch of mint to combat the deadly odor.
The smell of "tradition" is so strong could almost fall a horse.
3 – Fez Medina
The more you get lost, the more you discover.
One of the most bautiful things about Medinas is that there is a new scent, a new sound, a new color around every corner.
The best thing to do in the Medina is not shopping
It's getting lost.
Arm yourself with the essential words :
Marhaba (hello)
Sukran (thank you)
La (no)
and wander the Medina, at least for a little while.
Medina is intoxicating, super exotic. There is no other way to explore it other than on foot. With streets so narrow and crowded, there is barely space for a scooter to maneuver. There are donkeys and goats, and nothing reminds you that you are not in Medieval times.

The smell of bread from the ovens, craftsmen, working in front of their shops. Local men are sipping mint tea. It looks like a perfect setting for the medieval movie. Nothing, absolutely nothing, has changed from centuries ago. It is the most authentic city in the Arab world.
Most of the donkeys wore nosebags to prevent them from plucking greens from other baskets.
4 -Fez is Morocco's culinary capital
The northeastern city of Fez is more than its medieval architecture. Fassi cuisine is a complex mix of Arab, Moorish, Turk and French flavors and techniques. Fez is Morocco's culinary capital for many travelers, and you can experience it both in street food stands and sophisticated shopping malls. Like the 21st-century, air-conditioned shopping mall Borj Fez.
Find food vendors in every other corner, all selling carrots, fresh mint, radishes and citrus fruits. Spice merchants are particularly interesting, and you can find them just by the pleasing scents coming out their woven sacks.
Walk around and you'll find more than raw ingredients and spices. Paper-thin Msemen pancakes, steamy harira chickpea soups, chermoula marinated sardines, and almond pastries are authentic culinary treasures. Walk towards the Achabine neighborhood for the most impressive collection of food vendors in the city. Anywhere you go, really, in Fez, you'll find some of the best food in Morocco.
Fine Dining at Le Palaise de Fez
You can enjoy a satisfying breakfast, lunch and dinner on Fez's streets, but you don't want to miss out on an exclusive dining experience at Le Palais de Fez.
This dining room has extraordinary views to the neighboring Royal Palace. With an old-school service and traditional decor, here's where you can sit and enjoy the region's cuisine without being rushed. Here's where to eat in Fez. The pastry pies called pastilla are legendary, and you know the tajine here is on another level.
Offering plenty of Instagrammable moments, this picturesque restaurant is a touristic hotspot. Still, after walking the city's ancient streets and local markets, it's okay to let yourself be pampered by the waiting staff.
Drinks at the Hotel Sahrai, Fez
For late-night drinks in Fez, a city with strict alcohol laws, you want to check out the Hotel Sahrai's Jungle Bar. You know you're up for a great time when they offer you menus for both drinks and cigars.
Wine, international spirits and classic cocktails, along with a well-thought tapas selection, mean there's no better way of calling it a night under the bright stars shining over beautiful Fez.
Save money and shop
It's hard not to shop at the Medina.

But how would you save money by…shopping?
Marakesh, so famed for Bazaars, gets all of its best-handcrafted items from Fez. In Fez, you can buy everything way cheaper and even watch the artisan craft it in front of you. A no-brainer, if you ask me.
Find my Morocco shopping guide here !
5 – Retreat in the Riad
Each riad has a story to tell. And it does. Through one-of-a-kind ornate mosaic of tiles (zellij), intricately carved and painted stucco( tadelakt).
Riad is a great escape from the chaos of the bustling Medina. After a long, tough day of sightseeing, bargaining and shopping for deals of a lifetime, retreating back to the Riad feel like heaven. Step into the orange tree-filled courtyard, inhale the serenity and jasmine scent so typical for riads.
Have some mint tea, served on a silver tray and enjoy the sunset from the rooftop terrace.
Hammam is a great idea too. If your riad doesn't have one, you can book your hammam visit.
6- Visit the Jewish Quarter and the Royal palace in Fez
We were highly recommended to visit the Jewish quarter by our friends who live in Fez for almost a decade. The oldest part of Fez.
I was not impressed.
Besides an ancient synagogue and a few ambient streets, it was an area (tourist-free really) that turned into a Chinese market full of tacky goods—the complete opposite of the Medina.
Nearly all of the city's Jewish population consequently moved to France and Israeli. The only original memory left is the city's first synagogue (and one of the world's oldest) and a cemetery.

There is not much difference between life in the Jewish quarter and the rest of Fez, but there was quite a contrast in the past. Women were not obligated to cover their heads I the Jewish quarter, and young Muslim boys couldn't help but fall in love with the Jewish beauty.
The Jewish quarter's best part was the Royal Palace, which King still uses as a residence. It has fabulous golden gates, tile masterpieces, and a beautiful garden in front of it.
There are also two prayer schools.
7-Walkthrough the gates of Fez
Originally built to protect the city, the Gates of Fez later became the symbol and the architectural heritage of Fez and Morocco.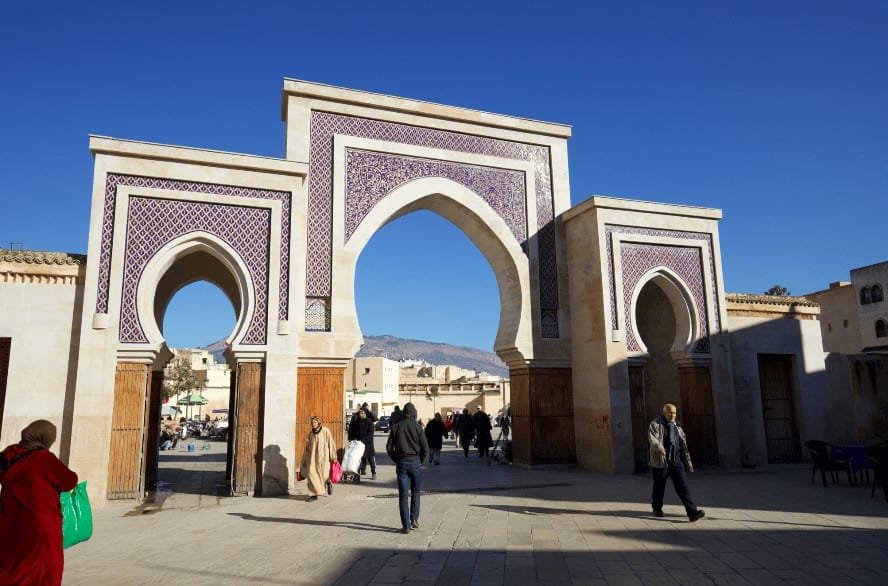 "The Gate of the Nobles" or Bab Shorfa is known to be one of the most beautiful gates. Its L-shaped entrance is one of the main accesses to Medina. It used to lead to the city's leading food storage site – Fes Jdid.
8 – Pottery factory
If you are impressed by Fez artisan goods, this factory is the place to go. You can see how traditional poetry is being made from start to finish and buy/customize some pieces !