Practical Morocco Shopping Guide: What To Buy and How To Bargain
I would like to start this Morocco Shopping blog with a quote I've heard from a local, after asking for his best negotiating tips.
"Never bargain with a woman; you will always lose."
You are not likely to come back home from your Morocco trip with a standard set of magnets and postcards. This country is made for shopping in too many ways.
What to buy in Morocco
Some 30,000 craftsmen ply their trades in small stores and back-alley workshops.
Each area of Medina is dedicated to a particular craft. The dyers' market charms fashion lovers with bursts of indigo blue and vivid yellow from freshly hand-tinted skeins of silk.
Morocco Shopping Guide
Souks in the bazaar are in perfect order and arranged by trade: ceramics, copper and brass, spices and sweets, leather, woodwork, wool, silk, butchers, rosebuds from the Dades Valley, Moroccan oil , Moroccan oil soaps and shampoos, makeup – henna and lipstick made of cactus eating bugs in bright red. Nothing is imported.
Shopping for Leather goods in Morocco: what to buy
Morocco is one of the world's capitals of leather.
High quality, soft, buttery leather seems to be everywhere in Morocco. Leather puffs, purses, wallets, shoes. Call it organic,as it is made according to centuries-old traditions, using pigeon poop and acids. You can actually watch it made in Fez's famous tanneries.

Fez is obviously the best place to shop for leather goods. But every region of Morocco has leather goods for sale at a fraction of the US prices.
Looking for something designer? Marrakesh has many contemporary boutiques selling made in Morocco leather pieces but European designs.
For me, a must-buy souvenir was babouches, the famous Moroccan pointy shoe, made of vibrant, colorful leather, often decorated with tassels and bright embroidery.
I came to Morocco with an image of Carrie at an eastern bazaar in Sex and the City movie(part two, I think)
There are two types of babouches. A home version, think slippers, and an outdoor version.
I got bright leather slippers for $8 after bargaining. Im sure it could have been way less, though. As soon as I got home, I regrettet not shopping for more "non-souvenir" versions of babouches ,as the leather was literally butter soft. In fact, I've never had anything softer on my feet. You just have to try it on to see what I mean.
Kitchen wear and accesoires
You are not likely to come back home without a tajine. Even if it's only a magnet.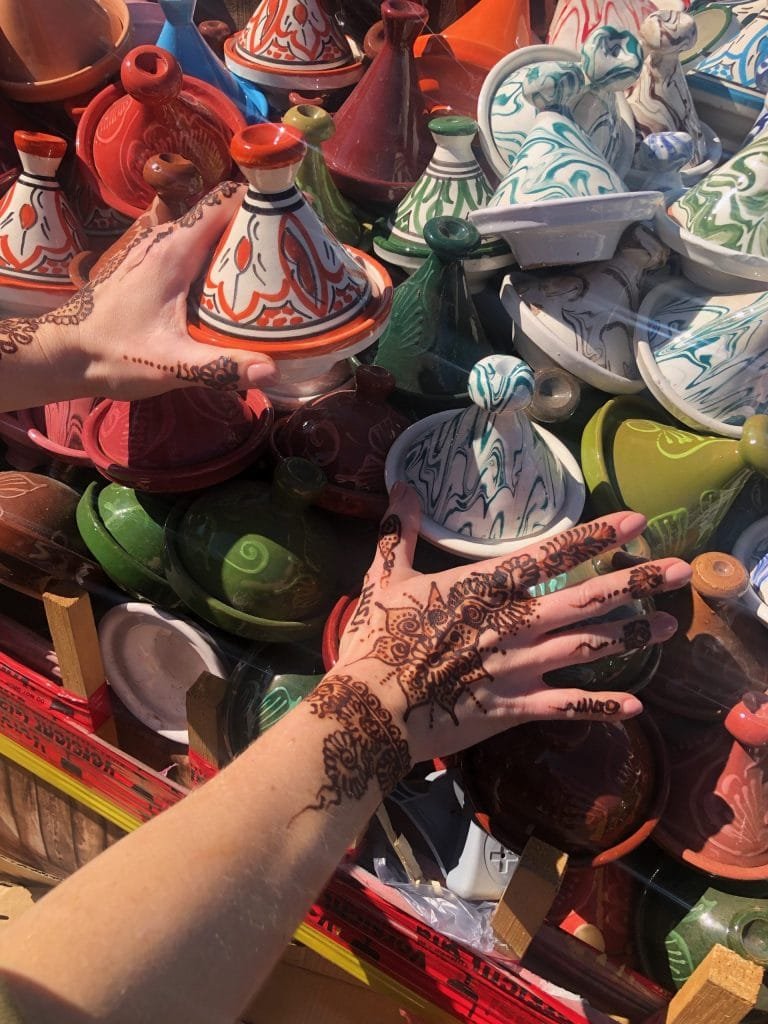 But other than tajines and colorful dishes, Morocco has some of the world's best craftsmen when it comes to copper and brass.
You will notice the sounds of handwork from almost every corner of the Medina as you walk the jigsaws of narrow streets. Particularly as you get close to the brass workers' market. This market area is the center of brass artisanship in all of Morocco. Pieces from here are sold all over the country and world.
You can watch artisans shape the sheets of brass with mallets and chisels. Each tool has its own function and its own timbre. In the middle of the workday, it sounds more like an orchestra.
Fun fact for music lovers: the first theories of harmony and dissonance that are still in use were inspired by listening to the brass and copper artisan's work.
Brass and copper is a must buy in Morocco
Your copper pan might not have Maviel or Matfer logo on it, but you will likely be able to watch it made by a local artisan.
If you are in Fez, The Seffarine or the brass market is the place to buy handcrafted brass goods :
You may want to get one of those famous door knockers you'll see all over the medina.
The heavy (up to a ton) weight Mosque chandeliers are made of brass too.
Most likely, you won't need a chandelier or a statue.
Brass , copper , silver trays

But it's definitely worth it to check out the brass trays – a very popular souvenir among tourists. Very portable, a fit for any interior, fine and detailed trays come in a variety of shapes, styles and decorative details.
Prices vary, as some trays, especially for the tourist market, are made by master's apprentices, and the masters themselves craft some.
Prices are negotiable. But if you're buying directly from the master, there is less room for negotiation as there is hardly an overhead or the markup, like on tourist bazaars.
At first, all the pieces may look the same, but the craftsmen will be quick to show you the variety and explain the difference in designs and complexity of work.
Pro-tip: If you are a bargain shopper, head to the second-hand markets, also knowns jutiyya) for the best deals.
There is one in the old Jewish quarter (Mellah,)
and one right outside the famous Bab Boujeloud – the blue gate to the old city .
Statement Jewelry Shopping in Morocco
If there is one super exotic souvenir you can buy in Morocco and not keep it on your shelve is jewelry. Eastern ornaments, semi precious stones and exquisite work makes every traditional Moroccan necklace, ring or bracelet easily fit for an accent. Moroccan bazaars, dare I say, are statement jewelry shopping heaven !
Straw bags, girl .
They call it "Morocco market bag". What it actually is ,is a quality hand-woven beach bag, or just a summer bag. Comes in every shape, color, and form.With tacky "Vacation" writings on them and sequins as well.
The bottom line is, the quality is absolutely phenomenal. This is another thing I regretted not buying in larger quantities.
I got two bags. One is an XL heavy-duty beach bag with brown leather handles and an indigo blue pom-pom ( pro tip – you can get those separately !) Living in Miami, I go to the beach quite a bit, and this is my carry it all bag. It's been two years, and I've used it more than frequently, carrying several gallons of water, towels, books, and magazines in it to the beach. It even fits beach noodles. Not a sign of wear in it, though it has to deal with many pounds of my "necessities." regularly.
The second bad was a funky shape, cool statement bag that I don't wear much, but if I do, it's a guaranteed compliment and an "Omg, where did you get it?" reaction.
If you don't live on the beach , you will be OK with one bag. But make sure you get something. Because you can't beat the price, the quality and sometimes even the design! The highlight of my shopping in Morocco.
Moroccan Spices- A Must Have when Shopping in Morocco
Argan Oil and Argan Oil Based Skincare made in Morocco

If there is one thing that Morocco is internationally known as, other than tajine, of course, it would be argan oil.
One of the most buzzed-about ingredients in the beauty industry, boasting anti-aging properties, has been used in Morocco for centuries. Most girls visit Morocco with Argan goods shopping in mind.
What does goat poop have to do with Moroccan oil?

The nuts are very tough to crack open, so the locals used to search goat poop for argan nuts. Post-digested nuts were much easier to crack open. Nowadays, ancient techniques are no longer in use. However, considering that Morocco is a rural country, some places still rely on these methods to produce argan oil.
Goat poop aside, here is the three-step process of making Argan oil
First, the women harvest the argan nuts from the argan trees, which grow only in southwestern Morocco. These nuts look precisely like green olives, but after the drying process (stage two), they turn brown and resemble the actual nuts. Step 3 is to crack the nuts open, and if you remember the goat poop paragraph, you know this is the most challenging part.
The women grind the nuts by hand,it is believed that hand grinding preserves the valuable nutrients much better than machine pressing.
Once the nuts turn into a liquid, runny, paste-like substance. After the got the paste, the oil is extracted from it. By hand, of course. After the got the paste, the oil is extracted from it. Manually, of course.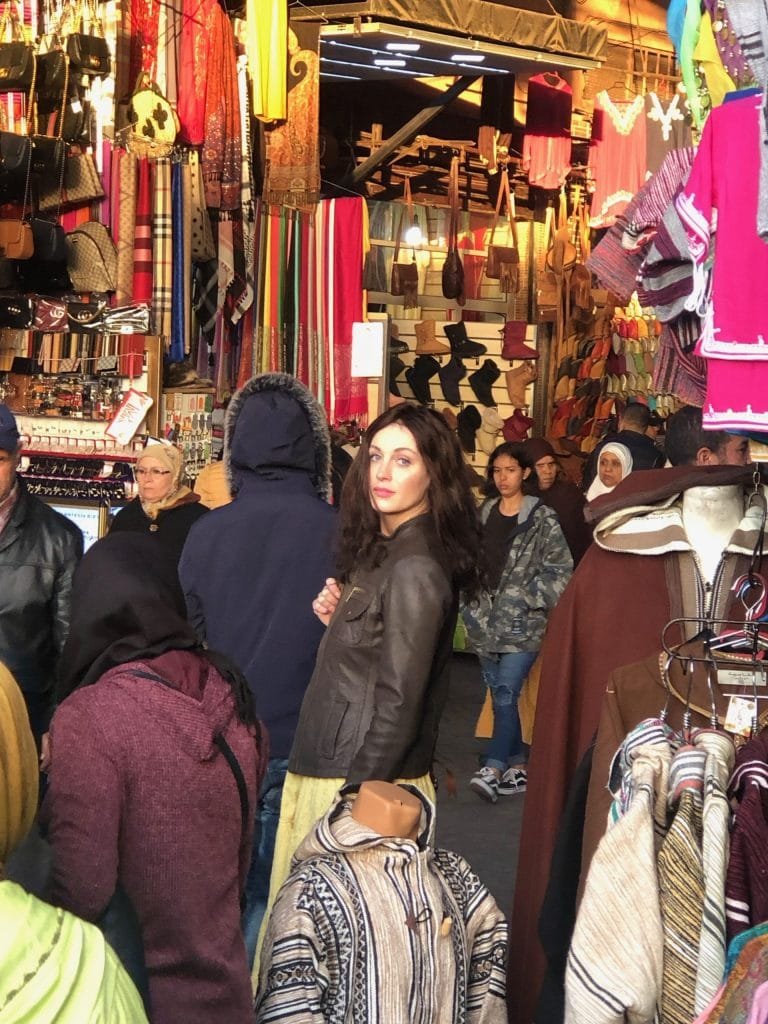 At the bazaar, in any Moroccan Medina, you will find rows of Argan Oil goods. Argan oil soaps, shampoos, essential oils, hair oils, pure argan oils, creams …
I've never purchased the actual Argan oil in the US, but something tells me that you can get the most "legit" stuff right there on the market.
I got three bottles of oil for $20 or so and some soap. According to its expiration date, the oil lasts a few years, and there is a little paste-like substance at the bottom of each bottle until you shake it off.