4 Concrete Reasons to Visit Marrakesh, Morocco
I've always been magnetized by turbulent, authentic cities, hidden courtyards with pools, and exotic gardens.
Marrakesh, with all its chaos and realism, was a perfect fit for my travel destination.
Although I came to Morocco for a worthy cause, sightseeing was a priority.
Marrakesh is a city where Africa meets Mediterranean life. And even though it was not my cup of tea, I can name more than one reason to visit Marrakesh!
Why you should visit Marrakesh, Morocco
1 -Marrakesh is easy to get to
It's true. The exotic city is closer than you think. With many direct flights from the US every day, you can easily make Marrakesh a long weekend trip. Much more so, if you are vacationing 9or living) in Europe – Marrakesh is a 2 hour flight from Portugal.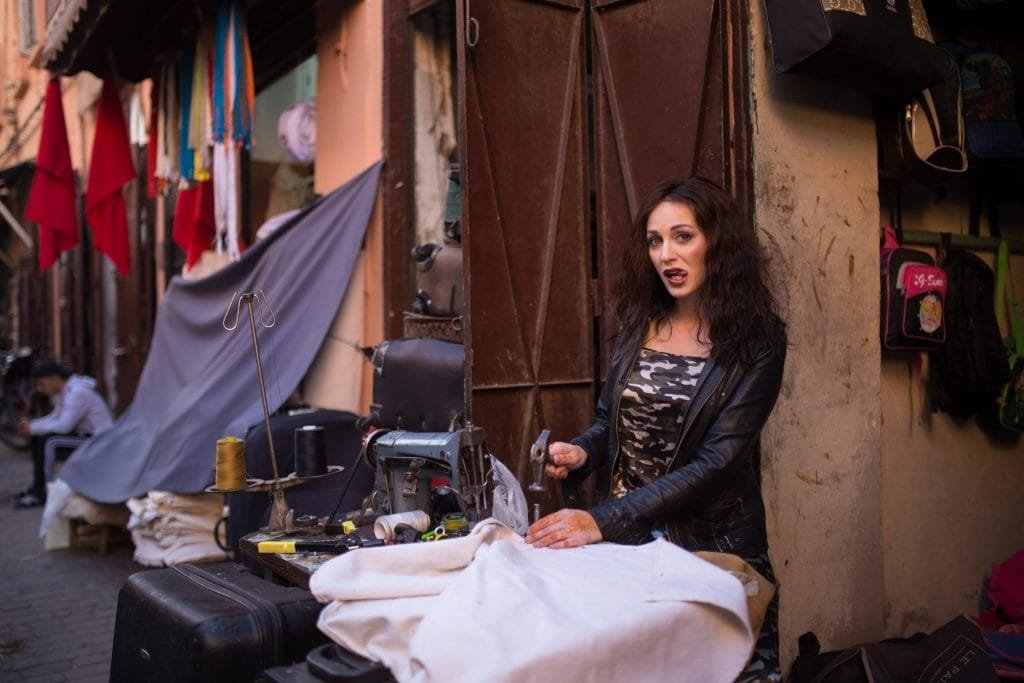 The exotic backyard of Europe, if I can say so. Europeans take advantage of the vicinity and affordable flights. Part of Morocco is developed for these kinds of getaways, with superb golf courses, gardens and hotels to fit European standards.
2 -Marrakkesh weather is a delight

Summers are hot, scorching. But September through March is known for th most comfortable, enjoyable weather. Marrakesh's climate is so perfect due to the desert warm dry air, rain from Atlas mountains , and plenty of sunshine all year round; Marrakesh is known as the city if Gardens. In Marrakesh and around.

Not only you could and should make it your little winter getaway, but your heart will also bloom in the land of exotic plants and magnificent gardens.
Marrakesh Climate
This is the hottest city in entire Morocco. With the average summer temperature of + 38–40 ° С during the day and +24 ° С at night. Winter is the most comfortable time to travel to Marakesh, with temperatures ranging from +15-20° С during the day and + 8 ° С at night.
3 -Shopping In Marrakesh is Fantastic
Marrakesh itself looks like a setting for an editorial photoshoot. And a fashion lover dreamland. Colorful cushions, hand-made silk caftans, and leather shoes in every color imaginable. You hear the sound of artisan's tools crafting what would- be- a- perfect statement ring or a necklace.
Whether you are looking for decor pieces – lamps, rugs, throws, fashion statement items like Berber-inspired chunky necklaces , or neat leather bags, Marrakesh is the ultimate shopping destination. Learn more about what to buy and how to buy here .

Keep in mind that the city has a great contemporary designer scene. You can find unique clothes from niche European designers.
Whatever your goal is, Marrakesh is a shopping experience like no other place in the world.
4 -Get inspired
"This city taught me color. Before that, everything was black." YSL
The city has been a magnet for artists from around the world seeking inspiration and content opportunities. The main attraction is course Arabian Nights exoticism is everywhere you look although there is a strong contemporary scene for art and architecture present in the Red City.

Marrakesh is modern and ancient at the same time. Probably this eclectic nature is what artists find so inspiring.

For history lovers, there are plenty of incredible landmarks and UNESCO-protected objects.
Koutoubia Mosque is one of the most notable ancient sites in Morocco, and was used as a standard for many mosques and churches worldwide.
Everyone can be a great photographer in Marrakesh too. Every corner and every street is so photogenic. The light is so right that you can take amazing photos without any professional background or equipment.