Moscow Metro:The Ultimate Guide
Moscow metro is among the cleanest and most beautiful in the world.
It won't be an exaggeration to say that the Moscow subway is an underground museum. Out of its 250 stations, 44 are recognized architectural monuments and national heritage.
How to visit Moscow Metro
Compared to the dirty, menacing subways of Paris and New York, the Moscow metro is pristine. There is free wifi, bathrooms and
Most of the subway stations are as impressive now as in the 50s when they were first built. For all the disillusionment caused by Communism's failure, Russians demonstrate pride in Moscow Metro. Moscow Metro survived the ideology that created it and is a tourist magnet for foreigners and Russians alike.

There is an average of 9 million people going through Moscow subways every day.

Moscow metro has the world record of holding a 90-second interval between the trains -in rush hours only.
It's the most time effective way to move around Moscow.
You are better off taking the subway if you are exploring Moscow in the daytime. Moscow is one of the most traffic-heavy cities globally. Taxis are limited and can take you hours to get to your destination.
Is Moscow metro safe?
There are beggars, of course, but absolutely no littering and graffiti than grimy NYC stations have. Every metro car still has reserved seats for pregnant women, children and the elderly. Don't be surprised to see gentlemen offering their seats to the ladies or babushkas.

Luckily, the Moscow metro is pristine and safe. There are police officers at every station, being a law-obedient tourist that I'm sure you are, you have nothing to be worried about.
In front of every turnstile, attendants are checking suspicious bags with a metal detector.
The prettiest stations of Moscow Subway
The Mayakovskaya station
It can be compared to nothing less than a palace. Imagine high rising marble pillars and arches and mosaic ceilings.
Komsomolskaya
Both, Mayakovskaya and Komsomolskaya are so-called " city gates" and were built to impress the Moscow guests who arrive in Moscow by train. Both stations are located at the train station entrances.
Ploshchad Revolutsii (Revolutionary Square) is lined with marble niches bearing bronze statues representing the proletariat – factory workers, farmers and soldiers. It opened in 1938 and is considered to be one of the finest examples of Stalin architecture.
The entrance of the Red Square has some of the best street performers playing jazz every night.
There were plans to build a subway in Moscow in 1880, during the Imperial Era. The Orthodox church ceased the government's attempts because it was against God to go underground into the devil's arms.
It took almost a century to open the first Moscow subway station in 1953. Besides, Stalin got rid of God, Church and Religion in general.
Navigating the Moscow Metro – how to
There are two ways to understand how to navigate the Moscow metro and make the best route.

1) Study the metro map
Each line has its own color and number.
The train runs in both directions on each line.
The squares on each branch represent the regular stations with city exit.

The squares mark the stations. where you can switch to another line(most of those can be found in the city center )
The brown ring in the center is the exception to the rules. Trains on this line move clockwise and counterclockwise – in circles, thus the name Koltsevaya – or Circle line. This is the subway line (or a circle, to be more exact) where you can switch from one metro line to another.
2) Download an app to help you navigate Moscow Metro.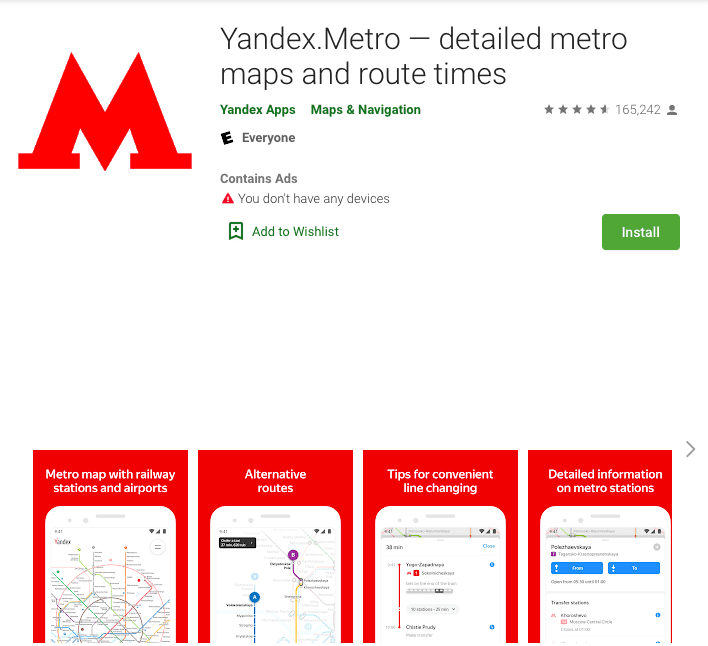 There are several, and they are all great-. It will help you build the smart route, calculate the exact time needed to get to your destination and give you the most precise directions.
Inside Moscow Metro
You will see ticket offices and payment terminals in the station lobby, where you can buy tickets to enter the platform.
You can pay by cash, card, Samsung Pay, and Apple Pay.
Typer of tickets
1) rides limit (valid for 5 days from the date of purchase)
1 trip – 55 rubles. 2 trips – 110 rubles.
2) time limit (valid from the moment of first use )
1 day – 230 rubles
3 days – 438 rubles.
The "United" ticket
Includes 60 trips and is valid for 45 days since the first use.
It can be used to ride the subway or ground transport – bus, tram, trolley.
The cost of this ticket is 1900 roubles.
The unlimited version of the "United" ticket will cost you
2170 rubles/ mo
5430 rubles – for 90 days.
Troika is an excellent option for those who are visiting Moscow for a short period.
After buying a card ( $1 ), you add some money towards your balance, considering that one trip is 38 rubles.
Fun fact :
More than 500 dogs live in the Moscow metro all year round. They know their way around very well and often live at one station but ride to "work" (beg for food) to other stations.
The unspoken Rules of Moscow Metro
Once you are inside the Moscow Metro, you will notice that everyone is standing on the right side of the escalator. The left side is for the traffic.
The untold rule is that you stan on the right side unless you plan to move (Moskovits tend to walk the steps rather than ride), especially if you are in a hurry.
Once you are inside the car, don't crowd at the entrance, blocking the door to people entering and leaving. Many tourists are huddling by the door, not to miss their station (even if it's an hour away), and it takes effort to "squeeze" through this crowd to get out.
Moscow Metro: Hours of Operation
The Moscow Metro opens at 6:00 am, although some escalators start working at 5.30 am.
On average, Moscow metro trains run until 1:45. If you need a transfer, then it is better not to risk it. You will make it to your transfer station, but no further than that.
I hope after reading rigs article you will include metro in your Moscow travel itinerary