Moscow Museums: Top Places to Put on Your Artsy List
Best museums to visit in Moscow
Moscow is a very artsy capital. While it can't compete wire St. Petersburg's museums, there are some fantastic world class museums absolutely worth your visit.
Tretyakov Gallery
For almost seven centuries, Russian artists painted pretty much one thing: icons. And they have gotten extremely good at it. Russian icons are inspiring, haunting and very exquisite. You see icons everywhere in Russia. Cathedrals, of course. Every taxi driver (and regular driver) will keep an icon or a set of icons in a car, taking the prime spot. Every Russian house or flat has icons. Another place where you would see a lot of icons is a museum. Tretyakov gallery has quite a collection of antique Russian icons, silver carved and decorated with precious stones.
One would think that for a nation that has been dedicated to painting and carving icons for almost nine centuries, portraits and landscapes would be a bit difficult to pick up. Wrong, because when Russian artists finally started painting what we know "classics", some great things happened.
You can see all of those in Tretyakov Gallery.
The State Tretyakov Gallery's history began in 1856 when the merchant Pavel Tretyakov acquired two Russian painters' paintings.
It is most famous for being home to one of the most celebrated icons, the Trinity, by Rublev.
The museum has works of all famous Russian artists. Even if you are not familiar with any of them, it is worth visiting as the paintings represent the Russian every period of time, and most realistically—something you will never see in movies or in other museums. Besides, the art in the Tretyakov gallery is simply breathtaking, and you might just fall in love with the Russian style of painting.
Today the museum houses over 180,000 exhibits. You can see Rublev, Borovikovsky, Bryullov, Repin, Vrubel, Vasnetsov, Shishkin, and many other famous artists.
Pushkin Museum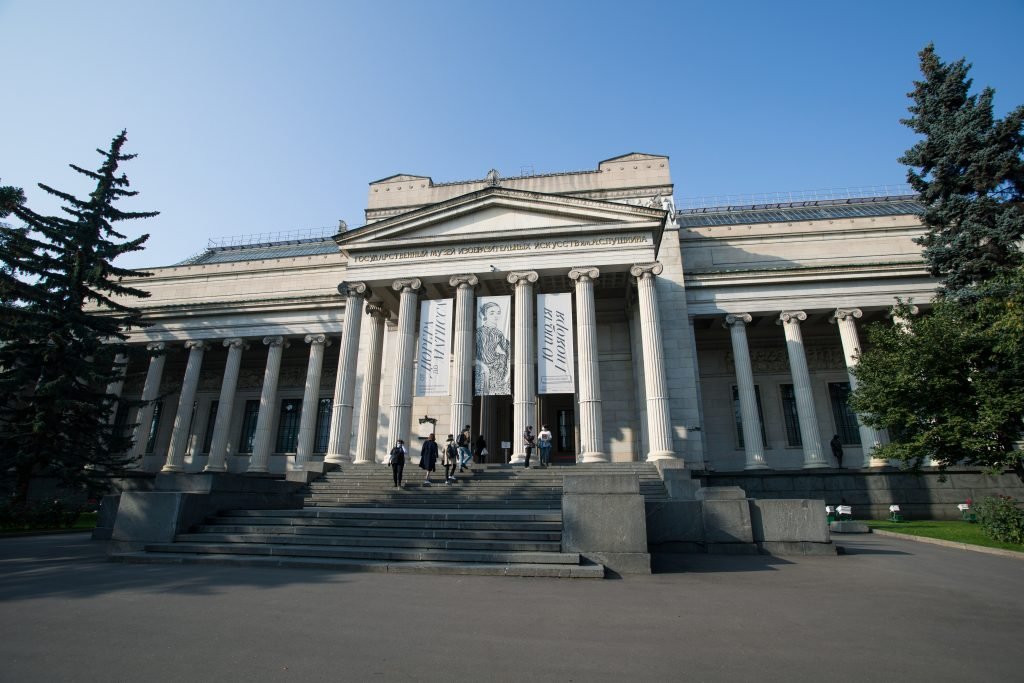 The State Historical Museum in Moscow
This is one of the most well -known museums in Moscow.You must have seen it in Movie and post card, as it is located on Red Square, in a (Red) magnificent building , easy to find and hard to miss. It is popular among Russians and foreigners alike.
The architecture of this grandiose building resembles a fabulous Russian tower. The expositions of the largest national museum in Russia include many unique exhibits (more than 4.5 million) reflecting Russia's culture and history from ancient times to the present day.