Ginnie Springs: Alligators, Tubing and Emerald Waters
Gennie springs: A Perfect Fun Day for Florida Visitors
Aren't you looking forward to taking a cooling dip in a nice spring when the summer temperatures in Florida start to rise?
When it comes to cooling down in summer, Florida has a variety of springs available. But there's one things they all have in common: stunning tones of aqua blues and emerald greens with brilliant intensity.
How to visit the Park and avoid Ginnie Springs Alligators
Thankfully, Florida is home to more than 700 springs, making it one of the world's largest collections. The state of Florida's springs release 8 billion gallons of water every day at a consistent temperature of 72 degrees.
You'll find the majority of Florida springs in Florida's central and northern regions. Mostly in National or State parks. Consequently, tourists can enjoy a wide range of recreational activities while also ensuring that these vital natural resources are protected to some extent. Due to the inexpensive nature of most theme parks' admission fees, the experience is not only exciting but also cost-effective.
Ginnie Springs, a spectacular 200-acre public nature park on the banks of the Santa Fe River, boasts several shade trees throughout.
A Day Trip to Ginnie Springs Park
This park is well-known for its excellent camping facilities and is among the most popular diving spots in the state. There are seven natural springs that yield fresh water, each of which produces several grottos and spring runs. It is a lovely place that welcomes both scuba divers, snorkelers, and swimmers.
The beautiful and welcoming spring serves as a playground for snorkelers, swimmers, divers, and tubers. Even though Ginnie is well-known for its extensive network of underwater caves, novice diversion have a lot of fun there. Yes, Ginnie Springs is wonderful scuba site. Not into water fun? Ginnie Springs also offers a variety of outdoor recreational opportunities on land. Swimming equipment, concessions, and volleyballs are all available for rent at the facility. In addition, there are camping facilities on the premises.
How busy is Ginnie Springs park
Ginnie Springs is privately owned, as well as being very popular. On weekends and holidays, the place might get extremely busy and boisterous. Pets are not permitted, nor is jet skiing. And you must be at least 18 years old to register for camping.
Those who go for a swim in Ginnie Springs may find the water to be really cold! However, that is the reason why you should paddleboard, tube, kayak, and so on. You can enjoy a nice swim, and then relax under the hot Florida sun once you get cold!
Will I Encounter Any Alligators At Ginnie Springs?
One thing you should be aware of when visiting Florida is that any fresh water body, like springs, lakes, and rivers, has the potential to be home to an alligator.
In Florida, these should be the standard expectations for everyone at all times.
Although, in most instances, you won't see alligators at Ginnie Springs because this area is too busy.
If you are tubing along the Santa Fe River, you may spot an alligator in the water.
For alligators, having lots of people running about is not an enjoyable experience. Alligators tend to stay away from all the noise caused by the swimmers on the Santa Fe River.
As it is located near college towns, this is an ideal destination for college students during the holidays.
Ginnie Springs Tubing Activities
Ginnie Springs is home to some of the most prominent activities in the area, including tubing!
In terms of duration, the Ginnie Springs tube run takes approximately 1 hour, making it one of the lengthiest tubes runs.
Most tubes are merely 15-30 minutes in duration. There are some disadvantages to tubing at Ginnie Springs, the most significant of which is that you are tubing on the Santa Fe river rather than in the spring itself.
This makes it difficult to see what lies beneath the surface of the water due to its dark and gloomy color.
Swimming in the Santa Fe River is an extremely popular activity in Ginnie Springs!
You are even welcome to bring your own tube of any size or rent a tube once you get to Ginnie Springs.
Ginnie Springs Diving Activities
It is possible to scuba dive around the caves' entrances. Visiting the Ginnie Springs caverns is a great idea for the seasoned divers!
Are there alligators in Ginnie springs?
There is an old saying in Florida: If it's a Florida body of water, it can hold an alligator. 
That's pretty much all you need to know if you are wondering if there are alligators in Gennie Springs.
However, don't let the fact that there are alligators in all Florida Springs ruin your vacation. Alligators are very cautions. And Ginnie Springs are very busy. Staying in the crowded areas – which what you are going to probably do anyway- is safe.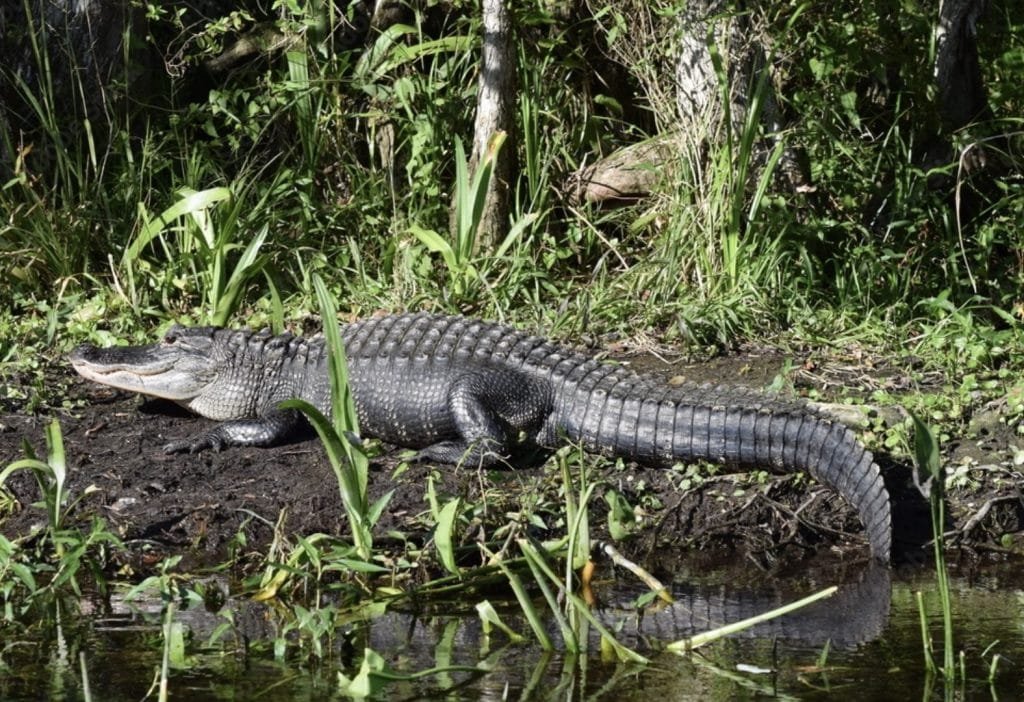 What are alligators doing in the springs, anyway?
Alligators often stalk their next meal in shallow water along the side of a spring, lake, or canal. So if you're ever in Florida (or any other state for that matter), try not to hang out, fish, or cool off in the shallow water.
Alligators are fast! They may be far from the shore but can reach the speed of 20 mph. And get there fast. Every splash or other type of action is a sign of prey for an alligator.
Florida is home to a large population of alligators, and they can be found in many different habitats throughout the state. While most alligators are shy and rely on camouflage to avoid detection, they are still wild animals and can pose a danger to humans if they feel threatened. There are alligators in Ginnie Springs, as well as all the other springs in Florida
How to avoid alligators at Ginnie Springs or other Florida Springs
There are simple steps that you can take to minimize the risk of encountering an alligator, such as avoiding swimming in secluded areas. Stick to the most crowded parts of Ginnie Springs.
If you do see an alligator, don't try to approach or touch it.
Accommodations
Can't stay at the springs? There are plenty of Florida springs that offer camping and cabins, so check out our guide. You'll find some with primitive campsites where you get your own private tent or cabin to yourself; others allow only water-related activities like poolside lounging (but not bathing) while still providing hookups for RVs! If none meet all your needs there's always hotels nearby–we recommend checking ahead before making reservations just
Ginnie Springs is one of the most popular springs in Florida. It's crystal clear water and Ginnie Springs Outdoors, which offers camping, canoeing, kayaking, and tubing make it a perfect place to visit.
Temperature
The spring is 72 degrees year-round, which some find refreshing and others find cold. The cool water temperature is what makes Ginnie safer to explore because it keeps harmful amoebas away. People come from all over to swim, dive, and snorkel in Ginnie's crystal clear waters. On a hot summer day, the spring is the perfect place to cool off. And on a winter day, you may not notice a difference in temperature between the spring and the air outside! Either way, Ginnie Springs is a beautiful place to enjoy nature and relax.
When is the best time to visit Ginnie Spring?
The best time to visit Ginnie Springs is in the summer when the weather is warm and the water is cool. Ginnie Springs is also one of the most expensive springs to visit. If you're looking for a more budget-friendly option, Rum Island and Little River are two great alternatives. Both springs offer stunning views and plenty of activities to keep you busy. So, whether you're looking for a luxurious getaway or a fun-filled adventure, there's a spring in Florida that's perfect for you.