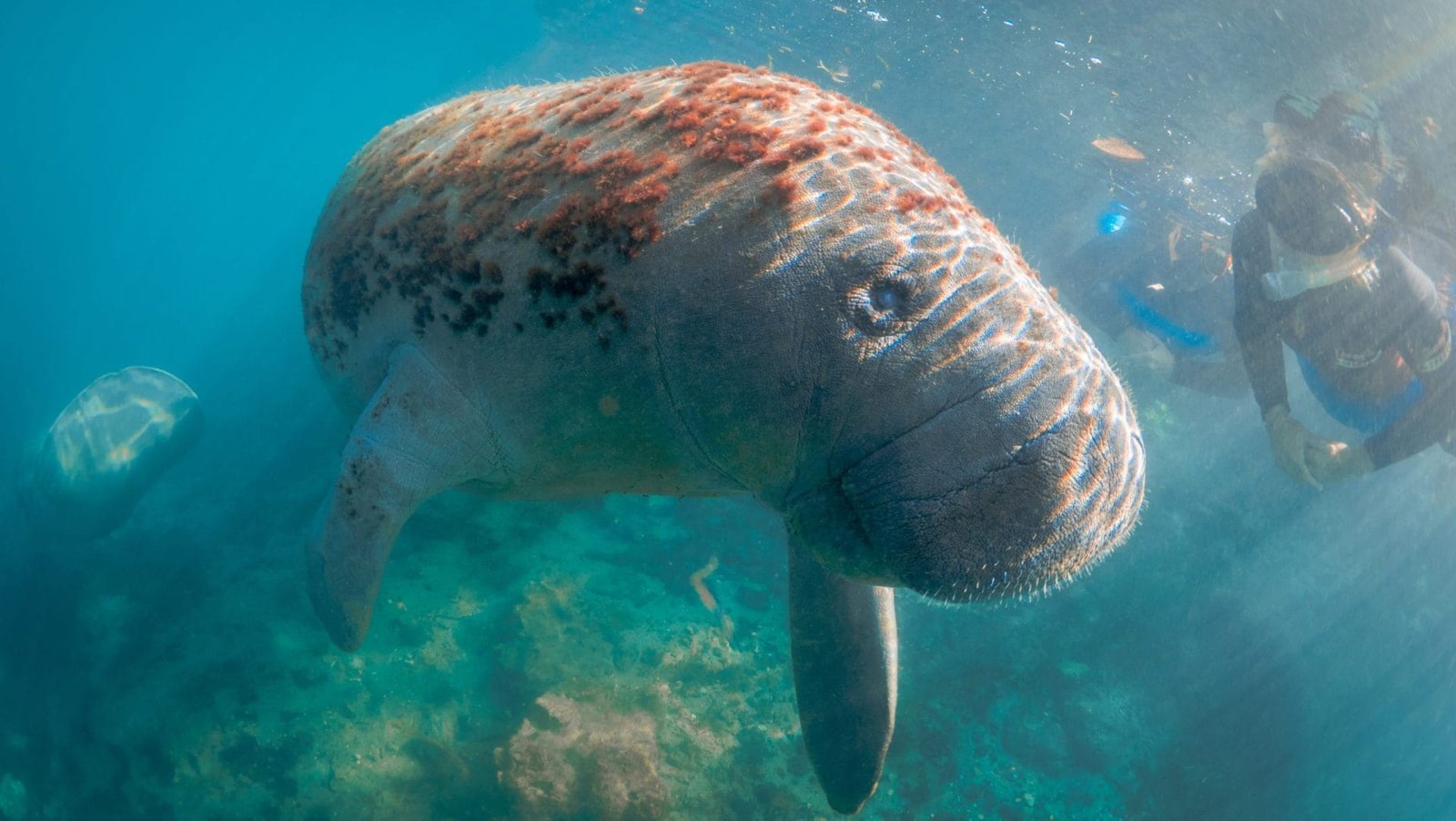 Swimming With The Manatees In Crystal River – My Bucket List
Travelers from all over the world come to Florida to swim with the manatees.
Imagine being underwater with a gentle, trustf

ul beast whose ancestry goes back some 50 million years?
Why swimming with the manatees is so popular in Florida?
King's Bay & Crystal river is the world capital of manatees – with up to 4,000 gentle giants hanging out there in winter. Here's the cherry on top: King's Bay is the only place in the country (and the world!) where you can swim with the manatees in their natural environment.
When is the best time to swim with manatees in Florida?
You can swim with the manatees all year round. Crystal River has manatee "residents" that don't migrate in summer.
The pros are no crowds, even though all tour companies operate with several manatee tours daily.
Cons: you are not likely to get crystal clear photos as "off-season" manatees will most likely not be hanging out at the turquoise springs.
Though the fun and the experience are still there 100%.
The best and busiest season for manatee snorkeling
November through March is the prime time for manatee-watching.
You will get perfect images – most likely with other tourists and their body parts photobombing your shots. Because "busy" is not the word to describe the manatee snorkeling crowds.
Want to get the best of both worlds?
The the best time to come to swim with manatees and avoid tourist crowds is 2 weeks before Christmas.
Migration is in full swing, kids are at school, and everyone is busy enjoying the best time of the year.
This is when manatees migrate to Florida since they can't survive in water below 60 degrees. The Spring's temperature is 72 degrees all year round.
Is it safe to swim with the manatees?
The manatee's most aggressive move toward those who enter his habitat is a soft hug. As long as you don't disturb them with loud splashing or screaming or while they're eating- these gentle giants are calm and very approachable.
No splashing, Please! No touching! No …nothing!
Right before you get on board, you will be required to watch a mandatory video about the rules of swimming with the manatees.
Our guide called it a "collection on insanity."
Sure enough, everything you are not allowed to do with the manatees on your tour is exactly what I wanted to do! What I drove 5 hours from Miami to do! And what every person who comes to swim with the manatees comes here to do.
At the end, it's everything I've seen happy tourists do when I googled "snorkel with the manatees' pictures".
Snorkeling with manatees rules:
Do not splash
Do not make any sharp movements
Do not corner a manatee
Stay away from the manatees that are feeding
Stay away from the manatees with babies
No noise ("I see a manatee!")
Do not touch manatees (seriously?)
Manatees eat about 100 pounds of seagrasses…a day! Pretty much, except when they go up to take a breath, they munch on seaweed.
After watching the instructions, I just wanted to go home, really.
I didn't come here to look at the manatees. I could do it in any aquarium. Or any river in Florida.
The worst danger for these vulnerable gentle creatures comes from motor boats. We saw several with huge scars on their sides, which made them look like sharks from a distance. The guides can actually recognize some of them by the scar shape. In fact, 90% of manatees have propeller scars…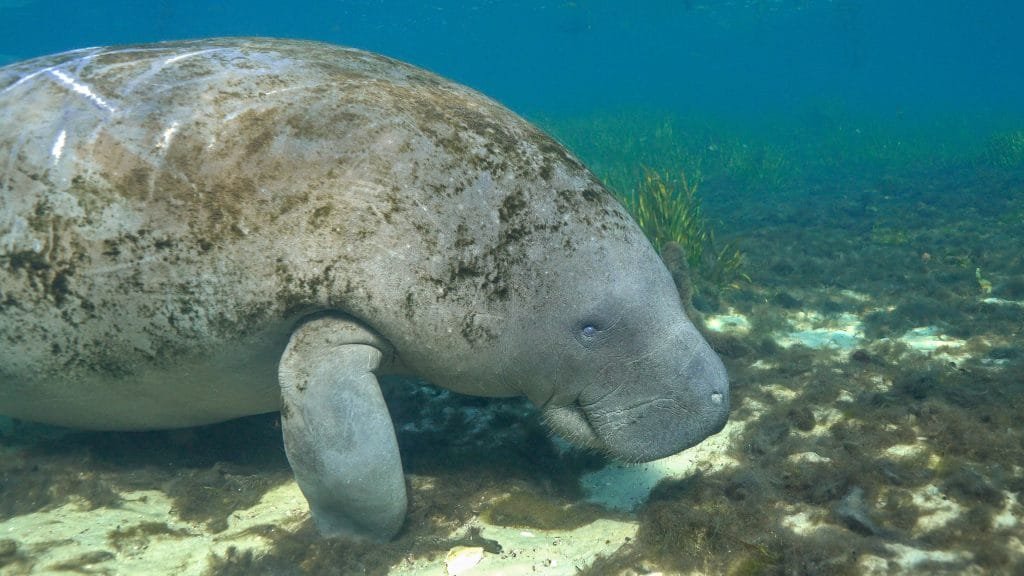 With all the rules being in place, no motors, slow driving, Their natural color, which makes them look like rocks, is perfect camouflage. It's almost impossible to spot one until you get close. In addition, these creatures move very slowly and can't get out of the way when the boat nears.
What's King's Bay:
Kings Bay is a giant 600 acres spring-fed pool. Featuring coves and lagoons . Gorgeous homes frame the shores of the bay.
The crown jewel of the King's Bay is the Three Sisters Springs. But visitors who come to the crystal river could care less about King's Bay, the Three Sisters Springs and the coves.
They all come for one thing: to swim with the Crystal River's most well-known creatures, West Indian manatees.
Manatees, aka sea cows, aka gentle giants, are underwater mammals, and the Crystal River is their #1 migration destination in winter.
They are giants- manatees can weigh up to 3,500 pounds and grow to 13 feet! And they only eat seaweed. Talk about plant-based diet nutritional deficiencies.
These mammals are cute, with almost quadrangular noses and little whiskers. In fact, these might be the sweetest and the strangest creature you'd ever seen.
Manatees look like the rocks in Crystal River's turquoise water. Giant rocks – up to 12 feet long. The moment I got in the water, I saw a mama manatee with her baby. They were racing towards me, smack dab into my belly- gently sliding by – we were face to face.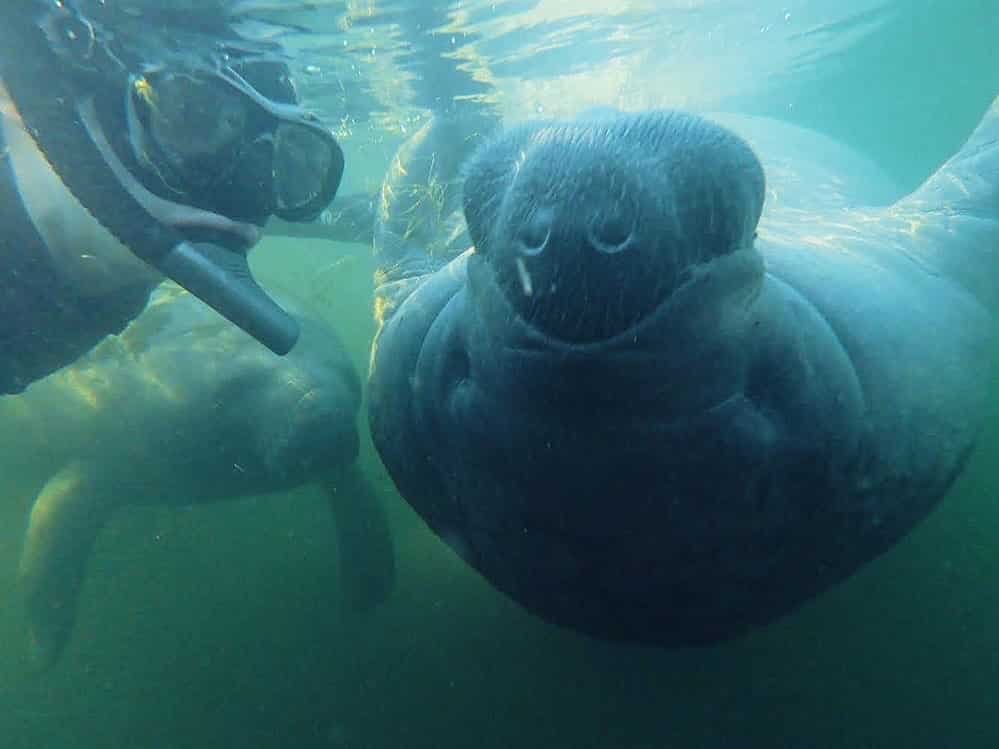 Their huge, rounded snouts calmly urge to the surface of the water to take a breath of air. You can almost hear them snooze. Once they take a breath, they shut their snout flaps and plunge back into the water.
These gentle giants, with their paddle-shaped tails, look like mermaids. No wonder one of the first conquistadors reported back to Spain about seeing mermaids in Florida springs. 99% chance he was talking about the manatees.
My first question once we embarked on our little manatee-snorkeling adventure was: why are the manatees so gentle?
In fact, according to many reviews, curious! Especially the little baby manatees.
"They are missing the part of the brain responsible for the aggression. You can come and hit it as hard as you can(for instance), and it will pretty much blow you a kiss and go its way."
Shaped like seals and reaching up to 3,500 pounds in weight, they pretty much intimidate predators.
They don't have predator behavior either- their diet is 100% vegetarian.
What to bring for the manatee snorkel adventure
If you are taking a group or private tour, you will have to wear wetsuits.
The company will convince you that it's not for the cold water but for "floating." The water IS cold.
And your hands and feet will eventually get numb.
But the wet suit does help you float.
Provided by your tour:
Snorkel equipment
Wetsuits
Hot beverage
Towels
What to bring
Sunscreen (reef-safe)
Flip flops
Water
Underwater camera
How many manatees live in Florida?
Scientists calculated around 3,300 manatees in Florida.
Why do manatees come to Florida?
These mammals cannot survive in water below 60 degrees. Kings Bay and the adjoining rivers average 72 degrees year round ( natural springs are feeding it)
Where else do manatees live:
Gulf of Mexico
West Africa's coastal area
the Caribbean Sea
the Amazon Basin
Is it legal to swim with the manatees in Florida?
Yes, it's legal to swim with manatees in Florida in the Crystal River. Yet, it's strictly prohibited to "to annoy, molest, harass, or disturb any manatee" – under Florida law.
How to get to Crystal River
The main highway via the region is U.S. Highway 19 aka Suncoast Boulevard. The Crystal River connects Kings Bay – the epicenter of manatee snorkeling and sightseeing all the way to the Gulf of Mexico.
Crystal River is located about 5 miles east of the Gulf of Mexico. The river and lakes nearby are all fed by freshwater springs. This is Home of the Manatee. The area is driven by the manatee business.
It is also as heavily manatee branded as Miami is flamingo branded.
You'll find manatees on everything, from restaurant menus and T-shirts to the City Hall's entrance, which has a sculpture of…a manatee in red, white and blue.
Homosassa Springs Wildlife State Park
Can you see manatees without diving in the water?
If you fancy hanging out around the manatees from dry land, head to Homosassa Springs Wildlife State Park.
It's a natural 180-acre preserve, some 9 miles from the Crystal River. Featuring resident rescue manatees.
The park has lagoons, lush promenades, bridges and even a waterfall.
You can also see the native creatures like alligators, panthers and Key deer.
Bonus:
You get to see hundreds of birds in the waterfowl refuge.:
pink flamingos
white ibises
great blue herons
moorhens
Homosassa Springs Wildlife State Park hours and costs
This park is open every day from 9 am – 5:30 pm
The last boat ride to the park departs at 3 pm.
Tickets are $13 for adults and $5 for children.
Crystal River Archaeological State Park
Several groups of Indians lived in this area for centuries. Eventually deserted the region most mysteriously… Legend has it that Crystal River Archaeological State Park is an ancient temple ridge – a site for ceremonial burial.
What to do in Crystal River Archaeological State Park
Guided kayak tour
Museum displaying Indian tools, stone-made and shell-made pendants, shell plates and drinking cups.
Crystal River Archaeological State Park hours and costs
The museum is open Thursday through Monday, 9 am – 5 pm.
The park is open every day from 8 am to sunset.
No ticket is required, but there is a  $3 entry fee per vehicle charge 
Looking for more springs in central Florida? Check out Gennie springs