The Ultimate Foodie's Guide to Croatian Food and Drinks
All You Need to Know About Croatian Food and Drinks
Croatian cuisine is a combination of culinary traditions from all over Europe. From Italians (especially Venetians), and the Croats, the country became obsessed with olive oil and herbs, such as rosemary and oregano. From the Austrians and Hungarians, Croatians borrowed the habit of generously flavoring dishes with pork fat. The Turks brought to the table an unlimited passion for nutmeg, cloves, and other spices. Croatian food is a hotpot of cultures and culinary traditions, yet, it's uniquely Croatian.
The Balkan country's national dishes might be influenced by its many neighboring countries, but it has added its own personality to them. For example, Dalmatian cuisine from the country's Adriatic coast, from Dubrovnik to Zadar, echoes the Italian and Greek culinary traditions from just across the pond. Seafood, olive oil, fresh vegetables, tasty wine, and a whole bunch of aromatic herbs make Dalmatian food very Mediterranean.
Croatian food you need to try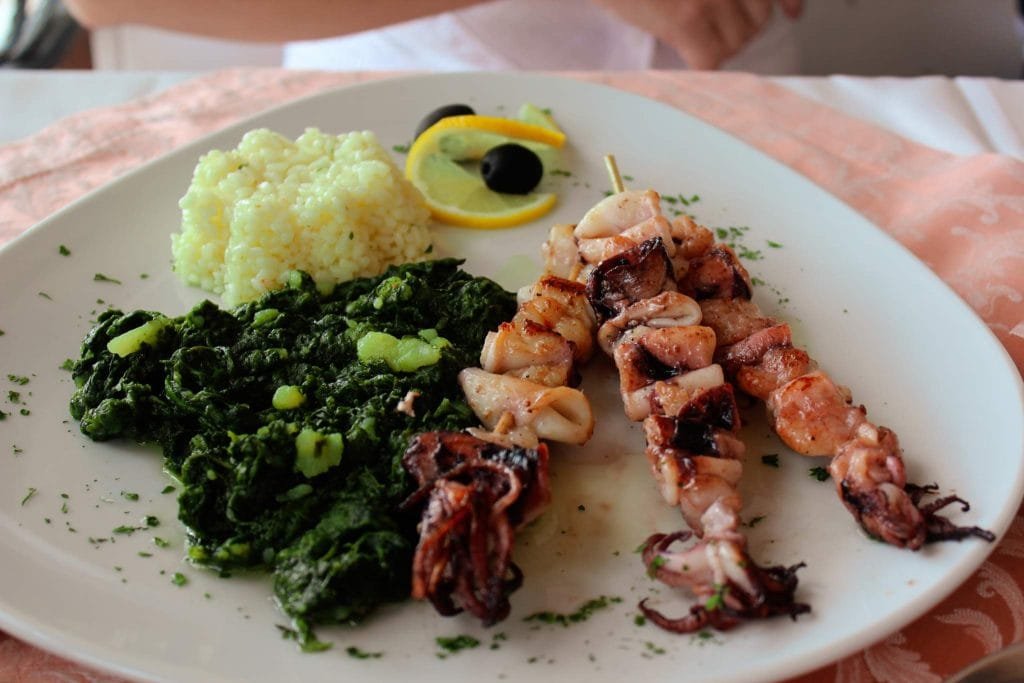 Istria is a peninsula just a few kilometers from mainland Italy, and you can feel the influence. The food might look a lot like the Dalmatian specialties, but the Devil's in the details. To understand what I mean, you must visit, and that's a great idea because the resorts dotting the region are happy to serve you the local specialties.
Central Croatia, which includes the country's capital city Zagreb, is permeated with Arab traditions. Dishes here resonate with the masterful Turkish cuisine. Here, it's all about meat rather than fish, and lamb is very much priced.
From such a vide variety of food, here are some of the most exciting and tasty Croatian dishes from land and sea.
Brodet
Brudet or brodet is a Dalmatian specialty that well uses the Adriatic sea's bountiful sea produce. A fish stew comprising several types of white fish, vegetables, shellfish, and spices, and brought to life with a splash of wine. There are dozens of variations of this hearty soup, and it's ever fresh and delicious. If you think this is just a fish soup, you are wrong.
Black risotto
Croats prepare this dish in every restaurant or resort around the coast. Of course, you can try it in other countries, but it's still a Croatian national specialty. The seafood used for this dark silky dish is exclusively local, cuttlefish ink gives it its color, and squid, mussels, and sometimes other seafood adds to it complexity. If you love seafood dishes, you can't miss Croatian black risotto.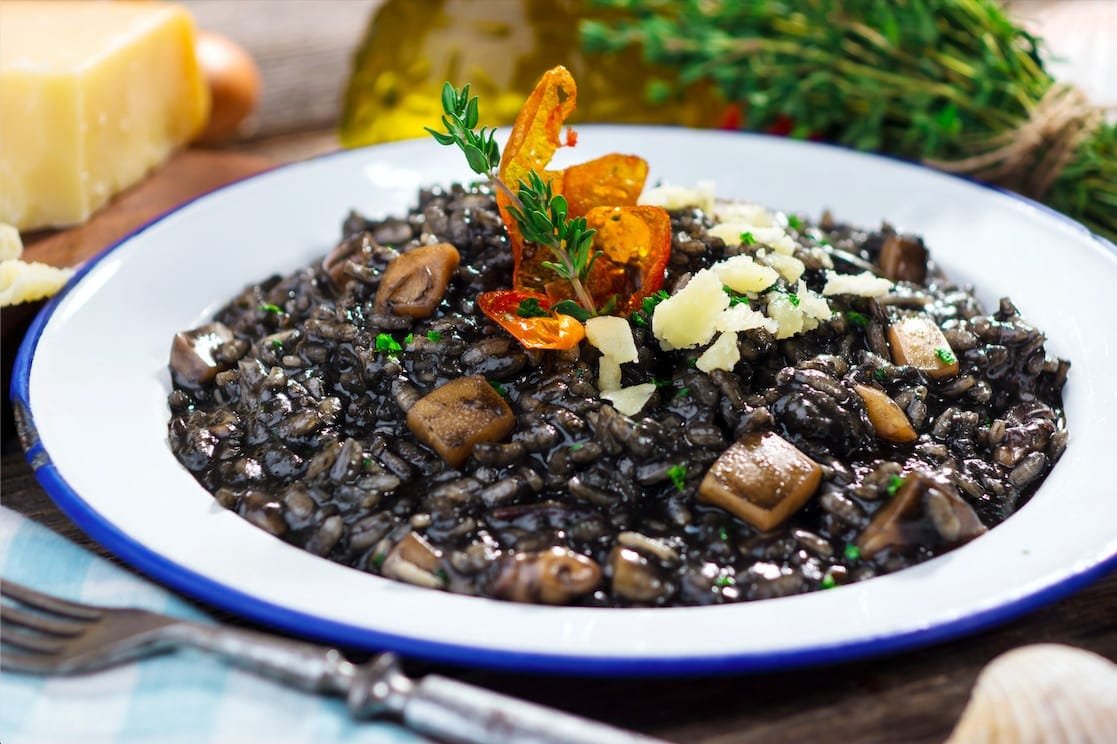 Truffles
If you stay in Istria, be sure to try the region's truffle dishes. Risotto, pasta, meat – it doesn't matter, it's all worth it. In Croatia, cheeses, sausages, and ravioli are all infused with truffles, they're all very popular products. Try all of it, they're a once in a lifetime experience that you'll remember for the rest of your life. Truffles are one of those ingredients that leave an impression on everyone.
Fish
In Croatia, always order the fish. Sea bass or dorado, mussels, shrimps, or octopus – they're always fresh and prepared masterfully. They'll often drizzle the seafood with lemon juice and olive oil and aromatize it with crushed garlic. There are many garnishes to choose from, but the 'razor' is considered the most colorful. Razor is a plant, somewhat reminiscent of beet tops. One of the best Croatian food experiences I've had .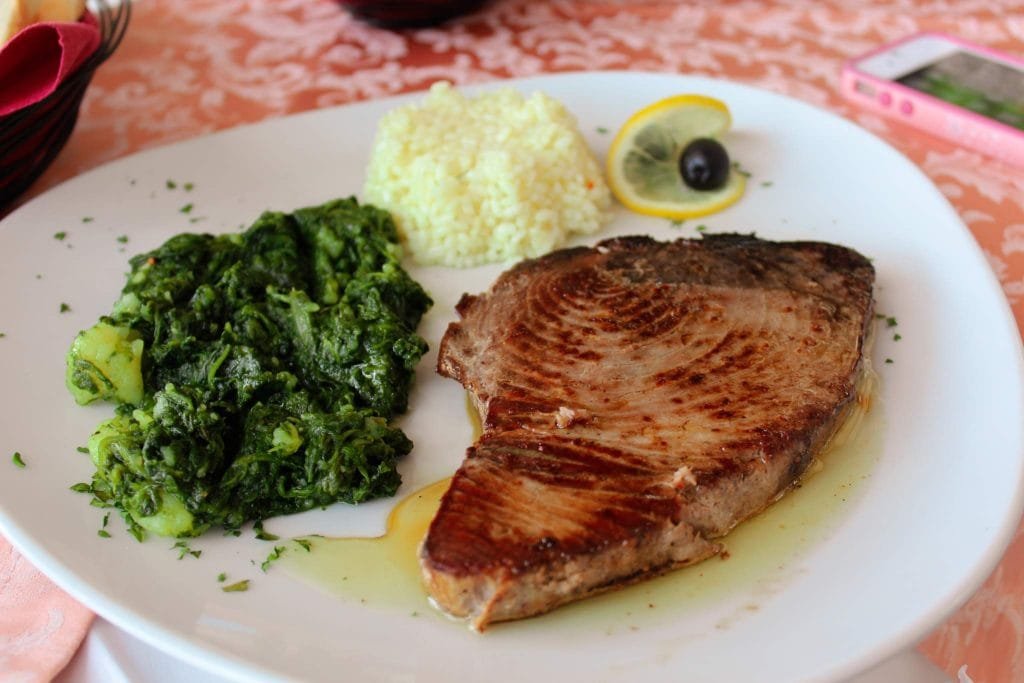 Prshut
Croatia's food map is not complete without prshut . As the name suggests, this is the Croatian version of prosciutto, a distant relative of the Spanish jamón, but differs in the production method. Dalmatian versions are hung over smoldering coals and smoked rather than dried. In Istria they dry prshut naturally with the help of the coastal salty winds.
Sold in every store on every corner, prshut is Croatia's pride. They'll serve it with everything, wine, or beer, on its own or in a sandwich. Served as thin slices and served with green onions, olives, and cottage cheese, this is a straightforward-delicious platter.
Chevapi | Ćevapi
These short sausages made of lamb, beef, or chicken, are usually affectionately called "chevapchichi." You can enjoy this leading street Croatian food in almost every city. More often than not, the sausages are grilled and served with pita or another flatbread, to which they add sauce or vegetables. In restaurants, they usually serve chevapi with potatoes and fresh vegetables.
Pašticada
You can find this Dalmatian dish in most authentic Croatian restaurants. Cooks marinate beef in a special sauce with vegetables and paprika, then the whole piece is pan-seared and slow-cooked in wine. The meat is finally removed and baked with prunes. They assemble the dish with mashed veggies and gnocchi topped with fork-tender beef. What a dish! It's incredibly tasty, delicate, and aromatic. If you visit Croatia, try it.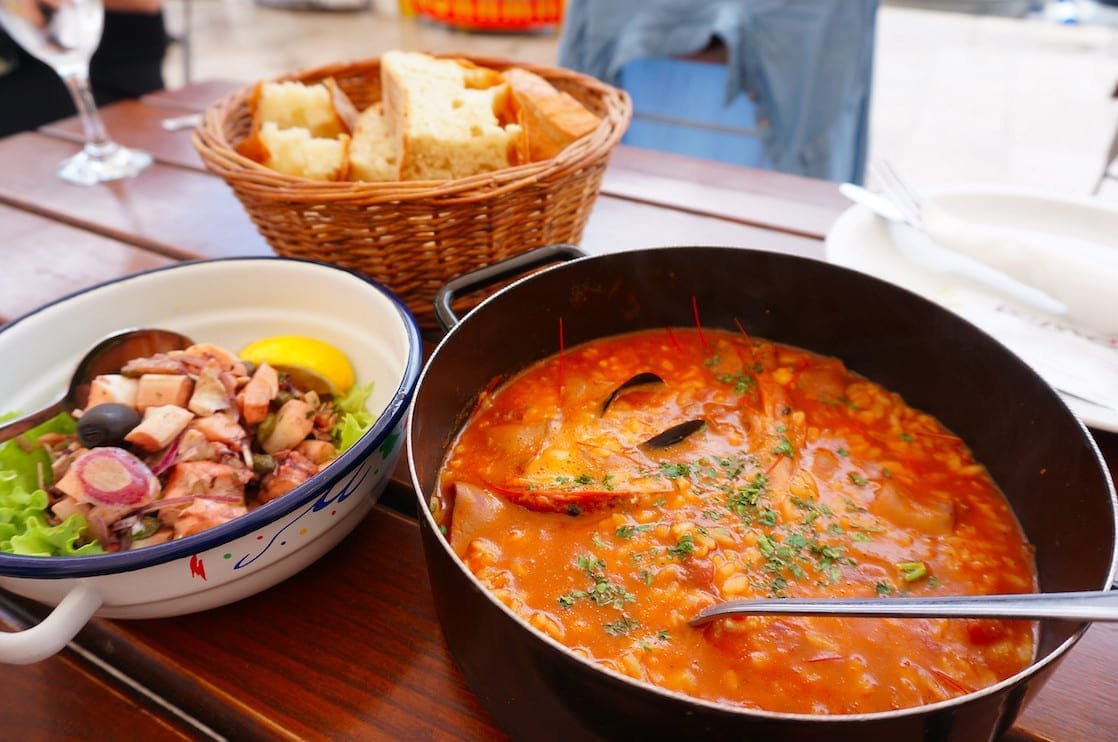 Pag cheese
Pag cheese or Pag Island cheese is a Croatian variety of hard, distinctively flavored sheep milk cheese originating from the Adriatic island of Pag. They prepare the cheese using a unique method in which they add olive oil to it for an unctuous feel and a rich taste. The cheese is finally aged for a minimum of two months, but producers often age it much longer than that. Pag cheese It's a national specialty not to be missed.
What's unique about this cheese is that they add no synthetic additives or preservatives, and it has the distinctive fresh herbs from the goats' diet. Goats in Croatia feast on sage and rosemary, and you can tell.
Lavender
Croatia (not France) is the world capital of this fantastic flowering plant. The best Croatian lavender grows on the Island of Hvar. In summer, tourists can go on a "lavender tour" to admire the flowering fields and buy lavender souvenirs. People sell them throughout Croatia in the form of living bouquets, dried flowers, bags, cosmetics, pads, candles, butter, and tea. They're all made with the fragrant grass.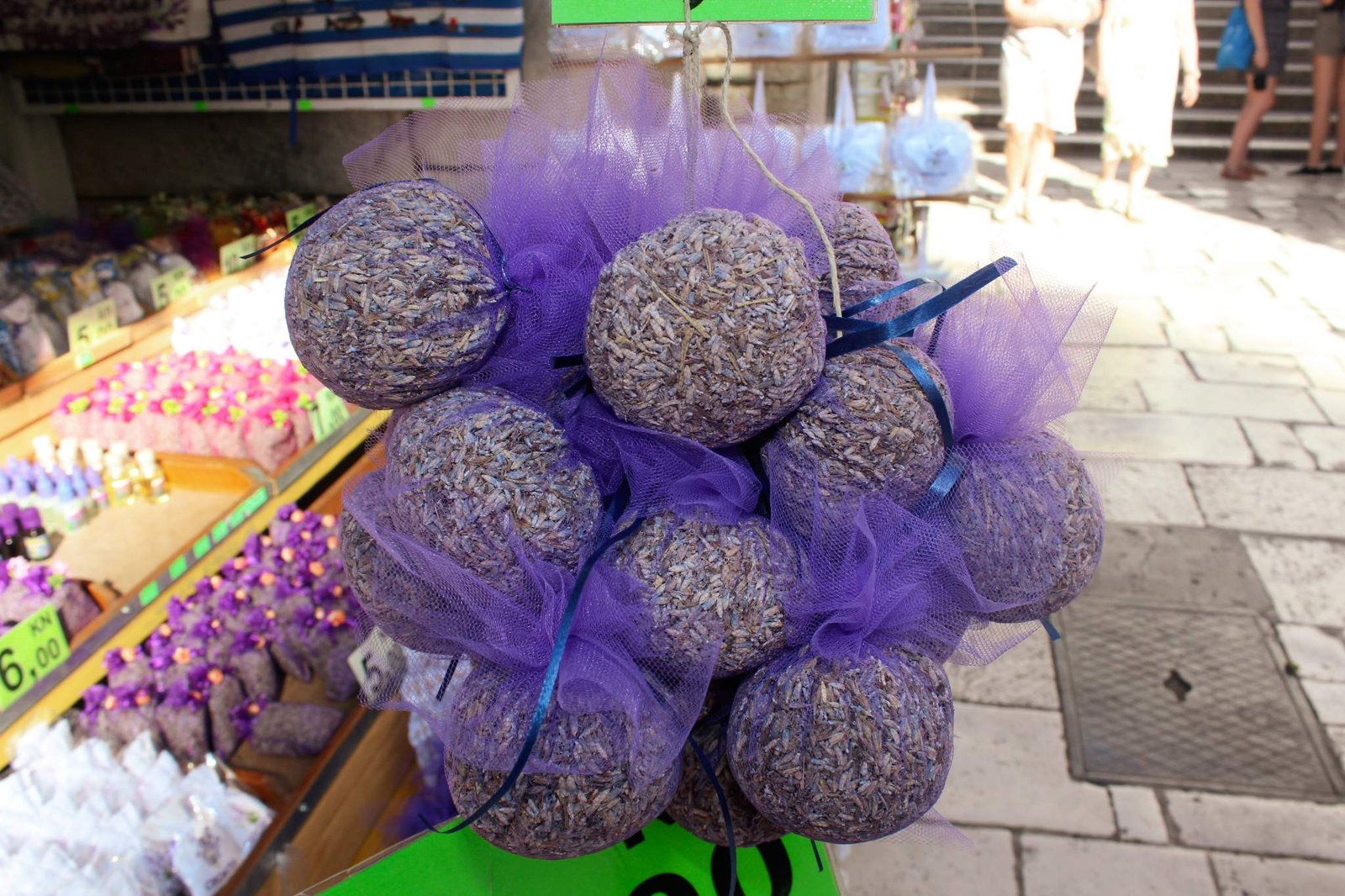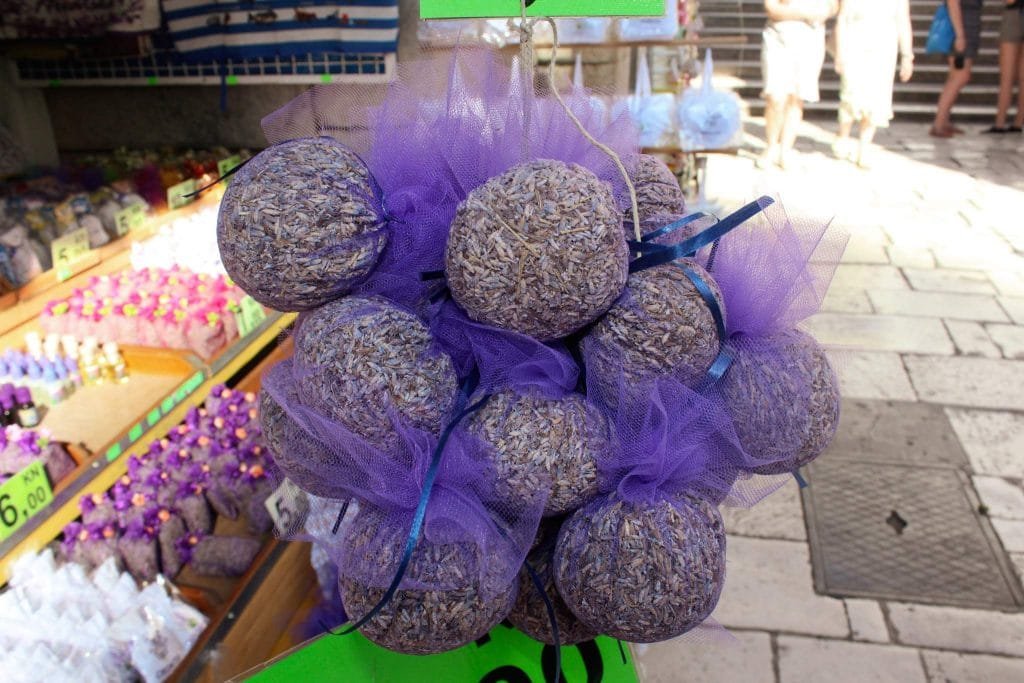 Honey
Croats are notable beekeepers, and the mountains are home for passionate beekeepers that experiment and create unusual and exciting honey combinations. Visit the Plitvice Lakes to buy a few jars of the aromatic sweet treats of nature. One of the most popular it the honey produced with bees that feed on the lakes' pine trees. Lavender honey is also famous, and if you concentrate enough, you can perceive the flowery aromas on the sweet liquid gold.
On a note! If you want to buy a genuinely unusual Croatian souvenir, choose green honey from acacia, to which mint extract, nettle, and broccoli are added to it. Local doctors make and recommend it for its alleged health benefits and immuno-stimulating properties.
Olive oil
Croats grow olive groves everywhere in the country, so if you don't know what to bring as a gift from Croatia, choose olive oil. Few people know that the Croatian olive oil is as good as the Greek and the Spanish, most likely because local manufacturers can't compete with well-known world brands.
The Istrian Peninsula is home to ancient olive trees, and they make world-class olives. Buy your oil at farmers' markets. It costs as little as 65 kunas (10 USD). While you're shopping, be sure to purchase truffle mushrooms too, they sell them in grocery stores and supermarkets.
This is it for Croatian food, now what about the drinks?!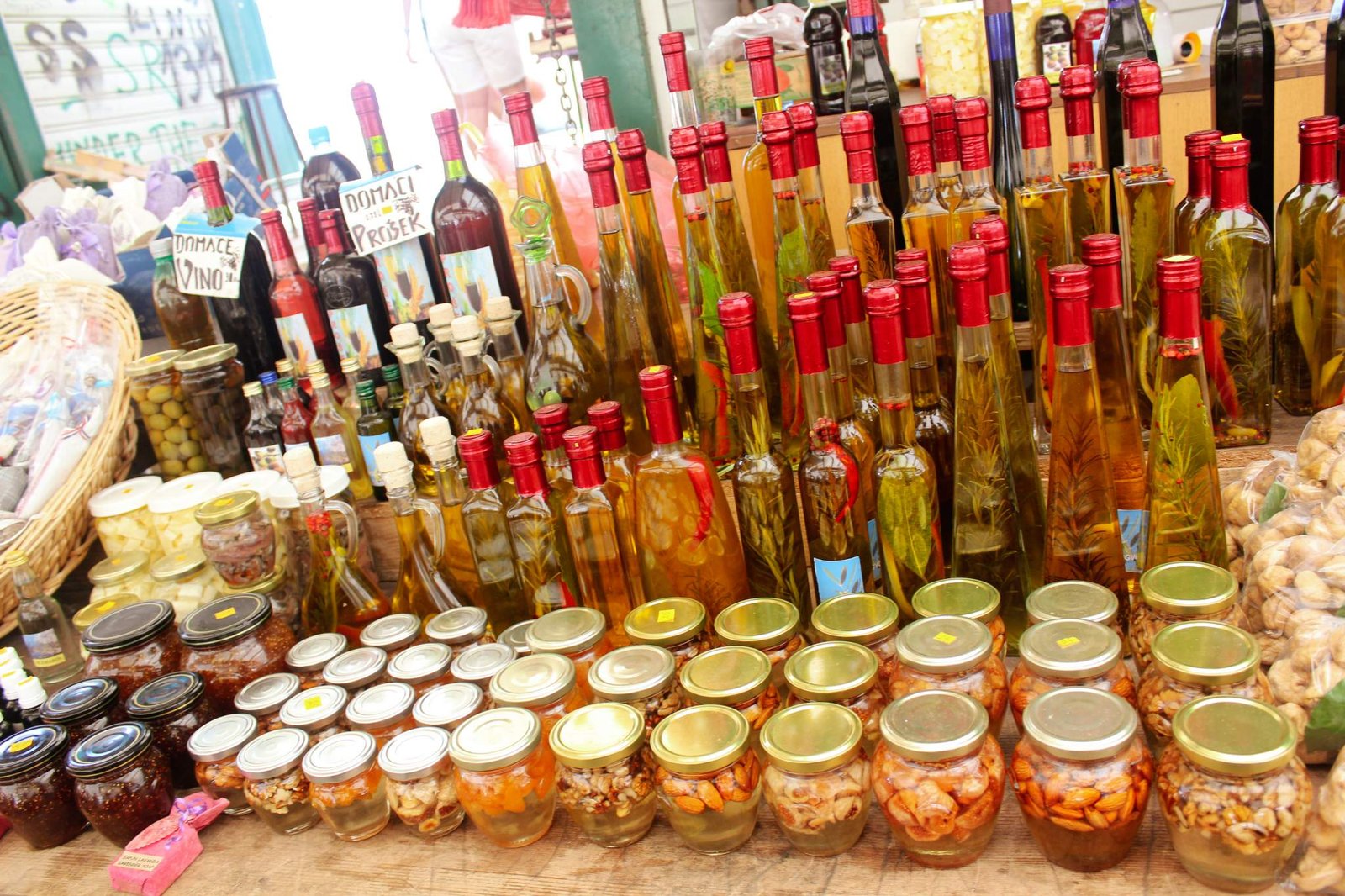 Wine and liquor
Croatian wine is gaining recognition for its geographic and climatic diversity. Several autochthonous varieties make the country's offer exciting and well suited for any occasion. It has fierce competition with wine powerhouses like France and Italy, and new world contestants like Chile and Argentina, but Croatian wine is unique and has no equal.
For example, in 2016, Croatia won up to 63 Decanter World Wine Awards medals. In the same year, according to the US newspapers USA TODAY and 10Best.com, the wine experts declared Croatia one of the ten best wine-growing regions in the world.
Croatian wine attracted a lot of world attention in 1996 when research showed that California's popular black grape Zinfandel ws identical to Croatia's Crljenak Kašteljanski and Tribidrag.
Even the famous chef Anthony Bourdain could not resist the spell of Croatian wines. When he visited the Bibich winery in Skradin, an enthusiastic Bourdain exclaimed: "Why are there so many great wines in your country?"
Why haven't you heard anything about Croatian wines up to this point?
White wine is king in Croatia and represents 67% of the production, but the reds are also astonishing. There are many autochthonous grape varieties in Croatia that are not very well known outside the country, partly because of their complicated names! Croats are not afraid of a long series of consonants in one word.
Today, the world recognizes the potential of Croatian wine tourism. Winery visits, together with the country's cuisine, are a paradise for foodies and wine enthusiasts alike.
Maraschino Liqueur
Maraschino cherries are a Balkan variety of berries with a specific tart-bitter taste that only grows on the Adriatic coast. You can recognize them quickly because of the small fruits, the dry flesh, and their pleasant bitter taste. The name "Marasca" comes from the Latin root amarus ( "bitter") and is perfect for describing the berry itself and the liquor got from it.
To make the famous Croatian liqueur, cherries are pressed and distilled to get a clear high-grade spirit. It is then aged for at least three years in ashwood barrels to add aromatics and a smooth mouthfeel. The original recipe is secret and was developed by Dominican Monks during the 16th century. If done correctly, the process results in a strong (32% Vol), colorless liquor with a decadent flavor and rich aromatics.
Ashwood contains minimal astringent tannins and adds little aromatics to the spirit. You can't add essences or fruit juices, although a small amount of simple syrup is typical to round up the liqueur.
Croatians add a splash of the liqueur to their coffee, and bars use it in elaborate concoctions, Maraschino is rarely enjoyed on its own. The sweet cherry-scented drink has also found its way to the kitchen, and it's used if baked treats, sauces, and salad dressings.
Interesting to know! Maraschino liquor is a symbol of love for the earth and hard work. Napoleon, Queen Victoria, Casanova, and Hitchcock drank it, and Honore de Balzac mentioned Maraschino in his work "First Steps in Life". Guests of the Titanic were served the notorious Croatian liquor too.
Croatia is all this and more.
Croatian food and drinks are more than a way to nourish your body; there's a special bond between the people and their food. It's hard not to be impressed by the quality of the ingredients here, and everything you order from is infused with the unique Croatian feel.