Hiking Volcano Acatenango in Guatemala : My Survival Experience
What to expect from Acatenango Volcano hike
Have you ever seen a volcano erupt?
Now imagine, for a moment, that you are not just watching this incredible phenomenon, but are having dinner on the next summit over, looking at the erupting volcano after hiking up one.
The purpose of our Guatemala trip was not specifically Guatemala , well not only . We were there for the ascent to the volcano Acatenargo in particular. This trip made me look at life from a different angle.
With all unexpected twists , with things that tour companies don't usually tell you about , here is what turned out of it . Plus the list of things you absolutely need to climb the Acatenango volcano , if after reading this post you will still want to go for it.
Our quiet start at La Soledad , where it all begins .
I am a person who tends to desperately resist any kind of sport ( and I smoke ), and I was in quiet horror from the upcoming "excursion." My boyfriend, on the other hand, has long been engaged in mountain biking and was all set for this trip physically but still seemed to appear nervous .
Supposedly the Acatenango hike is of an intermediate level. You do need some sort of physical preparation just to not die, but if you are well prepared you can easily and surely make it to the top. Not everyone is prepared, and not everyone makes it to the top.
Acatenango volcano: my hiking experience
I was fanatically getting prepared (if you can call jogging for a week getting prepared). I had a better handle on the "ammunition." I got the perfect mountaneering hiking shoes, the supplements, the clothing, and was mentally ready to get to the top.
No one but us had signed up for the tour, so we can say that we had a personal guide. For the first three hours we walked past local villages, and it was more of a pleasant walk than an intense hike. I looked at the surroundings with interest, without even thinking about what was awaiting me in front of some 10-hour ascent to an altitude of 4000 meters above sea level.
Having had a bite to eat at the very foot of the volcano and starting to go deep into the jungle, I looked up for a second and caught a fleeing thought: "Now my life is divided into before and after."I am about to climb my very first volcano .
It turned out that thought was right.
We hired three porters (local Guatemalan guys, no more than 150 cm tall, but stronger than many professional athletes) who carried our camp: our tents, sleeping bags, clothing, and equipment. A porter costs $10 one way, and this is sometimes their only income, so by hiring them you really help the local community. I really don't understand the "heroes" who try to carry everything on their shoulders. Even if you are in great shape, you want to be able to enjoy the ascent. I also know from our guide's stories that about 80% of people who decide to carry their stuff up on their own regret it .
If you are going to conquer mountains and volcanoes, be prepared for altitude sickness. The higher you go, the thinner the air becomes. You'll experience oxygen starvation, nausea, dizziness, an inability to breathe easily, and other unpleasant sensations.
It feels like they put a package on your head, tied it around your neck, and sent it to run to the 30th floor. Taking altitude pills a few days in advance and during the climb helps, and taking it easy and slow does as well.
In countries like Peru , you can easily find oxygen bottles at any pharmacy , you can carry it around and inhale it when you feel like you need "a breath". They don't sell those in Guatemala , but I found an asthma inhaler , along with altitude pills that I started a few days prior and soda (caffeine + sugar) this made me feel more confident . I do take the altitude warning seriously , and by the way 6 people died from altitude on Acatenango just a few years ago .
Only on the way back I realized that I never opened the inhaler correctly and was just basically spraying nothing every time I was trying to get "a breath" from my little inhaler 🙂
Another hour , another climate zone .
In the middle of the day a tropical downpour began. Dirt flowed from the slopes, the path was washed away, but we climbed up with perseverance. I had to carefully look at my feet, and almost bite my teeth into the prominent roots of the trees to pull myself up.
By evening, we got to the last halt, had dinner and fell asleep. I did not see Fuego "do the fireworks" as I had my dinner , in fact , I didn't see a thing other than the tents and one pine tree . I was barely moving from altitude and a hard core hike for 10 hours , but nagging and complaining about my experience being ruined and and "I didn't come all the way to Guatemala and up to this came to see a pine next to some tents" . I'm sure Alex and Alex the guide were fighting the thoughts of just throwing me down the volcano I was so annoying .
What would you do if something you were dreaming about (dinner with the view that you had to work so hard for ) was cancelled due to the weather .
I announced that unless the weather changes tomorrow so I can actually see the views "like in Google" I'm not going on top waking up at 3 am . and went to sleep .
We left the camp at 4am and began the summit push, the hardest part of our hike. The first part took place in the dark , all we had was a little flash light on .
We had to climb the slope of 40%, covered with centuries-old layers of volcanic ash. The altitude sickness was much worse with every step I took; I was almost fainting.
Was it worth it ?
During this hour and a half or so, I did not walk, I crawled, gasping for air with my mouth like a fish stranded on the shore.
I already had a thousand regrets that I decided to undertake such a hike.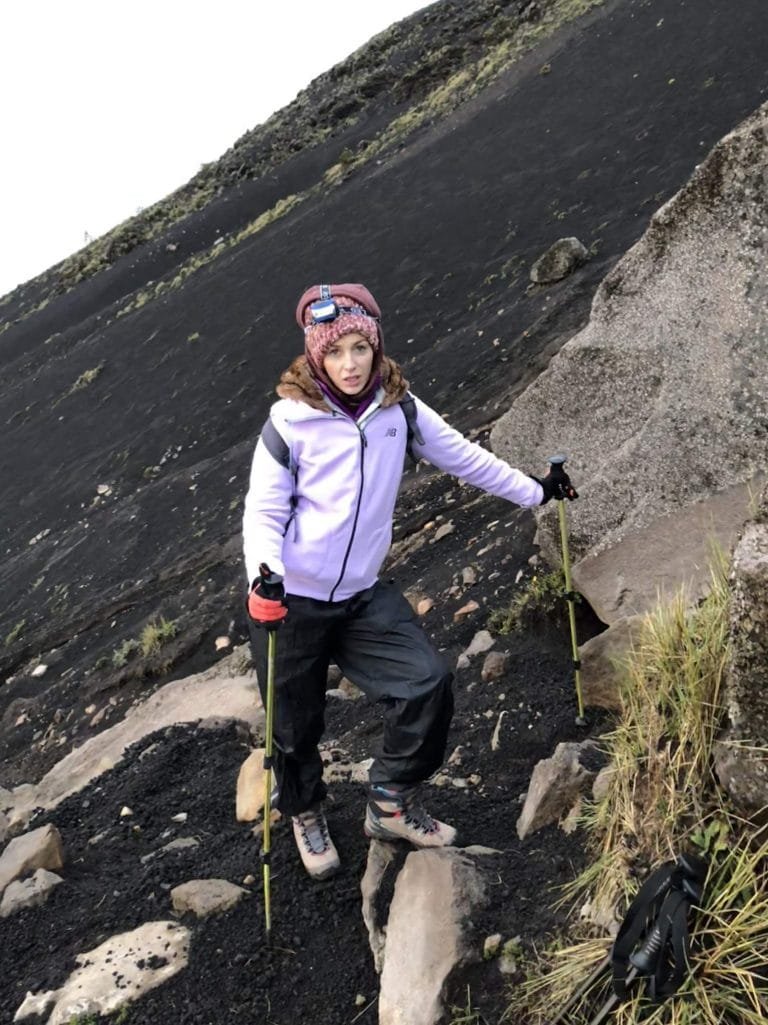 One more step …
I straightened up to full height and …
I forgot about everything in the world …
The sight that opened before me eclipsed all paths.
The sun is not at all like it is back on earth. Here it is on an equal footing with you. Clouds floating underfoot. There's no comparable delight to this primitive beauty.
I experienced an almost physical feeling of wings behind my back.
And tears…
You would have thought that they were from the wind that permeates from all sides, but no. They were from happiness, from the feeling that I could fly along with these clouds from the fullness of life that I felt here.
The team of survivors . I survived the altitude , Alex and Alex survived my attitude .
I was so happy that I made it : I climbed one of the hardest volcanos in Guatemala and we were blessed with the clear blue sky and magnificent views .
It took us about 30 minutes or less to get down to the base camp , where we had breakfast prepared by our guide… with the view of Fuego and the surroundings and Fuego blessed us with little eruption right before we left !
You know, having breakfast on top of a volcano, watching the eruption of a nearby one, causes very unusual sensations. This is the case when it's better to see it once than to hear about it 100 times.
The descent took only a few hours. Our guide said that I broke the record for the descent. In fact , I ran out of cigarettes , and was in a hurry to get down .
By the way, you need to be even more careful and cautious on your way down, otherwise you can easily twist your leg on the roots, or get another serious injury.
How can we best describe our journey?
I have never felt so ALIVE!
Tips to get ready for your Acatenango hike .
If I could do it , you can .
It is better not to immediately rush to conquer mountains Guatemala. First spend a few days in Antigua, at an altitude of 1500m above sea level, giving yourself time to get used to the altitude. By the way, this place has quite an interesting story. In 1542 it was completely destroyed by a volcanic eruption, and then rebuilt.
If you read "Little Prince," you may want to stop by Lake Atitlan, where book was written.
What to pack for Acatenango hike
1. Footwear
I love La Sportiva hiking boots, but I would think any hiking shoes would work .
I read reviews of people who made it to the top and back with "just wearing my sneakers" and I also saw these people in person , on the volcano . They didn't loo like they were enjoying the hike , and the worst part for the sneaker people happens on the way down . The injuries and the time it takes them to get back from the volcano . The blisters from volcanic sand getting in your shoes and all the other misery included .
2. Clothes
We took 3 layers, since conditions vary from the bottom of the mountain to the top.
Sports leggings, cotton jersey, fleece sweaters, one more pair of pants (preferably canvas), a windproof windbreaker, warm socks, a hat, and gloves.
3. Other Equipment
A tent and sleeping bags, Corn plaster, and aspirin. Also be sure to cut your toenails (do not ask why, just take my wordfor it).
Most tour companies will supply the equipment .
4. Food
Most companies provide food, and ours was already included in the tour price. We did have our own protein bars, energy bars and cookies.