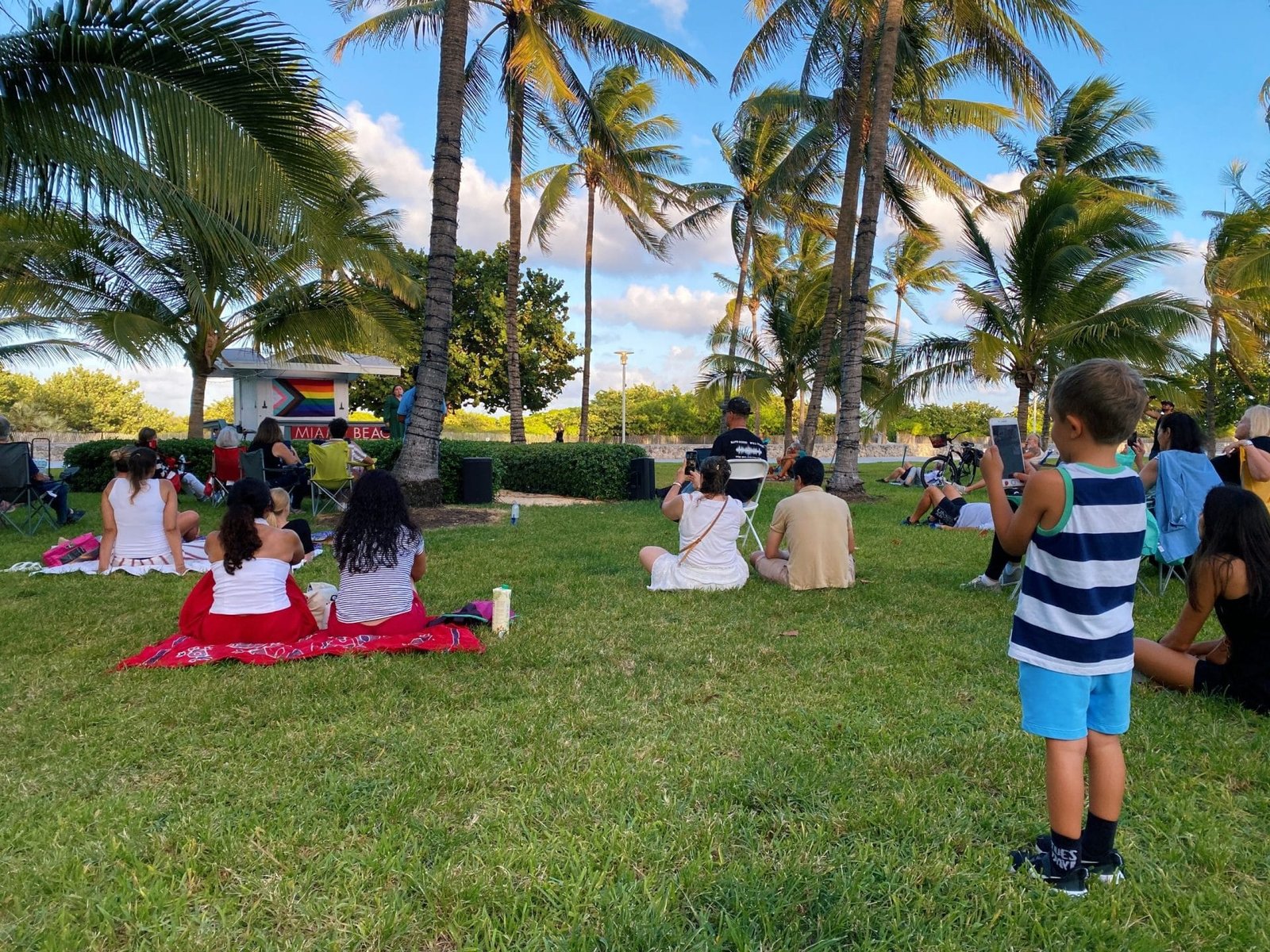 Best Things To Do In Miami With Kids
Miami is one of the most popular vacation destinations in the US, but are there any things you can do in Miami with kids…After all, the Magic City is famous for its nightlife and…everything that's not super kid-friendly.
Miami has a lot to offer for families with young children. From zoos and nature tours to kid-friendly restaurants, there are plenty of options for things to do with kids in Miami.
Ice cream shops, kid-friendly hotels, snorkeling, Everglades, museums… the list is endless.
Kid-Friendly things to do in Miami
While you probably won't exhaust this list any time soon, there are tons of options for kids in miami surroundings:
family-friendly hiking trails
parks and playgrounds galore
zoos
festivals
museums
beach
Why now bring the family to Miami and enjoy all that the city has to offer!
Is Miami a kid-friendly destination?
Visiting Miami with kids is no easy task, being one of the most popular vacation destinations in the US, it is…crowded, to say the least.
But, trust me, if you plan you vacatiion in Miami with kids, you will be so rewarded.
Miami is the city where dreams come true and the energy is contagious. You'll find ample opportunities for free things to do with kids in Miami, and some paid activities that are worthwhile. The one downside to Miami is that it can be an expensive place to visit (I should know, I live here!) but I've learned a few tips for visiting on a budget. With a little planning, you can enjoy kid friendly things to do in Miami without breaking the bank. Read on for the full list of things to do with kids in miami below!
Best things to do in Miami with kids
Sea Turtles: up close and personal
Florida is home to some of the most amazing wildlife in the country, and there are plenty of ways to get up close and personal with it. One of the best things to do in Florida is to go on an eco-friendly tour or hike and witness Florida's turtles in their natural habitat. For example, the sea turtle season generally runs from May to October, so in a few months, we might even get the chance to see them hatch. These are some of the best Florida beach tours to take if you want to see these cute creatures in action. While it can be tough to catch wild turtles hatching because it happens so quickly, you might get lucky on some guided tours. Soak up the Florida sun and get ready for an amazing turtle-watching experience.
Why it's a great thing to do in Miami with kids:
You can learn about the local eco systems, see the size of the turtles and some incredible facts about them. As well as learn about the importance of protecting the sea turtles.
The Loggerhead Marine Life Center offers Turtle Walks and Hatchling Releases throughout the summer.
The Turtle Walk tour brings you to the Sea Turtle Hospital – it's kind of. Turtle rehab. You can see to view their existing patients and go out on the beach to see a nesting mama turtle.
Miami Beach Music Festival
Looking for something to do in Miami with kids that don't involve the beach?
Check out the Miami Beach Classical Music Festival! This event provides world-class musical instruction and performance experiences to young artists and the South Florida region.
The Miami Beach Classical Music Festival is the perfect place to take your kids if you're looking for things to do in Miami that are both educational and fun. At the festival, they can enjoy world-class musical instruction and performances by some of the most talented young artists in the region.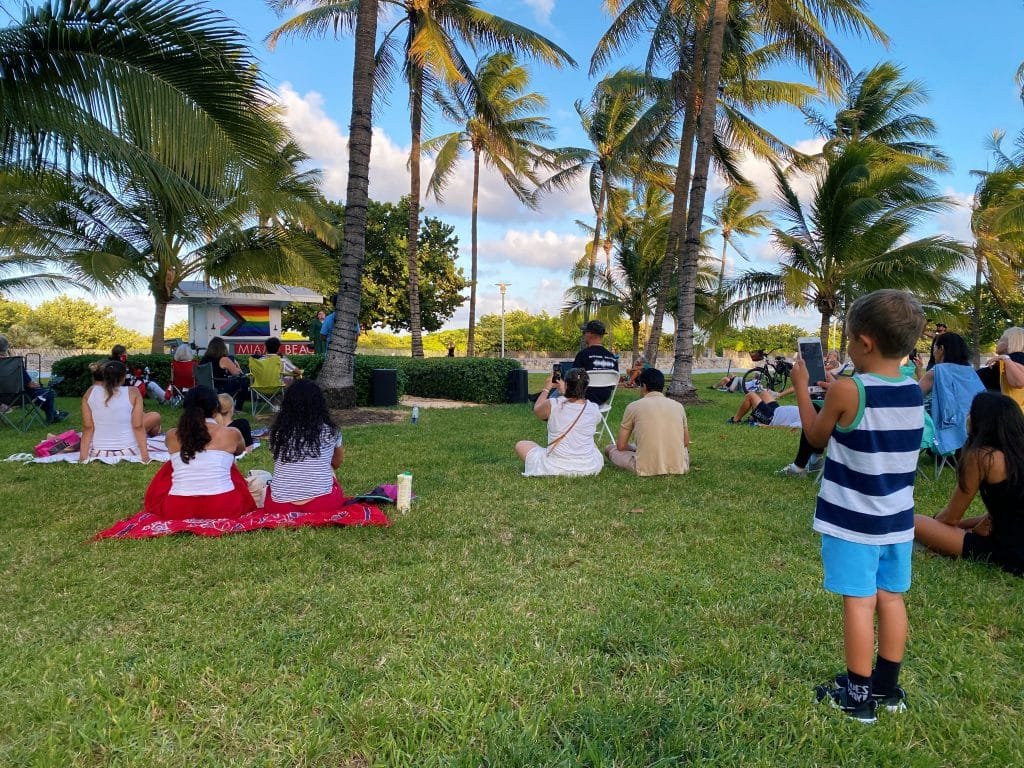 Kid-friendly music festival
And best of all, it's free! So if you're looking for a great way to entertain your kids while in Miami and help them learn about classical music, be sure to check out the Miami Beach Classical Music Festival.
What's a better way to enjoy Miami Beach than music in the park? Come down to Ocean Drive every Sunday night and enjoy free and touching performances, classical music under the stars(and the palms)
Community

Music in the Park is the very definition of what music means to the local community.
Ocean drive fills with music as the singers share their favorite broadway and opera numbers. As the classic music night goes on, the stars come out in the sky, and light sticks come out in the audience. It's a magical experience for all ages! And definitely one of the best things to do in Miami with kids.
Movies in the park
Sound Scape Park's free movie night is the perfect activity to do with kids in Miami. The 2.5-acre outdoor movie theater and urban oasis – in the middle of South Beach. It's a perfect place for families to spend an evening together with free movie screenings under the stars. So grab a blanket or a chair, bring a picnic, and enjoy a movie under the stars!
Miami Children's Museum
Miami children's museum is a great place to play and learn. With 14 interactive and bilingual exhibit galleries and daily programming for the whole family, the museum offers something for everyone. From camps and educational events to custom birthday parties – the children's museum is a must-visit when traveling to Miami with kids.
Museum's entrance fees:
Museum Admission – $20 for adults and children
Florida residents – $15 for
MCM members and children under 12 months 0 free
The parking rate – $1 per hour, seven days a week.
Miami children's museum is a perfect place to play, learn, imagine and create.
Vizcaya Museum
Viscaya Museum and Gardens is a great way to learn all about local history and culture. And a very kid-friendy activity. Villa Vizcaya is a historic mansion and estate located in Miami, Florida. The property includes an impressive main house, numerous outbuildings, and sprawling gardens. Villa Vizcaya was built in the early 20th century by industrialist James Deering. Inspired by the grand estates of Europe, Villa Vizcaya is one of the most intact examples of this type of architecture in the United States. The property spans 11 acres and features 34 public rooms spread out over several floors. Visitors can explore the extensive grounds, view the incredible art collection, and learn about the Villa's rich history. Villa Vizcaya is a great way to experience local history and culture in an unforgettable setting.
Jungle island

Jungle Island Zoological Park is one of the world's most famous zoos.
Situated on an island off the coast of Florida, Jungle Island is home to more than 3,000 animals, including many rare and endangered species. The zoo is committed to conservation, and its efforts have helped to protect various natural ecosystems and exotic and rare animals.
Park ais to educate public about various plants and animals in the most interactive and fun way.
Thanks to the Jungle Island Zoological Park, people from all over the world can learn about the importance of conservation and the ways in which we can help protect our planet's wildlife.
This intimate zoological park is a favorite among locals and visitors alike. World's rarest and most exotica aimals call Jungle island their home.
Zoo Miami
A must do when visiting Miami with kids: Zoo Miami.
This zoo is one of the best things to do in Miami with kids. Not just an entertainment but an informative and engaging activity!
Zoo Miami is the largest Zoo in Florida and one of the biggest zoos in the US. The Zoo is located in the southern part of the United States, near the Caribbean and the tropics, which provides a favorable climate to host a huge variety of animals and species from all over the world! For example, you can see animals from Asia, Africa, and Australia.
An awesome things to do with kids in Miami? Yes, but it's super fun for the adults as well!
Zoo Miami is different from other zoos because it does not have any cages confining animals in small areas. Instead, Zoo Miami has large camps and forests that are created to be just like the animals' and plants' original habitats. If you want to find out more about Zoo Miami, keep reading this article for tips and for Miami Zoo Prices.
Here is a quick summary of best things to do in Miami with kids
Visit the Miami Zoo: The Miami Zoo is one of the coolest zoos in the country and your kids will love seeing all the animals!
Take a walk or ride a bike through Jungle Island: Jungle Island is an adventure park that is perfect for families with young children. There are plenty of things to see and do, including biking, hiking, bird watching, and more.
explore the Vizcaya Museum and Gardens: The Vizcaya Museum and Gardens is a beautiful italian estate. One of the best historic landmarks in the US, if you ask me. Now, it's open to the public as a museum and garden. Kids will love checking out the grounds and learning about the history of the Deering estate.
Visit Monkey Joe's: Monkey Joe's is an indoor playground that is perfect for rainy days or hot summer days. Kids can run, jump, and play to their heart's content!
Go on a Everglades Airboat Tour: An airboat tour of the Everglades is a great way to see some of Florida's wildlife up close. Your kids will be fascinated by all the different animals they see on the tour.
Visiting Miami for Christmas? Check out this guide to Christmas in Miami!
And if you are looking for the Miami packing tips and outfit inspiration – here is a great post!