7 Reasons to Visit Uzbekistan-The Country That Will Leave You Speechless
There's a travel destination full of amazing sights, fairy-tale settings, and warm, friendly people that no one's talking about.
No, not Thailand. Thailand's also great, but you probably know someone who's been to Thailand.
The place we're talking about has great food that none of your friends has ever tried. It's steeped in history that you've never studied. It's-
Not France. Terrific food, lots of history, but plenty of people know France well.
Historical center of one of the world's greatest empires, home to chandelier-graced subway stations and rugged mountain vistas, one of the most walkable, backpackable, perfectly Instagrammable countries on the face of the earth is just starting to get the attention it deserves from adventurous tourists looking for something completely new.
It's Uzbekistan.
Really.
Why you should visit Uzbekistan
Situated right along the famous Silk Road that was once the crossroads between East and West, Uzbekistan has retained the glory of an astonishingly cross-cultural past while adding modern amenities and a well-developed transportation system. And you won't need a caravan to get there: a new electronic visa system makes it easy to plan the most distinctive trip of your life.
Let's explore the reasons why this little-considered corner of the world should be on the shortlist for your next adventure.
Seven Reasons to Visit Uzbekistan
1. Thousands of Years of History at Every Turn in Uzbekistan

For more than 1,500 years, the Silk Road was the only commercial link between Europe and the Far East. Cities along the route played host to a fascinating blend of cultures, none more than the small kingdoms that eventually formed Uzbekistan.
The leaders of Tashkent, Samarkand, Bukhara, Khiva, and others used their enormous wealth and embrace of foreign influences to build gorgeous cities unlike any seen before or since. In the 14th century, Amir Timur (Tamerlane to Europeans at the time) made Samarkand the capital of an empire that covered 11 modern countries and parts of six others, and used his enormous influence to build even more beautiful and majestic testaments to the human imagination.
Much of this uniquely impressive architecture still stands in pristine condition, waiting to be discovered by a new generation of travelers looking for fresh adventure. The Uzbek devotion to preservation doesn't stop with its magnificent showcase buildings: in Bukhara, for instance, you can walk the same streets and shop in the same bazaars as medieval travelers did.
2. Uzbekistan is Perfect Blend of the Comfortable and the New
Uzbekistan's capital, Tashkent, is the largest city in Central Asia: a metropolis of 2.5 million boasting a complete array of modern amenities and some you might not be expecting (like a subway system so full of fine art that photographs were forbidden until recently). It's a fine jumping-off point, but two other cities deserve special attention.Legend has it that Timur chose Samarkand as his capital for its perfect climate (which he measured, it being the 14th century, by leaving sheep carcasses at the gates of each candidate city).
You'll find Timur's towering mausoleum, the Gur-i-Amir, here, under a beautiful fluted blue dome; the Registan, an enormous plaza surrounded by three gorgeously ornate madrassas, should also be on your list.
Bukhara was once the center of Central Asian civilization and arguably the most important crossroads of the Silk Road. Its people are still remarkably cosmopolitan and welcoming to visitors, and Bukhara remains an important hub for some of the world's best artisans.
Pottery, embroidery, carpet-making, metalwork, and stunningly designed clothing fill Bukhara's squares and bazaars, much of it created by families who have passed the secrets of their art through hundreds of generations.
Read more about travel safety in Uzbekistan
3. Uzbek Cuisine :Food Like You've Never Tasted Before
Uzbek cuisine is delicious, deceptively simple, and above all fresh. Its national dish, plov, is an extraordinarily generous take on traditional rice pilaf, and you're never far from an artfully roasted kebab. Local interpretations of Persian dishes like badamjan are eye-openers, and chuchvara put a rich, fresh spin on other dumpling dishes like ravioli or tortellini.
Uzbekistan can claim to be the world's melon capital, producing more than 50 varieties of watermelon alone. From June to October, the entire country erupts with harvests of fruits, berries, and vegetables, and you're never far from a market selling produce that will make you wonder why you ever thought you knew what a tomato tasted like (or a cherry, or a cantaloupe, or…you get the idea). When you're ready to treat yourself to a restaurant, look up: rooftop dining is a tradition throughout the country.
4. A Nation of 33 Million Neighbors
Throughout Uzbekistan, travelers are treated with sincere, matter-of-fact friendliness. You won't be seen as a freak or a foreigner, simply as a person (and one who might have a good story or two to tell). Whether you're relaxing in a park, shopping at a market, or enjoying a cup at a teahouse, be ready for spontaneous, low-key conversations about your life and travels, and to learn along the way about the Uzbek way of life from the people who live it.
This sincerity extends to the remarkable safety you'll enjoy in Uzbekistan. Major attractions are well patrolled, and as with many countries in the region, penalties for crimes committed against tourists are especially high and the rate of such incidents vanishingly low.
5. A Legacy of Hospitality in a Less-Traveled Land
Uzbekistan has been welcoming visitors from around the world since the first caravan made its way down the Silk Road. That tradition was recently extended by a speedier online visa process, but it hasn't spoiled Uzbekistan as a largely untouched destination for adventurous travelers. As places like Bali and Goa trade local culture for cookie-cutter tourist amenities, Uzbekistan offers a uniquely exotic destination that's rightly preserved its own distinct character.
Read more about Uzbekistan travel essentials: visa, medicine, money exchange
6. Uzbekistan is Photographer's Paradise
The country is so strikingly beautiful in so many distinct ways that you'll find yourself wondering if Uzbekistan waited thousands of years just for someone to invent Instagram. Whether you prefer documenting unique cultures, capturing the chiaroscuro of the region's fashions, or just photographing your own beautiful self in settings available nowhere else on earth, you'll never run out of ideas. Or ways to impress your friends back home. This should be the one and only reason to visit Uzbekistan is you are a photographer.
7. Shopping? Shopping!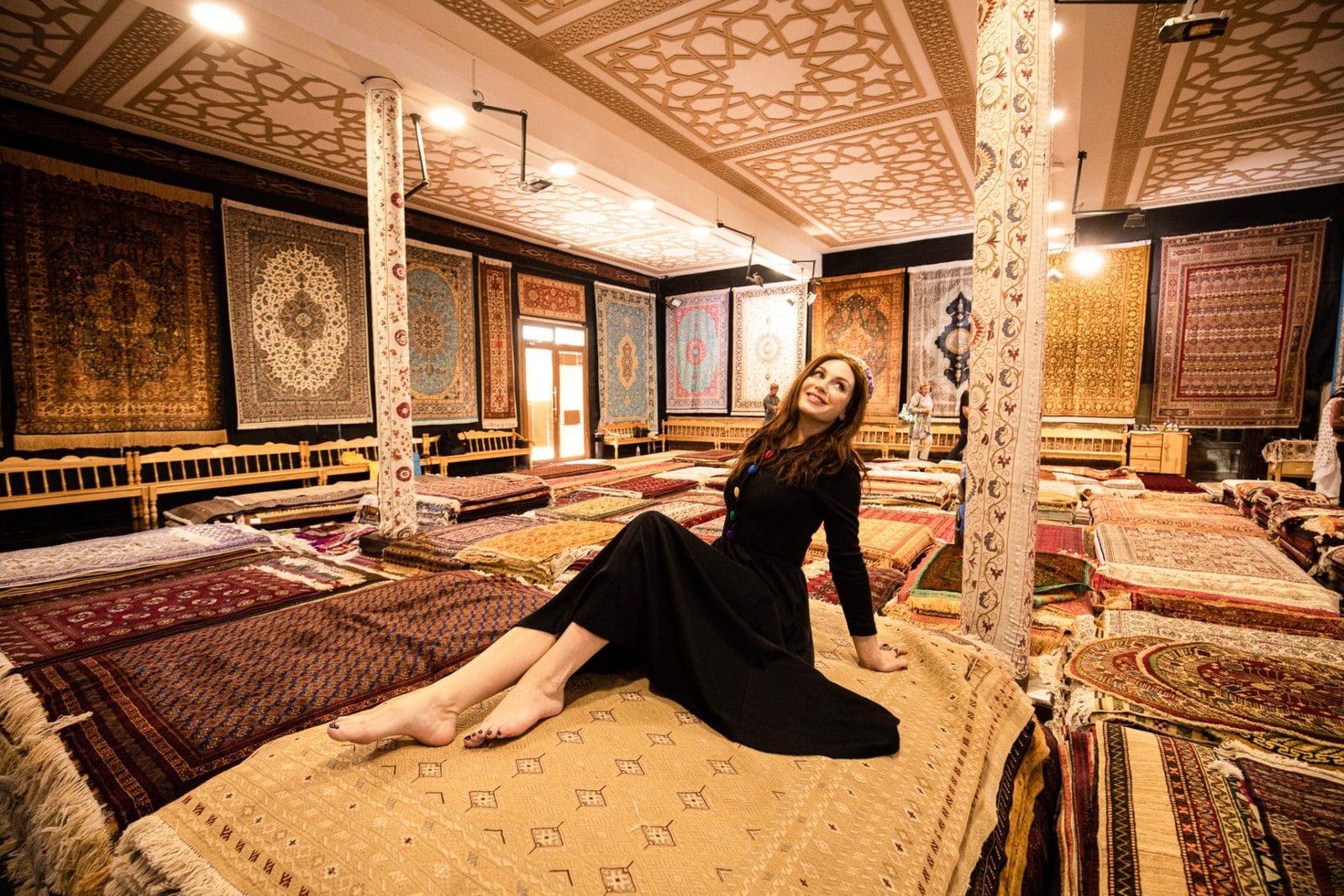 Persia had a strong influence on Uzbek culture, and you'll find gorgeous Persian rugs even in smaller villages. Look a bit closer, and you'll find exquisite silk goods, metalwork crafted by millennium-old methods, clothing and accessories that will earn the flattery of folks back home, and more. 
Learn more about what to wear in Uzbekistan as a female traveler in this article.