The Ultimate Travel Guide to Bukhara
Bukhara has Old Town, unlike Samarkand or Khiva, where all sights are spread around the city, and you can't see much without hiring a driver or a taxi. It's very compact and charming.
Centuries of history and weived into rows of coffee shops and restaurants, coexisting in perfect harmony. Bukhara's Old Town is so cute – it looks like a movie prop.
Travel guide to Bukhara Uzbekistan
You can see all the significant sights in one day . I recommend spending at least a couple of days in Bukhara, historical sights are incredible but there is also :
magical spirit in the air
sunsets on rooftop cafes overlooking the biscuit-colored domes
medieval spas – some of the oldest in history
shopping for artisan steel and silks
incredible food scene
and if you are lucky, local festivals
There are countless madrassas and over 100 mosques.
Muslim teaching spread around Central Asia, thanks to Bukhara – the first Muslim city in the region.
The real decay, far worse than the Gingis Knan invasion were the Soviet times. "Modern" soviet apartment "boxes" came to substitute harmonic, rich architecture. Looking at the old photos of that time, it feels like the Soviets put their ugliest architectural efforts in turning the Noble Bukhara into the Soviet Bukhara.
Most of these city's sights were built in the 10th century – the zenith of Uzbekistan's glory — when gents like Avicenna and Al-Biruni walked the earth.
Bukhara has gotten many nicknames over 2 centuries of its existence.
How to get to Bukhara
Compared to a conveniently located Samarkand, Bukhara is tucked away a little bit.
Getting to Bukhara by bus :

It will take you 8-9 hours to get to Bukhara on a bus from Tashkent. The distance is 574 km.
The cost is 35-40 thousand sums one way
Getting to Bukhara by car :
You can hire a private or share taxi
Taxis going to Bukhara from Tashkent are parked in the parking lot next to the "lmazor" subway station.
Cost 50-60 soums one way , but you can bargain
Right by Navoi airport , there is an ancient sardoba. You will actually be moving along the section of the original Silk Road.
Uzbek railroads are in good shape and
Getting to Bukhara by train:

The daytime high-speed train will take you 7 hours from Tashkent to Kagan – the subburb 20min away from Bukhara Old Town.
Ticket price – from 42,000 sum.
Getting to Bukhara by airplane :
A 50-minute plane trip is the most convenient way to travel from Tashkent to Bukhara .
Cost – from 170,000 soums one way.
Lodging in Bukhara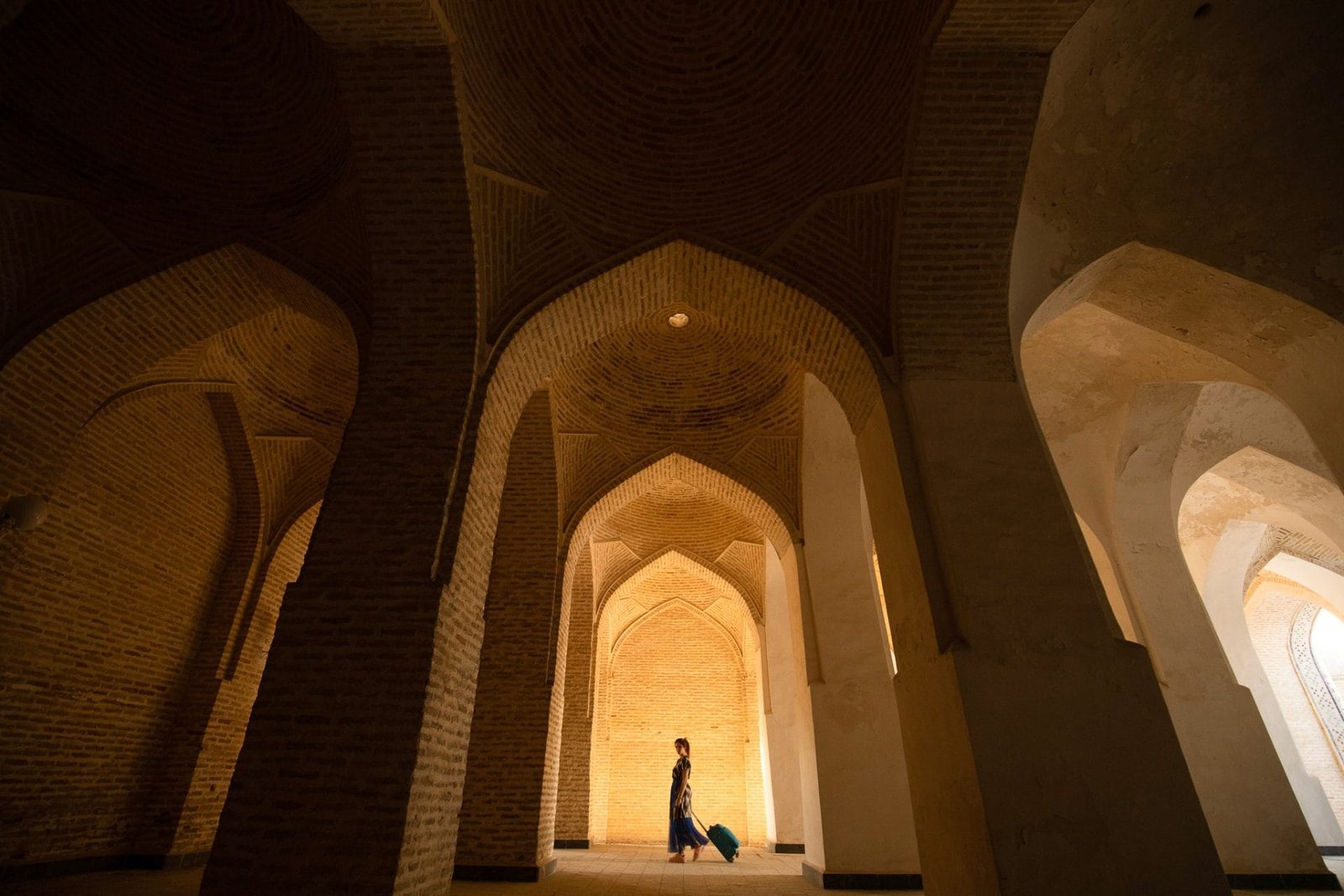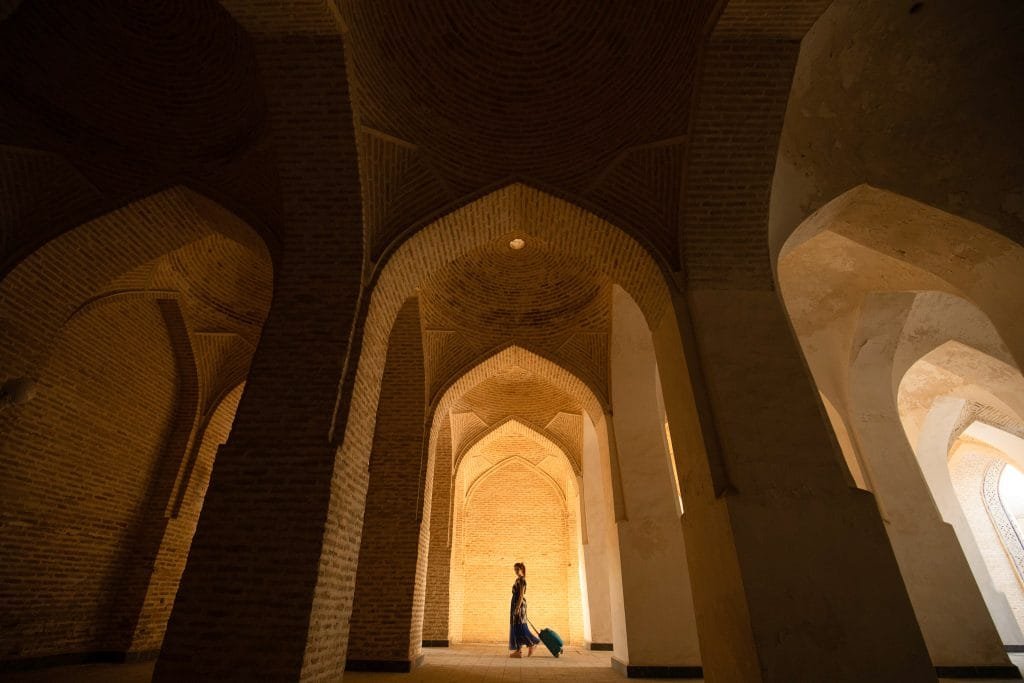 Bukhara is very developed tourism-wise. There are many hotels in the heart of the city. From grand, and chain hotels to boutiques and bed and breakfast. Lodging prices start at $ 50,000 per night, with breakfast generally very good. Many boutique hotels are run by the locals, and you get a great chance to experience the famous Uzbeki hospitality.
Visit the Silk Road Tea House, between the second and third domes. For just 10,000 soums per person, you get a tasting of several types of herbal tea and coffee with oriental sweets. This includes unlimited refills, so don't hesitate to ask for more.
Main Sights in Bukhara Uzbekistan
Bolo-Hauz
Bolo-Hauz (meaning "Children'sreservoir"), Bukhara residents simply call it "mosque of forty pillars" because of the twenty columns and their reflection in the reservoir.
Emir Shakhmurad, the ruler of Bukhara, ordered to build Bolo-Hauz in the 17th century. Emir wanted to be known as an ordinary man, not a noble ruler who erected palaces and mausoleums for his family. The main monument of his time was a public mosque, which he attended himself every Friday. This mosque is functioning today.
Lyabi-Hauz square
Lyabi-Hauz is Bukhara's main square. Most hotels are located steps away from Lyabi-Hauz, and it is a major meeting point/ starting point of all the city tours.
It's easy to recognize. There is a quiet lake framed by ancient trees and cafes all around it.
Khoja Nasreddin monument (Soviet-era , 1979 )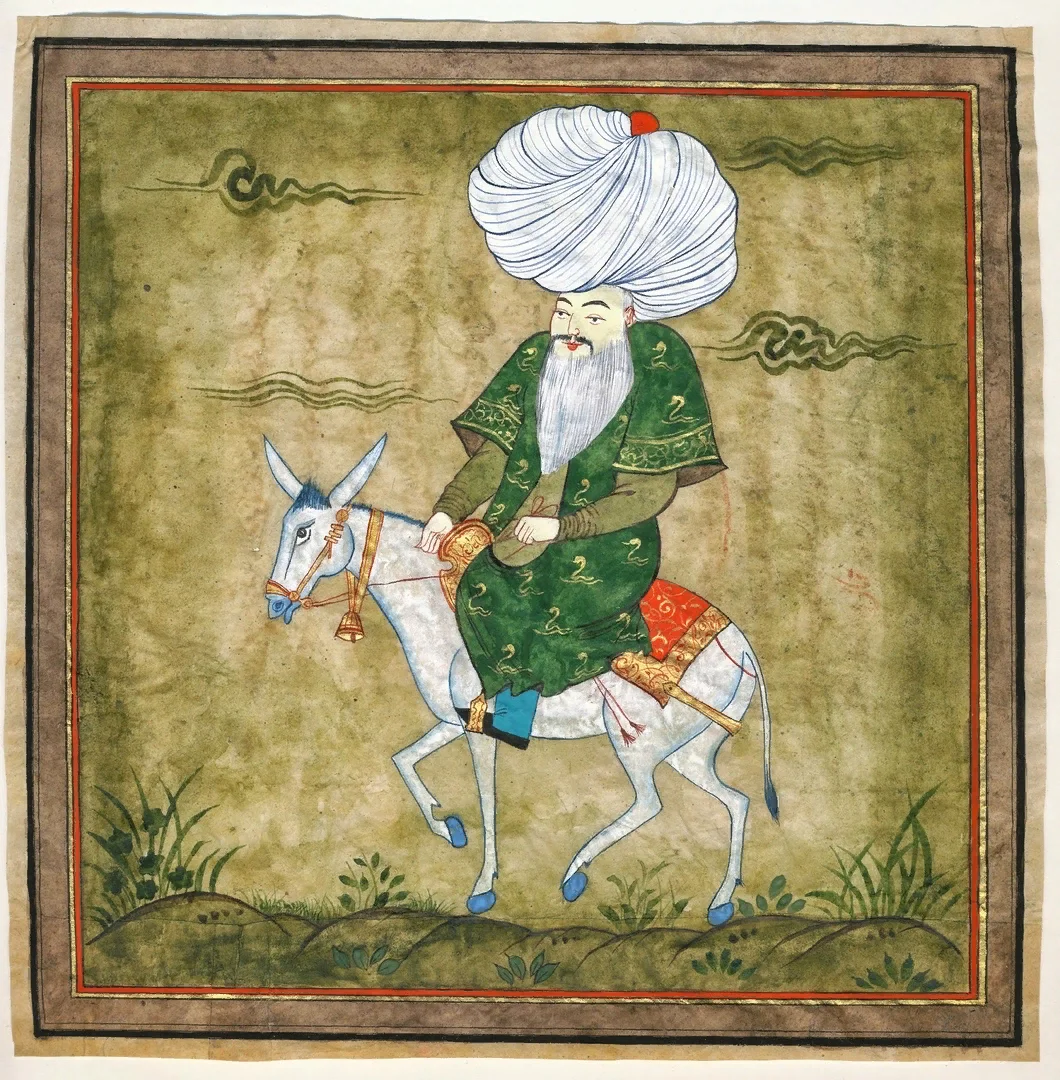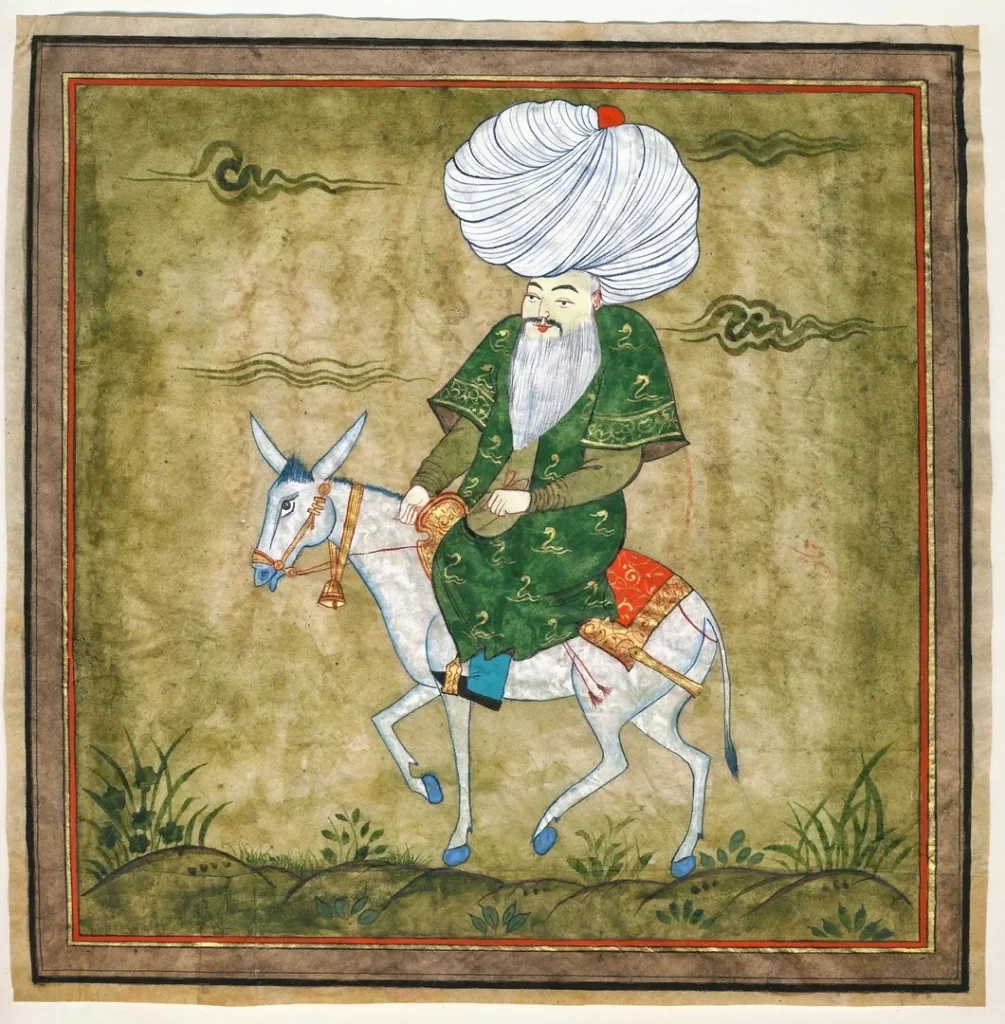 He is known for his free-thinking lifestyle, preserved for centuries in the famous anecdotes and stories about Khoja Nasreddin.
This is a statue of the sly old man and his faithful companion – a donkey. Together they travel the country, get in trouble and face many funny moments. Khoja Nasreddin's easy-going character and sense of humor help him turn every situation to his advantage.
Toki Telpakfurushon
Toki Telpakfurushon, meaning Dome of headwear merchants from Persian, was built in 1570-157.
At some point in history, hats were the principal product sold in this market. Today, it is not mainly specializing in selling hats. You can find local crafts of every kind in Toki Telpakfurushon.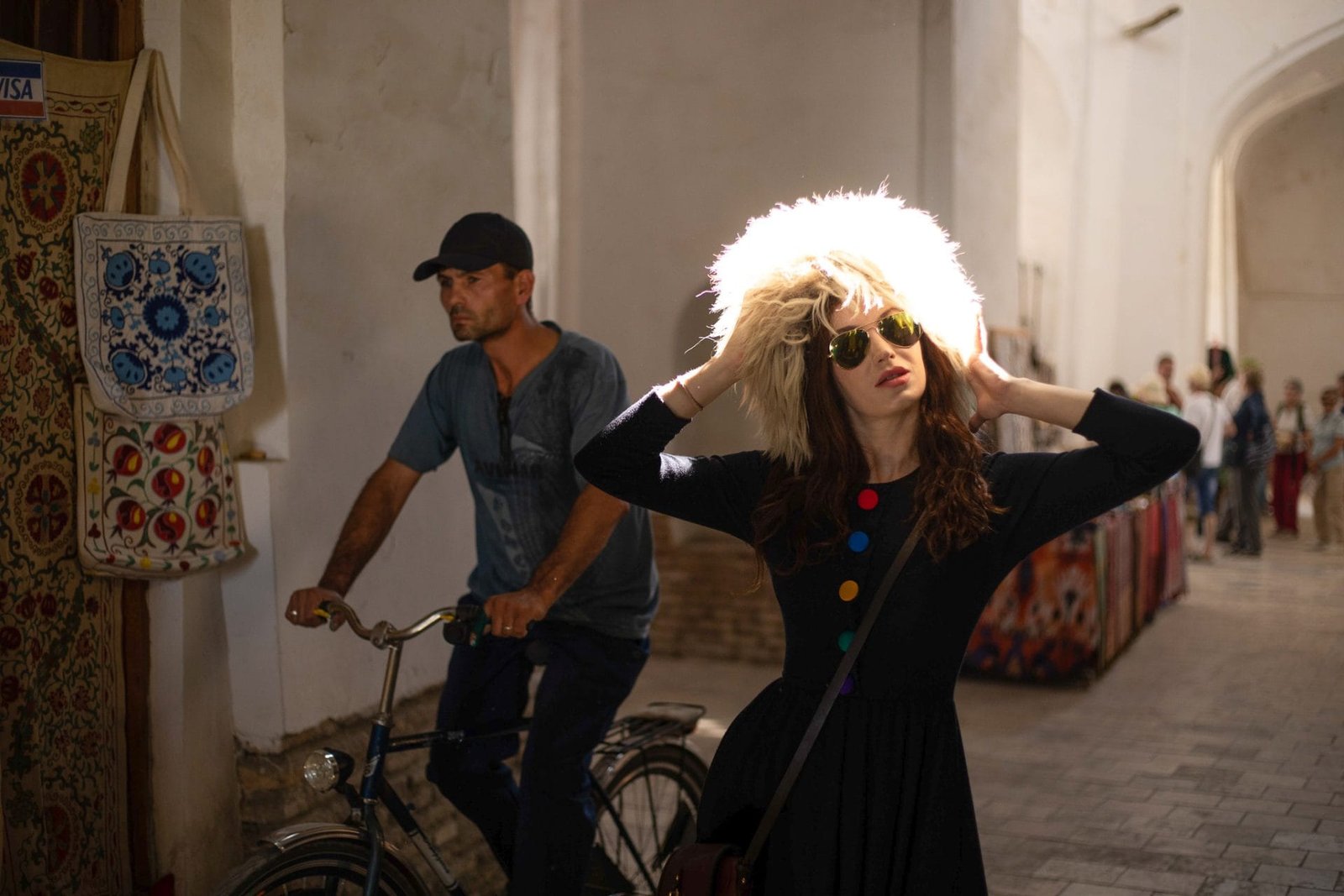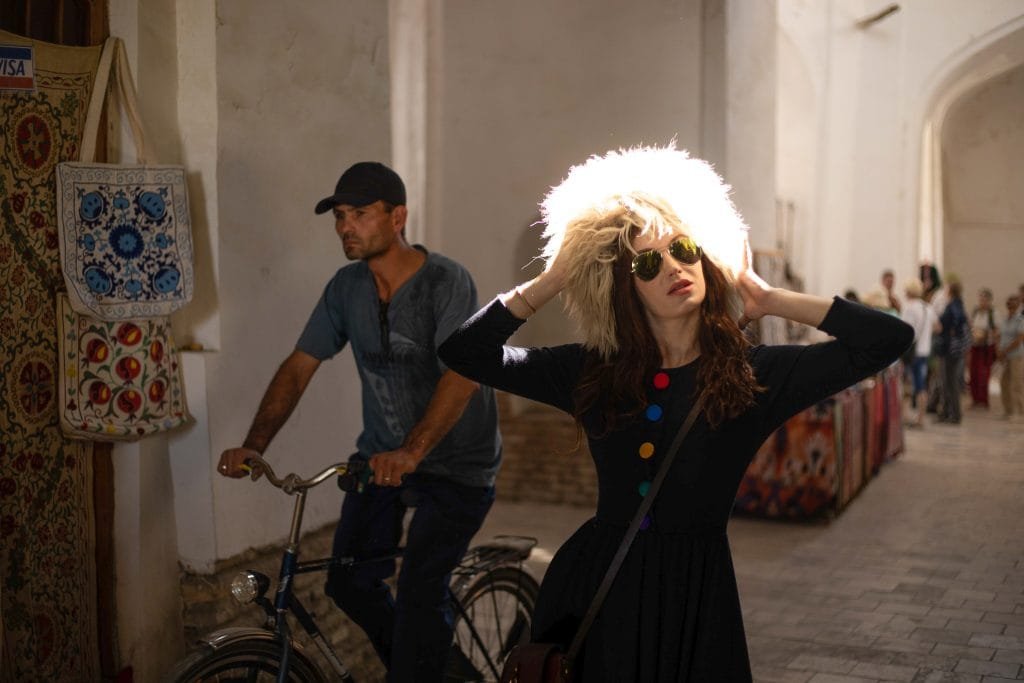 Toki Telpakfurushon comes from the Persian and Tajik languages and translates as – Dome of headwear merchants. Once upon a time it was the main product in this market. Before the hats merchants, there were book merchants. For this reason, its original name is Kitab-Furushon, which literally means" "he dome of booksellers" "in Russian. Today you can find almost any national souvenir here.
Toki Sarrophon

Toki Sarrophon, meaning "the dome of traders," is another covered bazaar built in the 16th century. Since its foundation in the early 15th century, money exchange and other merchants were doing business there.Toki Sarrophon is located right by the "hatters'" Dome.
Dome of Tim Abdullah Khan

This covered bazaar was build in the late 16th century.
The most extraordinary feature of this Dome is its is famous for its unique, incredible natural lighting. Tiny cutout holes are dotting the top of each Dome, letting in rays of light. This is one of the most photogenic spots in Bukhara for photographers. Especially the ones who love working with exciting and complex natural lighting.
The structure of all the bazaar's Dome is desert weatherproof. No matter how hot it is outside, and it can get up to 45-50 degrees on a hot summer day, there is always pleasant cool air inside.
Toki Zargaron Dome
Toki Zargaron is the youngest and the largest of all the domes of the bazaar. Even though this was originally the jewelers' dome", I would not recommend buying any jewelry there today.
All the jewelry displayed is brought from India, so is whatever they sell as "silver."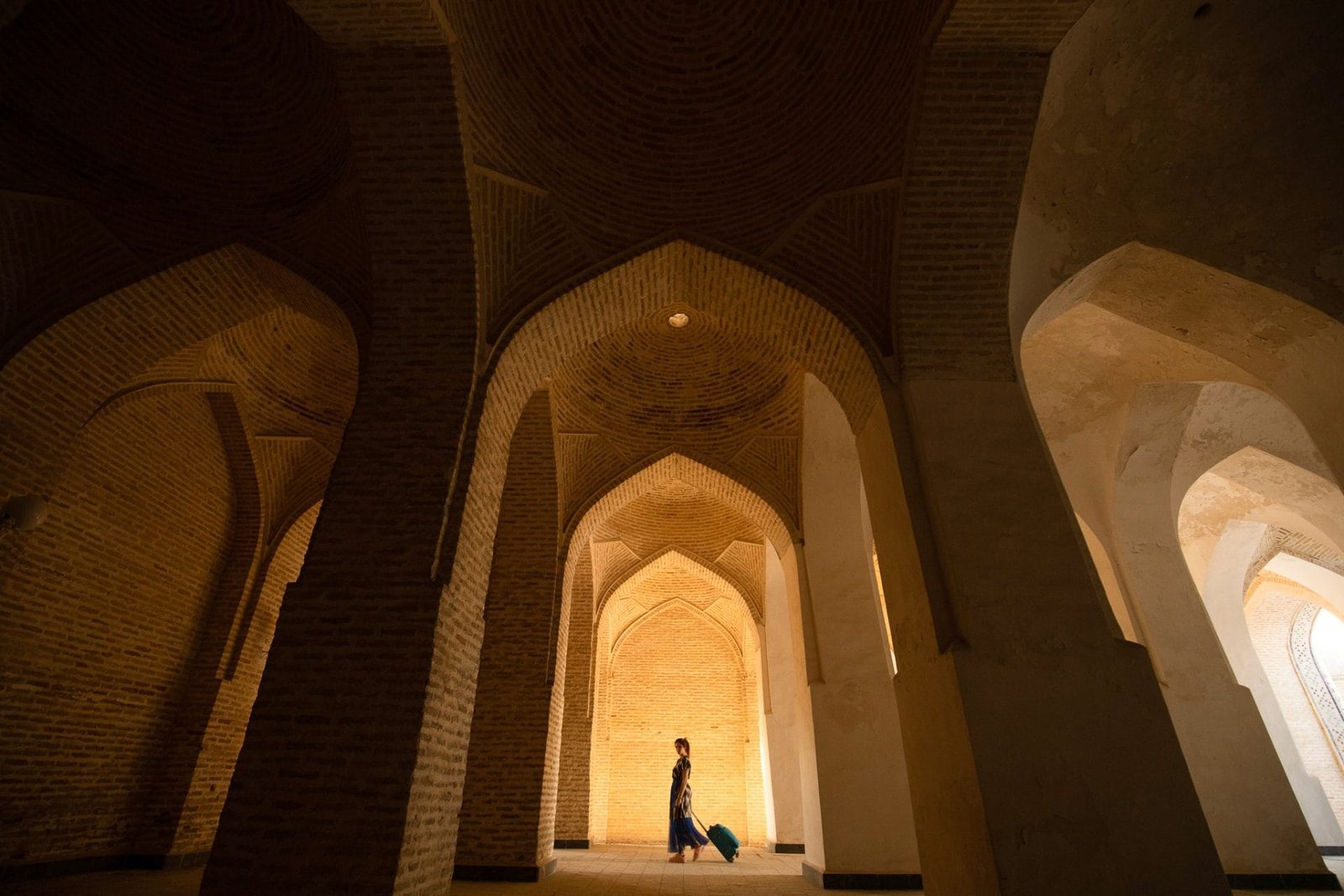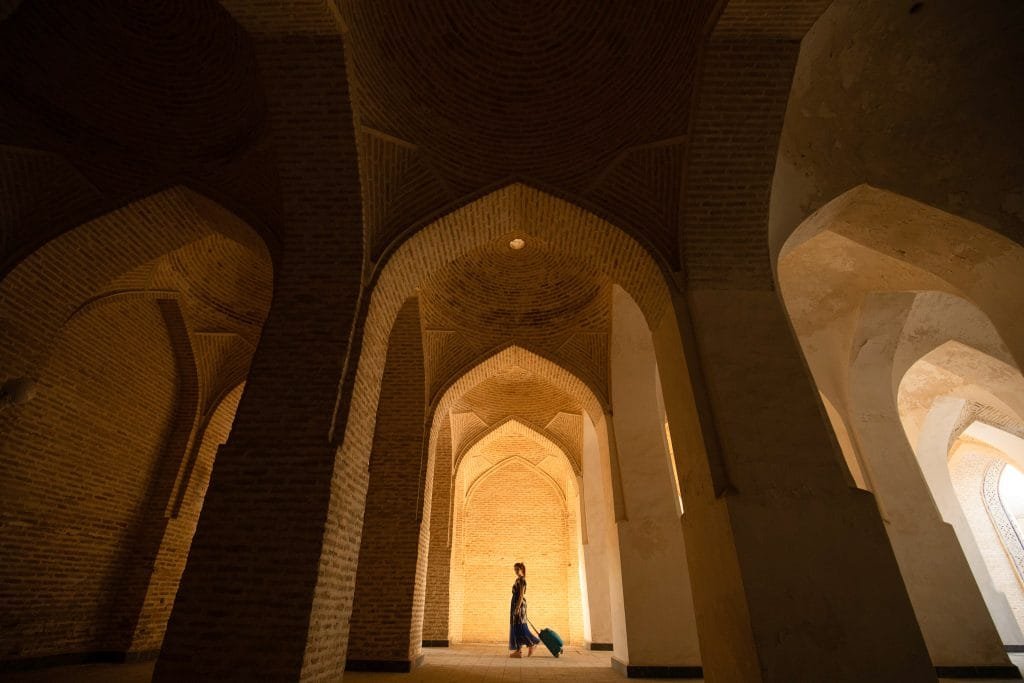 There are two other sights worth checking out near Toki Zargaron ( the jewelers' Dome with a bad reputation).
Abdullaziz Khan Madrasah and Ugulbek Madrasah.
Both are from the same architectural group, but the styles are entirely different.
Mir-i-Arab madrasa in Bukhara
Miri Arab Madrasah
One of the most impressive sights of Bukhara is the stunning blue Dome at the top of the Mir-i-Arab Madrasah.
This monument is a 17th-century addition to the Kalyan square ensemble.
The building's layout is typical for its time.
The midrash still works today, training spiritual leaders.
The Abdulaziz Khan
The Abdulaziz Khan (1658)madrasah was built almost 200 years later than the Ugulbek madrasah. There are five distinctive features of this monument.
unusually high and vibrant external ornaments at the entrance
the first-ever use of yellow paint in the region (entry)
the eclectic design was achieved by using many different and uncombinable techniques: carved tiles and carved mosaics, relief majolica, carved marble, alabaster fresco, gilding.
Its facing Ulugbek Madrasah.
This midrash was not only a religious school. Studies included mathematics, astronomy, and Arabic. This madrasah is pretty tiny compared to the ones in Kalyan Square, for example.
There is a midrash with the same name in Samarkand. Ulugbek (Air Timur's grandson), was an enlightened and intellectual ruler.
He concentrated his efforts on developing science and is known as the man who made incredibly (for his time) astronomical discoveries.
Ulugbek built a midrash to bring novelty ideas to Bukhara and potentially make the city a scientific center of his empire. Bukhara turned out to be way too conservative for this, and the plan failed.
There is a Kukeldash madrasah, one of Central Asia's biggest schools, right in front of the square.
Kukeldash
At first sight, this building does not look particularly remarkable and maybe even a little dull and boring compared to the impressive mausoleums and mosques of Bukhara. But don't be mislead.
Once you step inside Kukeldash, you'll freeze in astonishment.
Lavish decorations of mosaics and majolica, the domes of the passage corridors are…golden.
This is the largest Bukhara's midrash and one of the largest religious colleges in entire Central Asia.
It stands out from the general architectural mood of the square, just like Chor-minor. The walls along the entire perimeter are dotted with numerous niches and balconies with elegant embellishments.
The historical importance of Kukeldash comes from Central Asia's most famous writer – Sadriddin Aini, living in one of the cells. The building is also freshly restored.
Chor-Minor

Madrasah, also known as Chor-Minor, means four minarets. The four towers above this building were not designed for religious purposes. The building was simply a gateway to the neighboring madrasah. All four towers look alike, but actually, each has a unique shape, different from another. These four towers and their decoration symbolize the four world religions.
Look a little closer. You will easily see some elements resembling a cross, Christian fish, and Buddhist prayer wheels.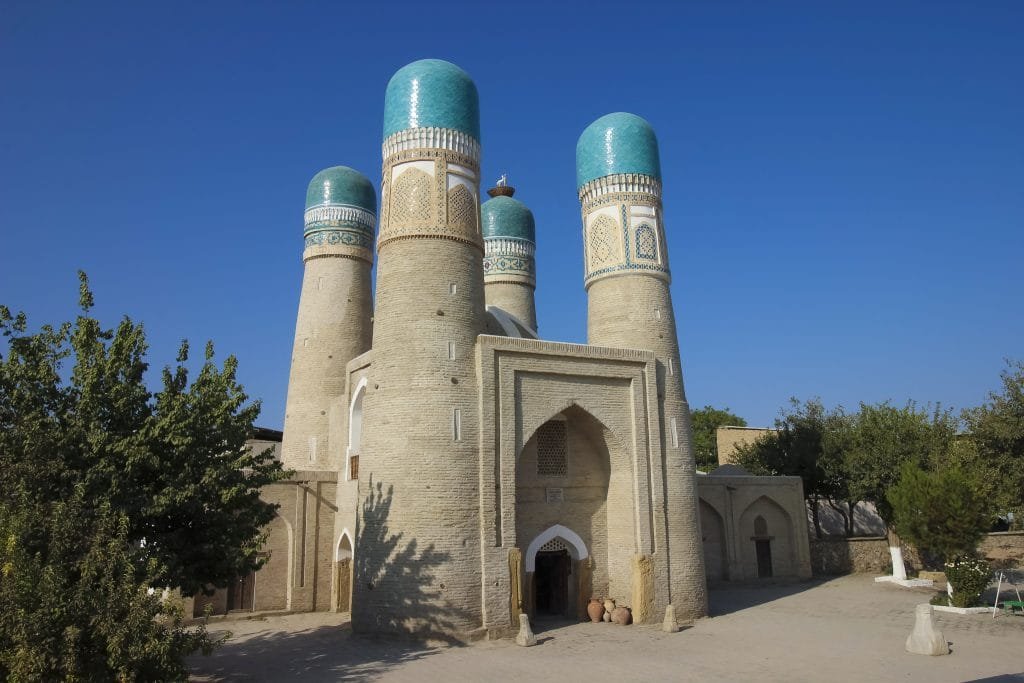 Today, Chor-Minor madrasah is included in the UNESCO World Heritage Sites list.
The entrance is free.
Inside, just like in most of the madrassas, you will be invited to a souvenir shop. You can get to the roof for 10.000 sums, just talk to the store's owner.
On the roof, you can see a statue in the form of a storks nest.
Bukhara was famous for storks living here and building their nests on every Dome at one point in its history.
During the Soviet times, the swamps were empty, and storks abandoned the region forever.
Samanid heritage
The Magoki-Atari mosque is also considered Samanid. However, it was rebuilt many times in the 10-15th century, and the only original part is its side portal.
According to legend, the Samanid mausoleum was built on the sight of the Zoroastrian Temple of the Sun. The Magoki-Atari mosque was built on the site of the Temple of the Moon. Potentially there is a way more ancient foundation of this mausoleum!