Valparaiso: A Perfect One Day Itinerary
Valparaíso is a charming port city in Chile that retains its original character despite an earthquake in 1906. With handsome architecture, creative art, and a pleasant salty scent. The locals call it 'Valpo'. Everywhere you turn, crumbling Victorians contrast with modern galvanized-metal shacks, all illuminated with bright colors and striking graffiti. It's an eclectic mix that truly captures the spirit of this eclectic port city.
Here, you can feast your eyes on a mishmash of nineteenth-century crumbling Victorian stone facades and modern galvanized-metal shacks vibrant with color from vibrant paint and dazzling graffiti. Make sure not to get lost amongst the myriad of hilly streets crisscrossing across forty hills because this unexpected cityscape will be sure to leave you amazed!
Why take a day trip to Valparaiso
Valparaíso is the place to be in Chile – and that's why they call it the "cultural heart". If you've ever wanted to dive into South America's culture, food, attractions, and history – all while keeping that beachy feeling close by – Valparaíso is the place for you.
Valparaíso is a sight where a kaleidoscope of colors wrap around countless hills and cobblestone streets. Think of a surreal art installation that each twist and turn reveal something more interesting than the last. And rather than visiting for an hour or two, you're urged to get lost! A bold few may venture beyond Cerro Alegre and Cerro Bellavista. Still, for most there are enough urban art murals and amusing graffiti around these shady hills to satisfy any level of wanderlust.
Best things to do in Valparaiso in One Day
Visit Caleta Portales, a hidden gem in the port of Valparaiso popular for its fresh seafood.
Explore Valparaiso's vibrant street art in its hills, particularly the famous Templeman Street in Cerro Alegre.
Treat yourself to a seafood lunch with sweeping views of the coastline.
Ride the iconic funicular railways for old-world charm and city panoramas.
Snap a picture of the "We are not Hippies, We are Happies" mural for a smile-inducing adventure.
Discover La Sebastiana, home of poet Pablo Neruda and full of delightful surprises.
Indulge yourself with local specialties like fried empanadas or chorrillana from street food stalls.
Caleta Portales fish market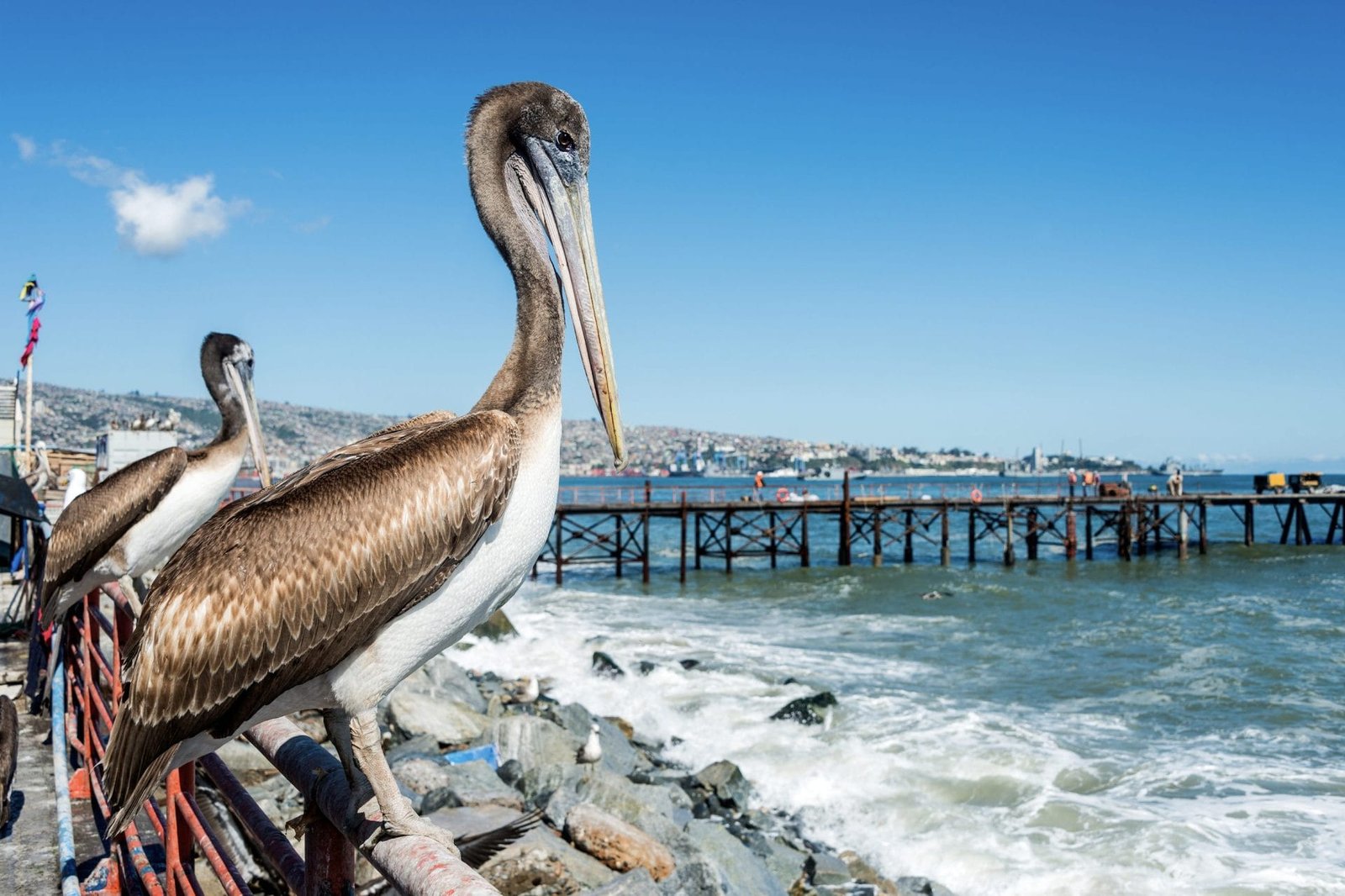 Caleta Portales is a hidden gem nestled in the port of Valparaiso, known locally as a 'fisherman village'. Here the traditional focus is hake and conger. But lately its popularity has grown with tourists looking to dine on Valparaiso's freshest seafood.
Street Art
Seeing the art in Valparaiso is like being set upon a vibrant rainbow of endless hues and dazzling masterpieces. When visiting the city, you can appreciate the effort that was put into making the streets come alive. It's as if they found a way to personify energy and enthusiasm in images.
Where is the best place to see street art in Valparaiso?
Its vibrant and colorful hills are dotted with thought-provoking street art – a great way to immerse oneself in the local creatives' energy. Eager for an adventure? Take yourself on a self-guided tour around some of the city's famous cerros (hills). Like Carcel, Miraflores, Alegre, Pateon, Concepción and Bellavista. But if you're looking for the surefire spot, check out Templeman Street in Cerro Alegre ! It will surely get your creative juices flowing!
The unique shapes and designs that adorn buildings and other structures captivate one's attention at every turn – reminding of how remarkable it is to be surrounded by such an abundance of creativity.
Hit the famed Cerro Alegre neighborhood and stroll through its winding streets filled with vibrant public art.
Lunch with a view
After a long day of walking around Valparaiso and admiring its street art, it's time to find the perfect spot to refuel. Sure, there are plenty of options – from street food stalls to traditional cafes -but why not go all out? Valparaiso's coastline offers some unbeatable views, so why not make the most of it and enjoy a seafood feast?
Fresh ceviche is always a great pick – whether you opt for the local or international take – paired with Pisco sour, it's an unbeatable combination. One thing is certain: your belly and your eyes will be equally satisfied.
Street Food
Fried empanadas stuffed with shrimp and cheese? Yes, please! Or, the truly divine chorrillana – this delectable bar dish looks like it might cause an earthquake with its pile of French fries accompanied by sautéed onions, chopped meat and a fried egg
Take a Funiculars
Exploring Valparaíso is nothing short of a wild ride – and I don't just mean that literally. Be sure to embark on the city's iconic funicular railways: El Peral, Artillería, and Concepción to name just a few. You'll find yourself transported back in time with these rickety things (but luckily, it won't cost you an arm or a leg – or even many cents!) Hold tight for the old-world history and charm, plus enjoy some of the most incredible views of this port city. All for a few cents – now that's a deal you can't beat!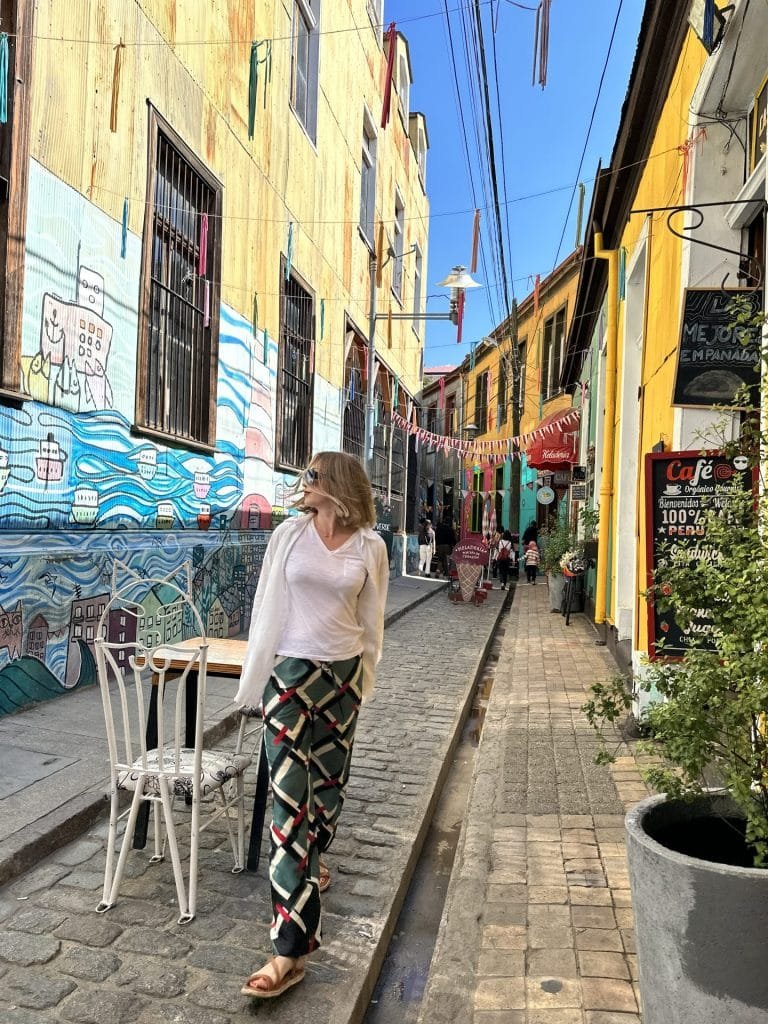 Valparaíso's magnetic pull calls to anyone who knows the beauty of an uncommon view of a city by the sea. Pablo Neruda, said to have left part of his heart in Valparaíso, expressed this perfectly when he wrote, "Valparaíso, what an absurdity you are" with its "head of disheveled hills." While not everyone may share his poetic ardor for the Chilean port city, few can deny the charm of what might otherwise seem a paint-filled puzzle of adjacent houses and streets.
We are not hippies, we are happies
Forget hippies – it's time to get your happiness on in Valparaíso, Chile! Founded by the English creative duo Art + Believe, "We are not Hippies, We are Happies" is a beloved mural located on one of Valpo's busiest streets. Who can blame all the photo-happy tourists lining up in droves to snap a picture in front . This piece of street art definitely brings a smile to anyone passing by.
La Sebastiana, the home of poet Pablo Neruda
Visiting La Sebastiana, the home of poet Pablo Neruda, is an opportunity to step inside a whimsical ode to life in Chile. Full of carnival horses, colorful glass and other delightful surprises, the house is like something out of a dream . No wonder the Nobel Prize-winning author found such inspiration here! Make sure you bring along an audio guide for your visit — it'll ensure you don't miss any details from Neruda's interior design ideas, humorous stories, or little facts about his beloved armchair — the perch from which he composed some of his best work.
Valparaiso: that bit of history
Valparaíso was once a shining star, known as the "Jewel of the Pacific" due to its booming trade harbor. But like an aging celebrity, it fell out of favor and into disrepair when cargo ships took a detour to the Panama Canal instead. It languished in states of decline for more than half a century until a wave of much-needed renovation finally allowed Valparaíso to regain at least some of its former glory, becoming a place bustling with culture, music and life!
Valpo was a ghost town, desecrated by time and lack of investment until an ambitious government initiative threw a lifeline to the port city: the country's Secretaría de Turismo and local businesses created an urban revitalization plan. Nowadays, this jewel of South America is flourishing with original art, diverse shows and festivals, fresh seafood and exceptional wines. Whether scaling the coastal hills for a memorable view or settling in one of its gracefully renovated restaurants for drinks, visitors will surely be dazzled by sunny Valpo's charms.