Ultimate Panama City Weekend Itinerary
Ultimate Panama City Weekend Itinerary
Panama is a lovely country with many tourist attractions for people on holiday. If you want to go away for the weekend, at least seven places are perfect. With just a few days to experience all Panama has to offer, you should consider visiting the following places. This ultimate Panama Weekend itinerary will provide you with everything you desire with easy access.
How to spend a perfect weekend in Panama
Saturday – Morning
Spend Time in Panama Viejo
Visiting Panama Viejo in the morning is the best way to begin your trip. The reason is, there isn't much shelter here when the sun comes out in the afternoon. This location is steeped in history. Panama City was first established there. Plus, UNESCO has designated Panama Viejo as a World Heritage Site.
The ruins of Panama Viejo are now one of Panama City's must-see sights. The ruins are a fascinating window into the past. This website has a clear layout and plenty of large banners to direct visitors where they need to go. They're placed in a way that shows you where to go. The Catedral de Nuestra Seora de la Asunción is the showpiece of Panama Viejo.
Saturday – Afternoon
Eat at Via Argentina
Next up is a delicious stop! Via Argentina passes through the center of El Cangrejo, a key district known for its diverse array of restaurants, clubs, and hotels, among other attractions. Walking down Via Argentina in Panama city is going on a food tour. Rows and rows of restaurants from every corner of the world, every size, and every budget. With all the ethnic groups of people who have made Panama their home, you are guaranteed to have the most authentic means, whichever spot you choose.
In fact, you'll be able to find many restaurants from different countries right next to each other. Then you have Afro-Caribbean, Venezuelan, Colombian, Lebanese, French, Costa Rican, Thai, and who knows what else places to choose from. La Rana Dorada and Animal Brew are two of the best Panamanian artisanal microbreweries that you can also find.
How to get there :
Vía Argentina runs through the heart of El Cangrejo
The cab fee from the old town is about $5
Saturday – Evening
Take a walk at Cinta Costera
Start the evening with a walk through Cinta Costera, the city's most famous park and waterfront promenade. Then, look out over the water and watch the sunset. People who go to the Cinta Costera can see a great view of the whole city of Panama. It's also possible to see the boats that line up for the Panama Canal as they come from the Pacific Ocean.
You can also enjoy the green areas, recreational parks, and public spaces that are ideal for walking or exercising while you're there. In this scenic route, you'll find the seafood market, which has an excellent restaurant inside, as well as more than a dozen small outdoor restaurants that serve fried fish with patacones and ceviches of all kinds.
as an alternative, you can visit
Parque Recreativo Omar (Avenida Belisario Porras),
Take a stroll through Parque Recreativo Omar (Avenida Belisario Porras), the newly renovated 140-acre stretch of green surrounded by water and skyscrapers of Panama downtown in the back.
It really reminds me of central park in NYC.
it's home to
a fantastic sculpture garden,
the National Library
a celebrated statue of the Virgin Mary.
soccer and baseball fields,
tennis courts
a flower-lined swimming pool
Get a fresh-squeezed fruit juice from one of the local vendors and enjoy it on one of the benches or manicured picnic lawn overlooking the impressive skyline of Panama City.
Sunday- Morning
People watch Avenida Balboa
This is a magnificent avenue with a lot of contemporary structures. This is especially enjoyable on Sunday mornings. There is no traffic on the lanes near the sea, so only bikes, runners, and roller skaters. And a lot of kids and dogs, too.
This is an excellent walk because there are so many people from the area and people from all over the world to see. It is full of street vendors and parks as you walk down the street. It is advised to begin your day early when fewer people are around and the temperature is more relaxed, so you can snag some fresh seafood at the fish market. This is the ideal way to start your day in Panama!
Mercado de Mariscos
After that, head to the famous fish market in Panama. Mercado de Mariscos is Panama City's seafood market, and it's right next to the historic Casco Viejo district. It's hectic, as you would expect. For people who love seafood, this is a dream come true! You'll be able to eat seafood that has been caught right then and there.
Weekend evenings are bustling with people along the broad waterfront. Still, you won't have difficulty getting a seat at one of the eateries that line it. You can visit here to dine in the morning, afternoon, or evening according to your preference.
Sunday- Afternoon
Biomuseo
The Biomuseo is Panama City's most well-known museum, which can be found in Amador. Frank Gehry, a renowned Canadian-American architect, created this museum. Gehry's fantastic work is a source of fascination all across the globe. There are eight galleries in the Biomuseo. This museum looks at the history of the Panamanian isthmus and how it has changed the world's biodiversity.
As soon as you leave the museum, take a stroll through the Garden of Biodiversity, which is right outside. Take a moment to appreciate the tranquility and the birds' song. Biomuseo's calming effect makes it a great place to stop before your last stop on your trip.
Sunday- Evening
Miraflores – Panama Canal
It is impossible to visit Panama without paying a visit to the world-famous Panama Canal, one of the country's most important tourist attractions. According to some estimates, it's considered one of the most significant and most demanding engineering projects ever built. The Miraflores Locks Visitor Center in Panama City is the most significant spot to see actual ships passing through the Panama Canal.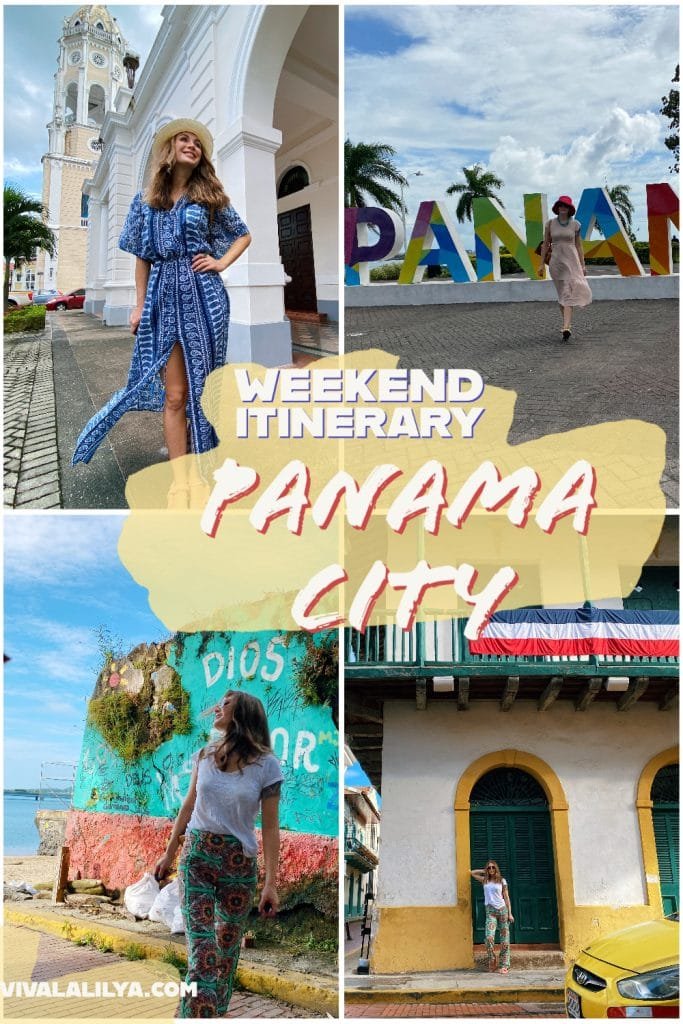 Large ships passing through the Panama Canal lock system may be seen best from the Miraflores Visitor Center, located in the heart of Panama City. Guests are welcome to use the facility's many patios and observation platforms. It also features an exhibition hall and a museum that chronicles the remarkable tale of the Panama Canal and the individuals who built it.
Have a Great Weekend!
Now you know how to get the most out of your weekend in Panama. Don't forget to add these to your following Panama itinerary!