Sintra:The Ultimate Guide to National Palace of Pena
Why you should visit Pena Palace
The Sintra region had been a favorite of English travelers since the Crusades. Sintra seems to have it all : spectacular palaces and mansions, lush parks, Roman ruins and Europe's westernmost shores with wild rocky cliffs, sandy beaches and natural pools. No wonder , that later , around 15 century , Philippa, daughter of the Duke of Lancaster, married King Joao I of Portugal and brougt the English nobility to the royal court in Lisbon and the summer residence at Sintra.
Byron was taken with Sintra, and even put it on the map as a mountain town in "Childe Harold". He wrote : "Sintra . . . contains beauties of every description, natural and artificial. Palaces and gardens rising in the midst of rocks, cataracts and precipices; convents on stupendous heights, a distant view of the sea and the Tagus." And in reality , it is not much different from Byron's description.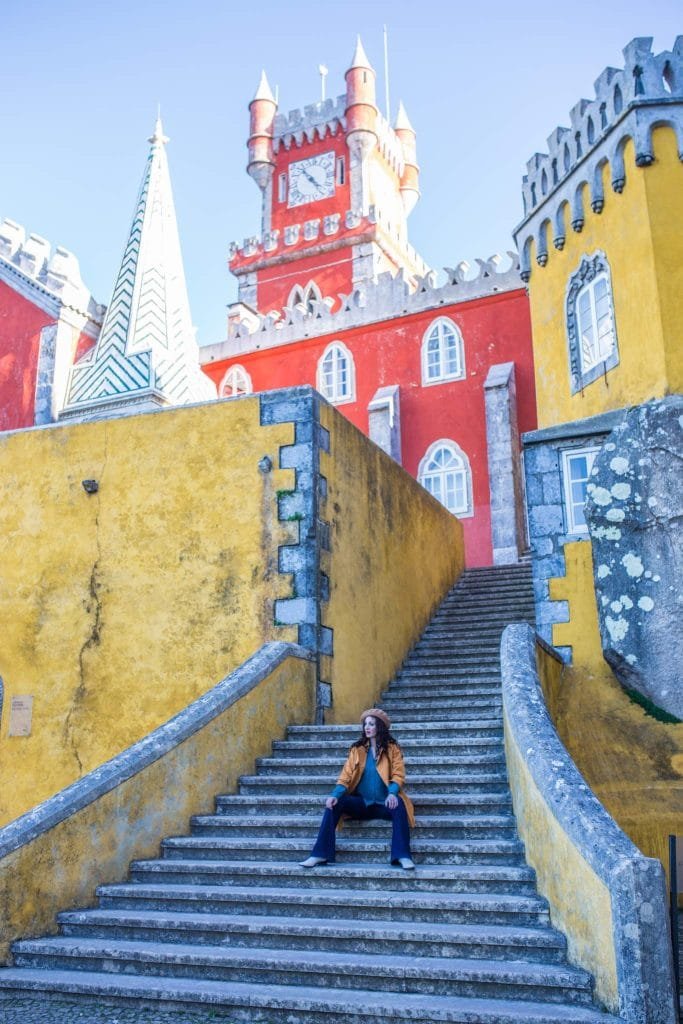 Castles and palaces may seem similar in their architecture. But the two buildings were constructed by monarchs for different purposes .
A day trip to Sintra is a must , and … fifty-four minutes is all it will take to travel back several centuries. , and you can find both – castles and palaces .
And they are straight out of a Fairy Tale .
Pena Palace is a UNESCO World Heritage Site and one of the Seven Wonders of Portugal.
Hispano-Moorish tiles, Gothic turrets, Italian Renaissance sentry boxes and gazebos, and gold domes that remind one of a Byzantine church. sounds like a crazy mix of revival styles, but the palace looks surprisingly harmonious.
Pena Palace has everything a fairytale castle needs: drawbridge, turrets, ramparts, battlements, domes, gargoyles; all washed in an array of pastel colors .
If you love places with a story , need a perfect location for a perfect princess dress photoshoot , or want to add some vivid photos for your instagram feed – you need to visit Pena Palace . Because this Neo – Gothic paradise has it all . Including insane crowds , which you can't see on any of my photos . All tips for avoiding the crowds – below .
How to get to Pena Palace in Sintra
It is only 25km from Lisbon and is joined by regular train services and is ideal for a day trip from Lisbon .Tickets to the park and palace are €14.00, and a park-only ticket is €7.50. Buying tickets online , you will skip the line for tickets but not for entering the palace.
What time does Sintra Palace open
The entrance opens at 10AM . The line is already there around 9:30 or even earlier . I was visiting on December 30th , supposedly the slow (the slowest season to visit Pena Palace) season . We tried "beating the crowds" and arrived early just to stand in the line .It was so packed in the "slowest of seasons" , I can't even imagine what it's like in prime time .
Where to take photos in Sintra
There is about a 10 min walk uphill to get to the palace . It can be useful to grab a pair of walking shoes at least for this uphill part .
The moment you reach the palace – head straight to the upper part , it's a bit of a walk from the mail area . While the early crowds are standing in yet another line to take photos , you will get to the point they haven't reach yet and have it all to yourself .
They say the worst time to visit Pena Palace is 10:30AM -3PM because of all the group tours flooding this somewhat compact place .This might be a good idea , and I imagine the sunset from this hill would be marvelous .
Composer Richard Strauss said about Sintra :
"Today is the happiest day of my life. Sintra is the most beautiful thing I've ever seen. This is a true Garden of Klingsor and there, up above, is the castle of the Holy Grail."
Neo-Gothic, Neo-Islamic, Neo-Renaissance and Neo-Manueline architectural styles coexist in perfect harmony .

You can make an excellent day trip to discover the city's most beautiful attractions; however, to know all the historical unknown beauties, one day is not enough. There is a well-known day trip route which visits the Palácio Nacional de Sintra, the Castelo dos Mouros, the historic centre, and the Palácio Nacional da Pena. Below are given information and tips for a day trip from Lisbon to Sintra to visit Pena Place and explore Moorish Castle and also elaborate on what you can discover and learn from the tour.
Up close you can totally understand why this is the most famous illustration of Portuguese architecture in the romantic period. It stands on one of the rocky peaks of the Serra de Sintra and blends happily with its natural background of greenery and crags. Sir Francis Cook created his own natural paradise at nearby Monserrate gardens. He imported a mix of rare botanic species and installed waterfalls and lagoons.The architectural fabric of Pena finds its motivation in the Moorish, Gothic and Manueline motifs of Portuguese art. It contains so much eye-catching beauty. This stunning castellated building stands on rocks and magically portrays the Romantic spirit of the 19th century.
Suddenly, you can feel that you are visiting different mysterious lands when discovering each part of Pena Palace! The interiors were modified in the summer residence for the Portuguese royal family, however, one of the most attractive things of the construction is a clock tower. It is an element of the Queen's Terrace and was built in 1843. You don't miss visiting another famous part of the Pena Castle – the park! It spreads over 200 hectares with a variety of plants.
In 1842, King Ferdinand II built the Pena Palace and he enjoyed looking at the Moorish Castle from his home. Nonetheless, the condition of the medieval fortress disturbed the King after which he started to make plans to restore it. You will be surprised to know that King Ferdinand II was a great lover of the arts and the amazing thing is the castle was his most favourite spot for painting.
How to get to Pena Palace :
By Train -the Estação do Rossio at the Rossio in Lisbon. A train leaves every 10 to 20 minutes.
By Bus – The bus from Lisbon is not recommended because service is too slow. Visitors staying on the Costa do Sol can make bus connections at Cascais or Estoril. The bus leaves every half-hour during weekdays, Saturday and Sunday. From the train station in the heart of Sintra, the bus goes up to Castelo dos Mouros and on to Pena Palace.
By Car – From Lisbon, head west along A1, which becomes Route 249 on its eastern approach to Sintra.
I hope this post inspired you to visit Pena Palace !