The Best Day Trip From Cusco: Pisac Market And Ruins
Pisac market and ruins – a perfect day trip
If you are looking for a fun and easy day trip from Cusco , Pisac is the destination .
There is absolutely no better way to dive into the local culture than to visit vibrant street markets , Pisac Market is the place .
The Pisaq market is vibrant, fresh, local and authentic . It is not only the place to shop for unique hand made goods , and world famous textiles . It's a place like no other to see some fascinating local characters , get an insight into the food traditions and take photos .
How and when to visit Pisac
Pisac Market is one of the busiest markets you will find in the Sacred Valley of the Inca.
The local market , most vibrant on Sundays is a great people watching spot .
A lot of people try to pick between visiting Chinchero Sunday Market or Pisac . The biggest difference between Pisac Market and Chinchero Market is the "March of Mayors", when mayors of surrounding title towns come to Pisac to go to church or shop and march . The leader blowing the shell horn to announce this little parade .
Pisac Market has it all
It is a handicraft market with a variety of textiles , jewelry , ceramics and … antiques . You know these amazing antique massive uniques door locks you see all over Cusco ?
This is the place where you can find those , real antique or brand new .
There are plenty of textiles and a huge choice of alpaca hats , the fluffy ones , the alpaca slippers and even alpaca fur coats .
No trip to Peru is complete without a textile to bring home. Peruvian textiles are pieces of history and art .
Although many of the street artisans sell similar products such as trinkets, jewelry, alpaca jumpers, knitted scarfs or clothing, there are some stalls which sell quality and unique ceramics products
Pisac market is a hive of activity and is open for business every day, with the largest market taking place on Sundays.
Pisac Market Hours :
Every Day from 9:00 to 4:30 pm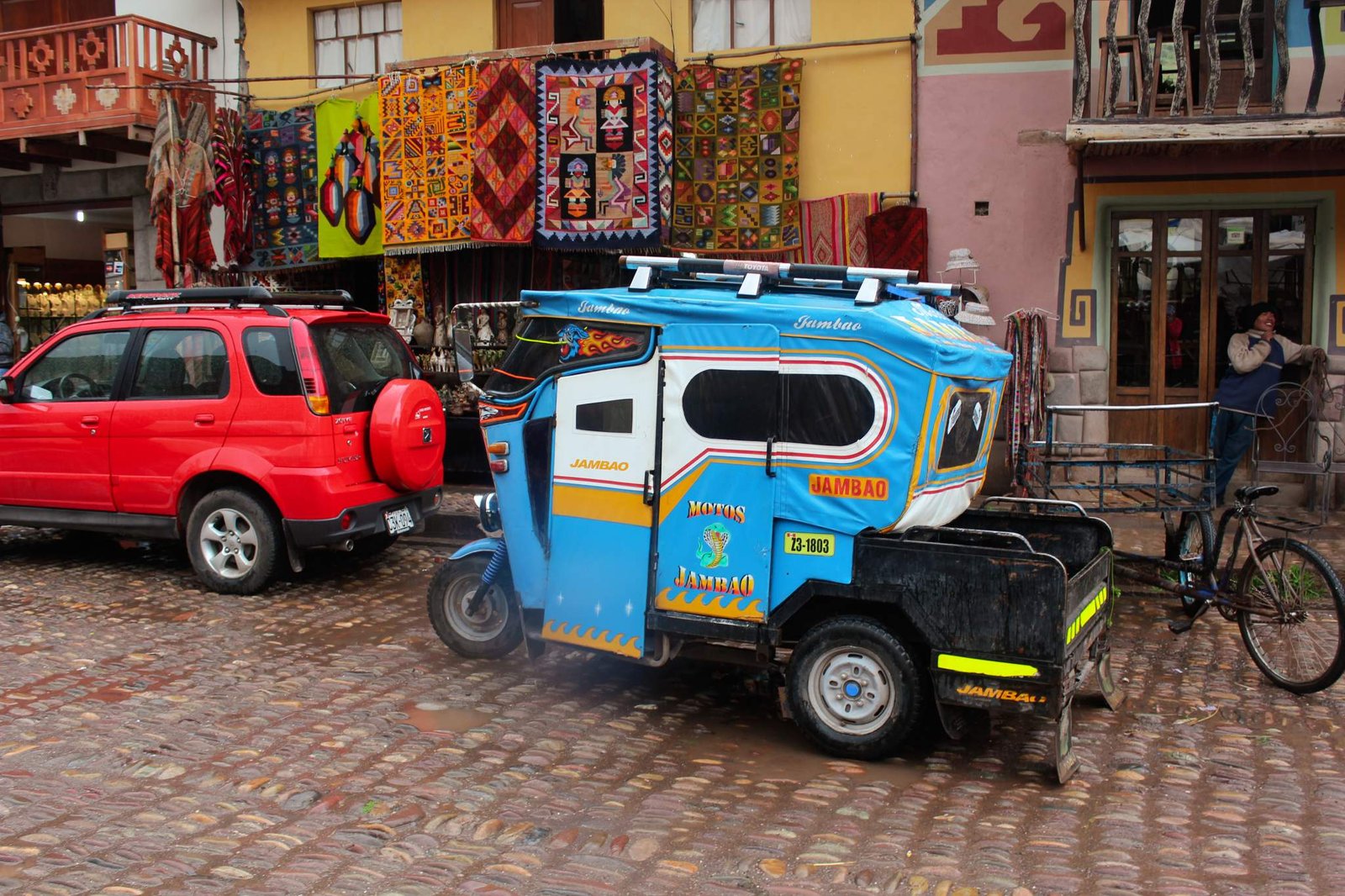 Pisac Ruins
The view is mysterious like everything about Inca ruins , it feels like no matter where you stand, you can admire the sharp colossal terraces and the mist .
Mystery covers everything in Sacred Valley . Somehow , there is more mystery about Pisaq ruins than there is about Machu Picchu or Saqsawaman . There are simply no answers to most questions as the historians barely have any information . Technically there is none . Not even the Spanish records mention Pisaq ruins .
There were no battles that we know of that took place here , some suggest tha tit could be the royal hacienda , but there is no royal palace found anywhere around .
It could be a triumphal monument , like Ottayalbo or Machu Picchu .
Pisaq gets compared quite a bit to Machu Picchu, because of its location between the two peaks at the entrance to the Sacred Valley .
Pisac means "partridge". Inca tradition dictated building cities in the shape of birds and animals .
Cusco is built in the shape of puma , Ollatambo is in the shape of llama , Pisac is partridge shaped.
Pisaq ruins are one of the most well preserved , not as iconic as Sacsayhuamán, but the stonework here is some of the best you will ever see in Peru .
Pisaq Ruins are five times the size of Machu Picchu, with some of the most heart-stopping views in Peru.
The panoramic view over the Sacred Valley that is breathtaking with 500 agricultural terraces on the side of a low hill .