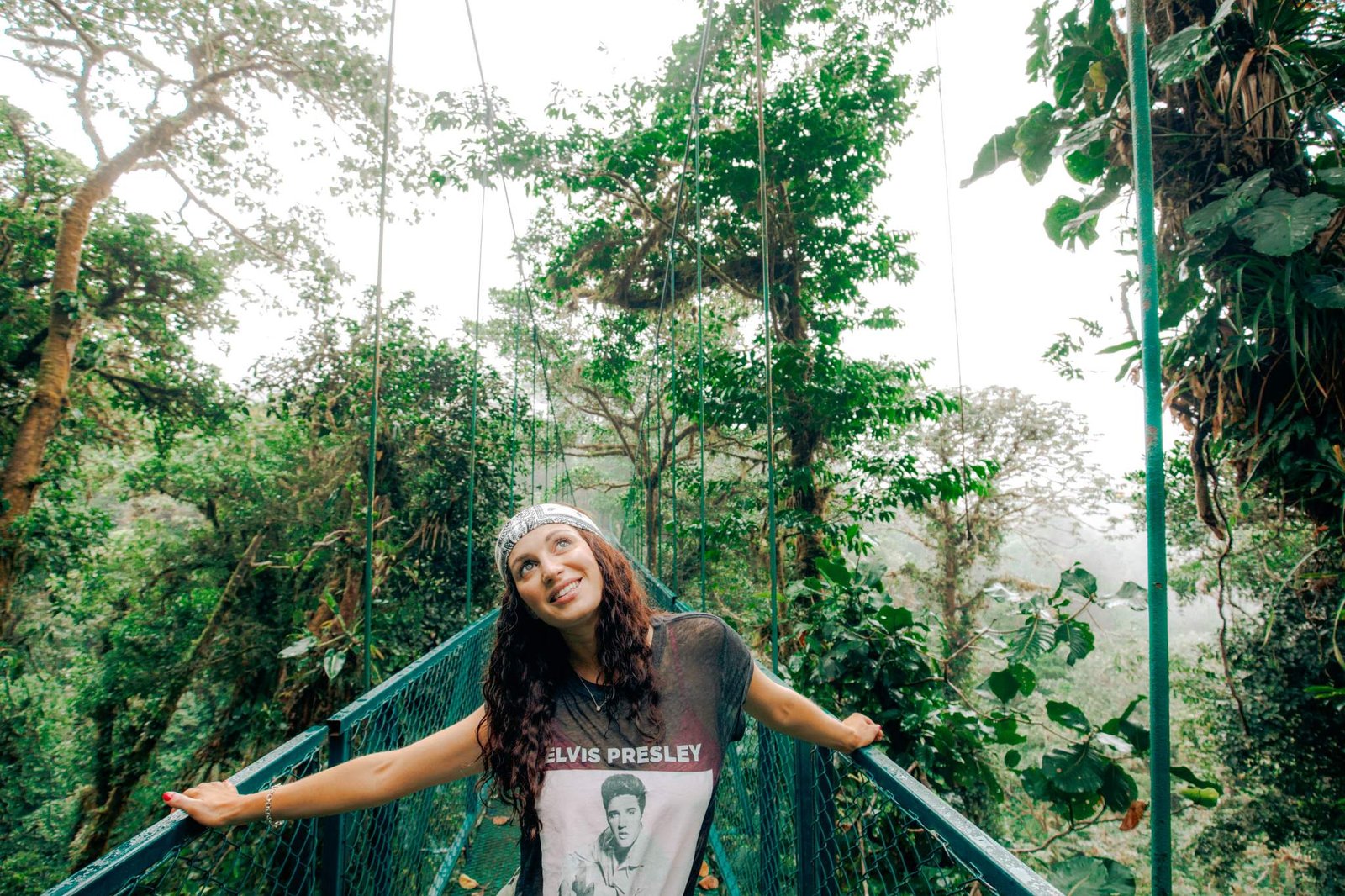 Costa Rica Hanging Bridges : How to Spend a Day in Selvatura Park, Monteverde
For the ultimate adventure in Costa Rica, why not try out the Selvatura hanging bridges park? There you'll find a series of rope suspension bridges swaying precariously above the treetop canopy, offering truly incredible views. It's an experience that should be on everyone's bucket list! The Selvatura hanging bridge park is definitely one of the key places to check out in Costa Rica if you want to explore the many diverse ecosystems with some added excitement.
Get your walking shoes on and your camera ready – Selvatura may just make your greatest adventure yet!
For thrill-seekers seeking an exciting adventure in Costa Rica, hanging bridges are the way to go! Who needs a zip line when you can traverse between two large trees in the rainforest that offer sweeping views of the ground below? These hanging bridges blend thrilling canopy tours with the magic of being on ground level as you enjoy walking along the path of the treetops – a double whammy committed to your memories for life. While it looks precarious, rest assured that hanging bridges here are secure and sturdy and highly recommendable – though not especially recommended for those with arachnophobia.
Selvatura Hanging Bridges Park in Monteverde
Selvatura Park in Costa Rica will feel like a suspension bridge enthusiast's dream come true – the two-mile loop takes visitors across eight hanging bridges, ranging from 170 feet to an impressive 560 feet!
As humans explored their world, they needed to build bridges to cross rivers and chasms. One of the earliest types of bridges that humans devised was a simple suspension bridge. The simplest form is a vine rope that links the two sides, traversed hand over hand.
A little bit of history
In the 3rd century BC, Chinese people built suspension bridges that hung from steel chains. Various primitive suspension bridges, some up to 660 feet (200 meters) long, are still being used to this day in places like rural India and elsewhere in the world.
Today, Costa Rica has the largest number of these hanging suspension bridges in the world. Costa Rica's national parks have many of these hanging bridges included among their tourist attractions. The stunning wildlife is often best appreciated from the views that these bridges offer.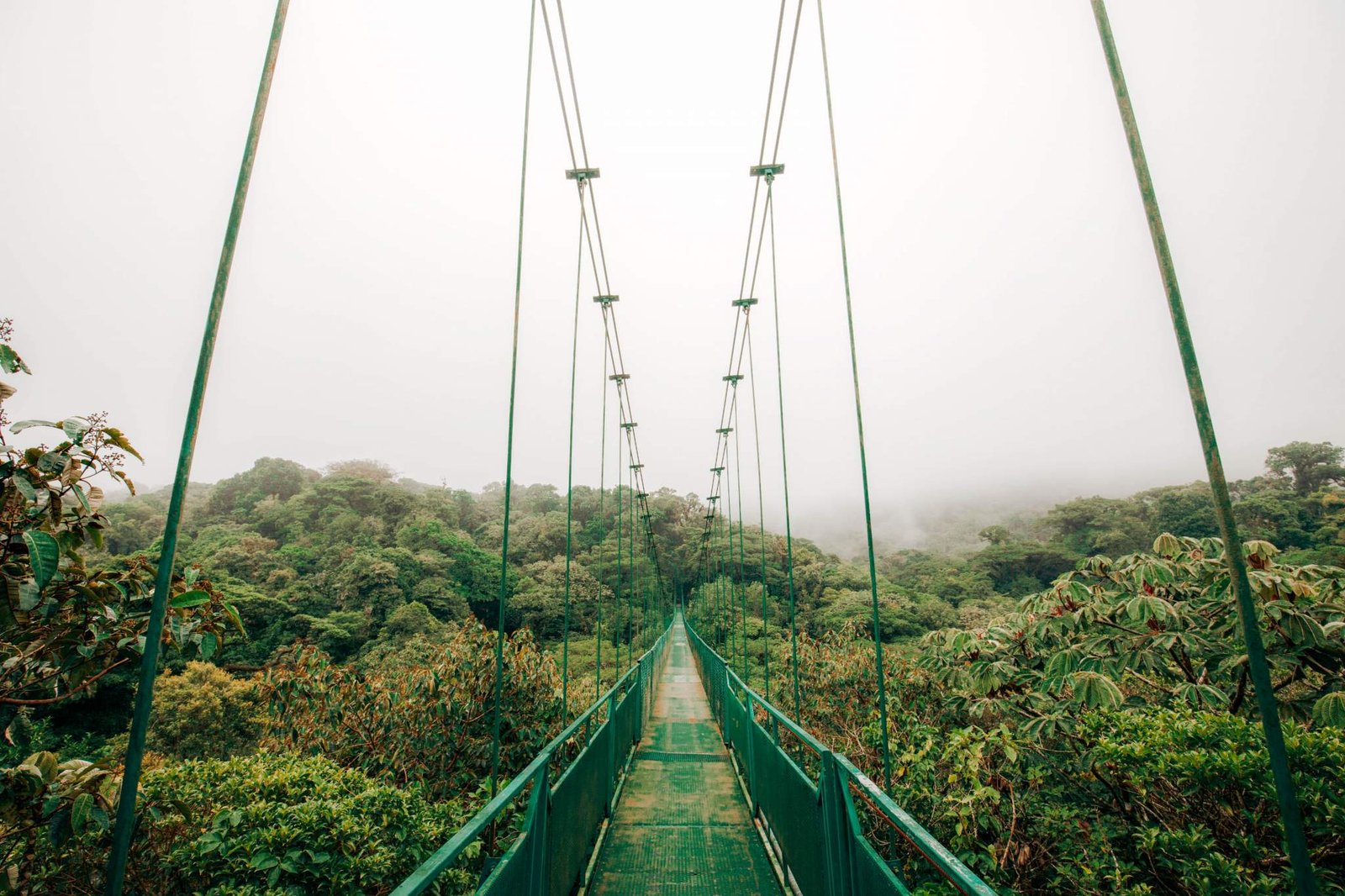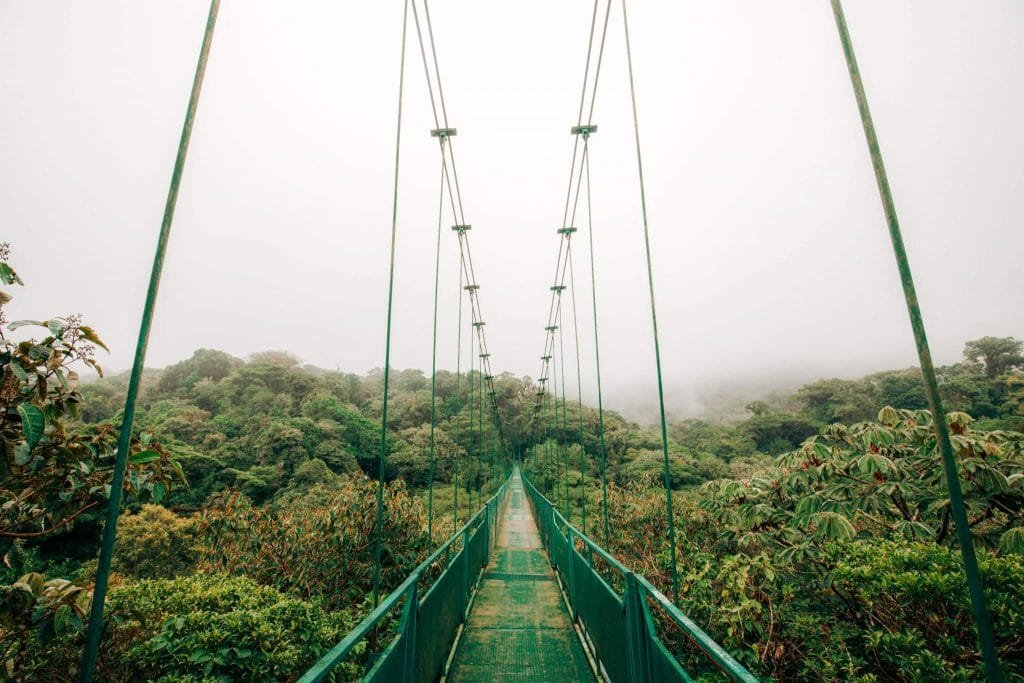 Not everyone is willing to step out onto these bridges. The height and length alone, what to speak of the wind, can make it an intimidating walk. But the experience is worth it! It's the best place in the world to conquer a fear of heights. The railings are high and safe, and the bridges are solid metal. They're suitable for people of all ages and physical conditions, so don't let the amazing opportunity to see the forest and take photos from these bridges pass you by.
You'll get the best views of foliage, waterfalls, and wildlife. Here's where to find some of the best hanging bridges in Costa Rica.
Why you should visit Selvatura Hanging Bridges Park
Selvatura Park is famous for its hanging bridges. They may be the best in the entire country, and that's saying something when you're talking about the Costa Rica, which is known for them.
The park is in the Monteverde region of Costa Rica, about ten minutes north of Santa Elena. You should expect to spend about two hours in the park.
Selvatura Park, located in Costa Rica, is a nature-lovers dream. Whether you're taking a leisurely walk or trekking across the eight awesome hanging bridges (ranging from 170 to 560 feet!), Selvatura offers something for everyone – and all with plenty of ventilation. The scenic trail features native birds such as the Three-wattled Bell Bird, Emerald Toucanet and Golden-browed Chlorophonia, plus it's flat and easy to navigate
As you venture through the park, you'll find eight bridges at altitudes ranging from 12 to 60 meters and lengths from 50 to 170 meters. They're the widest hanging bridges in the country, at 1.5 meters wide, so this park is a great choice if you're feeling nervous. Their capacity is 60 people per bridge: the strongest in the country as well.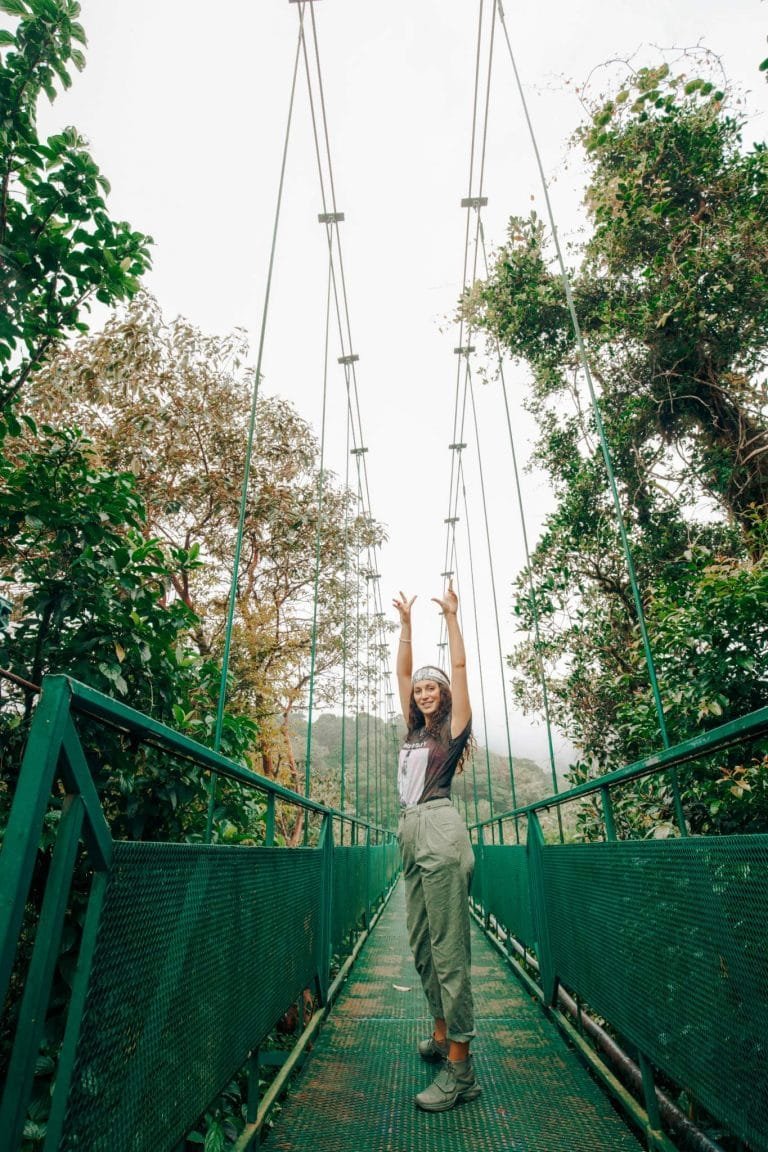 There's more to do in Selvatura Park than just walk the bridges. There are several tours available: ziplining for the adventurous; herpetarium, butterfly garden, insect garden, and hummingbird garden tours for the creature lovers, and more.
Remember that it's a rainforest, so it's more likely than not to be raining at least part of the time. If you have the appropriate rain gear and go in expecting the weather, it won't ruin your trip at all. You'll be experiencing life in the rainforest at its fullest and most beautiful.
The trails are generally not difficult, but they can be a bit steep in parts, and slippery, especially when it's raining, so be sure to wear appropriate footwear. Waterproof hiking boots are perfect.
What to bring for your Hanging Bridges at Selvatura Park trip
Along with a raincoat, bring sunscreen and a hat. You'll be in the shade on the ground, but there's also plenty of sun up on the bridges. You'll also want insect repellent, a water bottle, and a snack like an energy bar. If you're bringing photo equipment, make sure you also bring the gear you need to keep it dry.
How much is it the entrance to Selvatura Park Monteverde ?
The adult entrance fee to Selvatura hanging bridges park is $39.00, and there are also guided tours available, but the park does not do night tours. If you do purchase a tour, it will include transportation from and to your hotel. Otherwise, travel is $7.50 per person.
Take your time during your visit. There's so much to see and experience. Stop and take it all in. When you're still and quiet, you can spot some elusive wildlife. Take lots of photos and enjoy your time in this beautiful wild park.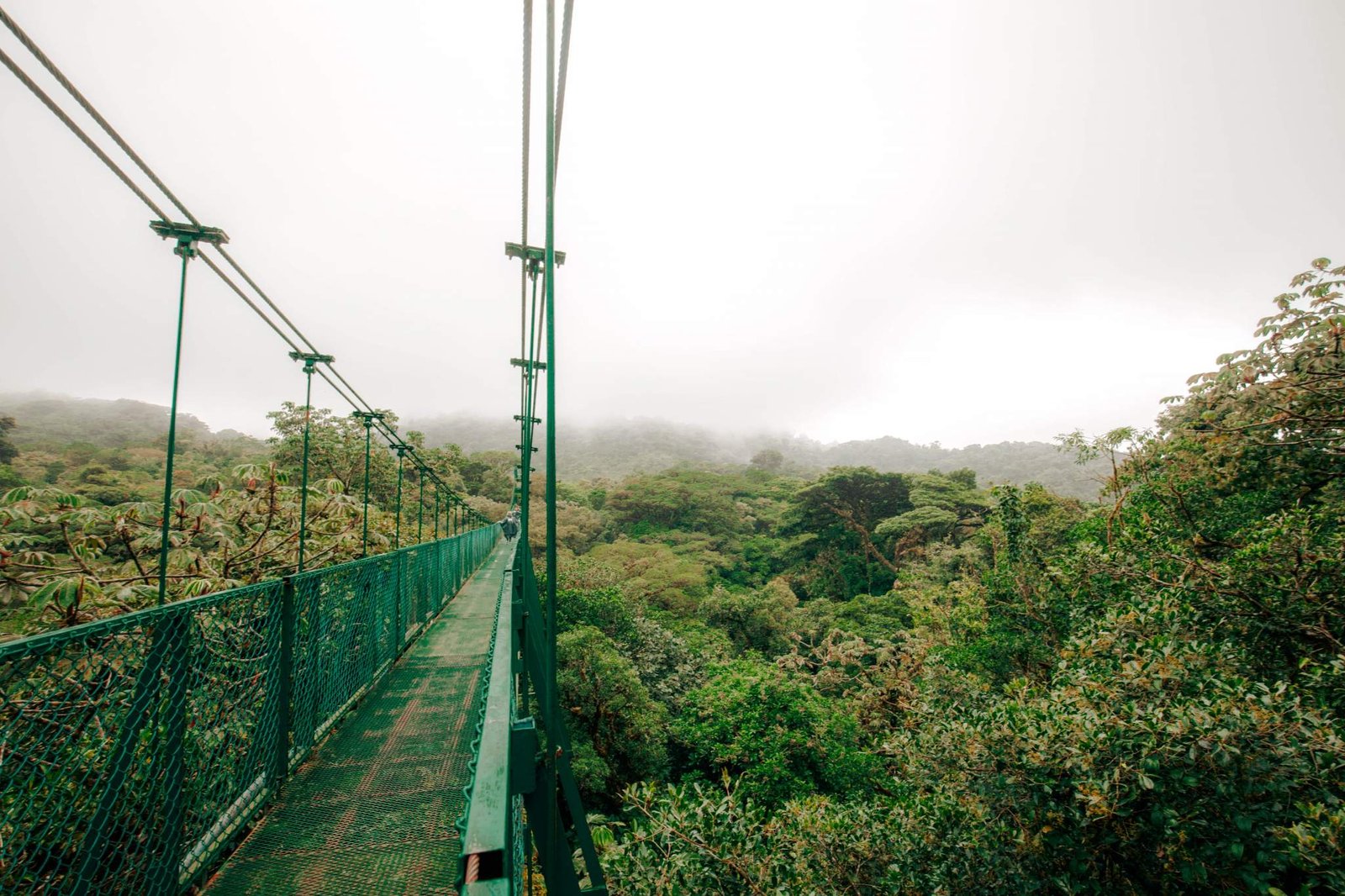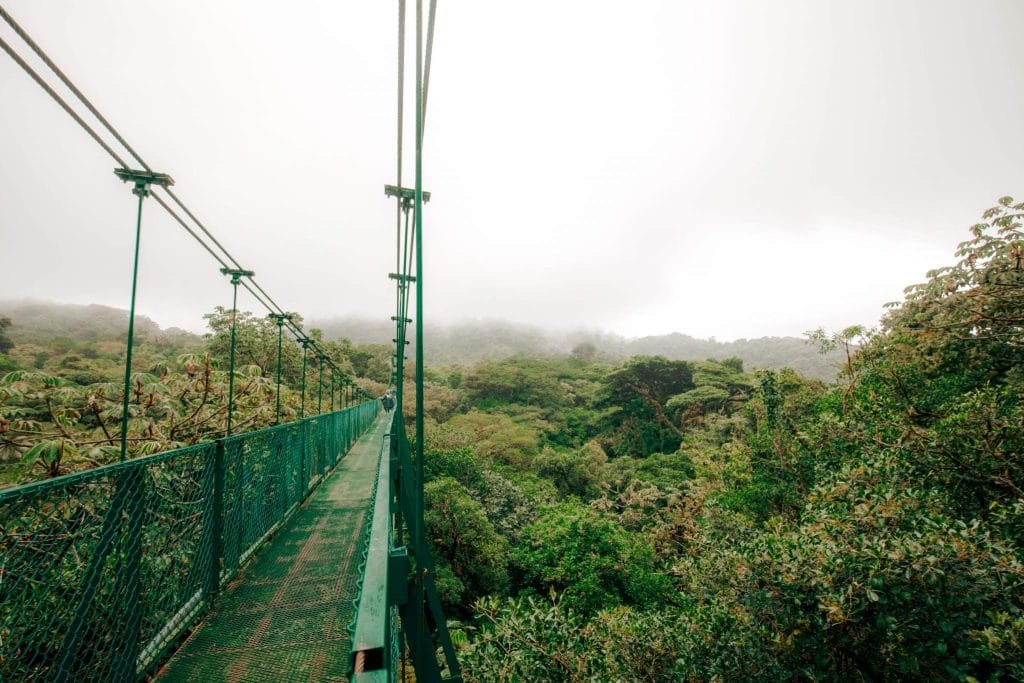 What to bring to Selvatura Hanging Bridges park?
Raincoat or rain poncho
Insect repellant
Sunscreen
Sunhat
Hiking shoes or sneakers
How many bridges are there in the area?
Monteverde's hanging bridges are some of the most beautiful and popular tourist attractions in the area.
Nestled in the Monteverde cloud forest of Costa Rica, the Selvatura treetop suspension bridges offer an incredible opportunity to explore the forest canopy up close. With 12 bridges spanning over half a mile, Selvatura Park is one of the largest hanging bridge systems in the world.
Costa Rica's suspension bridges are worth the trip. You'll be able to explore nature at your own pace and feel free in this cloud forest that's filled with wildlife from all around!
Costa Rica's hanging bridges construction
Monteverde's hanging bridges are not only a stunning sight, but they also offer adventurers of all ages and physical abilities the ability to explore the cloud forest at their own pace. During your walk, you can enjoy observing the wildlife in the forest canopy and spotting endemic and iconic species that call the forest home. Try the zipline in Selvatura hanging bridges park! It's an adrenaline-pumping adventure; Monteverde's hanging bridges are sure to create immense enjoyment and excitement.
So whether you're young or old, adventurer or nature lover, be sure to add the Selvatura treetop suspension bridges to your must-do list on your next trip to Costa Rica!
Conclusion
Hanging bridges: It sounds like something you'd hear about in the storybooks. Yet hanging bridges are very much a real phenomenon in Costa Rica! And for good reason: it's the absolute thrill of walking on the canopy of a rainforest combined with the magic of being surrounded by lush treetops.
So if you're looking for something unique and daring, hanging bridges are definitely worth checking out – bring your camera and prepare to have an amazing time!