Savannah, Georgia : Best Sights to See in a Weekend
Savannah is one of the country's most romantic – and most haunted – cities, with so many must see sights . Featuring grand mansions, lovely gardens, compelling history. Savannah is a charming town , with old colonial-style houses line its dignified streets and Spanish moss driving from the oak trees .
Savannah Georgia is a perfect weekend getaway travel destination
When the first European settlers arrived at the site of Savannah in 1733, they saw a muddy river often littered with dead animals, a marsh populated with such inhospitable creatures as mosquitoes and alligators, and a dense forest that seemed to stretch forever.
With a steady flow of tourists , some taking advantage of an open container law , some headed to Tybee Island to relax on the beach , some get their seafood fix . Savannah has got some fascinating demographic – the majority of African-American population , students from the Savannah College of Art and Design young business owners .
Things to see and do in Savannah
Best way to see Savannah ? Get on your feet.
By far the best way to see Savannah is walking through a city – you will catch every detail and will experience more than you would touring other ways .But it does take a toll on your feet. Be kind to yourself and wear the appropriate footwear.

Colorful trolleys, buses and horse-drawn carriages carry tourists through the streets of savannah in guided tours .
the sweeping staircases, the frosted glass doors, the fancy wrought-iron grillwork, the gas lanterns, the oriels (crossword puzzles are not a waste of time), the guardian lions and dolphin-shaped drainpipes that we came across as we walked the historic district.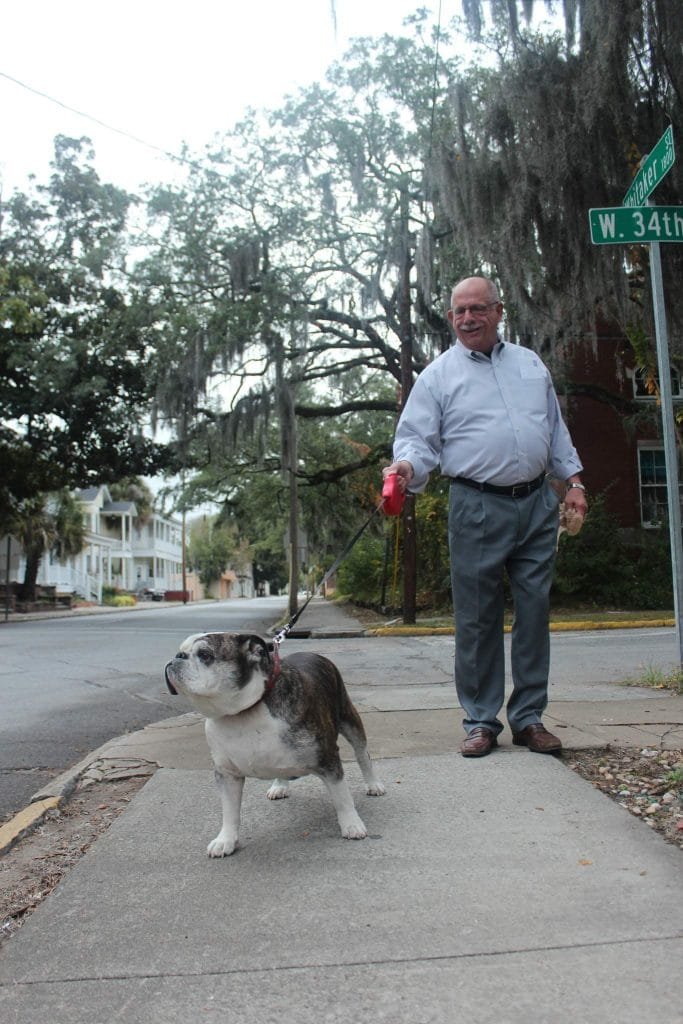 Savannah Parks and Squares
James Oglethorpe, who founded Savannah in 1733went with the Roman plan and designed it on a grid with squares at regular intervals.
The city has 20 vibrant, open squares, each with a mix of public buildings and private homes. The most well known squares –Johnson, Wright, Chippewa, Madison and Monterey . Most of the squares are dedicated to local heroes, and came adorned with a selection of memorial statues – 19th century to its founders and military heroes.
Savannah calls its leafy green squares "outdoor living rooms"
Chippewa Square, or "the Forrest Gump square," is one of the most known squares in all of Savannah . Located in the center of everything , on what's called "one of the most historic streets in America," – famous theatre, restaurants and ice cream parlors.
It's not popular because of the big bronze statue of Oglethorpe ( the founder of the city ) at its center, but because tourists like to gaze upon the spot where Tom Hanks sat on a bus bench and unfolded his "life is like a box of chocolates" philosophy in "Forrest Gump." That bench that Forrest sat on was a movie prop that has since been placed in the Savannah History Museum.
The most vibrant square of all may be Madison,a blend of elegant homes and public buildings, with its dramatic Alexander Doyle statue of William Jasper, who died in the American Revolution. Filled with students from the adjacent Savannah College of Art and Design, Madison Square is a bracing blend of history, culture and nature.
Forsyth park in Savannah
Forsyth Park is Savannah's answer to Central Park.In Forsyth Park , a gorgeous 30-acre expanse , lovers are drawn to a magnificent fountain ramed by ancient oak trees to the south end of the park.
A stroll through Forsyth Park is a must for every visitor of the city . Park's grand allées , oak-lined paths , broad lawns and shaded corners attract everyone from dog-walkers to violin-playing buskers. Continue past the grassy fields and the ornate fountain framed by ancient oak trees to the south end of the park,
The centerpieces include an ornate fountain and a towering monument to Civil War casualties. The tidy visitor center sells refreshments and has public restrooms.The Forsyth Park Fountain was inspired by the fountain at Place de la Concorde in Paris , and there is a replica of Forsyth fountain in Cusco , Peru!
It's also home to theater and music and arts events all year round .
Tip : Don't miss the tiny, walled Garden of Fragrance, a strange park-within-a-park that lives up to its name
The Book
There is still no escaping John Berendt's monster novel while in Savannah.The central event in his bestseller is, after all, the murder of a wild young street hustler by a gay antiques dealer, and other characters in "Midnight" include a drag queen named the Lady Chablis, a man who walks flies and a voodoo priestess. Locals now refer to his "Midnight in the Garden of Good and Evil" , a true crime novel at its roots, as simply "the book." It was published in 1994 and follows the story of an antiques dealer on trial for the murder of a male prostitute. Tour guides make endless references to houses and characters.
River Street in Savannah
Savannah's riverfront it's an old, cobbled street that that overlooks the Savannah River , with its shops, restaurants and bayfront promenade and lone saxophonists delivering jazz soundtracks
Riverstreet is among the top Savannah must see sights . It is home to galleries, artists' studios, restaurants and pubs located On your visit, you can choose from countless souvenirs. Those are just the tip of the iceberg at River Street. This place is one of the time because it truly has something for everyone.The river's shore itself changes from block to block, but most of it is publicly accessible. Seating is plentiful here, as are outdoor vendors and performance artists.collectors can visit True Grits if they are looking for a shop that specializes in civil war artifacts. Book lovers can stop by Books on Bay, which features thousands of books from the 1700s to the late 1900s. there's even a store for peanut lovers to visit. there are also galleries, a great selection of restaurants and bars, and two candy stores.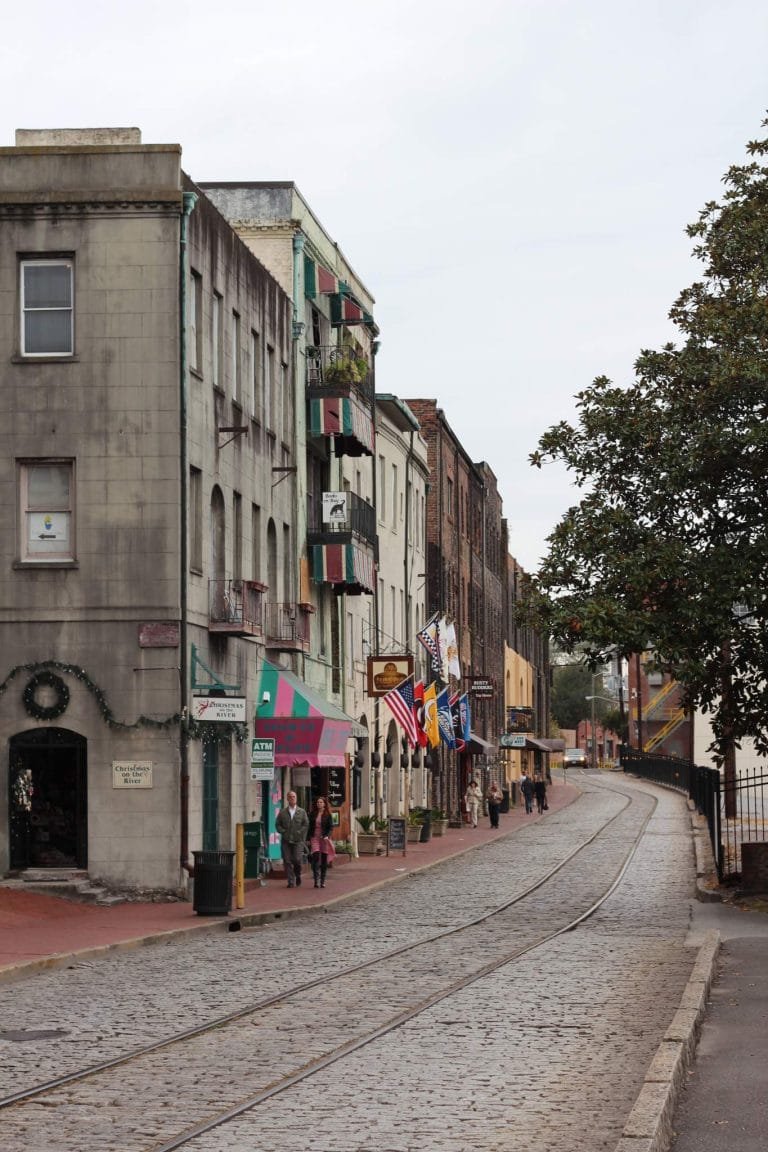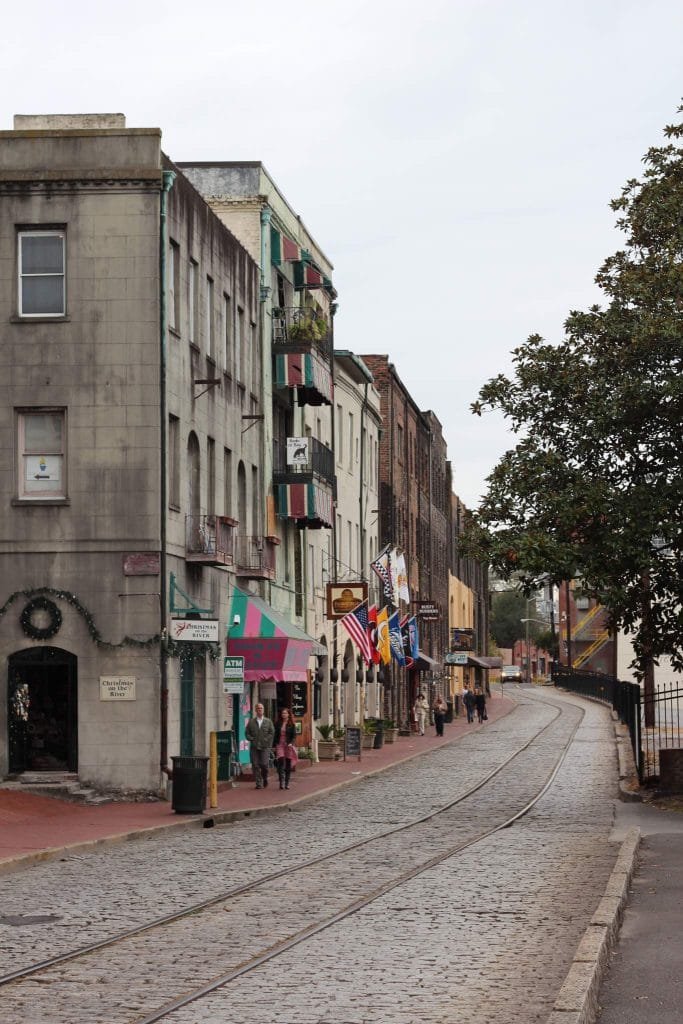 Tip : For an exceptional, reasonably priced view of the river and beyond, try one of the rooftop bars on River Street during happy hour –Rocks on the Roof and Top Deck Bar are both great choices.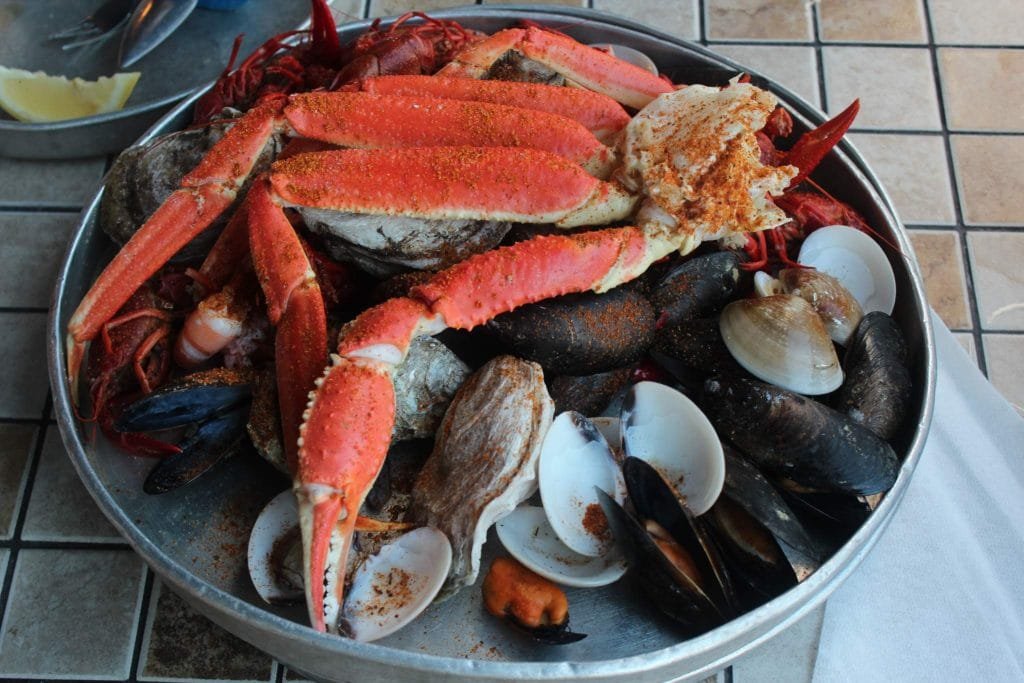 Savannah homes and architecture
It's all about the houses in Savannah. The city is full of remarkably well preserved 18th- and 19th-century Federal, Italianate and Regency-style homes.Most of them date from the early to mid 19th century and are restored to reflect that period. Many of the most impressive mansions and homes are open to the public.
Savannah is a place of history, sultry beauty and architectural delights.
A number of Savannah's stately houses are open for tours. One interesting mansion is the Owens-Thomas House and Museum, 124 Abercorn Street, (912) 233-9743, considered one of the finest examples of Regency architecture in the country.
the architecture, the stately beauty of a city spared by both a marauding Yankee, Gen. William Tecumseh Sherman, and time.
You don't have to know the difference between Greek Revival and Classical Revival, Romanesque, Regency and Italianate to be bowled over by block after block of stately mansions. I can just about manage to tell a Federalist home (fanlights) from a Victorian one (towers),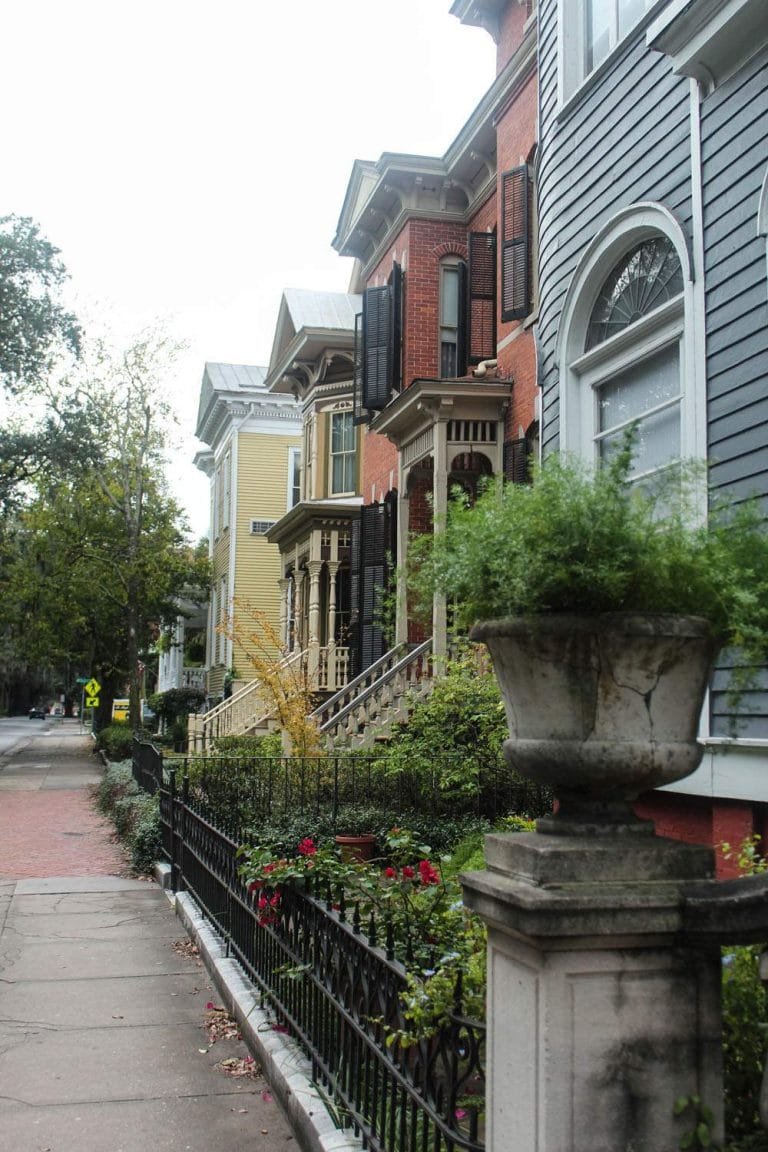 Artistic energy
Savannah's art galleries are a great way to experience the localart scene and see works by Savannah artists. City Market's catchy tagline is "the art and soul of Savannah." This pedestrian-only courtyard bustles throughout the day thanks to an eclectic mix of art galleries, knickknack shops, cafes, sit-down restaurants, and bars. If you want to support local business owners and craftspeople with your hard-earned tourist dollars, City Market is a great place to start.
The creativity overflows from the nearby Savannah College of Art and Design or SCAD, is on display in a number of galleries .
Some galleries can be found around tourist-oriented River Street. You can browse by yourself to take an organized art tour , for example the second Saturday Art Walk , tours Savannah's downtown galleries once per month , the admission is free .
Tip : There are all kinds of amazing galleries scattered around town, but none can compete with the SCAD Museum of Art (admission, $10), definitely a must see in Savannah
Visiting Tybee Island
The most relaxing of all Savannah sights
It's easy to forget how close the city is to the Atlantic coast. But hop on Route 80 heading east and in about 20 minutes you'll be driving over the bridge to Tybee Island. With wide stretches of sandy beach, the tiny barrier island, just over three square miles in size, is a favorite retreat among sun-seeking Savannahians. Follow signs to the lighthouse, a black-and-white colonial-era tower with panoramic views of North Beach. Less crowded than other parts of the island, North Beach is also ideal for a swim, a stroll or — best of all — a lazy afternoon swing on one of the hanging wooden benches that dot this scenic stretch of Georgia seashore.
Tybee Island is colloquially known as Savannah Beach, which was its former name. This amazing tourist destination is definitely a must see sight f you are in Savanah . It offers something for every visitor. Boasting a rich history and natural beauty, Tybee Island also features a variety of exciting outdoor recreational activities for individuals and families. The following is a list of the top 10 things you can do on Tybee Island.
You cross over the bridge , see the marshes and sand, and
Georgia's 100-mile long shoreline, overlooking the Atlantic Ocean between South Carolina and Florida, has hundreds of magnificentbeaches.
On Tybee, people still leave their doors unlocked, meeting times are rarely honored and flip-flops are standard fashion at weddings and Sunday mass. As Julie Blan, a It has a beautiful creek to the west of it, where a ship of any burden may lie in safety at anchor. If any of the vessels of war now cruising on the Carolina coast, or any of the others now in this vicinity getting ready for a Southern trip, should suddenly make their appearance in that deep creek, Fort Pulaski had better look out for its rear as well as its front and the rebels of Savannah had better be getting ready their sackcloth and ashes.
Food and drink in Savannah Georgia