Quito Travel Guide and Best Things to do in One Day
Sure, hopping on a boat to the Galápagos Islands and seeing some of nature's most exotic creatures is an adventure no traveler should ever pass over. But don't miss out on the opportunity to visit Ecuador's hidden gem – Quito. Who knows what gems you will find nestled in the stunning Andean peaks at nearly 10,000 feet? One thing is for sure – you'll see sights like no other. With a population of two million people and unparalleled views, you definitely won't regret this amazing stop!
Why you should visit Quito
Quito is practically a picture-perfect postcard! Everywhere you turn, the city has something to offer that will take your breath away. Strolling around one of the largest colonial city centers in South America? Check.
Soaking in the majestic views of its buildings and monuments? Check.
Quito never fails to amaze with its incredible diversity of landscapes. And if that weren't enough, 40 stunning churches and chapels, 16 wonderful convents and monasteries, plus several grand plazas round out the beauty of what makes this UNESCO World Heritage site so special. There's no wonder why people come from all over the world to experience its unique attractions firsthand!
Best things to do in Quito
Take in the majestic views of Quito from Parque Itchimbía! The observations deck offers a unique glimpse of the historic city center and its iconic Virgin of Quito statue. Even more special, you can make your way to the quirky Itchimbía Cultural Center—imported entirely from Hamburg, Germany in 1889—for a truly one-of-a-kind experience. Or, if you're feeling fancy, head down to Pim's below the observation deck and grab yourself a cocktail while you watch the sunset over Quito. Get cozy near one of their heat lamps and snap a few photos as the city twinkles around you. Can it get any dreamier than this?
Party at the plaza
Welcome to Plaza Foch, the heart of nightlife for young people in Quito! After a long day sight-seeing and (hopefully!) feasting on Ecuadorian cuisine, you'll find plenty of energy here to set off into the night. Plus, there's a visible police presence keeping any wrongdoers at bay.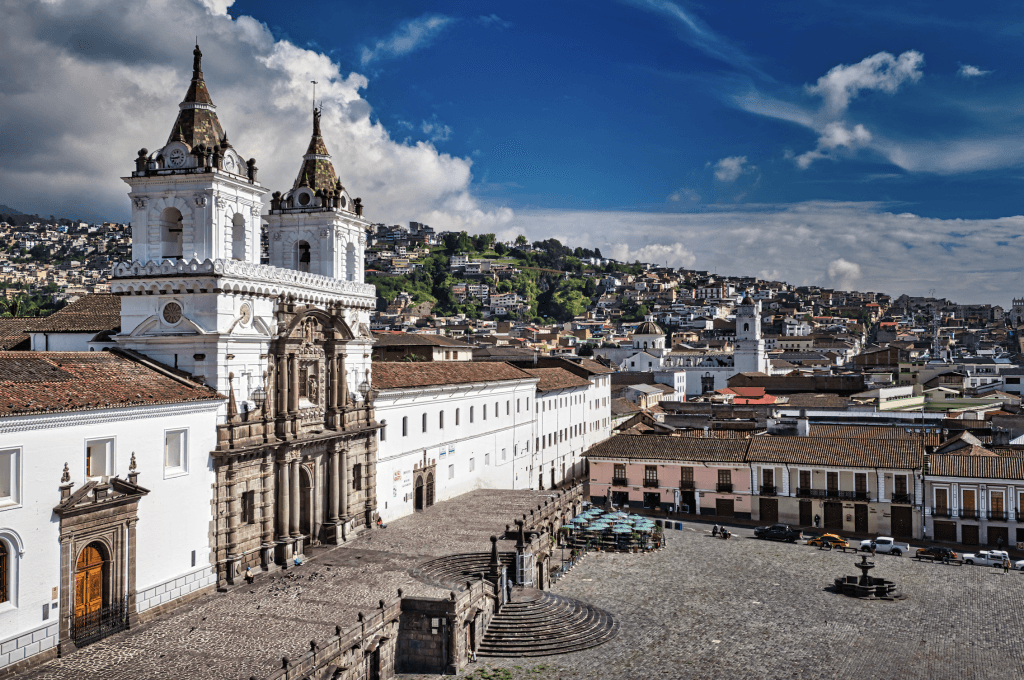 La Capilla del Hombre
Suppose you consider yourself an intrepid traveler and adrenaline-seeker. In that case, a 9-minute ride on Ecuador's Teleférico aerial tram is just the ticket. Priced at a mere $8.50 for tourists and $4.90 for locals, this fairly priced adventure will take you to heights of up to 13,000 feet! Now that is high above sea level – higher than some hilly ski resorts! But make sure you come prepared with a hat; temperatures tend to drop as your ascent increases. Once atop the Cruz Loma viewpoint, spend some time exploring nature paths amidst swaying grasses. Don't forget to grab some coca tea at the mountain lodge; this energizing brew is said to counteract any altitude related woes.
La Capilla del Hombre is an awe-inspiring work of art, conveying an insight into the heart and soul of Latin American people. Oswaldo Guayasamín's vision of a poignant tribute to those who have suffered through political struggles has become a reality in the three-story cultural complex in Quito's Bellavista neighborhood. From powerful paintings to grandiose sculptures, the museum shows a range of emotions as it documents the victories against oppression among Latin Americans. It truly helps one appreciate the strength and ability to persevere that is seen among this dynamic population. La Capilla del Hombre is definitely worth a visit while passing through Ecuador!
Visit Quito Old Town
Quito's historic center on Sundays is the stuff of wonder! Free from the hustle and bustle of a regular weekday, it's one of the most interesting places to check out. From 8 a.m. to 2 p.m., these cobblestone streets promise all kinds of memorable experiences, starting with Ecuador's largest Gothic cathedral, Basílica del Voto Nacional – home to quirky gargoyles inspired by native iguanas, pumas, and Galápagos tortoises you'd be otherwise too afraid to get close to!
Then there's Calle García Moreno leading to Plaza de la Independencia; with marvelous Spanish-colonial architecture encircling City Hall, The Presidential Palace and the Archbishop's Place – perfect for twirling around in your Sunday best for that sweet Instagram content.
Calle García Moreno
Continuing down Calle García Moreno will lead you to some of the most breathtaking sights in Quito Old Town. La Compañía de Jesús offers a dazzling gold-leaf altar sure to leave you in awe. As you head up the hill on Calle Sucre, you'll find yourself in Plaza San Francisco – a vibrant spot alive with music and bustling locals getting their groove on! Move on to La Ronda or Calle Morales, the lively pedestrian street filled with beautiful balconies, bright-eyed children playing hopscotch, and restaurants tight-packed with exquisite Ecuadorean specialties.
Take a Day Trip from Quito: Horseback riding Volcano Avenue
Ready to experience the wilds of Ecuador astride a horse? Look no further than Quito's one day horse riding tours, where you can take in the stunning sights of Cotopaxi National Park from the comfort of your trusty steed. Get ready to mount up and explore dusty trails with an experienced guide on your side; whether you're an experienced rider or greenhorn, checking out this park with a knowledgeable guide is sure to leave you entertained – and may inspire some galloping fits of cowboy energy!
Don't worry if you don't have time to get out there early- many tours cater both local Quito departures, or you can find horse riding adventures once you reach Cotopaxi. Giddy up!
Ecuador's horseback history
Long before the days of self-driving cars - hell, even before the combustion engine was invented - transport in Ecuador relied on horses. Little did the Spanish conquistadores know when they arrived in 1534 that their four-legged friends would soon be expanding Ecuador's boundaries beyond what pedestrian travel could ever hope to achieve. 
Native llamas and alpacas were quickly berated for their shortcomings, leading locals to make a sharp switch to horse riding for traversing their stunning pastures. Fast forward a few centuries and you'll find haciendas dotted throughout Ecuador that still transport the old-fashioned way - on horseback.
 And why not! Not only can you look cool while doing it, but if you're lucky you might be able to join one of the many horseback riding tours or a divine cross-country jumping event.
 As they say: Who says 'neigh' to an adventure?