The Ultimate Foodie's Travel Guide To Key West: Food, Drinks and Historic Restaurants
Visiting the sunny Key West is an easy decision for the coastal scenery and the warm weather alone. Now, the food will make you come back time and again.
Key West has been a hot spot for premium Caribbean seafood for over a hundred years, and I dare to say, today, the food scene is more varied than ever. This is what you want to try in Key West and where to find it.
Foods you must try in Key West
Key West is a small island, but it packs a punch when it comes to conch. People head there to get their conch fix with conch popping up on menus all over the tiny island – conch salads in particular.
1. Conch
Conch is a sea snail, often with huge pink shells, and it only lives in the warm Caribbean Sea. The meaty mollusk is, hands down, Key West's signature ingredient, and it's the star in many popular dishes. 
You don't have to look long to find a restaurant serving conch, from burgers to salads, and although kind of exotic, you'll be glad you ordered it. These are the most common dishes made with conch in Key West.
Conch Salad
More than a salad, this is ceviche, and it's one of the most refreshing sea-scented meals you'll find all around the Caribbean. The conch meat is finely diced and 'cooked' in lime and orange juice while it marinates with diced onions, chopped tomatoes and often a few hot peppers. 
The secret here is simplicity, and the result is glorious. A fresh, meaty and tangy bite after another. Conch salad might pack some heat so have a cold beer in hand!
Conch Fritters
Cracked conch or conch fritters are another take on the pink mollusk. Here, cooks batter and fry conch meat and season it lightly for a good-old crispy snack.
The French fries of the Caribbean, you can surely imagine these are awesome appetizers and beer snacks, especially when drizzled with freshly squeezed lime juice or dipped in your favorite sauce.
Where to Eat Conch in Key West?
Since I simply can't list every restaurant in Key West serving conch, just know that you need not walk far before finding the local delicacy. Restaurants will use different recipes, though, so you'll have to try a few spots before finding your favorite!
2. Key West Pink Shrimp and Lobster
Pink Shrimp (Farfantepenaeus duorarum)
Pink shrimp is native to the Gulf of Mexico and the Caribbean Sea. The crowd-pleasing shellfish is harvested between November and June, but it's available year-round. 85% of the pink shrimp consumed in the States comes from Florida's west coast despite fierce international competition and farm-raised shrimp varieties.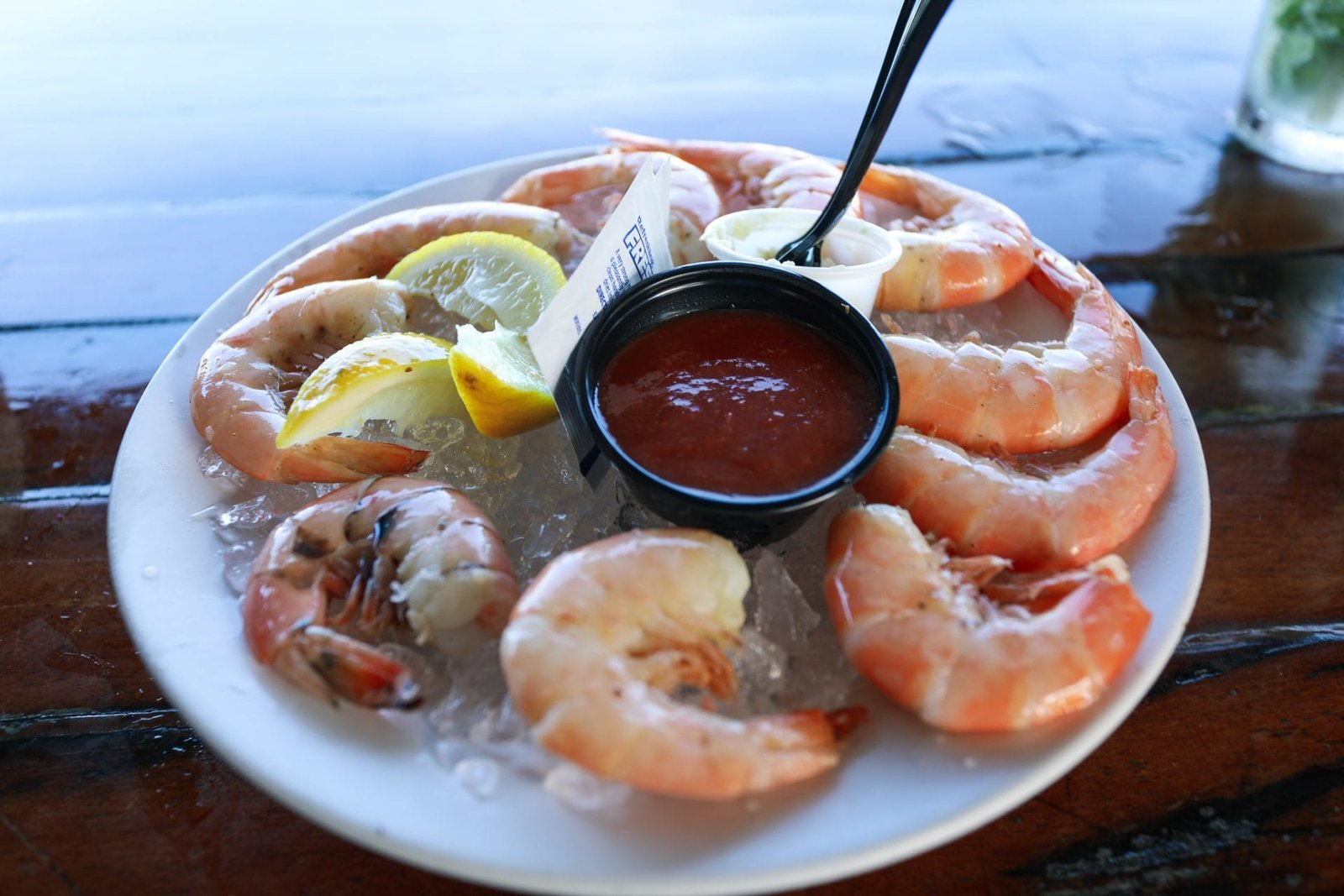 These beauties can grow up to 10 inches and are prized for their tender, almost sweet meat. Boiled and tossed with Old Bay seasoning, sautéed in butter or grilled, these are without a doubt a Key West specialty and might just be as famous as the ubiquitous conch.
Royal Reds (Pleoticus Robustus)
These larger shrimp species, also called red langoustines, have obviously a brighter red color, and they live in depths of up to 1,200 feet. Freshly available from March to June, these are one of the most coveted shrimp on earth, and they're so flavorful you can just cook them, peel them and eat them as-is.
Although delightful, you must cook these carefully, as they can get chewy when overcooked. It takes skill to get them right, but they're one of the most rewarding seafood specialties in South Florida.
Spiny Lobster
The spiny lobster thrives in the warmer Caribbean waters, and unlike the more popular Maine Lobster, these beautiful creatures don't have claws — all the meat is in the tail.
Also called rock lobster or sea crayfish, these predators can grow up to ten inches, and they're as versatile as regular lobsters. Buttered and grilled, their sweet, juicy meat is a real treat.
Visit Key West during the annual Lobsterfest to enjoy lobster ceviche, grilled lobster and much more. This is the largest lobster-themed party of the summer!
keywestlobsterfest.com/
3. Cuban Food in Key West
Key West and its surrounding waters were common fishing grounds for Cuban fishers way before Florida was part of the United States, and you can see it in the culture; especially the food. In fact, in the 1800s, half the area's population was Cuban! So, these are deep roots we're talking about.
The shredded beef stew called ropa vieja, the hearty sandwiches, the plantains and the ever-popular rice and beans are typical dishes in the area. Visit El Siboney Restaurant — they've been serving fine Cuban food in Key West since 1984.
elsiboneyrestaurant.com/
4. Hogfish
A lesser-known but equally delicious traditional Key West dish is the hogfish. The Caribbean flatfish has a pig-like snout and is somewhat of an oddity; the fish changes its sex from female to male as it grows old.
Food-wise, fishers in Florida catch over 300,000 pounds of the flavorful fish every year, but there's never enough of it. The fish's thin but flaky, tender, and slightly sweet meat is often enjoyed over Cuban artisan bread.
5- Key Lime Pie (of course!)
Ending with a sweet note, Key West's most famous dish is not seafood but dessert. The key lime pie is a creamy and citrusy dish not to be missed. What started as a recipe printed on a can of Borden's condensed milk in the 1930s has become a signature dish for Southern Florida. 
Key limes are the key, here, literally. As the thin-rind yellow limes are only found in the area. More aromatic than Persian limes and a bit tarter, they're perfect for contrasting the pie's creamy richness. Here is more about the key lime pie and how to make it
Key West Historic Restaurants
Here's a list of historic restaurants in Key West. Not the only gastronomic landmarks in the area, they're a great place to start your delicious journey.
Blue Haven
In the historic Bahama Villa, Blue Heaven is one of the better-known restaurants in Key West, specializing in local seafood delicacies with a flair.
Suanne and Richard opened Blue Haven opened in 1992 and have New York Chef David running the kitchen. This is a fun place to have a round of drinks, but the food is extraordinary. They offer breakfast, lunch and dinner.
blueheavenkw.com
Fisherman's Cafe Key West
Fisherman's Café honors the tradition of offering natives and tourists alike a taste of local food — freshly caught seafood and excellent service.
Going back to the 1970s, the original Fisherman's is a must-visit in Key West, especially for its Cubano sandwiches, lobster tacos, conch salad and pink shrimp wrap.
fishermanscafekeywest.com
Conch Republic Seafood Company
Once the Singleton Fish House and Ice Plant, with commercial significance going back to the 1890s, this warehouse at the docks turned into a restaurant is the very essence of Key West's fishing scene.
The Conch Republic Seafood Company is now the place for non-stop partying, colorful drinks and fresh seafood.
conchrepublicseafood.com
El Meson de Pepe
Serving authentic Cuban food in Key West for thirty years, El Meson de Pepe or Pepe's Inn keeps Cuban traditions alive in the area.
Now a massive operation receiving hundreds of visitors on the high season, this family-owned restaurant still relies on traditional Cuban recipes to offer the real deal.
elmesondepepe.com
Visiting Kew West for just a day? Here is a complete Key West one day travel itinerary