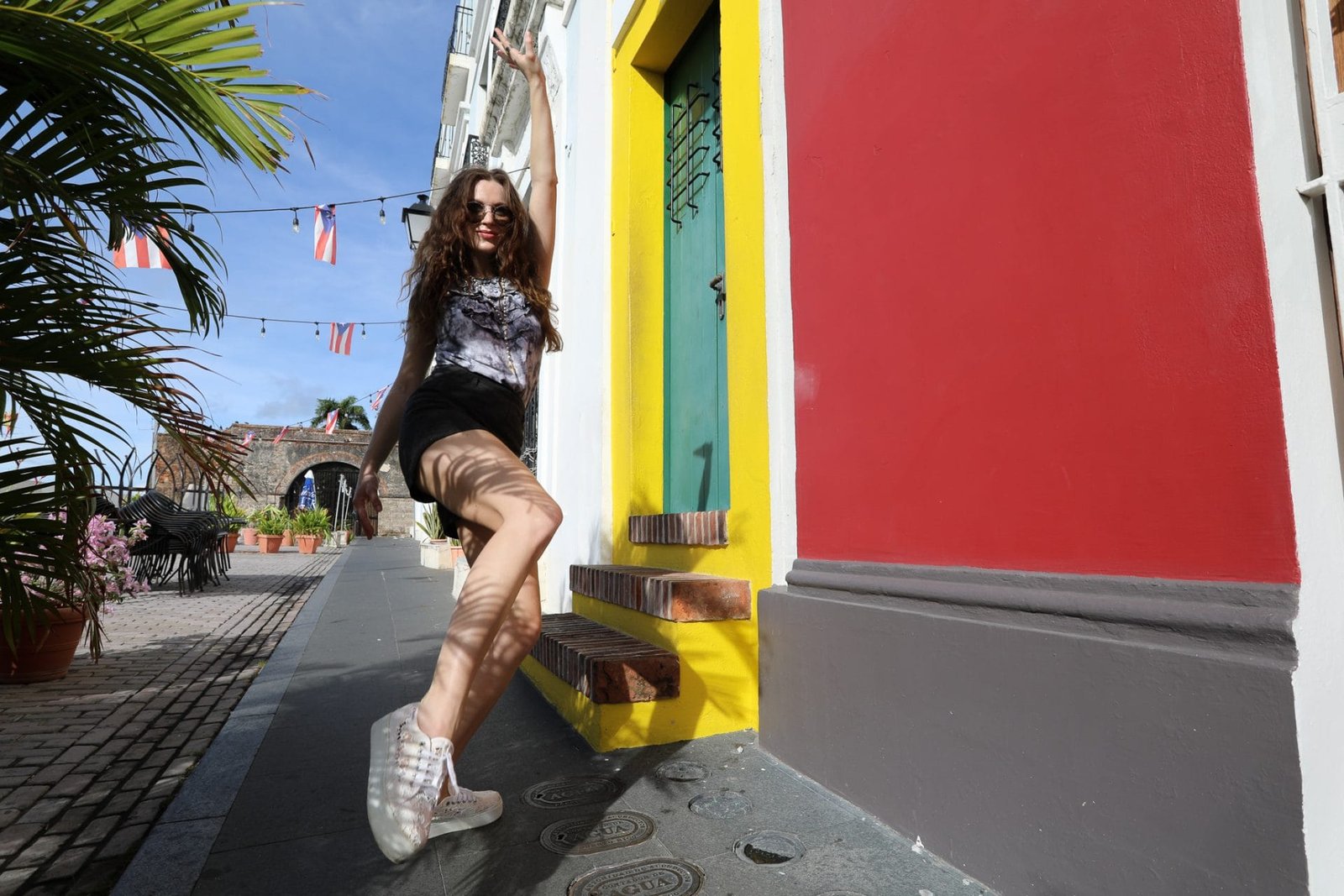 One Day Travel Itinerary : Best Attractions of San Juan,Puerto Rico
There are two San Juans. One is loud, touristy, with cruise ship passengers coming and going, souvenir-clogged streets buzzing casinos, and local bars serving rum-based cocktails starting at 10 am. And the more authentic San Juan, full of Art Deco jewels carved into historic Spanish inheritance, modern art scene growing at the speed of light, and the warmest, hospitable people that infect you with upbeat, sunny energy.
Best things to do in San Juan in one day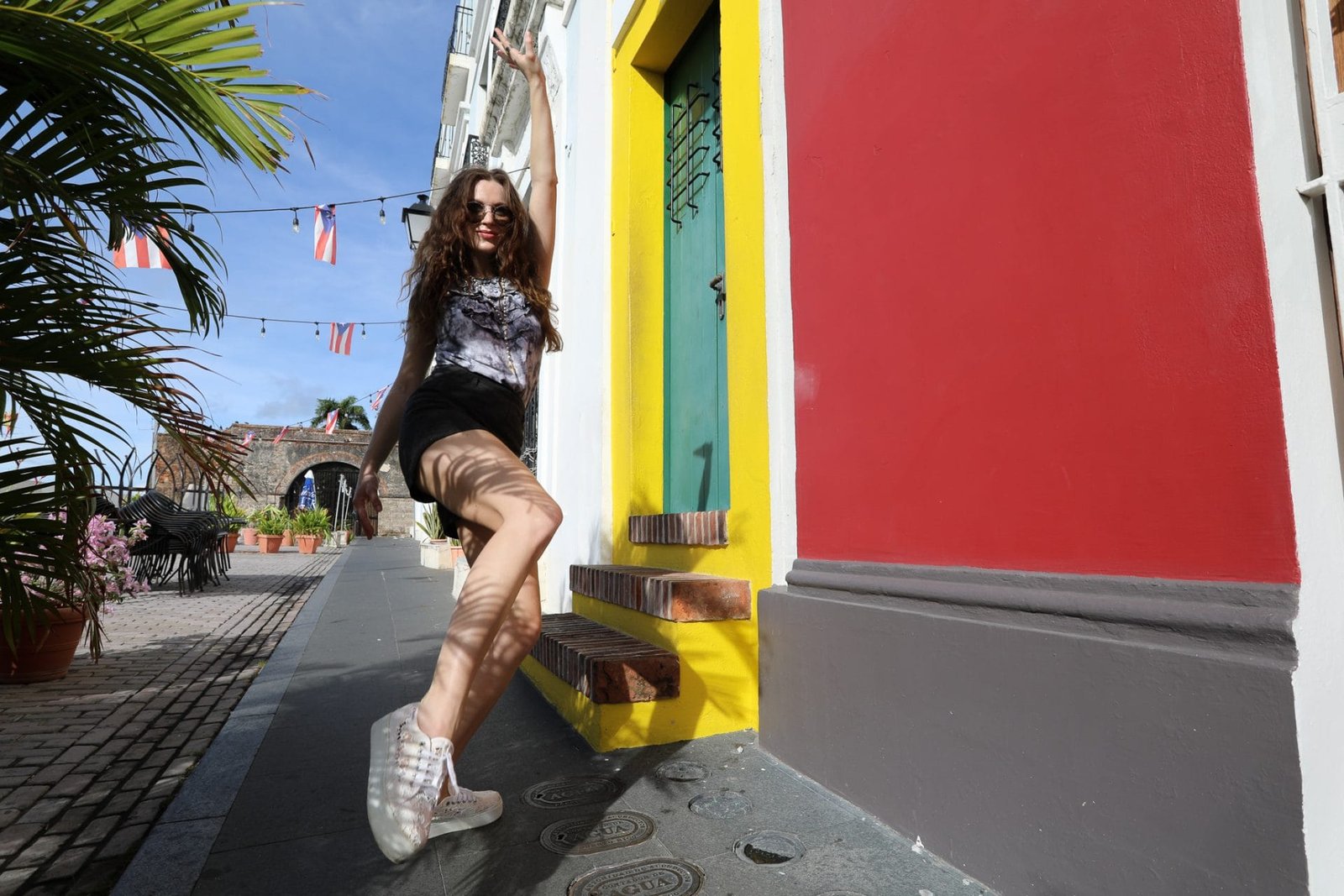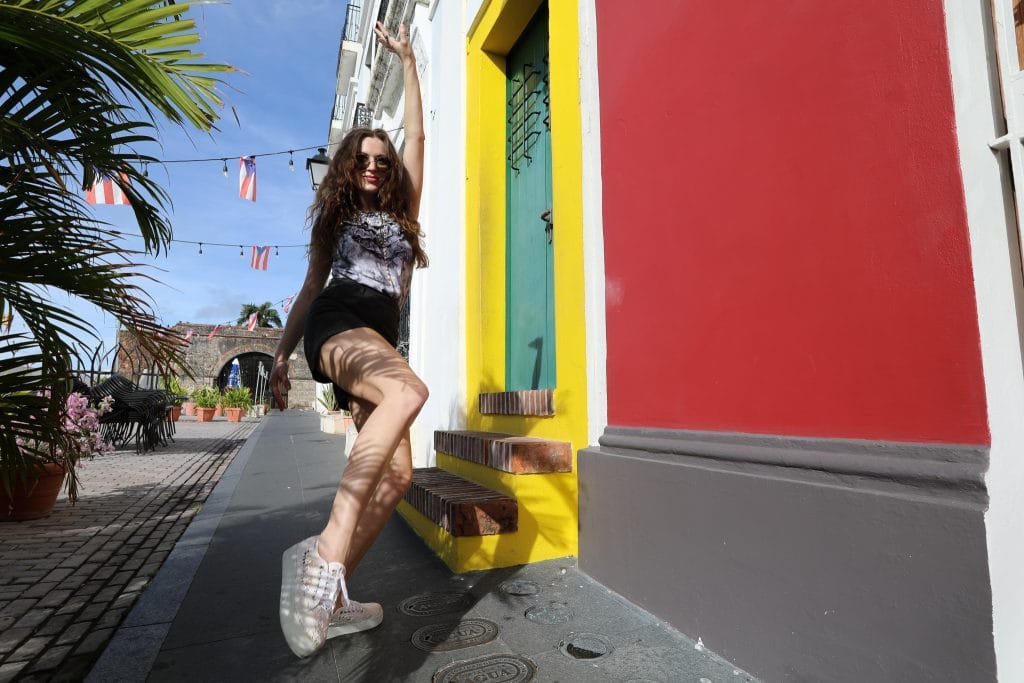 After more than 400 years of Spanish dominance, the language, culture have grown into this Caribbean island.
The moment you walk out of your Old San Juan hotel or a villa and step out to the cobblestone streets of Old San Juan, you will be transported to a colonial past of Spanish plazas and churches, grand fortresses and military heritage.
Drink Mojitos and Pina Coladas
Being the Caribean Capital, Puerto Rico cannot go without being a rum capital as well.
Fact is : Puerto Rico creates the best rums in the world 1600s. It goes without saying , a visit to Bacardi factory is a must .But don't miss on the city's modern mixology scene.There is a "Mixology Tour" where you can hit all the hip spots of the city and enjoy crafted cockatails in the rum capital of the world.
Not a fan of mixology? Take a "Historical tour" where you can stick to the classics – visit historical distilleries and try up to 6 types of rum. Plenty of Rum Distilleries tours are available and actually are quite entertaining even if you are not into rum or alcohol.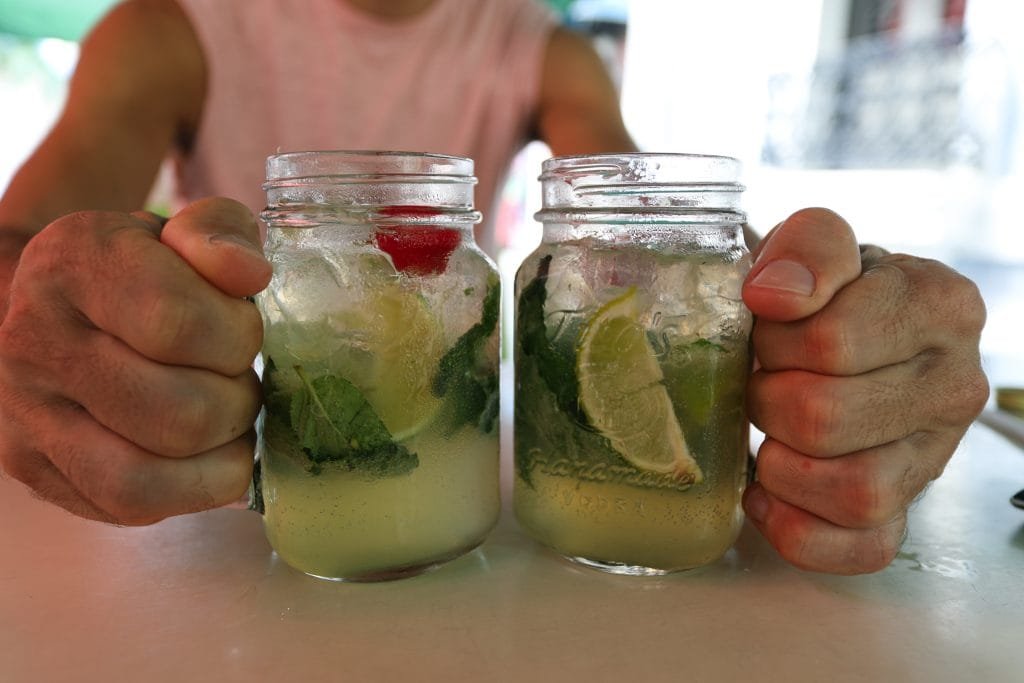 Anywhere you go in San Juan, dare I say, mojitos are divine.
For best bars head to :
1) Miramar neighborhood
2)La Placita de Santurce, a city market by day and the epicenter of the city's nightlife by night.
La Factoría.
Gallo Negro
La Respuesta is the spot if you are into pop-punk and international alternatives.
Buy a real Panama hat in San Juan
Being the US capital of cruise ships (after Fort Lauderdale), San Juan is full of souvenirs of every tacky nature. Treat yourself to the real deal and get something you are not likely to get anywhere else – a hand-fitted, authentic Panama hat. It may sound old-fashioned, but souvenirs like this are not only practical but the most original.

Here is the tiny, locally owned store. Christian Jeffs has been in business since, and it is just a pleasure to meet an entrepreneur like him. After talking to him, you are likely to know more about Panama hats' history than Wikipedia. None of those are made in China, contrary to every souvenir shop you will pass in Old San Juan.
Learn colonial history with a view in Old San Juan
Overlooking the cliffs with scarry blue water where the waves of the Atlantic Ocean crash against the rocky shores with immense power, El Morro is one of the signature sights of San Juan. And the most dramatic one. You are likely to have seen it on postcards.
It is without a doubt my favorite place in San Juan. Despite it being a tourist trap in a way, every time I visit Puerto Rico (this would be the third), El Morro is a must stop. There is simply something magical and out of this world about it.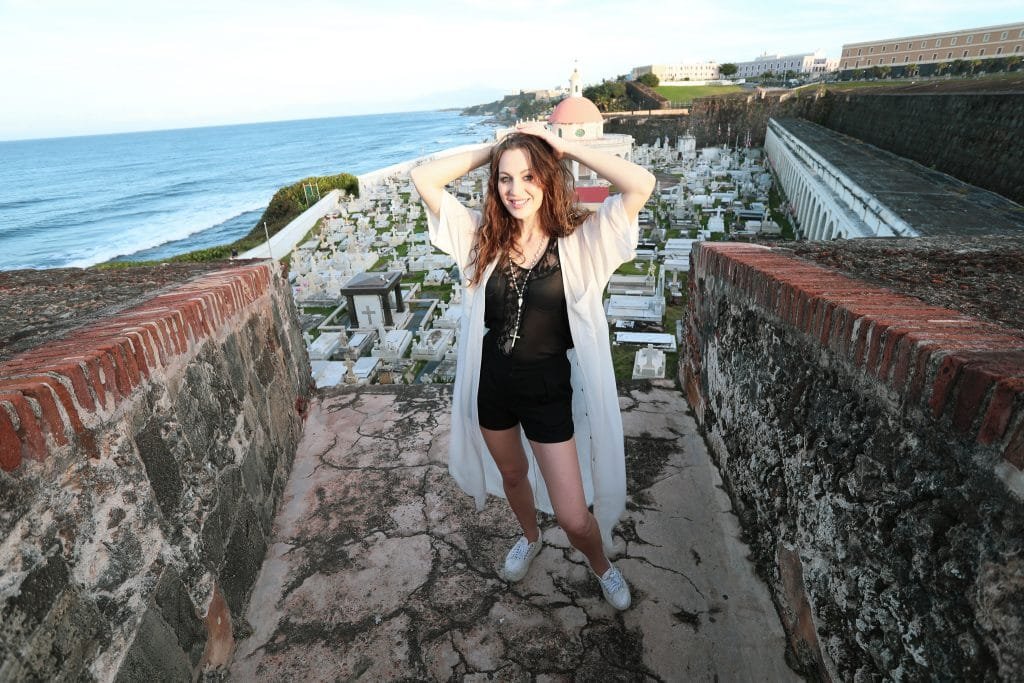 For the best views: head to the Santa Barbara Bastion.
You can bring snacks and drinks as there is a huge park surrounding the fortress, and you can walk and enjoy the views. Even in the busiest season, there is somehow enough space for everyone, and it ever feels crowded. The ocean breeze, an ancient sight on the back, and the views are mesmerizing.
The entrance fee is $2

Cats of San Juan
The Cat Affair
It can feel like cats run the city. They are majestic, lazy, and gracious. You will find squares filled with cats (literally), cats lying on the car bumpers, historical monuments, chilling in the sun, or the shade of exotic flora.
These are not quite the street cats. These are cobblestone cats.
What's the story?
Initially, San Juan government brought the cats to the city to deal with the rat problem and all the nasty consequences of rats' overpopulation.
The rats have been defeated. Immediately, another problem occured—the cats' overpopulation.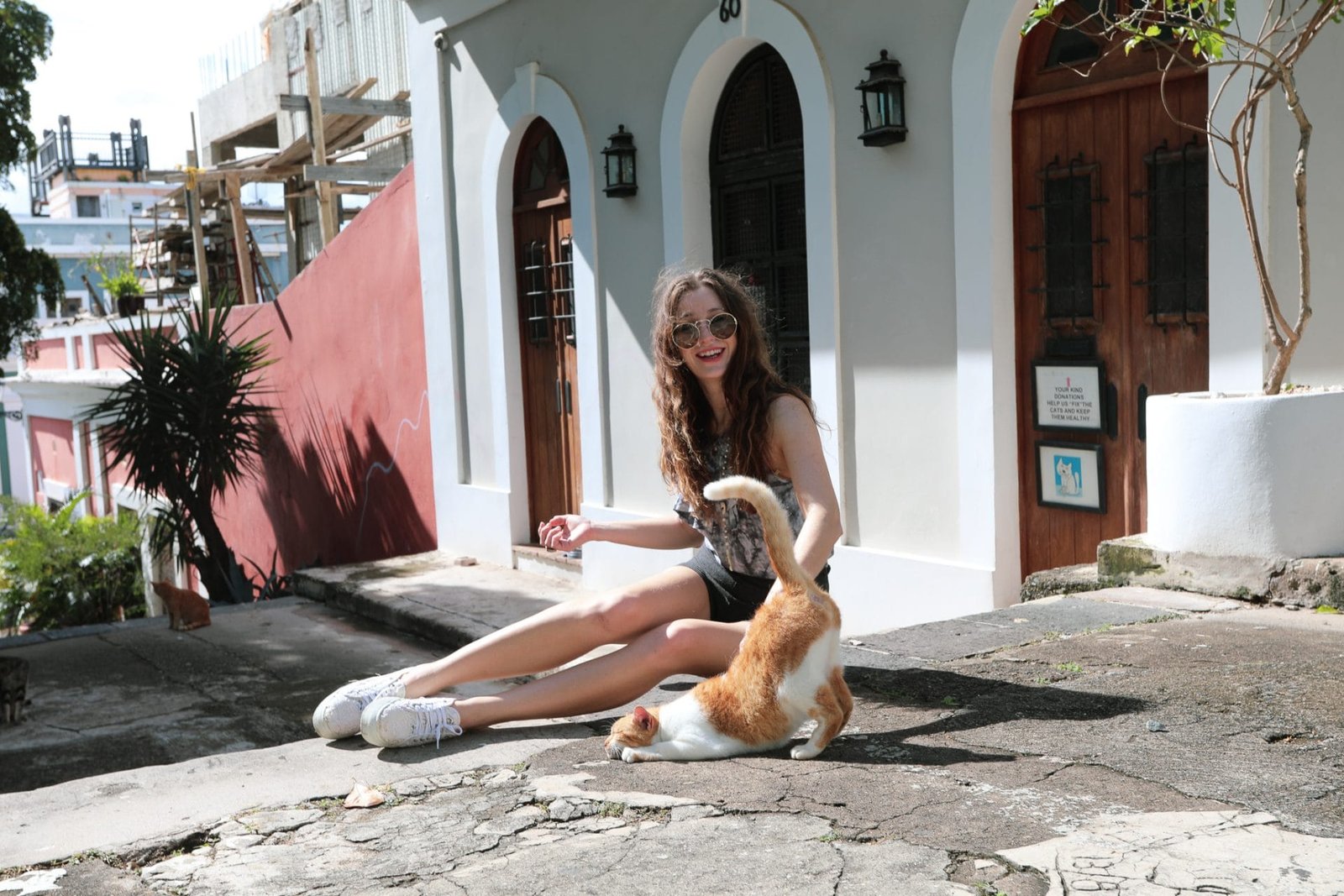 The city came up with the solution – TNR ( Trap,Neuter ,Release). Eventually, the Save a Gato initiative became an official nonprofit organization.

Save Gato volunteers perform the TNR vaccinate and try to find a home for the kitties. You might notice that each cat has a little clip on the ear as identification of vaccination. There are plenty of small plastic shelters for the cats. Each has a Save a Gato sticker on it.
You can tell that the kitties are living the pur-fect life. None of them are skinny or have skin diseases like some strays.
Their plastic homes are clean and have a bowl of food next to the entrance.
At the end of your trip, you might envy these cats' life a bit.
Where is the best place to see sunset in San Juan
The best way to experience sunset is to head to Paseo de La Princesa and follow the shoreline. You will see the San Juan Gate – what used to be the main entrance to the Caribean Capital, then the magical El Morro castle, and a bit of the old city.
Brunch in San Juan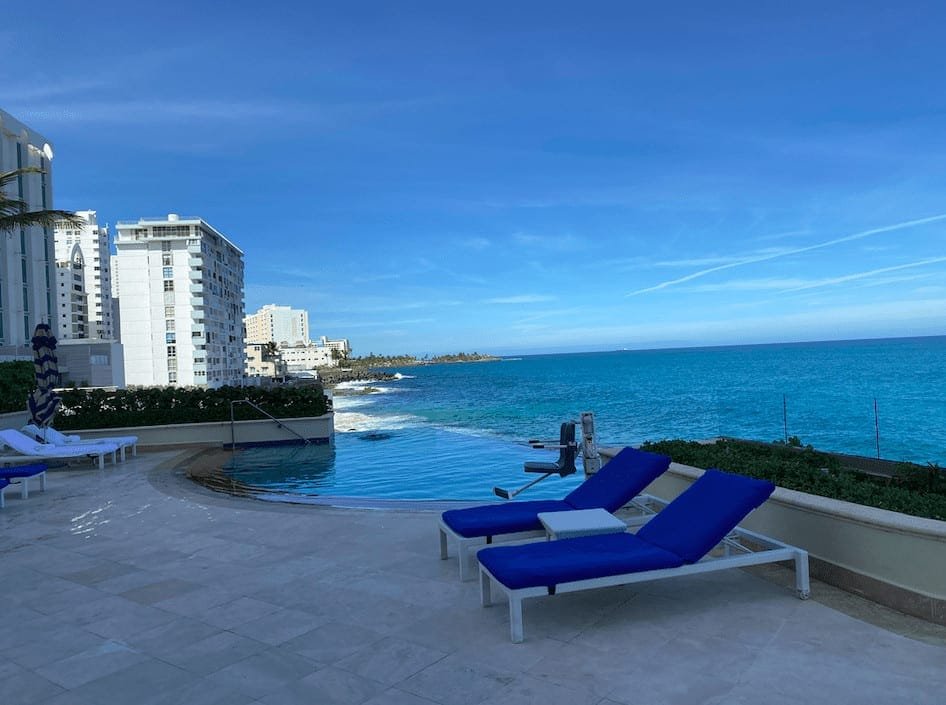 Chiringa time
Kites are probably one of the most underrated of the most exciting toys. Located right by the ocean, a huge El Morro field is perfect for chiringa .Experience the joy of flying a kite next to an ancient fortress in a huge green field, ocean breeze in your hair. Or watch the locals do it.
El Morro is a local's favorite for outdoor fun , picnic, jogging, photoshoots, sunset watching spots.Along with the most magnificent and powerful views of the ancient fortress and the ocean waves, there is a strong community spirit, and it's very positive.
Outdoor yoga in San Juan Puerto Rico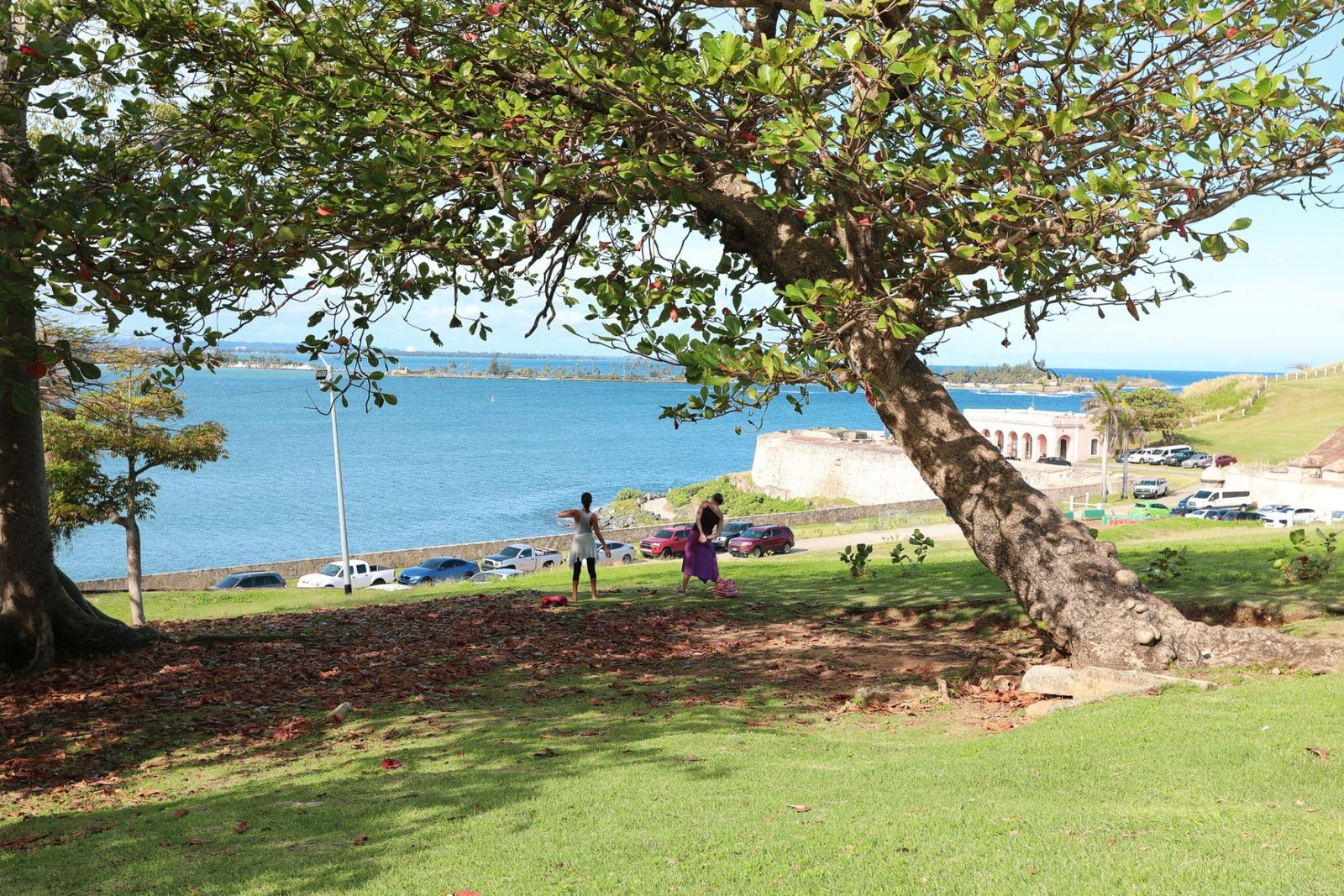 Nourish your soul with a healthy dose of yoga in one of San Juan's beautiful view spots. Sea breeze and the ocean waves' healing sounds on the background. Set the tone for your busy day of exploring or let your mind relax from all the exploring you've been doing.
San Juan Beaches
Tired of the urban and historic vibe? Head to the beach to recharge your batteries and work on your tan. A popular nest for inter birds and retirees, San Juan is attracting visitors all year round with its splendid turquoise water beaches that stretch for miles.
Puerto Rico is The Salsa Capital
Dominicans and Puerto Ricans "invented" the most infectious rhythm called salsa in the 60s….in NYC! Puerto Rico is and forever will be its tangible home.
Translated as, literally, "the sauce" will get your hips twirled and shoulders jiggle the moment you step into any bar in San Juan.Dance lessons are one of the most popular tourist attractions, and you can book one or join one pretty much anywhere. Head to any bar and you will hear salsa tunes booming, people dancing and rum flowing.As I'm writing this paragraph, my fingers keep adding the exclamatory sign at each sentence's end. That's what just thinking/ describing salsa does to you. And I am not even an avid dancer.