Foodie's Guide to Nicaraguan Food and Drink – All You Need To Know
Nicaragua Traditional Food
Nicaraguan food and drink has a lot of different influences, but some of the most popular dishes date back to pre-Colombian times. Way back then, the varied menu on offer in Nicaragua was the result of a mixture between colonial Colombians, and native Nicaraguans.
What food should you try when visiting Nicaragua
Corn is the king
For centuries, corn has been the basis of a number of Central American and Mexican cuisines, and for good reason! The crop grows really well, and it tastes amazing too. Therefore, from indigenous tribes to modern Nicaraguans, corn plays a large part in the diet.
Corn can be found in a huge number of spots. Most interestingly, it can be found in drinks! Chicha and Pinol are great examples of corn-derived beverages, but there are others available too.
Caribbean Flavors in Nicaraguan Cuisine
In Nicaragua, the culture is like a spectrum, changing as you walk across the beautiful landscape. On the Caribbean coast, a number of traditional Caribbean flavors, such as coconut, can be found.
Tropical Ingredients
While coconut certainly makes up a part of Nicaraguan cuisine, there are plenty of other tropical flavors up for grabs too. The thing which separates this use of tropical flavors from similar cuisines is the fact that they're paired so effortlessly with more traditional ingredients like onion and garlic.
Rice and beans are the basis of a Nicaraguan diet, at all meals. When eaten as part of breakfast, they're called Gallo Pinto. At lunch or dinner, however, they're a part of a 'Casado', which is the local equivalent of a cheap, filling meal of the day.
In Nicaragua, non-typical meat makes up a large part of the diet. For example, the tail, stomach, brain, and testicles of a cow (or bull) are all fairly commonplace ingredients when using beef.
Mondongo is a famously loathed Nicaraguan dish. It's perhaps the most famous colonial food and is one that the ex-pats seem to love hating.
Mondongo is a hearty soup, with tripe front and center. It is made from cow stomachs and hooves, which float in the bowl. The cooking process involves removing the nail from the hoof to get at the tender meat beneath. If you're so inclined, the meat is said to be very succulent, with a fine flavor.
Nicaraguan Drinks to try
One of the main things that Nicaragua is famous for is its amazing rum! The most popular brand is called Flor de Caña.
More traditional drinks like beer and wine can be found throughout the country. If you're dining in Nicaragua, consider going for Chilean wine to balance quality with cost. Beer is popular in Nicaragua, with the most common brands being Victoria and Toña.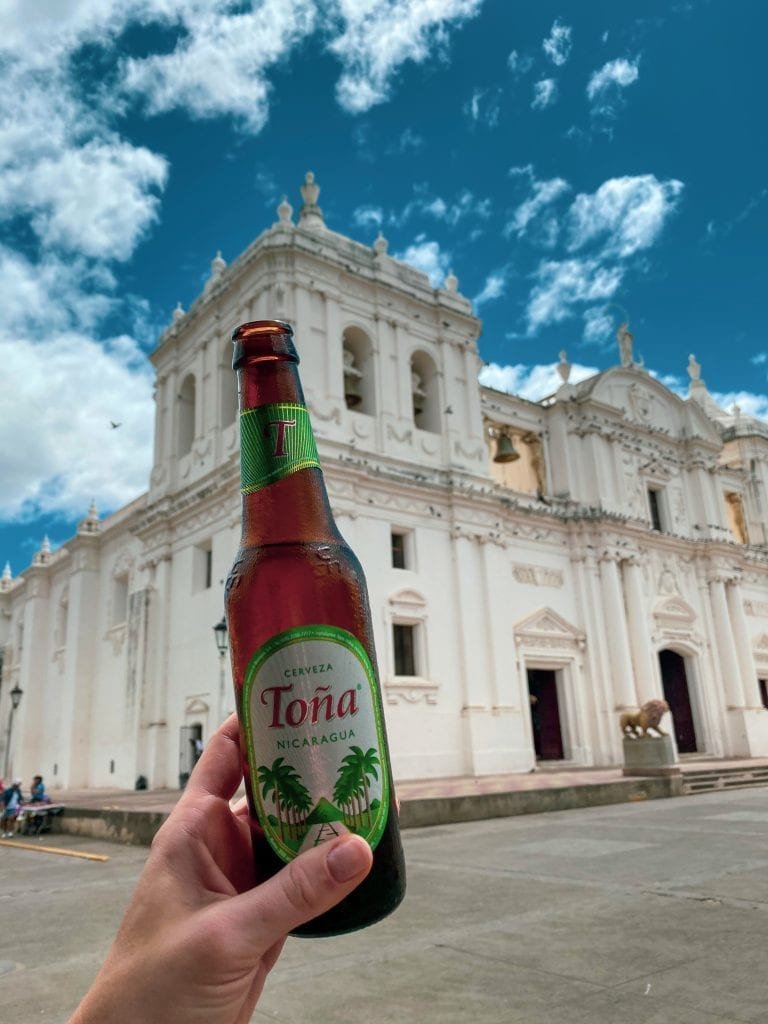 If you're looking for a non-alcoholic drink, we'd recommend pinol. It is water that has been flavored with toasted, ground corn – it's much better than it might sound. A variation on pinol is tiste, which is made with cocoa beans and corn.
The only spot where you might be disappointed is with coffee – locals tend to like it weak and sugary, meaning that it can be hard to track down a good cup. If you're looking for something to scratch the coffee itch, try seeking out a good hotel or restaurant, they're more likely to cater to American and European tastes.
For a hot drink that's a little different, try agua dulce – a warm drink made from melted sugar cane, and served on its own, or with milk or lemon.