6 Most Instagrammable Places In Cartagena + Photo Tips
Where to find the most instagrammable photo spots in Cartagena. The shortest answer is: everywhere. Cartagena is indeed a photographer's paradise.
It's a piece of cake to take the most fabulous and the most instagrammable photos in Cartagena. The colonial city is so vibrant, so unique in many ways- you don't even need to try hard to find the most picturesque locations.
Most Instagrammable Places in Cartagena
There are the 5 best areas in Cartagena to take the best photos:
San Diego neighborhood in the Walled City
Getsemani
Las Bovedas Artisan Market
Parque de las Flores
The Puerta del Reloj and the surroundings
Cafe del Mar (early morning)
But first, be aware of some challenges.
Challenges of taking photos in Cartagena
Lighting is the number one challenge when taking photos in Cartagena.
It might be one of the worst photography lighting in the world. Located close to the equator, Cartagena's sun is super bright and harsh.
Shortly after 9 am, the buildings get covered in shadows.
If you are taking photos is Cartagena, make sure you get in the streets as early as possible.
When is the best time to take photos in Cartagena?
7-9 am, or 4-7 pm, is the best time to take photos in Cartagena. In the afternoon the sun is harsh and the shadows are strong from 9-10 am until 4-5pm. You are not likely to take any good photos at that time.
Take photos before 9 am – before the sun boils everything.
And the heat?! It is so hot and humid in Cartagena that you'll be sweating buckets even if you start taking photos at 7 am!
You'll get the dewy look no matter how early or late you start photo shooting in Cartagena.
Most instagrammable photo spots in Cartagena in detail
Cafe del Mar
Cafe del Mar is one of the hottest sunsets spots in Cartagena. Refined locals and tourists sip cocktails at sunset and enjoy incredible ocean views at sunset. But in the morning, cafe del mar is an excellent spot for non-sunset but picture-perfect backgrounds.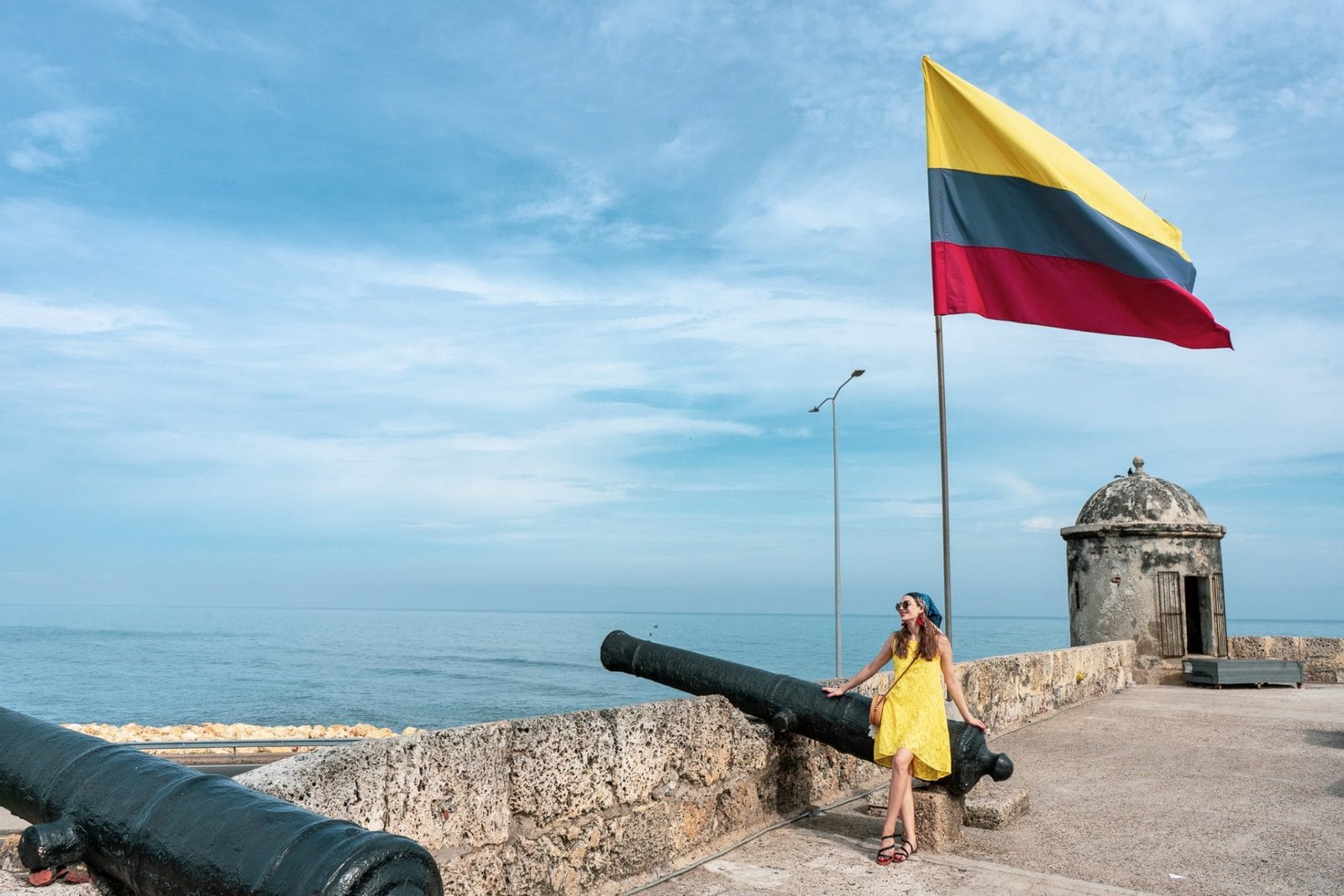 Parque de las Flores
This beautiful photo spot in Cartagena. And very underrated. While everyone is taking photos in Albaco Libros Cafe or Movich hotel rooftop… why not go to the Parque de las Flores to take the unique photos in Cartagena.
The vibrant, lively, fun market reflects the spirit of Cartagena . You will not find any tourists there. The vibe is super-local (and safe). The men are playing board games and the street food scene around the market is GREAT. Authenticity level? High. Better than anything you'll find in the central parts of the Walled City. 
Bonus: Street vendors won't harass you and the real locals are very nice.
Tip: Buy some flowers (about $1 or less for one giant tropical flower and use them as props. As well as the perfect decor for your hotel room.
This market might have been one of my best choices in Cartagena.
Walled city – The Puerta del Reloj
The entire walled city of Cartagena is a perfect backdrop for the most instagrammable photos. My advice is to start at The Puerta del Reloj or Hotel Charleston Santa Teresa.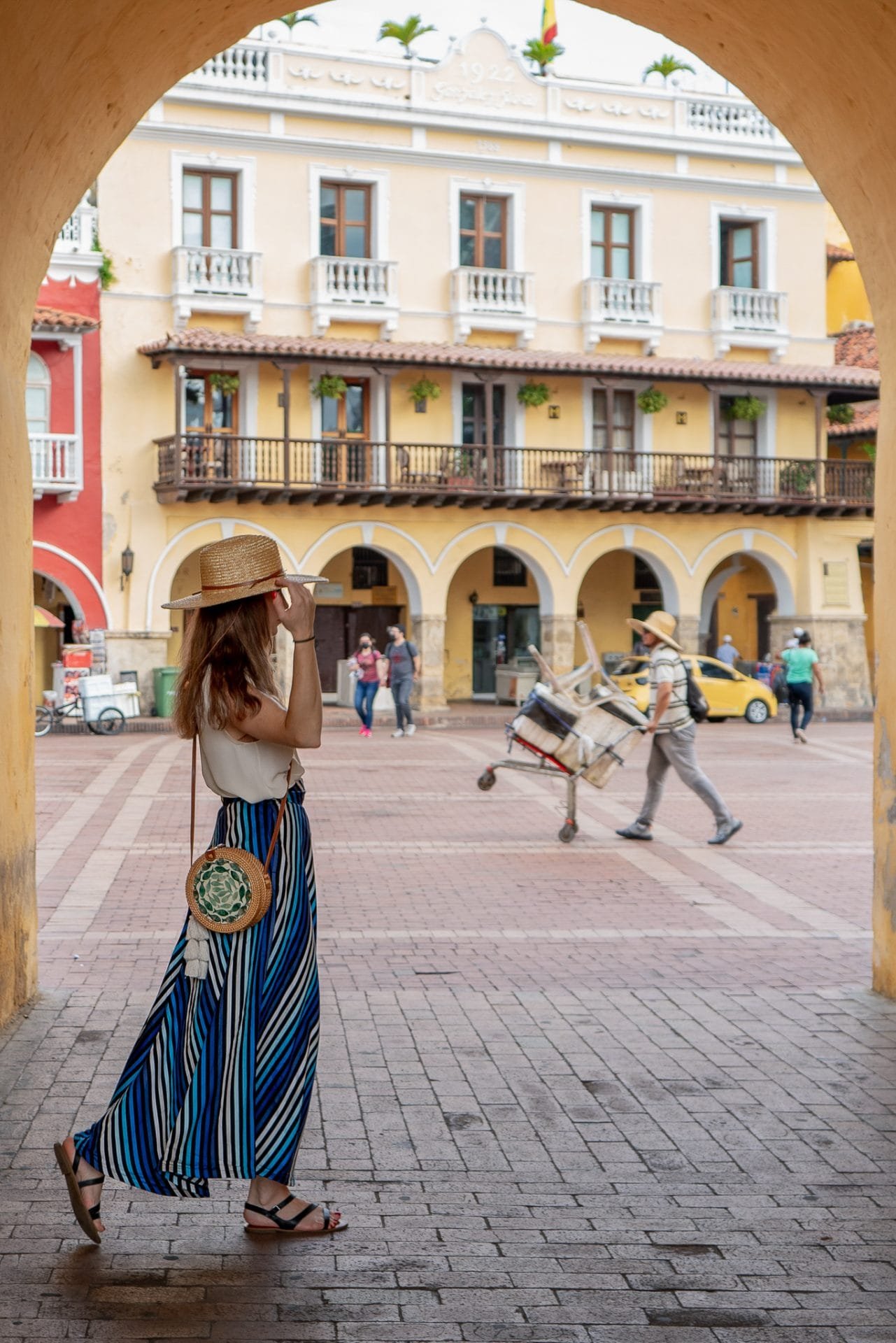 Every inch is picturesque, so walk and stop when you spot this one perfect wall or street for YOUR Cartagena photos. Cartagena has SO many picturesque corners! It's surprising to see pictures next to the exact same house.
San Diego neighborhood
Ask any photographer in Cartagena: "What's the most instagrammable place in Cartagena" and the answer will be: 
San Diego neighborhood.
San Diego is a very bohemian neighborhood. Featuring some of the best restaurants the colonial city has to offer. As well as the most beautiful plazas and squares, hotels, and streets.
San Diego area is also a convenient location. If you are very short on time and can't walk around the entire city in search of the most instagrammable spots.
Head straight to the San Diego area. The whole area is super instagrammable. You'll take all the must-have photos there.
San Diego is much more chilled (and less crowded) than the Walled City center.
You'll find many street performers there (musicians, artists, and the famous Cartagena rappers)
Las Bovedas
Las Bovedas is a market set for local artists and artisans, consisting of over 20 shops. And yet another super instagrammable place in Cartagena! Las Bovedas artisan market sits right next to the main commercial street, Calle Mayor. Each store is located in Civil War's time dungeons. 
During the day, it's a vibrant area for lifestyle photos.Early morning is a STUNNING spot to take the most unique photos in Cartagena. Check out these phenomenal shadows at Las Bovedas here: 
For the one, the most iconic photo of Cartagena (the narrow street with a tower on the back)
Getsemani
Callejón Angosto and Calle de la Magdalena –
This is the famous umbrella street – actually, two umbrella streets.
Getsemani murals, colorful walls, street vendors – everything in Getsemani is picture-perfect. So, just get there and find your favorite photo spots!
Calle de Don Sancho/Calle de la Iglesia
Get there as early as you can, or start your photoshoot there. It's not a pedestrian street, and in the rush hour (or pretty much at 9) .There is endless car traffic.
You won't be able to get in the spot to take this iconic photo. This is probably the most instagrammable place in Cartagena. I had to chase a photo opportunity for 2 days.
Other helpful tips for taking photos in Cartagena
Bring tissues
You'll be sweating buckets. And the sweat will drip down from your face and neck (I wouldn't have believed it if I hadn't experienced it). Pat your face with a tissue.
Take a wide-angle lens
This way, you'll be able to capture Cartagena's narrow picturesque streets in the best way. Cartagena's buildings are not tall, 2 story max. But it is very much worth it to capture the vibrant authenticity of the colonial streets in full! Wide angle lens makes any place more instagrammable.
iPhone wide-angle lens will work too!
Accessories
Wear a hat, headscarves or headband. Your hair will not look great even with the best blow dry. Plus, accessories will make your photos pop and look perfect in Cartagena settings!
Buy Props
You can get a coconut or a pineapple for $1 or two. Flowers on the flower market are less than $1.
All these (icy coconut water is so perfect in the boiling heat!) are super practical and great props if you want to take unique photos in Cartagena.