Best Things to do in Cartagena
Cartagena is a relatively new destination on the travel map.
Today, a renovated, safe, and vibrant city attracts travelers worldwide.
Cartagena's narrow cobbled streets and saturated colors of colonial houses give this Colombian city a magical ambiance. It is one of the few colonial cities with hundreds of grand buildings in every color and condition- from roofless structures to luxury hotels.
Whether you are looking for a long weekend itinerary in Cartagena or spending a day in this colonial paradise, these tips will give you some ideas of the best things to do in Cartagena.
What are the best things to do in Cartagena?

Let me give you some ideas of the must-do activities in Cartagena, Colombia.
When is the best time to visit Cartagena?
The high season for visiting Cartagena is from mid-December to mid-April.The weather is dry and cool, 85-90 degrees.
What are the best things to do in Cartagena?
Let me give you some ideas of the must-do activities in Cartagena, Colombia.
Must-do in Cartagena: Explore Colonial Architecture
Get out early. As early as you can – before the sun broils the streets.
Spanish colonial houses – casonas – is the main attraction of Cartagena.
The palette is incredible.
From deep blue, ochre, rust orange, burnt orange, and dusty rose to sky blue, mustard yellow and deep green.
Cartagena is one of the most vibrant and colorful cities in the world. And the saturated palette you encounter when you wander the narrow cobblestone lanes is the best proof.

The exteriors of pretty much each house have beautiful wooden balconies, high ceilings and courtyards.
There are a lot of sidewalk arcades by each of the many plazas.
Shopping in Cartagena

Cartagena is a fantastic shopping destination!
Cartagena's best handicraft stores are worth checking out too.
The Bóvedas shops – for the best handicraft artisan souvenirs and art.
For higher-end souvenirs, check out la Serrezuela mall.
The mall is located right in the walled city. It is full of air-conditioned boutiques, local and international brands, a food court and a rooftop terrace!
Castillo de San Felipe
Once in Cartagena, you don't really need to leave the old city. All the attractions and the soul of it are concentrated within its walls. However, the enormous Castillo de San Felipe is the exception.
Castillo de San Felipe is a massive fort built over the 17th and 18th centuries. Its primary purpose was defense.
The fortress contains a whole underground city made of hidden tunnels. You don't need a guide to explore Castillo de San Felipe. A taxi from the old city is just a few dollars.
Fresh Fruit Break
It's hard not to eat the fruit in Cartagena. Fruit vendors are on every corner. Coconut water is cheaper than regular water. And with Cartagena heat and humidity, you need to stay hydrated. Palenque women, the original fruit vendors, only carry their fruit baskets (with some very not fresh items!) only for photos.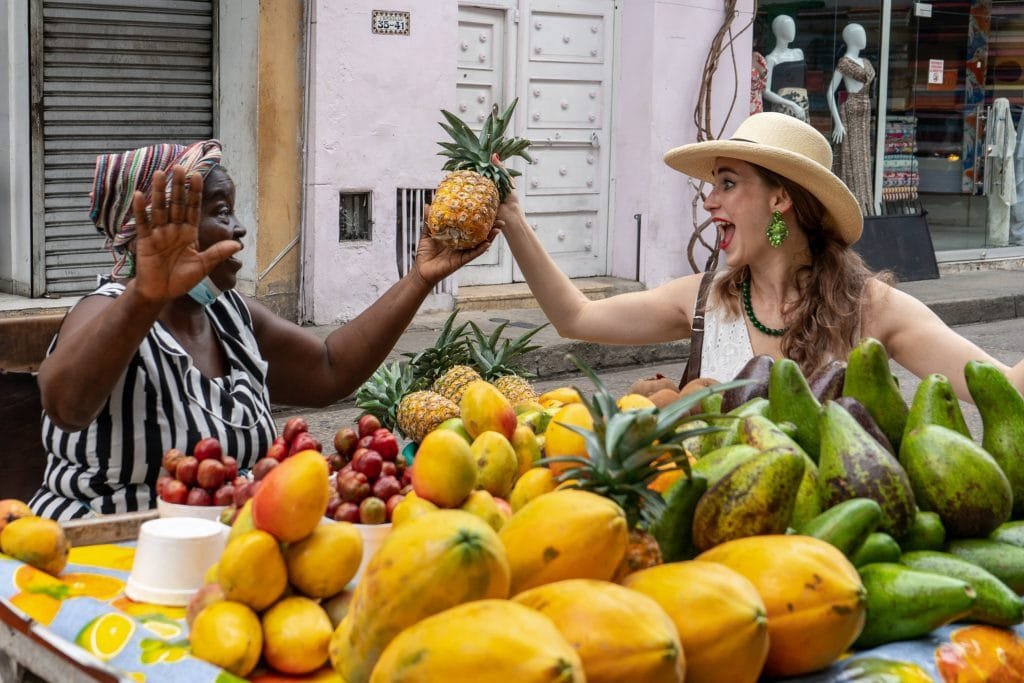 guayabas
papayas
mangos
guamas
bananas
nispero – a fruit that looks like kiwi but tastes like pear
coconuts
ciruelas
Horse Carriage Tour

I was surprised that Cartagena's horses look very healthy, groomed, and even happy.
Even though this city is made for walking, one of the best ways to see Cartagena is from a horse carriage.
The Good Beach
Bocagrande beach is alright. Why not skip the mediocre and shoot for the exceptional?
Take a lancha (a fast motorboat)to Isla Barú and go to Playa Blanca. It looks like paradise: turquoise waters and white sand backed by mangroves.
The ride takes approximately 40-45 minutes. It goes by authentic fishing villages, the mysterious statue of La Virgen del Carmen at the entry to Cartagena's port and the 18th-century fortress of San José de Bocachica.
Many tour boats to Isla Barú continue the journey to the Islas del Rosario.
Islas del Rosario is another picture-perfect beach destination.
It consists of several islands. Some even have the ruins of Pablo Escobar's glitzy holiday homes.
Street food – Cartagena Fritos
Street food and foodie scene in Cartagena is a world of its own!
Cartagena's Fritos aka Cartagena fried street food can be found anywhere in the Old City.
ost popular snacks are:
arepas de huevo (a disk of fried corn masa, cut and fried again with an egg inside it)
arepas de queso
carimañola de queso (cheese-filled yucca)
papas rellenas (cheese-stuffed potato balls)
Also known as a hangover cure, these street fritters are a must- try in Cartagena.
Sunset in Cartagena
The watchtower square is the place to be. It comes alive every day before the sunset.
If you are a sunset lover, there are plenty of terraces right around this square. Busy and packed with tourists but still very much worth it!
The best ones are :
Movich Hotel
Santa Catalina
Cafe del Mar (overcrowded and super popular)
Castillo de San Felipe
Sibarita Express Sunset Cruise
The Townhouse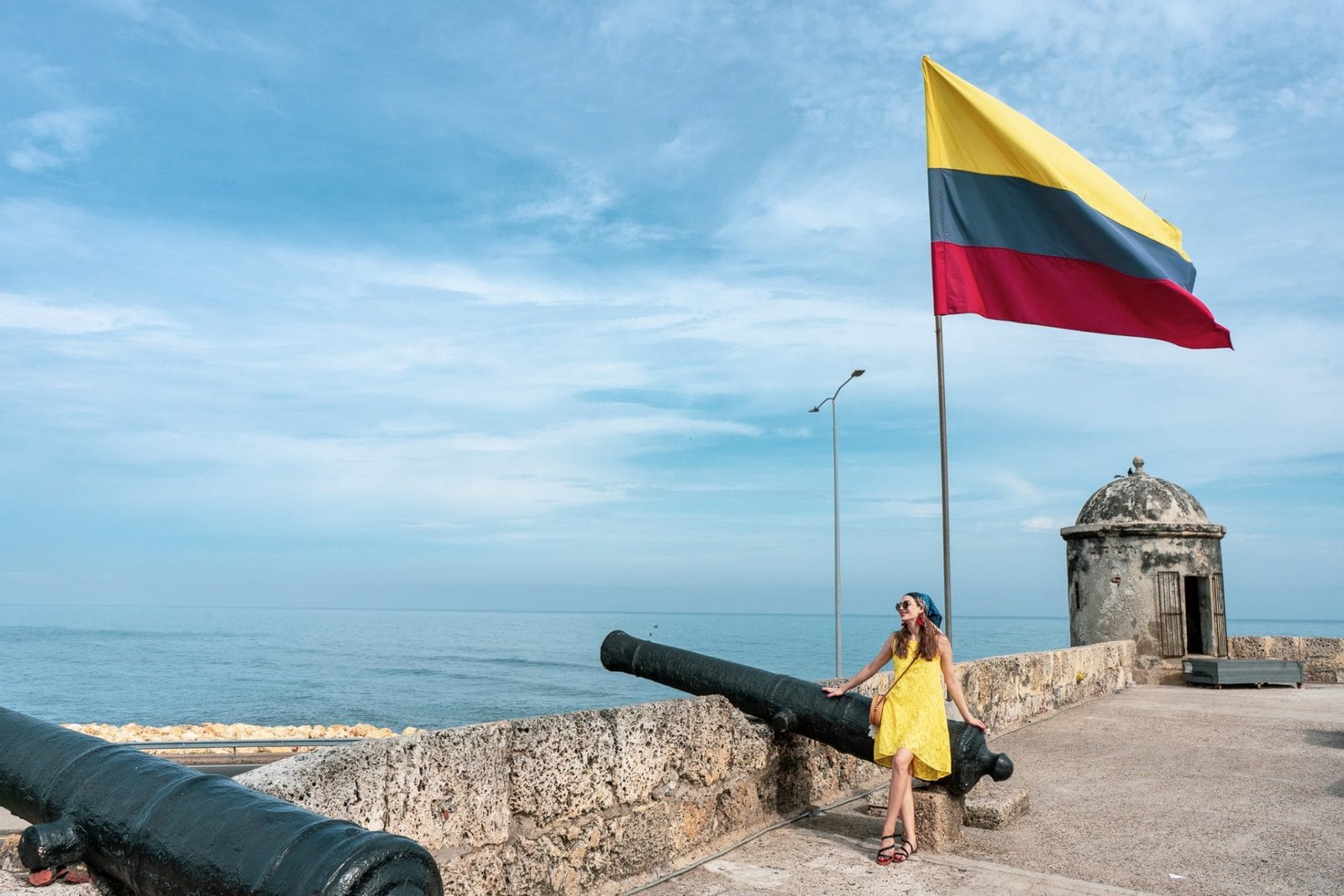 After the sunset, walk towards Puerta del Reloj. Puerta del Reloj is the clock tower gate that marks Cartagena's historic center entrance.
Visit Getsemaní
Getsemani, originally the slave's neighborhood and today one of the must-visit parts of Cartagena. Getsemani is as vibrant as the walled city, but differently. Covered with murals, flowers and saturated walls, Getsemani is also a great place to take photos.
The Instagram- famous umbrella street is located in Getsemani as well.
In fact, there are two umbrella streets!
Getsemani is definitely the liveliest neighborhood in Cartagena and one of the funnest activities you can do in Cartagena.
Getsemani comes to life after the sunset as well. And there is hardly a better place for people watching!
Art Galleries

Check out some modern-art galleries in Cartagena. NH Galería is an excellent example of a small museum with a phenomenal collection of Colombian artists. As well as artists from all over the world.
Sweet stop
What can be better than ice cream on a steamy tropical afternoon?
The artisan ice cream!
Stop at La Paletteria for the best artisan blades made from exclusive local ingredients.
What to try in La Paleteria:
yogurt ice pops
coconut and Milo
chocolate-malt drink – a hit among the locals
Eat Ceviche in Cartagena
Ceviche has been a food staple in Peru, Ecuador, Colombia, Chile and Mexico.
It basically consists of marinating shellfish and tiny pieces of fish fillets in citrus juice and flavoring them with chiles, onion and local herbs. Each country has its own traditional acidic marinade for ceviche.
The citrus marinade transforms the fish, basically "cooking" it. It turns out lightly picked but still raw!
The best places to tray ceviche in Cartageny are:
the iconic La Cevicheria
Cancha Ceviche
Gran Inka
Every restaurant will have it on the menu.
Cartagena's Viewpoint

Take a cab to La Popa (1607). La Popa is a beautiful white-washed monastery located at Cartagena's highest hill.
Sunsets from this hill are breathtaking.
This is a perfect activity for a first-time visitor.
Take Photos!
Cartagena is one of the world's best photoshoot destinations. With the colorful colonial buildings, vibrant streets and lots of blooming, you have to best photos. Check out these best photos spots in Cartagena for the ultimate photo locations.