Buenos Aires to Colonia del Sacramento : A Perfect Day Trip
If you're looking for a change of scenery from the hustle and bustle of Buenos Aires, why not do a day trip and take in the beauty of Colonia del Sacramento? The best and most fun way to get there is to take the Buquebus ferry from Buenos Aires. You'll be able to get beautiful views of the Rio de la Plata during your jaunt across the river.
From Buenos Aires to Colonia : A Perfect Day Trip

Once you arrive in Colonia, don't miss out on its historical sites, like Porton de Campo and Cuartel Real. Additionally, consider partaking in some of Uruguay's delicious local bites at one of the eateries as well. With just one day dedicated to this special place, make sure you craft out your itinerary wisely!
All it takes is a mere day of your life to appreciate this unique town and its multifaceted history and an interesting blend of Portuguese and Spanish culture.
Colonia del Sacramento: That bit of histosty
Colonia del Sacramento is a relic, bursting with history and a colorful past. From its founding by Portugal in 1680 to the various powerplays for control of the area, this Uruguayan town has seen it all! Located on the north shore of Rio de le Plata, tourists today enjoy this UNESCO World Heritage site as a tranquil retreat – though the Barrio Histórico has seen war, famine and political drama pass through its doors over centuries.
Colonia del Sacramento stands on the brink of two great rivers, like a sentinel poised between two mighty sides. For centuries, her allegiances teeter-tottered between Portugal and Spain in a deadly serious game of tug-of-war that would eventually engulf most of South America. As it turned out, the first to yank hardest was the United Kingdom of Portugal, Brazil and the Algarves, who ultimately incorporated Colonia into their realm. Not until much later did she finally winced free from Portuguese shackles when Uruguay became an independent state.
Why you should visit Colonia del Sacramento from Buenos Aires
Why not visit two countries in one trip? Why not ditch Buenos Aires for a day and head down to Colonia del Sacramento, the oldest city in Uruguay? From its sun-packed streets and weathered facades to its winding cobblestone alleys fringed with stunning views of the Rio de La Plata, this UNESCO World Heritage Site is an idyllic place for an afternoon day trip. Seriously, when would you get another chance to experience such jaw-dropping beauty so close to Buenos Aires? So leave the hustle of BA behind and take a quick ferry ride over to beautiful Colonia del Sacramento – you won't regret it.
Getting to Colonia del Sacramento:
Unlike Retiro's bustle, docking in Colonia feels like coming to a sleepy little village. As you approach its shores, you're welcomed by a quaintly familiar sight: the white-washed lighthouse standing against the backdrop of Rio de La Plata and the crumbling old town walls chiming in enigmatically.
With locals just calmly puttering around on their bicycles, it's almost too serene for comfort – yet that makes the overall arrival experience so special. And if that isn't enough to make your heart skip a beat, here's an added bonus: port is only a few blocks away from the old section of Colonia.
Things to do in Colonia del Sacramento
With its picturesque cobbled streets and beautiful colonial architecture, Colonia del Sacramento is one of those places that travelers simply can't miss! Its historical center has countless attractions worth exploring, enough to fill up at least a couple of hours – from historic churches and museums to vibrant nightlife hotspots and delectable culinary experiences.
So don't rush your visit here and make sure you check out the most famous sights like the iconic Puerta de la Ciudad and the Basilica del Santísimo Sacramento.
People Watch and shop at Plaza de Armas
Of all things to do in Colonia del Sacramento, one cannot miss a trip to the lively Plaza de Armas! Squeezed between Uruguay's oldest church – Basilica del Santisimo Sacramento – and numerous handicraft stalls, this charming square is the true heart of the historical center.
From here, you can people-watch, wander around admiring the views, or simply relax in the shade while munching on some local snacks.
Street of Sighs
One of the things to do in Colonia del Sacramento is to explore the picturesque Calle de Los Suspiros – more famously known as Street of Sighs. Visiting this iconic street – lined with colonial houses from the 17th century – is perhaps one of the best reasons to visit Colonia.
The origin of its name has been a subject of debate. Locals say it's simply because it was the first stop for sailors after a long journey at sea – and trust us, having seen their women awaiting them here, no wonder why this street got its name!
Take Photos
Colonia del Sacramento is the perfect destination for photography-lovers! From forgotten, abandoned streets to tree-shaded squares, get ready to explore things to do in Colonia del Sacramento in full voyeuristic glory.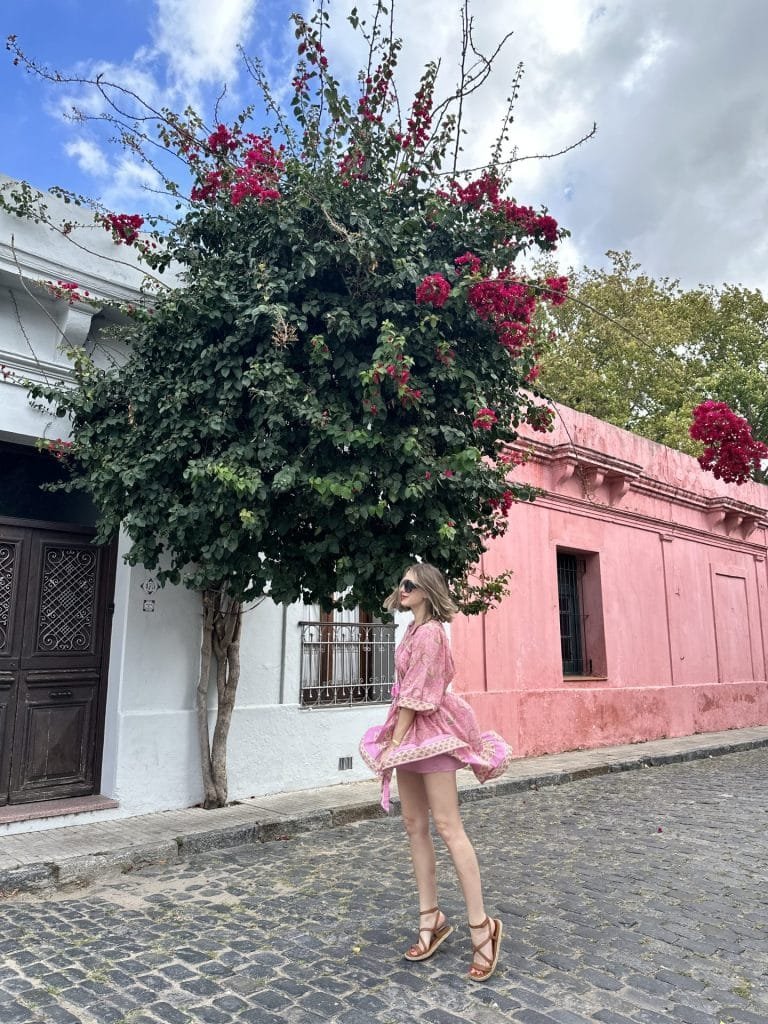 With tons of charming shops and delicious dining options perched around the marina, you're sure to fill your camera roll with stunning shots. So don't be afraid to take your time in this town, wandering around narrow streets and tiny squares, camera held high—you never know what hidden gem you will discover!
Make an entrance at The Old Town Gate
Spanning a meek alcove near the Plaza de Armas of Colonia del Sacramento, the ancient Old Town Gate stands tall and strong. Commissioned by Don Manuel Lobo in the 18th century, this huge entrance was once used to defend against invasion.
Nowadays, it's mostly used by tourists looking for things to do among Colonia del Sacramento's breathtaking landscape!
Explore the cobbled streets.
This small town is so picturesque one might feel like they stepped into a painting. The cobblestone streets, colonial houses and beautiful views make for an experience like no other. Only the most determined explorer will find many gems hidden amongst the cobblestones.
Visit Colonia del Sacramento's museums
As things to do in Colonia del Sacramento go, visiting the museums is definitely worth a shot. Don't worry if you're not into things that last too long – they may not be huge. Still, they're all super close to each other. And since the ticket price is quite reasonable, you can always get a master ticket that allows access to all of them without breaking your wallet!
Plus, there's something for everyone: looking for a history lesson? Head over to the Spanish or Portuguese Museum. Fancy some knowledge on things of a more ancient sort? You might find what you're looking for in the Paleontology Museum.
Drink Mate
One of the things to do in Colonia del Sacramento is to enjoy the truly unique drink mate! Mate culture is a long-standing tradition in South American countries like Argentina, Uruguay, Paraguay and Brazil, and trying the national drink has become mandatory if traveling around these regions. Colonia del Sacramento offers plenty of cozy & charming little spots where you can relax on an outdoor seating area and enjoy a delicious cup of hot mate or terere (the cold version).
Beach time
Colonia del Sacramento is a great place to lose yourself in history, and even better when you have the beach right at your fingertips. If things are getting too serious, it might be time to leave the old buildings behind and experience things to do in the town that won't break your budget. Have a picnic on the sandy beach or dip in Rio de la Plata after sunbathing on a bright summer day – whatever you choose, don't forget your swimsuit and sunscreen! The beaches here are surprisingly clean and well-kept, so no worries if taking a plunge into the river isn't exactly your cup of tea.
One of the things to do while in Colonia del Sacramento is to climb El Faro, an old white lighthouse with ancient ruins as its foundation. Although it may seem peculiar, the light atop this beacon has safely guided countless ships back to port during nighttime hours. Upwards of 100 steps await your climb but the reward is far worth the effort; a magnificent view awaits you and all it costs is $1 – great things come in small packages!
San Francisco Convent & The Lighthouse
All that remains are some old and half-destroyed walls to show the extraordinary structure it once was. According to local records, it was destroyed by fire at the turn of the 1700s and never rebuilt – though a lighthouse has been erected on top of its ruins.
Try Chivito – Uruguay National Dish
If you're visiting Colonia del Sacrament on your day trip from Buenos Aires, make sure to try the traditional Uruguay dish – chivito. In fact, it's so popular, it's called the national dish of Uruguay. It's not just a sandwich, oh no – this is your chance to indulge in an outrageously tasty tower of all your favorite things stuffed between two pieces of bread.
Beef steak? Check! Melted cheese? Deliciously gooey mozzarella? Of course. Tomatoes and pickles for crunch? There'll be plenty of that! Plus eggs for added protein and mayonnaise for creaminess. Oh, and don't forget the fries – can you really call it a meal without them?
How to get to Colonia del Sacramento from Buenos Aires
Looking for the best way to make the trip from Buenos Aires to Colonia? The decision is easy – hop on a ferry! Not only is it the most economical option, but getting a ticket in advance can save you hassle if you travel there and back in one day. Buquebus, Seacat, and Colonia Express all offer similar schedules, so get ready to go maritime as soon as you snag your ticket. Prices vary depending on the time of day and season, whether it's a one-way or roundtrip ticket, so shop around until you find just the right deal for your sea voyage.
Visiting Colonia del Sacramento on your day trip from Buenos Aires is EASY!
Visiting Colonia del Sacramento on your day trip from Buenos Aires couldn't be easier! Despite the extra steps of border control and customs, you will find it to be one of the quickest and most painless processes – it is without a doubt the fastest and most straightforward I have ever encountered.
The ferry takes just 1 hour 15 minutes to get from Argentina to Uruguay, but make sure you arrive at least an hour prior to departure so that you can go through security and your passport can be checked. You'll probably be out of customs before you even know it!
The ferry has duty free, cafe and comfortable seats. As well as the views – you won't notice an hour passing by.
Colonia del Sacramento is a must-visit from Buenos Aires
From the second you arrive in Colonia del Sacramento, you'll be charmed by its quaint, old-world vibes. This dreamy colonial town is a UNESCO World Heritage site that will fascinate and captivate. With its winding cobblestone alleys leading to the sea, sun-dried facades, and slow-paced atmosphere, it's sure to give visitors from bustling Buenos Aires the break they deserve. Take a relaxing day trip from Argentina and get two countries for one vacation—what could be better?
Is Colonia del Sacramento touristy?
Surprisingly enough, the whole area is not quite as touristed up as some people might expect – even though I met a few foreigners there – most of the people were from the Argentine capital looking for some peace and quiet. So I would say it's "local tourism" for the most part.