One Day in Camargue: Gypsies, Horses,Flamingos and Food
The Camargue and Les Saintes-Maries are an improbable blend of beach culture, delicate ecology and French cowboy culture, seasoned with a strong gypsy presence. The Camargue is a large wetland area in southern France, home to herds of wild horses and flocks of flamingos. The les Saintes-Maries are two small islands off the coast of the Camargue, accessible only by boat.
Where is Camargue?
The Camargue is a region in southeastern France that is known for its wild horses, bulls, and flamingos. It is also the setting for the Romani people's annual pilgrimage to the Saint Sarah shrine.
The Camargue is a popular tourist destination for Europeans, but fewer Americans know about it. This is part of its charm. The majority of tourists are Europeans and few people speak English. Yet most are delighted to meet Americans and charmed by any effort to communicate in French.
What is Camargue famous for?
The beaches here are beautiful, but the real attraction is the French cowboy culture. These 'cowboys' are called gardians, and they still traditionally herd cattle, on horseback. The gypsies also play an important role in this unique community. They are known for their colourful dress and their skill in horsemanship. The Camargue and les Saintes-Maries are a fascinating blend of cultures, well worth a visit for anyone interested in something a little bit different.
Explore Camargue on a horse
Taking a horseback ride in Camargue is an unforgettable experience that summons the spirit of the cowboy culture of France. If you're looking for a unique, and perhaps slightly wild, adventure – this is definitely it. Not only will you be beholding some of the most beautiful landscapes, but you'll also get to actually interact with resilient Camargue horses.
These small equines are known for their calm nature, making them ideal for riders of all experience levels! So saddle up and just go – after all, when in Camargue, why not take advantage of riding a horse like the local cowboys?
Pro Tip:
Whether you decide to explore on a horseback, a bicycle or on foot – just make sure to bring insect repellant along with you. Believe us, the mosquitos in Camargue aren't playing any jokes; they almost seem to bite right through your clothes too!
The Camargue mosquitos are a menacing force to be reckoned with! You'll have to battle your way through the wind-less summer air, especially at sunrise and sundown, but don't let this deter you – the breathtaking landscapes of the marshes and its unique, "end of the world" atmosphere make it all worth it. As they say, these inconvenient blood thirsty bugs actually help keep mass tourism away, so at least there's that!
Hit the beach
Forget the sun tanning oil– get a Mediterranean glow by spending some time at the beach! INothing beats being just minutes from the city center, so you can take a walk to dip your toes in turquoise waters or go people watching on La Promenade!
And better yet– the beach is just a 5-minute walk from the Old Town/City Center. Whether you soak up the sun in the waves or meander along the seaside, a visit to the beach should definitely be part of your day trip to Marie de la Mer.
Eat
Don't forget to bring your appetite! The local cuisine is sure to tantalize your taste buds. Try the hearty Gardiane de Taureau, otherwise known as Provençale beef stew – made with irresistibly tender free-range beef and fragrant herbs of the region.
The telline has a unique pearly sheen and come in the distinct hues of pale yellow and violet inside. Once cooked, they make an ideal accompaniment to local white wines from this lovely Mediterranean region where they are usually fished from estuaries mixing salt and fresh water – making them both tasty and healthy!
The preparation is incredibly simple yet utterly delicious: all it takes is some freshly chopped parsley, minced garlic and butter – otherwise known as persillade sauce – to transform these little morsels into a mediterranean delight!
Take a stab at their celebrated paella – it doesn't get anymore authentic than that! Their use of salt, seafood, and rice give it an unbeatable flavor and texture. Prepared by the locals themselves, there's no way you can go wrong in Camargue!
Black Sara
Who is Black Sara?
It seems the mystery of Black Sara, patron saint of Gypsies, is here to stay! Blessed with a colourful personality and dressed in all her jewels and multicoloured robes, her statue stands proudly at the Church of Saintes-Maries-de-la-Mer. Sara has been revered by the Gypsy community for many centuries now, and her fame has even spread throughout the world. While no one can seem to get to the bottom of this mysterious figure's history, it's clear that she will remain a symbol for Gypsies for generations to come.
Gypsy pilgrimage to Saintes-Maries-de-la-Mer
Every year, the Gypsies make a pilgrimage to Saintes-Maries-de-la-Mer to honor their appointed protector, Sara-la-Kali (which also conveniently translates as 'black gypsy'), as well as the two Marys. Apparently legend of her began when King René ordered an exhumation of the Holy bones and found a third female skeleton alongside them. This mysterious woman was deemed of "inferior dignity" and unceremoniously tucked away into a wooden box… but to the Gypsies, she represented something much more than just a body; a representation of faith and camaraderie that lives on until this day.
So, every 24th of May, all eyes turn towards Sara la Noire in thanks for all that she is said to represent.
The Legend
In ages past, the Legend of Black Sara has been whispered across every corner of the Mediterranean. As it goes, in the very moments following Jesus's death, Mary Salome and Mary Jacobi/Cleopas, without so much as a sailboat to call their own, set off together in search of refuge. Making their way across the sea, they eventually reached the south coast of Gaul and found safety there. It is said that only those who followed their unyielding faith could even hope to make such an arduous pilgrim journey—and survive!
Les Saintes Maries de la Mer
Strategically placed between the Mediterranean Sea and the Rhône River Delta in the South of France, this small yet vibrant village is the capital of the Camargue region and overflows with authenticity. It is known for being the destination for an annual gypsy pilgrimage that takes place every May and October, where locals come together to celebrate their traditional costumes, music and customs.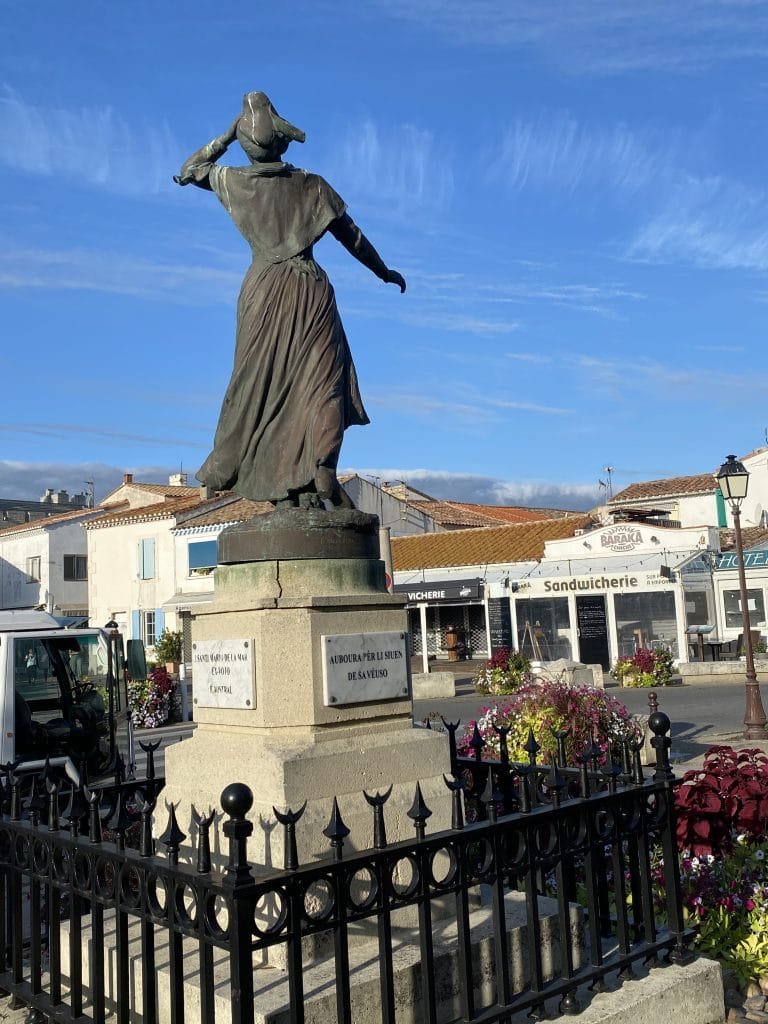 With its lively streets full of restaurants, boutiques and historical monuments, it's also a popular destination for tourists who want to experience a place filled with tradition while enjoying all the perks that come with having people from all over the world gather in one tiny village.
When is the best time to go to Camargue?
Les Saintes Maries de la Mer is a prime destination for summer fun and holiday cheer – that is if you don't mind working around the unique cultural traditions of the locals. For those looking for a more relaxed experience, late spring or fall are by far the best times to visit. While the streets are tranquil and beggar seabirds sing their songs in harmony, don't forget that everything shuts down on December 25th and January 1st during the holiday season.
And when May rolls around, expect a colorful festival featuring Romanies, Manouches, Tziganes, and Gitans; just keep in mind that not everyone will appreciate your witty sense of humor during this pilgrimage!
How to get to Les Saintes-Maries-de-la-Mer
Travelling to Les Saintes-Maries-de-la-Mer affords endless possibilities for exploration. If you wish to rent a car and drive from Hyeres, it is the most efficient solution. However, if you would prefer public transportation, there is an alternative. The nearest train station to Les Saintes is Arles. From there you will be able to take a bus that departs every three hours and takes 30 minutes to get to the villa.