Flapper Girl: Creating a Roaring 20s Makeup and Costume 
Halloween is my favorite holiday, but I'll be the first to admit that I'm pretty lazy when it comes to actually celebrate it. Is it really so much to ask for a Halloween costume that's both amazing and easy to put together with only an hour's notice? I get that my demands severely limit my options and also basically rule out clown makeup, bat makeup, and any Halloween makeup tutorials that are even remotely intense. But still, a girl can dream!
Halloween is the one time of year when you can really let your creative side shine- and there's no better way to do that than with a killer Halloween makeup look.
Halloween is the perfect time to channel your inner Flapper Girl. This classic get-up has got you covered on all things, old-school smokey eyes, thin eyebrows, and wine-stained red lips. Pair it with classic pearl earrings and a long necklace; you're good to go!
With a little bit of effort, you can transform yourself into a glamorous flapper straight out of the Roaring Twenties. And the best part is that this Halloween makeup tutorial is easy to follow and stunningly effective.
How to create a perfect flapper girl makeup
If you're looking to achieve the perfect flapper makeup look, follow these simple tips. First, begin by applying a brown eyeshadow across your entire lid.
Then, apply a kajal liner on your top lash line and carry it out through the crease of your eyelid. Use a makeup sponge or brush to carefully blend out the kajal so it becomes smokey and blends fully with the first layer of shadow.
Next, apply more of the brown shadow over the kajal liner, concentrating on the crease and outside corner of the lid. This will create the hazy, sultry look that's perfect for a flapper costume!
Finally, top off with your favorite mascara to complete the eyes. And don't forget the finishing touch – a red lipstick so deep you can't help but match your favorite red wine!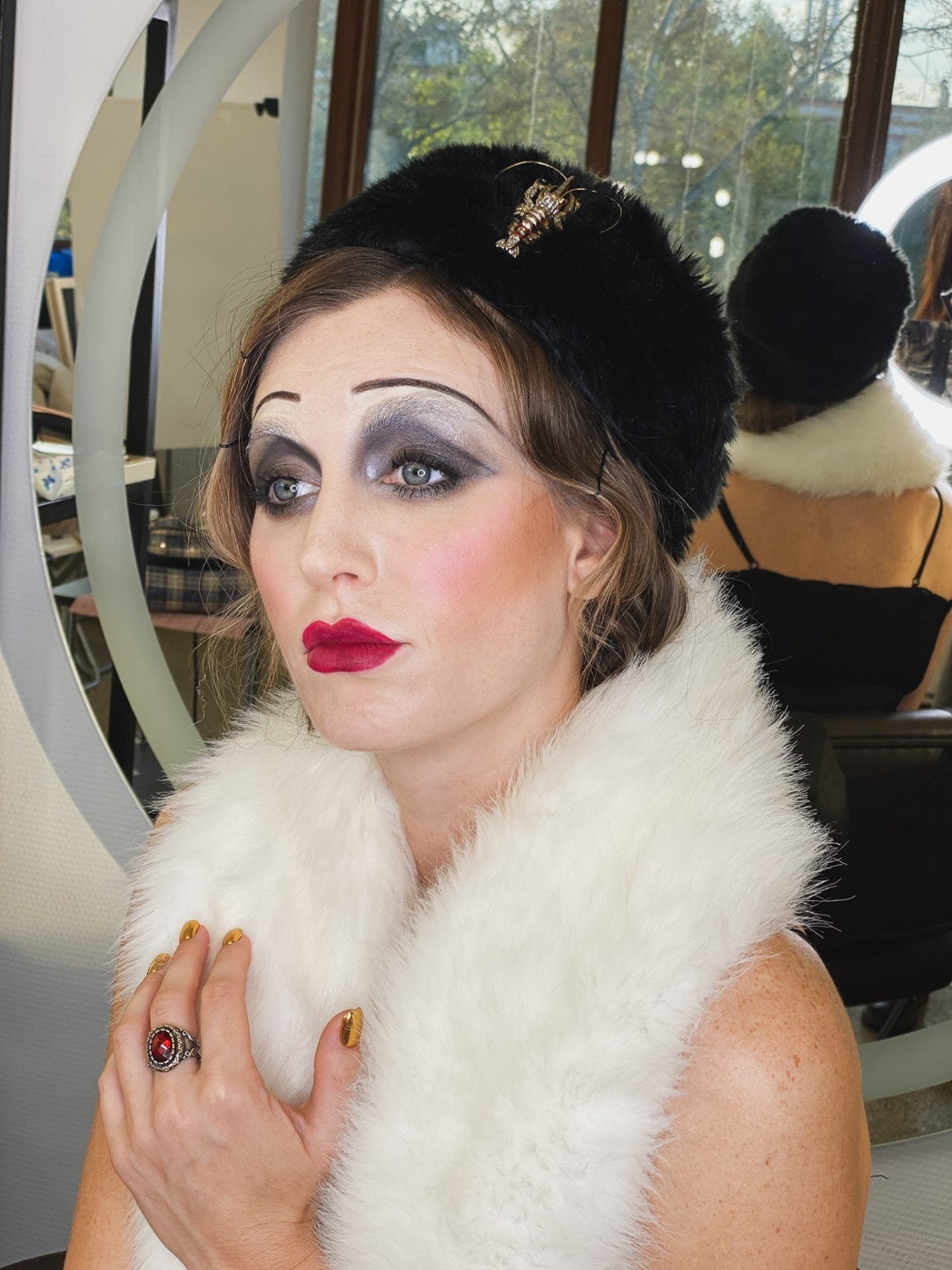 Roaring 20s style – the flapper girl style
Flappers were the fashionable young women of the Roaring Twenties who wore short skirts, bobbed their hair, listened to jazz, and flouted Prohibition laws. If you were a flapper, you were a free spirit who enjoyed a good time. And what better way to enjoy yourself than by wearing the latest fashions?
Flapper fashion was all about liberated style. These bright young things wore loose but glamorous Roaring 20s-style clothing that allowed them to move freely and dance the night away. Their fashion choices were a rebellion against the restrictive clothing of the previous generations.
Flapper girl style
Flapper girls were known for their unique sense of style. During the day, they would dress in drop-waist dresses with a small belt or wide sash to accent the hip line instead of the waist.
Flat chests further enhanced the boyish flapper outfit. The evening brought out knee-length and longer fringe, beading, and sequin flapper dresses with rhinestone and feather headbands creating a fun and feminine flapper outfit.
DIY Flapper girl costume

If you're looking to flapper-ify yourself this Halloween, never fear! With a few simple items, you can easily put together a flapper costume at home. To start, grab an skirt and cut it into a fringe. Then, add some sequins or beads for extra sparkle.
For the top, look for something loose and flowy – a dress or tunic will do nicely. If you want to get really decked out, consider adding a headband with feathers or a long beaded necklace. And don't forget the shoes! A pair of heels or flats with straps will complete the look.
Flapper girl hairstyle
Ah, the flapper girl. She of the iconic bobbed haircut and signature style. A trendsetter of her time, the flapper girl was known for her fun-loving attitude and affinity for all things fashion. Even today, a century later, the flapper girl look is still coveted by many women. From her chic bobbed haircut to her bold makeup choices, the flapper girl was always ahead of the trend. And while her style may seem effortless, we all know that looking good takes work! So if you're feeling inspired by the flapper girl look, grab your hairbrush and your best friend and get ready to have some roaring fun!
How to create flapper girl hairstyle
The flapper girl hairstyle is a fun and easy way to add a touch of vintage glamour to your look.
Step One: Get your tools ready
You'll need a small comb, some bobby pins, and a strong hold hairspray.
Step Two: Prepare the hair – Start by creating side part on your preferred side of the head with a tail comb and apply heat protection spray.If time allows, set your hair in hot rollers or pin curls overnight so it'll be easier to work with.
Step Three: Tease – Starting at the roots near your part, backcomb each section of hair towards your scalp using a teasing comb. Be sure to focus on the sections of hair around your face since this is where you'll want most of the volume.
You can also add a little bit of volumizing mousse to dampen hair before you start teasing to help give it some grip. Once you've finished teasing all of your hair, smooth over the top layer with a boar bristle brush to help tame any flyaways.
Step Four: Pin It Up – Using your fingers or a comb, gather your hair into a low side ponytail at the nape of your neck and secure it with an elastic. Next, take small sections of hair and wrap them around your elastic, tucking the ends under and securing each piece with a bobby pin.
As you work your way up, be sure to leave out some face-framing pieces around the front of your head. Finish by misting your entire head with hairspray for extra hold.
And there you have it! The perfect flapper girl hairstyle that's sure to turn heads at your next Gatsby-themed party
The "Finger Wave" and "Faux Bob"
Short hair and fluid waves were unquestionably the height of fashion in this decade. The "Finger Wave" and "Faux Bob" were the most popular styles of the time and flapper girls often decorated their hair with fancy embellished hair pieces. Many hair accessories consisted of a band across the forehead finished with a pendant or broach on the side, sometimes even containing feathers and ornate jewels. It was not uncommon for flappers to do their hair to achieve the perfect look. However, all of their efforts paid off as they created some truly stunning hairstyles that are still memorable today.
"Faux Bob"
In the 1920s, flapper girls were all the rage. They were known for their shorter hairstyles and their willingness to flout convention. However, not all flapper girls could commit to the short bob look. For those ladies, there was the "tucked in" hairstyle. This look involved skilfully tucking the hair under and securing it with pins to give the illusion of a short wavy bob. This allowed these ladies to rock both long and short hairstyles, giving them the best of both worlds. The deep side part emphasised the volume on the top of the head, adding to the demureness of the style. So, if you're ever in doubt about which hairstyle to wear, just remember: you can always tuck it in!

The flapper girl hairstyle is a fun and easy way to add a touch of vintage glamour to your look.
To create this style:
Start by creating a neat, deep side part on your chosen side of the head.
Use a curling iron to create loose waves in your hair.
Once you have achieved the desired wave pattern, use a strong-hold hairspray to set your style in place.
Finger-comb your hair into place and you're ready to go!
Flapper girl shoes
Shoes in the 1920s went through a radical change. Before the 1920s, shoes were designed to be covered and not show much of the foot. This was due to the social norm at the time: legs and feet were not meant to be seen. However, flapper shoes in the 1920s defied this social norm. They were designed to be more open and expose more of the foot. This was done by having a low vamp (the part of the shoe that covers the toes) and a high cut (the part of the shoe that goes up the ankle). This exposed more of the foot and leg, which was considered to be scandalous at the time. While flapper shoes were not necessarily comfortable, they were seen as stylish and fashionable. evening shoes had either chunky Cuban heels or slender Spanish heels. Shoe designers exposed more of a girls foot too. Consequently, flapper shoes were a popular style of shoe in the 1920s.
Flapper girl shoes
Flapper shoes were simple and plain, and they were incredibly comfortable. They also had a bit of a heel, which was perfect for evening wear. Dressy shoes for flappers typically had either chunky Cuban heels or slender Spanish heels. And, of course, flapper shoes exposed more of a woman's foot than ever before. In the 1920s, it was all about the flapper shoe.
Mary Janes
The flapper shoe was all the rage in the 1920s, and it's no wonder why. This low-heeled shoe with a single strap across the vamp was both comfortable and stylish, perfect for evening dancing parties. Celebrities like Louise Brooks loved them, and women everywhere wanted a pair. Flapper shoes were available in a variety of colors and materials, from simple black or brown leather to more flashy sequined or beaded styles