What to See in Granada, Nicaragua
How fat is Granada from Managua,Nicaragua
Granada is only an hour's drive to the south from Managua.
Visitors to Nicaragua usually arrive at the Managua airport. Unfortunately, Managua, being destroyed by the earthquake in 1972, still among the most unattractive cities in the hemisphere, has very little to offer. 
Granada Nicaragua History
Granada, founded in 1524 and regarded as one of the Americas' oldest cities, has developed into a marvelously satisfying destination. Mansions and churches have been renovated and repainted in soft pastel colors, polished statues, and new restaurants and hotels have emerged in the area.
Granada is Nicaragua's oldest colonial city and a persistent competitor of Leon. There are more brightly colored houses, tiled roofs, and ancient churches. 
Granada's residential houses have the same majestic appearance as during the Spanish conquests: enfilades of pillars and gardens. The fronts of houses have been renovated, the streets are not dirty and tidy. If you get lost in any of the streets, you will think you are wandering into an old European village. It will take a day to see the city, but you should stay in Granada for at least three days if you want to see the surrounding areas.
Granada was established in 1524 by the Spanish explorer Francisco Hernández de Córdoba on the banks of Cocibolca (Lago Nicaragua), an 87-mile-long freshwater lake connected to the Caribbean Sea by the San Juan River.
Is it safe to travel to Granada, Nicaragua?
Granada is relatively safe.Compared to the rest of the country, few reports of thefts and assaults have kept tourists away from a few parts of Central America.
Overall, if you practice common sense, it is safe indeed. Granada is very chilled.People sit on benches near the bandstand in the square. Eating the snacks and sipping drinks purchased from pushcart sellers.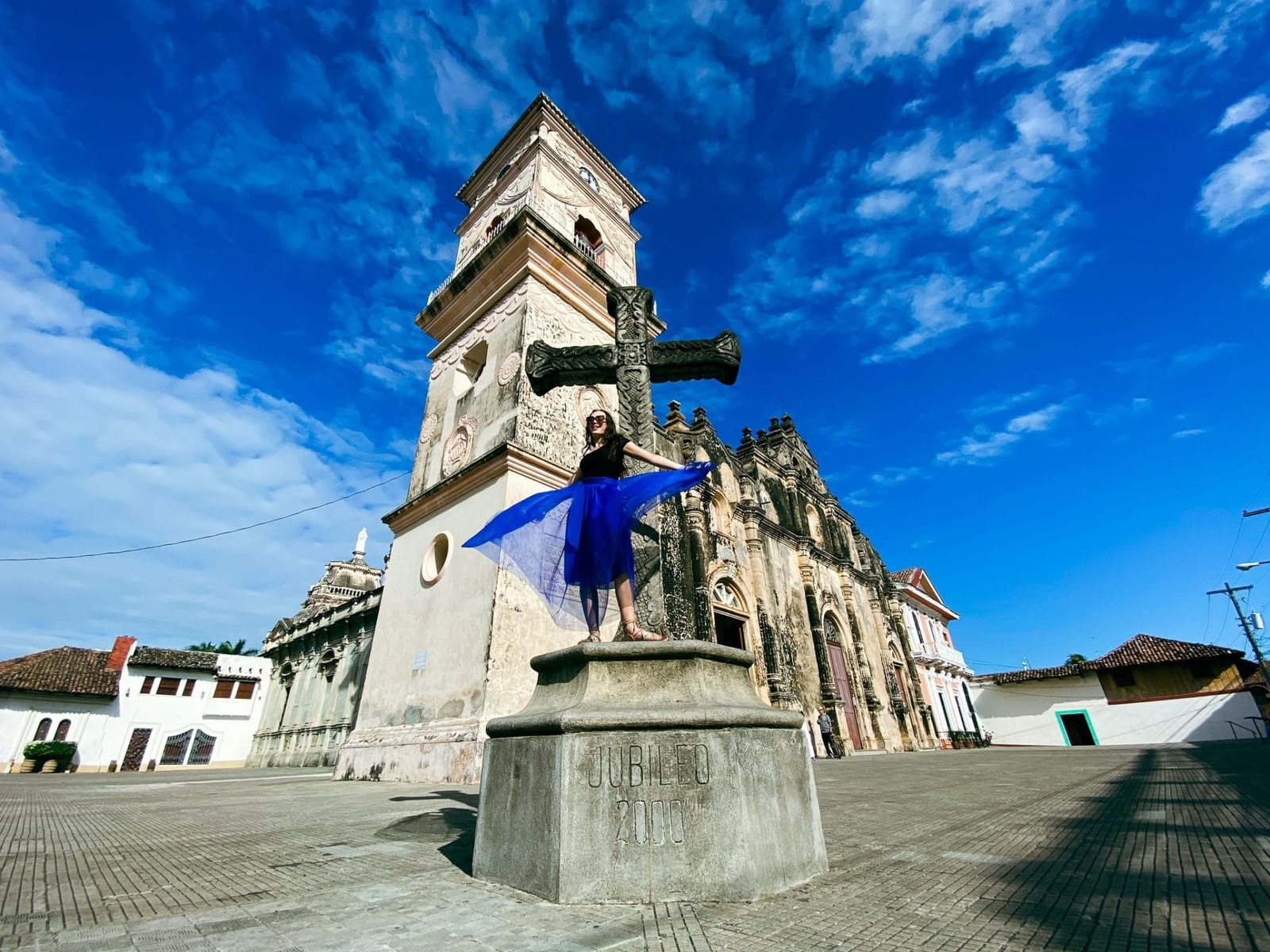 Granada, Nicaragua transportation.
Horse-drawn carriages stand by, ready to take the town's few tourists on tours or locals on their daily duties.axis, most contemporary, but a few big-finned relics from the 1950s, are available for more ambitious journeys.
Simply strolling through the streets of the ancient district of town is enough to take you to another world. Horse-drawn carriages can drag you through town on a thirty-minute guided tour for just a fiver for the four-legged variety.
To be honest, some of those horses are severely malnourished and visibly neglected by their owners, so proceed with caution while handing over your Córdobas.
Where to stay in Granada Nicaragua?
The Colonial Hotel
The hotel became operational two years ago, is half a square. It is a new building in the classic style, set around a courtyard with a small swimming pool. The Colony is a quiet and peaceful place with 27 rooms. 
 La Casona de las Estrada
 A smaller hostelry on the other side of the plaza. It is housed in a magnificent 18th-century property that has been meticulously renovated and features six rooms with all modern amenities. Nelson Estrada, the owner, intended to make it his residence, but as the restorations progressed, he changed his mind.
There are plenty of airbnbs and hostels to chose from as well!
Why you should visit Granada, Nicaragua
The region around Granada was one of the few sections of Nicaragua that escaped the civil war ripping the country apart in the 1980s. It suffered from degradation and negligence, just like the rest of the country, yet there was no conflict in the area. While not exempt from the poverty that has engulfed Nicaragua, Granada is in better shape than almost every other city. Tourists are welcome and can feel safe.
Where to eat in Granada, Nicaragua
Although only a handful are believed to survive, Lake Nicaragua possesses some of the world's few freshwater sharks. Nicaragua sight will definitely turn out very satisfying and attractive being a visitor.
Pita Pita
The Garden Cafe
Every hotel in the city center will have a garden restaurant with delicious food
The lake's most delicious fish, the guapote (pronounced wa-PO-tay), is still abundantly available.Shrimp, steak, and other regional specialties are also inexpensive. A few excellent restaurants, including one near La Casona de las Estrada. Still, most of them range from basic to dirt-floor primitive. Some of the simplest restaurants, on the other hand, serve excellent cuisine.
Best Things to Do in Granada Nicaragua
Aerial View of Granada
There are different vantage points from which you can take in the Granada sights. One of them is the Museo San Francisco's back terrace. My favorite is the view from the Iglesia de la Merced's bell tower. This is the most incredible spot for photographing the Cathedral, a classic image of Granada, Nicaragua.
TIP: 11:00 a.m. is the optimum time to visit the tower in terms of crowds and views. After then, it becomes too hot, and more people like to go up, resulting in a shortage of room.
The San Francisco Cathedral and Convent, located just a few minutes from Central Park, should be near the top of your list. The exterior, previously baby blue, is now a neutral cream tone with white and rusty-hued details. It was built in 1525 and was burned down by pirates in 1665 and 1685 and William Walker and his soldiers in 1856. In 1939, the structure was renovated to its old status. This church is a fundamental part of Granada's history. It houses the catacombs where 75,000 of the city's people are buried. Discover a library with a rich collection of books, paintings, and photos, as well as statues, in the nearby convent-turned-museum.
Visit the Gravesite.
La Merced is perhaps Granada's most beautiful church on the corner of Calle Real and Avenida 14 de Septiembre corner. The Cathedral's current front (from the 1780s) is overflowing with ancient character — it could undoubtedly need some repairing – yet there's something magical about its old appearance. Pay $1 and mount the inner stairs to the tower, where you'll get panoramic views of the city. Perfect for photos too!
 As well as a stunning view of Mombacho Volcano, Lake Nicaragua, and Zapatera Island (yes, it's safe).
Main Street Stroll
Calle La Calzada, a road that runs from Parque Central to the shores of Lake Nicaragua, is one of Granada's most popular neighborhoods. Restaurants and bars stream out into the street and start serving as soon as the sun begins to set.
It is trendy, crowded, and a little artificial, with street performers, vendors hawking tourist souvenirs, and touts fighting for your business.
Head to the "Parque Central" or Central Park – the city plaza and hub that leads to the canary yellow.
Picture-perfect Granada Cathedral connects to the busy Calle La Calzada.
There you can shop for crafts, eat vigaron (yucca, cabbage salad, and pork rind) and mingle with people (the main drag with shops and restaurants). Once you have arrived, you will get a concept of the pattern of the area and see how simple it is to get around Granada. Basically: all roads lead to Central Park. Most significant sights can be checked off a traveler's itinerary due to the wholly walkable center in a day. 
The Garden Cafe's breakfast game is excellent. You may sit inside the bookshelves or outside in the lovely central courtyard surrounded by greenery and modern art. There is also a gift shop on the premises.
Eat where the locals do
Take a seat at Kioskito El Gordo in Parque Central for a better Nicaraguan travel experience. You can try a local meal called vigaron (100), consisting of slow-cooked pork with lemongrass flavors, smashed boiling yucca, and curtido, a spicy cabbage salad. Each table comes with a complimentary jar of pickled and spiced onions just in case you want it spicy.
Alternatively, look for Cafetin El Volcán, a little establishment with the best quesadillas in town. A soft tortilla topped with conventional double cheese and served with sour cream and pickled onions is the quesillo double (50). Tiste, a slightly gritty traditional drink prepared from roasted corn, cinnamon, and cloves and served cold in a gourd, is an excellent way to wash it down.
Market Visit
Visiting the local market is one of the top things to do in Granada, Nicaragua. It is a lively environment with vibrant colors and "strange" odors (i.e., not necessarily pleasant). Because it is such a crowded spot, try not to appear too touristy. It is also a fantastic spot to shop for food.
The Mercado Municipal in Granada throbs, bustles, and may be daunting to some, but it is not at all boring. The main structure, a crusty neo-classical piece of architecture, has definitely seen better days.
It houses a tangle of rickety kiosks with the vendors, selling just about anything you would expect to find in a Latin market.
It is not just inside the structure, but; the streets surrounding it are super crowded. Believe me when I say that getting around is difficult due to:
traffic

people

overloaded stands.
However, do not expect to find gifts here; it is primarily a locals' market. Plantains, yucca, tomatoes, cucumbers, and even chayote (chokos) are just a few of the fresh fruits and vegetables you would find if you lived in the area.
Volcano tour
Participate in a tour to Masaya, a live volcano 30 kilometers beyond the town. You are driven to the crater, given about 15 minutes to see inside it from a few different angles, and then you get to breathe in wonderfully stinking sulfur dioxide.
The Volcán Masaya is a massive heap of geology between Granada and Managua with a road that takes visitors right up to its edge. One looks directly into Hell after passing through the parking lot and right over a horrifyingly low wall. Sheer walls plunge over 1,000 feet into a thundering, blazing hole a third of a mile across, with gases rising in an alarmingly filthy cloud. The effect of wisps moving by is similar to being tear-gassed.
Surprisingly, a group of specially adapted green parrots resides the crater walls, protected from attackers and taunting our coughs with their brilliant squeaks.
Masaya is situated in the heart of a well-kept park.
The Masaya park includes:
 guided tours of volcanic caves

 a visitor center with a comprehensive description of the area's geology, 

history, ecology.

Paths to stroll around the cone. 
A sign near our car urged that we reverse in if we needed to make a quick getaway and warned, "In case of rock expulsions, cover yourself under the car."
If you have ever felt infantilized by signs, guides, and boardwalks at places like Yellowstone, this kind of casual at-your-own-risk attitude is pleasant.
Day Tour to Laguna de Apoyo.
A volcanic lake, Laguna de Apoyo. The water is silky smooth and mineral-rich. It is about three miles long and three miles wide, and it is pretty deep. On the coastlines, lava rocks and thermal heat can be discovered. Thankfully, the Nicaraguan government has made electric boats banned in the country.
The perfect and ideal place to spend a hot day in Nicaragua is a warm, freshwater lagoon (really the size of a lake) with a spectacular view of the Mombacho Volcano. The water can be accessed via a public beach or a hotel such as Posada Ecologica la Abuela. If you get it through a hotel, you will have to pay either $6 or $8 at the restaurant.