There are two ways of harvesting salt : solar evaporation ponds or rock deposits ; Maras Salt Mines – the ancient system of passive salt harvesting.
Salt evaporation ponds are shallow, artificial basins that extract salt from mineral springs – or the ojo, the eye or spring from where the water comes out of the earth to fill the ponds through natural evaporation . As the water dries up, the salt crystals are harvested by raking. This is what they use in Salimas de Maras or Maras Salt Mines – the ancient system of passive salt harvesting.
As a result , there is salt that is rich in flavor and in history.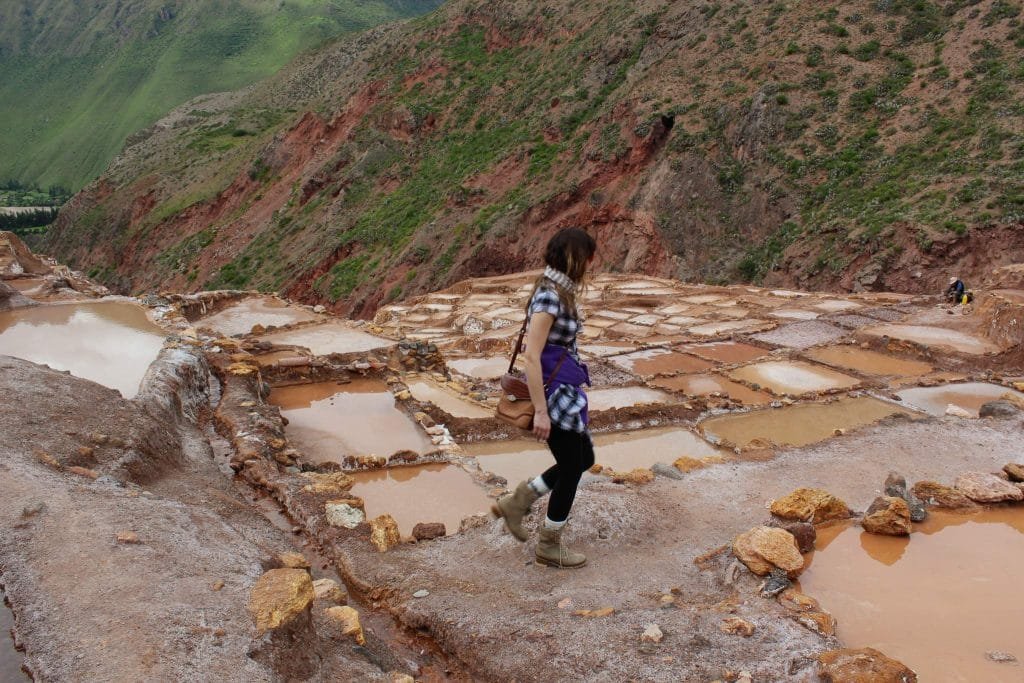 The guides say it comes from an ancient ocean, trapped underground, which feeds a spring 10,000 feet high in the Sacred Valley of the Incas .
According to the locals , things are much more simple : Ayar Cachi , was converted into a mountain. He got furious when he found out his brother Ayar Manco had become the head of the Inca Empire. He cried and cried and from his tears dried , some 3000 pools were .
Another place you can find the community culture in Peru . The mine is owned by 380 individial families .The same families have worked these salty steps solely by hand for more than a thousand years.
The most incredible thing is that these salt pans that are still used exactly as they were at the time of the Incas.The salt is hand-harvested, hand‐processed and hand‐mined for over 2,000 years and until today . Each year the rainy season dissolves the hillside and requires that the entire labyrinth of salt pans be built anew.
Greens, ochres, grey and pink salt pools layering the hillside – this place has incredible views – all of the 4000 terraces overlooking the valley .
Peruvian salt looks different from the normal kitchen saltknow for a list of health benefits : it's rich in potassium (the pink color), magnesium, and calcium
Magnesium to fight stress, iron to avoid anemia, calcium to prevent osteoporosis, and zinc to strengthen your immunological system. The thick grains pf Maras Salt never go through a refining process . It is used as medicinal bath salts and exfoliating bath oils.
Around 4,500 ponds cover mountain terraces of Maras Salt Mines
The salt is hand-harvested, hand‐processed and hand‐mined
How much :
To visit the salt ponds of Maras, you must pay a 10 soles fee to the local community.
How to get to Maras Salt Mines :
The town of Maras is located between Cusco and the lost city of Machu Pichu.
From Cusco you can take a shared taxi (known in spanish as a collectivo) from Cusco to the Maras turn-off. This will cost 6-7 soles per person, and the journey lasts for one hour. Once you get there, you can hire a driver at the turn-off to take you to see both sites (Moray, and the Salineras de Maras).